It's no secret that I love tennis fashion, and that the necessary consequence of loving tennis and paying close attention to what tennis players wear is that I end up buying way too many tennis outfits than I actually need. But it's needless to say that after I was relatively well-acquainted with the art of playing tennis, I've never since stepped on court in a pair of shorts and t-shirt. There's nothing wrong with playing in t-shirt and shorts, of course; but why settle for something so boring when I can be dressed in something like this?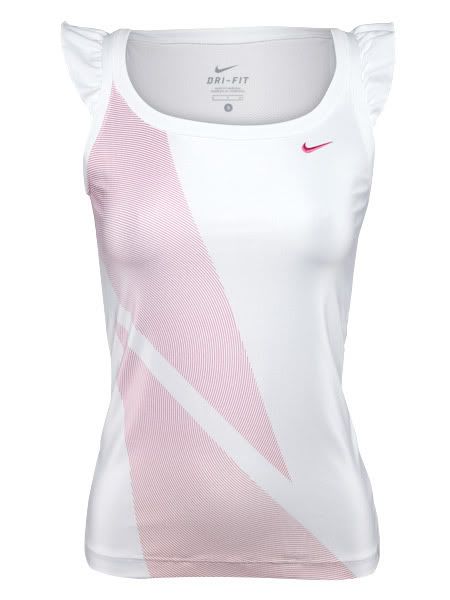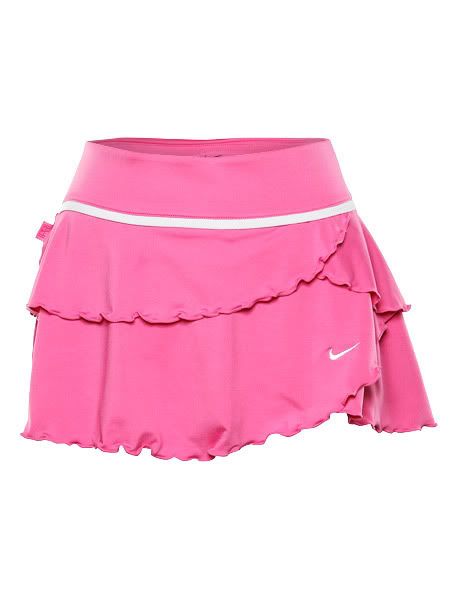 The Sharapova US Open series outfit is one of my favourites, and probably the most expensive one that I own, but I've only worn it twice ever since getting it a few months ago. I love Nike's flashy designs, absolutely love the gorgeous stuff they design for Maria, but I tend to wear Adidas' no-frills, functional, basic Competition/Barricade line more often than Nike's cute designs, or even the Adidas adilibria range (which features more interesting designs than the Barricade line).

This, for instance, is a typical example of the Adidas Competition/Barricade range: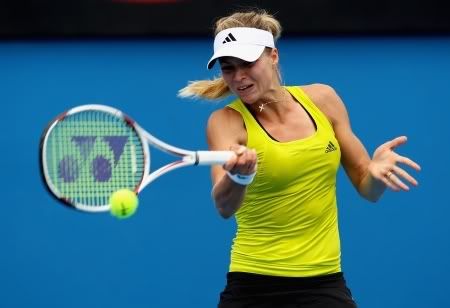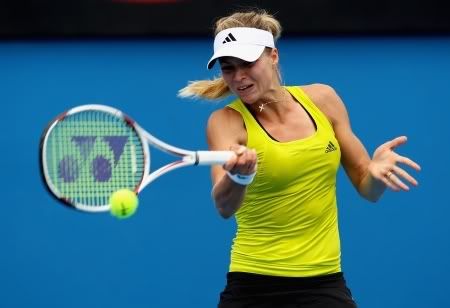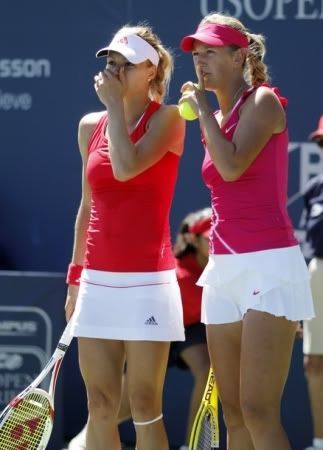 (girl on the left)





I particularly love Maria Kirilenko's lime green/black Australian Open 2010 outfit. I always look forward to the many variations that Adidas would put on the same-old, same-old, every new season, to see if there's anything else I can get my greedy hands on.

Sadly, I might have to thank Adidas for helping me save money when the 2011 Australian Open season rolls around. Check out what they have to offer: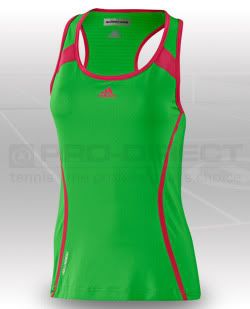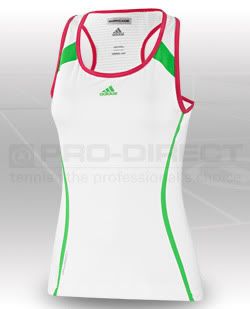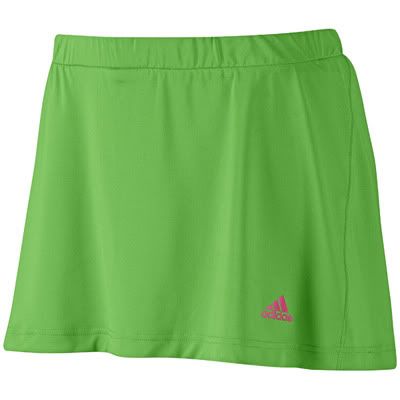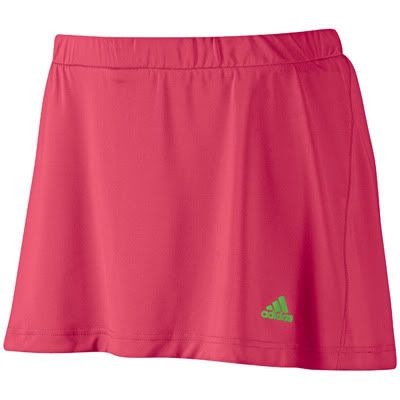 I understand the need to put a new spin on the same old prototype, but pink and green and white in one outfit? I'm pretty sure it's too atrocious to buy, but I'll reserve final judgement for after I see Kirilenko in it. If even the prettiest player on tour cannot save the outfit, then I will be keeping my money for the new season.

The adilibria one isn't that shitty...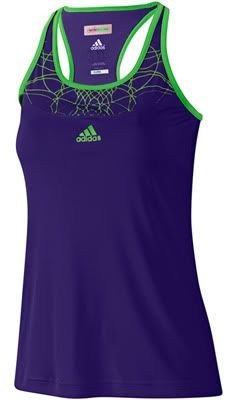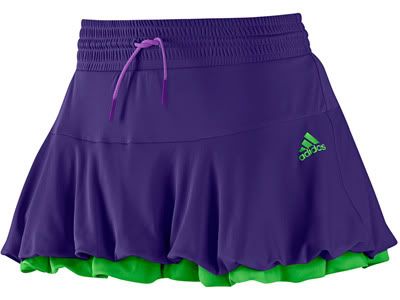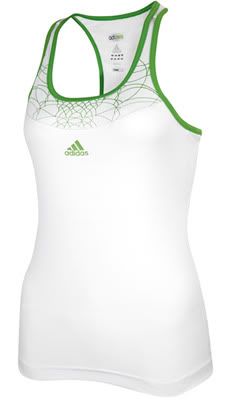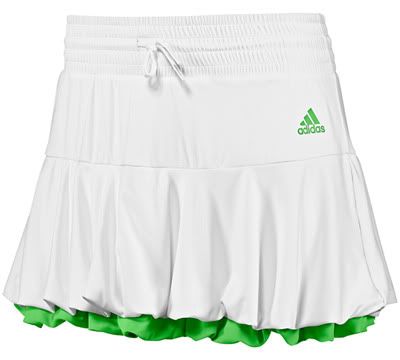 I don't object to the weird frills at the bottom of the skirt, but there's just no way I'm getting this outfit, ever, no matter how good it looks on the players because of this one tiny detail of a random fucking hole at the back of the top, like this: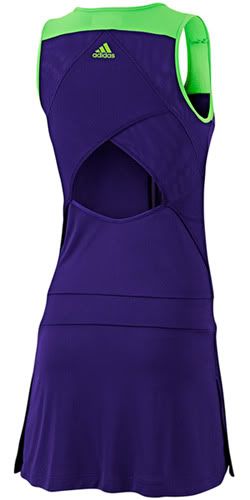 I play tennis in the day way more often than I play in the evening, no thanks to this monster called work. I'm very picky about the straps on my tank tops - they must be racer-back, preferably with a modest coverage on the back. I don't wear spaghetti straps or strange toga-like thingies or tops with asymmetrical straps or tops with criss-cross straps on the back, for the simple reason that I don't want weird, fucked up tanlines.

Ergo, I'm not going to wear a tank top that has a HOLE in the back. I'm interested in keeping my tanlines as uniform as possible, thank you very much.

Lastly, I am of the humble opinion that the new range of Adidas tennis shoes, the adizero, is absolutely fugly:










I'll just stick with my Barricade 6.0, thank you. I checked out Nike's tennis shoes in real life and I just can't comprehend how people wear those kind of shoes. I don't know how I'm ever going to wear anything that's not as hard and heavy as the Adidas Barricades. The Nike Lunarspeed is supposed to be lightweight and fast, but when I hold it, I almost feel like I'm holding shoes made of styrofoam. It feels like it might wear out after three months. I absolutely swear by the Barricades - they're durable, they protect my feet as much as they can (I can't avoid the inevitable peeling of the skin on my big toes. In fact, I'm so used to it that I feel strange when it's the weekend and my skin isn't peeling), they're comfortable, and they look damn good. Nike's shoes don't even look anywhere as good as the Barricades. I like the new purple one, to match the new adilibria range, but nothing beats the clean, classic white Barricades which I presently own.

*

On another note, I find it amusing how Wei Chuen and I walked into Oscar's for buffet dinner on a Saturday night when we were walking around the area looking for a place to eat. Of all places, right? It was a good dinner. I love our intellectual conversations. He hardly agrees with me, and I get agitated by the viewpoints that he expresses (because I'm always right, right?), and sometimes I get sad about how we're so different; but it's always interesting, and the ability to talk about serious things with him is one of the many reasons why I love him.

*

I played tennis today with Mr Topspin, who tried to teach me the slice, but I just couldn't do it. NUS Wall Guy has more or less given up.

I'm never going to eat curry/spicy food again when I have to play tennis. It's just so uncomfortable to feel your stomach burning when you're running around under the sun. But my mom bought Indian food from this awesome restaurant in East Coast and I just couldn't resist. At least I ate maybe half of the portion that I usually eat and saved the rest for dinner.

Anyway, tennis was great. I managed to cajole my favourite shot back into existence for a while, before it died again. But I will say this: no matter how much I may enjoy hitting a forehand, or how much I try to put some topspin into my backhand, the flat backhand will always be my favourite shot.

*

I haven't been writing in here much lately. There's just nothing to say on the work front that hasn't already been said ten million times.

I still feel the same way towards it. Nothing has changed. But it's all going to end soon. I'm just hanging in there until then.