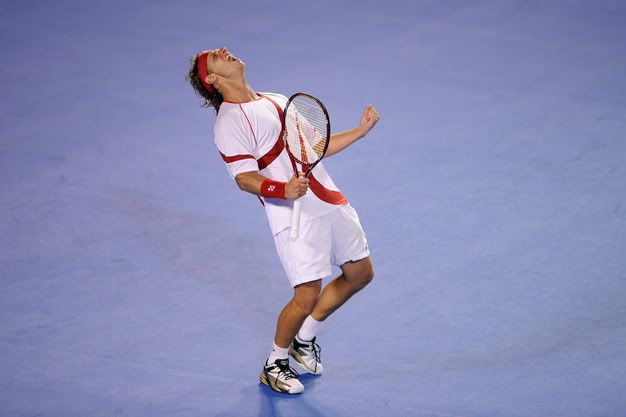 Nalby was down a break in the fourth set and facing 3 break points. I thought he was a goner. I really thought the match was done and dusted.

Then later on the fifth set, when Nalby served for the match at 5-4 and got broken, I thought that was the end of him.

A few minutes later, Nalby faced two match points on his serve. I thought, "Oh okay, this is it. There's no avoiding the inevitable."

Nalby played a sensational half-volley on the first match point. After holding serve, he applied pressure on the Hewitt serve, shortening the points, fighting off cramps to pull out the big guns and fire winners when he needed them most. At 0-30, 7-7 on Hewitt's serve, he took one hand off the backhand and hit an incredible backhand passing winner to force three break points. Hewitt then double-faulted to concede the break.

At match point, Hewitt continued to apply pressure on the Nalby, rushing the net and forcing Nalby to hit a forehand lob. Hewitt could only turn back and stare as the ball dropped into the court behind him.

Oh my god. David Nalbandian is one of my favourite players because of the incredible shots that he plays when his game is on. Today, he was patchy, going off at times and making ugly unforced errors. But his talent came to his rescue when he needed it the most. He played some seriously incredible shots: slice backhand down the line for a winner, insane backhand down the line winner, and that half-volley to save the first match point. But he's not the most reliable player to bet on to serve out a match, and he got broken the first time he tried. I hoped so hard that he wouldn't find himself receiving at 8-all; I almost expected him to get broken again.

But he hold on so beautifully, and finally earned his hard-fought victory after four hours and forty-eight minutes. I seriously can't quite comprehend how the two of them are still alive at the end of the match.

It's definitely a shame that they had to meet so early. I knew I HAD to watch this match, as a tennis fan, because the match-up simply oozes with the potential of a high quality encounter - and the match definitely did not disappoint. I'm so glad I was home in time to watch from the end of the third set on. It was a rollercoaster of momentum shifts, a display of beautiful point construction and seamless defence, and two guys giving it all that they had just to be standing on the winning end of the match when it was all over.

I feel bad for Lleyton. He's one of the best returners on the tour, and he gave Nalby no free points on his serve. Granted, Nalby's serve sucks, but the number of balls Lleyton was able to get back would have pissed the shit out of me if I had been Nalby. More importantly, I feel bad for Lleyton because he really, really went down fighting. Being Australian and playing in front of the home crowd, it would have meant a lot to him if he had won.

That said, Nalby completely outdid himself. I really did not expect him to win after trailing a break and two sets in the fourth set, and I'm beyond happy that he did.

*

In other Australian Open news, I am STOKED that Ana Ivanovic has lost. I cannot stand her immature fistpumping after every point won/lost by her opponent, cheering even her opponent's unforced errors. Seriously, learn some sportsmanship before you attempt to compete at such a high level.

Also, it's hard to believe that Dinara Safina contested in the final of this tournament two years ago, in light of the fact that she lost 6-0, 6-0 to Kim Clijsters.

An interesting fact: Ivanovic and Safina are both former #1s.

How do the women deserve equal prize money in Grand Slams as the men again?