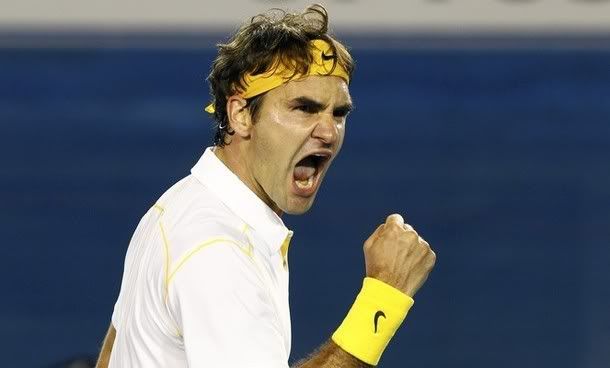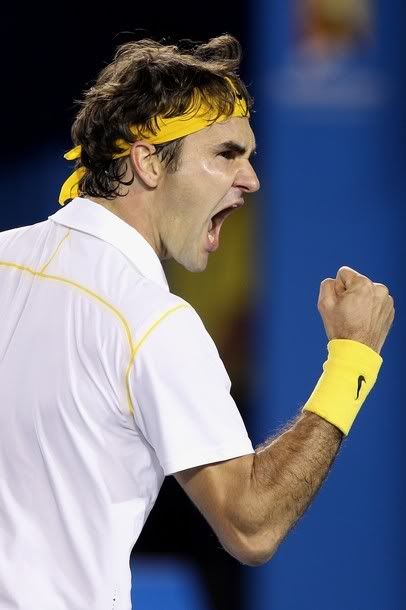 I don't care how ugly he won it, I don't care that it took him 5 sets when I thought he'd get it done in 3 for sure, I don't care that he made so many fucked up errors and made it even more difficult for himself, I don't care that I was ready to support Nadal (?!?!?!) or Djokovic if Roger had lost in the fifth set; ALL I FUCKING CARE ABOUT IS THAT HE WON.

I can't begin to describe the anxiety, the fear, the stress, the burning desire for him to convert those few matchpoints he had, how badly I wanted him to just put me out of my misery now, throughout the fourth set and especially the fifth set. When he got broken in the fourth, I honestly thought I wouldn't be able to survive a fifth set. When the fifth set came, I literally groaned at every single goddamn unforced error he made. It got so bad that at one point, I was hoping Simon would slip and sprain his ankle and be forced to retire, just so Roger would be safely through to the next round.

I cannot - CANNOT - live in a world where Roger Federer loses in the second round of a Grand Slam, especially not the first Grand Slam of the year, of which he is the defending champion. I cannot even begin to explain how I was literally quite close to tears when he failed to break back in the fourth and let Simon take the match into a fifth set. And I know that, if he had lost today, the rest of my week would have gone to hell. I swear, I would have CRIED if he had lost today.

UGH SERIOUSLY ROGER, PLEASE TELL ME WHY I LOVE YOU SO. PLEASE. I WISH I KNEW HOW TO QUIT YOU, BECAUSE IT SURE AS HELL ISN'T FREAKING EASY TO STRESS OVER A TENNIS MATCH IN MY LIVING ROOM, KNOWING THERE'S NOTHING I CAN DO.

Then again, I have to remember to appreciate every match of his that I can still watch. My Roger Federer years are increasingly limited as he ages, and ages, and ages still. I hope he plays until he's maybe 35, if he wants to; but selfishly, I don't want him to retire ever. The thought of him hanging up his racquet is capable of making me cry harder than any second-round loss in a Grand Slam.

I'm just so proud of him right now, for sticking in there mentally in the fifth set, for not dwelling on the fact that he was up 2 sets to love, for thinking on the court, for having the patience to hang with Simon from the baseline and keep the ball in play just so he wouldn't lose the point when he could have reverted to his 2008 ways and tried pulling the trigger too early and therefore spraying errors all over the court. I'm SO proud of him. Simon is a bad match-up for him and he'd never won a match against him in their previous two meetings, so all things considered I'm just so happy that he won this match.

Simon did play out of his skin and really took it to Roger. I could not believe the number of times he passed Roger at the net, such that whenever Roger played a net point I literally stopped breathing for two seconds, just to let out an anguished cry when Roger stood at the net and looked as the ball went past him and landed in. At one point, the fourth set and the start of the fifth, Simon was hitting winners all over the court, while Roger was just trying to put the ball back in play.

I'm very impressed with Gilles Simon today - he showed that he's not just a boring pusher. I still hate watching Roger play him, but he did a really good job. Too bad Roger always has to win.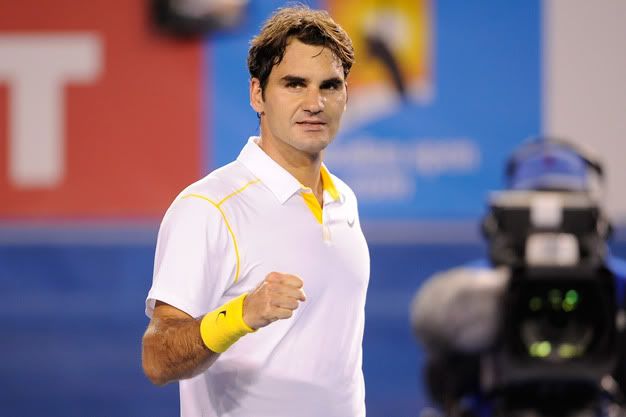 THAT'S how you do it Roger.





And this, because it's so pretty: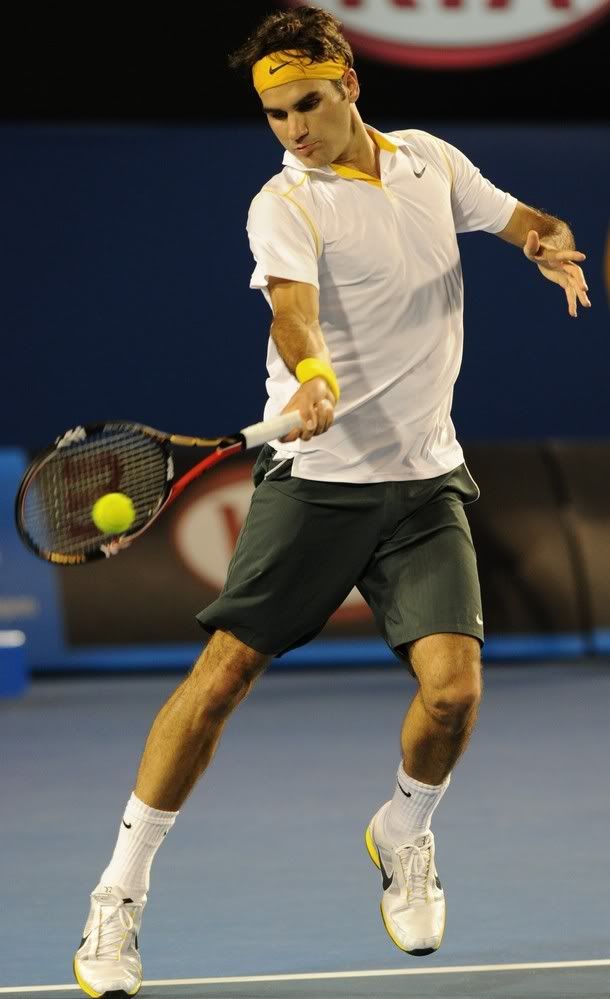 Look at how delicate his feet are. God, I love this man so much.

*

Positives to take away from this match:

1. He won (duh)
2. He did not fade in thr 5th set
3. He did not let his frustration get the better of him
4. He's tested early and he passed with flying colours
5. This is his hardest opponent for the first week and he came through in the end
6. He's tested early. I'd rather get it done and over with
7. He won (duh)

I still have hopes for the title.

*

Anyway, I was asked today by partner with whom I played tennis which other players I like besides Roger. First two names that came to mind were Novak Djokovic and David Nalbandian.

I've been trying to think of who else I like but I really can't think of anyone. I generally like all-court, aggressive players, capable of producing remarkable shots, and both Djoke and Nalby fit the description. I really can't think of anyone else though. I mean, I like Lu Yen-Hsun only because he's Taiwanese and I must support my own kind; for the women, I love Maria Sharapova because she's hot and because she's aggressive and I love her mental toughness and her fierce belief in herself, but her tennis isn't that great to watch sometimes. The rest of the females that I like, I like them because they're pretty (like Maria Kirilenko).

Sigh, I wonder what's gonna happen with tennis when Roger retires. I don't want him to leave. This is making me sad.