...then I very much doubt I'd be able to sustain my interest in tennis after Roger retires.

Novak Djokovic and Andy Murray are both 24 years old this year. They are ranked #3 and #5 in the world respectively (though Murray is the real #4 - Robin Soderling doesn't really belong there). But in a world in which Roger Federer and Rafael Nadal continue to play, Djokovic and Murray are often thought of as the lower-tiered pair that challenges the top 2 players occasionally, but whose major breakthroughs have been thwarted by Federer and Nadal.

In this Australian Open, Nadal lost in the quarter-final to David Ferrer and Federer lost in the semi-final to Djokovic. Murray then reached the final by defeating Ferrer in four sets. I wanted to see this match just to have a glimpse of what tennis would be like without Federer or Nadal - and after watching it, I can safely say that if this is what I'm going to get after Federer retires, then tennis isn't going to be very interesting anymore.

Some journalist asked Roger during his post-loss press conference if the fact that both he and Nadal lost before the final was a passing of the torch of sorts. Roger aptly said, "Let's talk again in six months." For me, I certainly hope that when the torch is eventually passed, it gets passed to players who have a more complete game, who are not allergic to the net, who can play more than just the typical modern power baseline game.

I'm going to take Nadal out of the equation now because I don't appreciate his game and I definitely don't appreciate Fedal finals (and he's also a baseliner anyway). The thing is, today's Australian Open final only drove home for me what a rare tennis player Roger is. He is the complete player with so many tools at his disposal that, when he's confident, he's able to do anything that he wants with the ball. That is why it's so frustrating for me to see him become embroiled in endless baseline-to-baseline rallies with someone like Nadal or Murray, even Djokovic, and also Simon in this year's Australian Open Round 2. It's even more frustrating to see him continue to get dragged down by these rallies when he's losing them, without doing anything to mix up the pace of the rally, because he can do so much. I love Roger because of what he brings to the game - variety, grace, poise. When he's in full flight, one Federer match is pretty much a snapshot of what tennis is.

Contrast that to today's final. A newcomer to tennis watching it would think that the net has no purpose other than to act as the thing over which the players hit the ball. Baseline rallies after baseline rallies - long baseline rallies after long baseline rallies. There are only so many forehands and backhands that I can watch before I get bored, and I got pretty bored when it was 26 minutes into the match and the score was only at 2-1.

I liked Djokovic before this and I had the impression that he was quite an all-court player. I think I was wrong. I still think he's good, but this was the first Djokovic match that I watched from start to finish in which his opponent isn't Roger...and I was bored. Maybe it's not his fault that the match was boring; his opponent went away after the first set and couldn't come back to it. But I can't imagine what either player would have done differently if Murray had put up more of a fight.

That brings me to my next point about the final. It was so one-sided, I finally understand why people find Roger winning titles after titles in straight sets boring and why a Fedal match excites them so. There was no competition at all today. I wanted a five-set slugfest, but I got a straight sets beat-down. The main question really is: What the hell was Andy Murray doing? His forehand didn't exist, his backhand let him down, and that awful overhead on break point (the one he hit way out) totally summed up his performance today.

His performance was especially disappointing because he took it to Nadal in the semi-final of the World Tour Finals last year and played well enough to effectively lose to Nadal by one point. I thought he might show up to this final more aggressive, more ready to force the issue (in Roger's words), to try to wrestle the trophy from Nole. But no, he was his usual passive, counter-punching self. Was he not listening in 2008 when Roger said his style would do him no favours?

Murray's now 0-9 in Grand Slam finals in terms of sets won. The last two times, he faced Roger Federer in the final, who had infinitely more experience in those situations than him, so he had some sort of an excuse. But today, he faced Novak Djokovic. Sure, the Serb was on a hot streak and had the momentum going into the final after defeating Roger in straight sets; but everything about his performance, especially after the first set, was of a man playing tennis in a Grand Slam final not to win, but simply to hang in there until his opponent finished him off.

As for Nole, I wish I could say that I enjoyed his performance, but the truth is that I didn't enjoy it even half as much as I thought I would. I definitely loved how he defended to death and the speed at which he switched from defence to attack; but all the baseline rallies, the allergy to the net, the lousy drop-shots...

It was just not a good match. I wouldn't even pay $10 to watch this live. It was two guys bashing a ball over the net.

Is it too much for me to ask for some variety in my tennis?

Oh Roger, please come back soon.

*

Speaking of whom, this is one of the hottest I've ever seen him: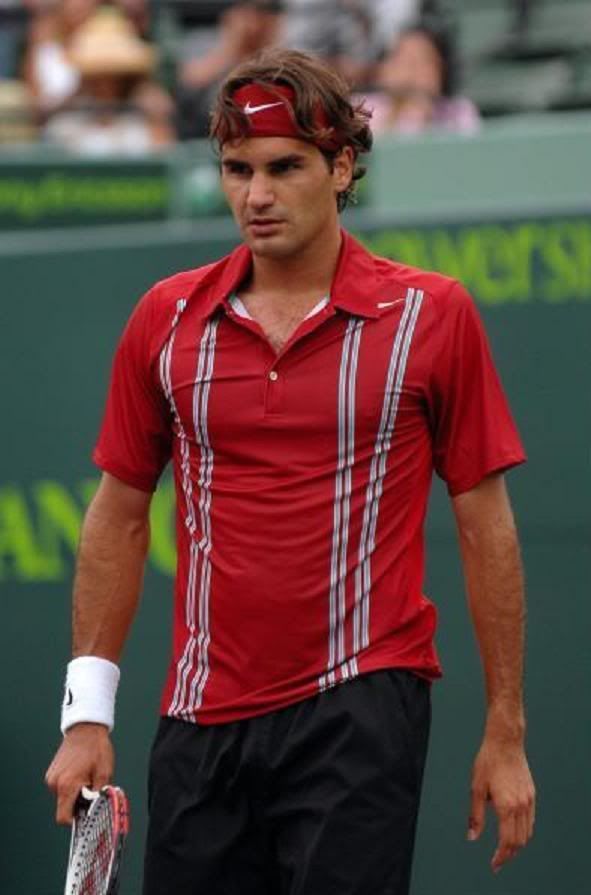 I don't usually think of him as hot; he's merely the most beautiful man in the world to my inner fangirl. But wow, that picture. Just - wow. (I don't feel as gross drooling over this picture because it's from 2007, way before he became a father.)

I love broad shoulders and chest on a man. Very fitting that my boyfriend has exactly those assets, right? Haha.

*

Speaking of my boyfriend, I must say that I'm pretty sure that I have the most understanding boyfriend in the history of understanding boyfriends. I was barely present on our date last night but he was totally understanding and did not make me feel guilty at all. I was also grumpy because I was experiencing gastric pains and we had to walk in the drizzle, which romance I did not appreciate because I was getting rain water in my hair which I'd only just washed; but he put up with my grumpiness and complaining and just held my hand.

He's really sweet and I love him very much.

*

Lastly, I still hate my job as much as I adore Roger Federer.

Sometimes I wish I were born more stupid so that I could be happy working as a cashier in NTfuckingUC.

It's been raining non-stop since last night. This weather is only agreeable with me when I have no plans to play tennis.