OH MY GOD THE DEMISE OF TENNIS.

MONTREAL : Andy Murray defeated Jo-Wilfried Tsonga 6-4, 7-6 (10/8) Saturday in the semi-finals of the ATP Montreal Masters to rise to second in the world for the first time in his career.

The Scot will replace Rafael Nadal in the slot behind Roger Federer when the new rankings are released on Monday.

Murray had needed to go farther than Nadal this week in Canada, and his trip to the final insured his promotion after Nadal lost in the quarter-finals on Friday to Argentina's Juan Martin Del Potro.

The change makes Murray the first player other than Nadal or Federer to rank number two since July 18, 2005, when Australia's Lleyton Hewitt stood second behind Federer.

Murray reinforced his status as the highest-ranked British player since the rankings began in 1973.

On Sunday, he'll play for the Montreal title against Del Potro or Wimbledon finalist Andy Roddick, who were to meet later Saturday.
1. JUST BECAUSE THE BRITS SUCK AT TENNIS DOESN'T MEAN MURRAY IS THAT GREAT.
2. I'D TAKE NADAL AS #2 OVER MURRAY ANYTIME ANYDAY.
3. I'D TAKE FUCKING IVO KARLOVIC AS #2 OVER MURRAY ANYTIME ANYDAY.
4. I'D TAKE ANYONE OVER ANDY MURRAY.
5. WHAT THE HELL IS THIS SHIT.
6. WHY WHY WHY DID NADAL GET HIMSELF INJURED. WHY.
7. FOR ONCE I WISH NADAL WOULD GO BACK TO HIS WINNING WAYS 'CAUSE ANDY MURRAY IS THE SCOURGE OF ALL TENNIS.
8. YUCK. NEED TO CLEAN SELF THOROUGHLY WITH SANITISER. I AM SO GROSSED OUT.
9. NEVER THOUGHT I'D SAY THIS, BUT: NADAL PLEASE COME BACK. D:
*
In more appetising tennis old news, WHY DIDN'T ANYONE TELL ME ROGER AND ANDY PRACTICED TOGETHER.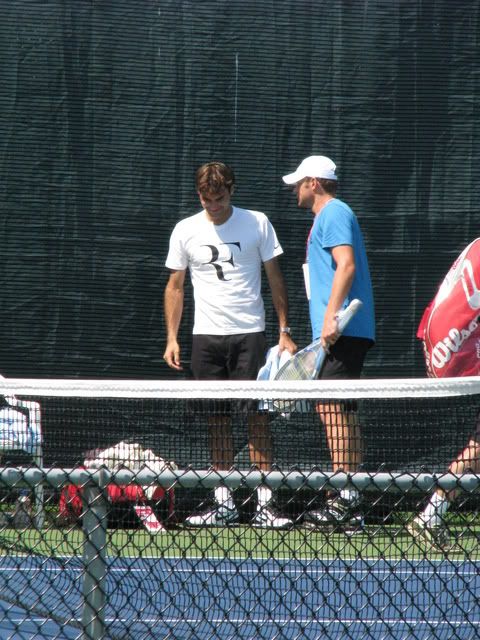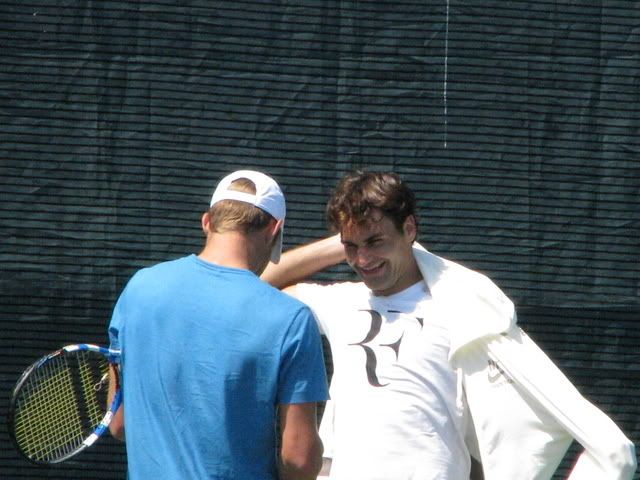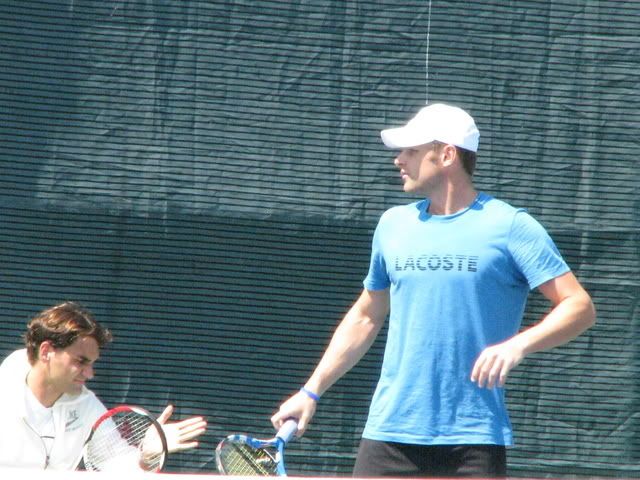 YAY!
And some pictures of Roger's hot body: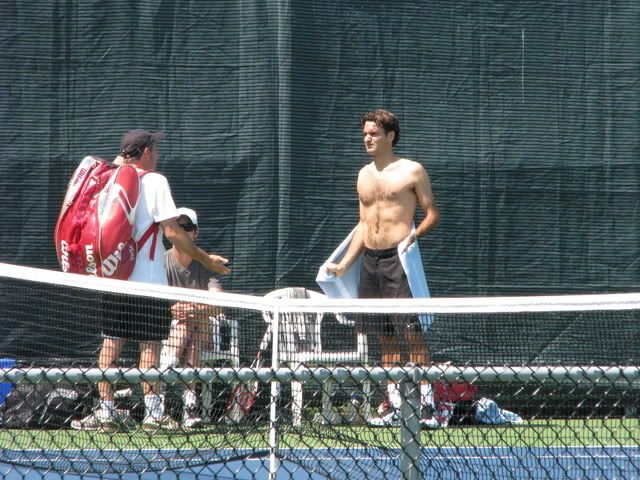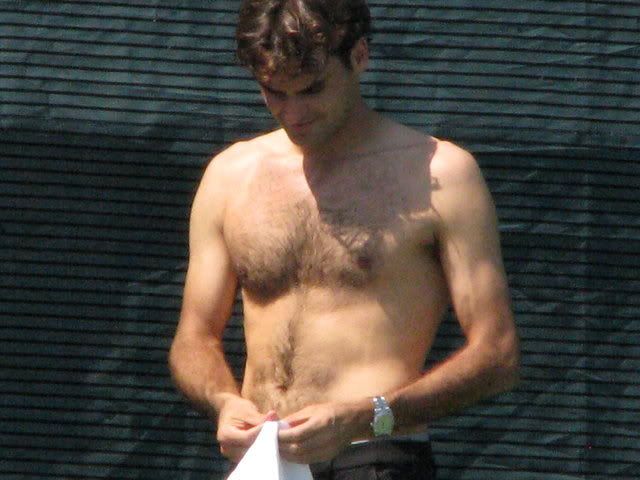 LOOK AT THOSE BROAD SHOULDERS. THAT BROAD CHEST. OH MY GOD. I am a sucker for rectangular, wide shoulders. I find them absolutely sexy to the max.
And, oh my god, ROGER'S BELLY IS GONE: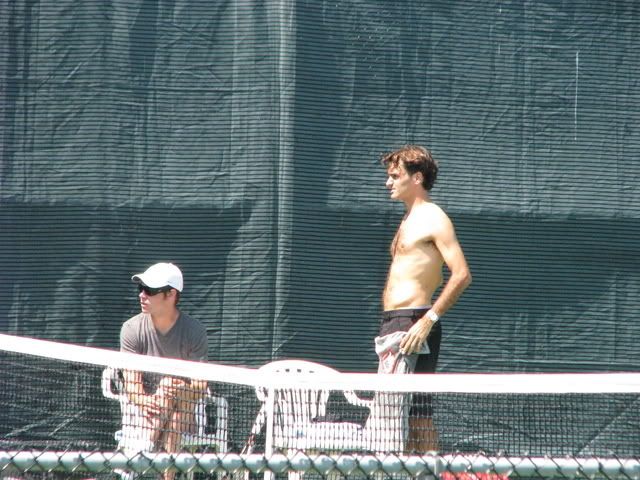 I read in the New York Times that he lost ten pounds, but I didn't think it translated to him losing his belly. OH MY GOD I ALSO WANT. I WANT TO LOSE MY TUMMY TOO. AND IT NEVER EVER GOES AWAY. INSTEAD I ENDED UP LOSING MY BOOBS. I AM SO SAD.
What's also sad? MY DARLING ANDY LOST TO DEL POT. IN THREE SETS. 7-5 IN THE THIRD.
OH MY GOD.
DEL POT NOW HAS TO WIN THE TOURNAMENT. ANYONE BUT ANDY MURRAY. AND I DON'T MIND POTTY TOO MUCH.
BUT TRUTH BE TOLD I DON'T CARE ANYMORE. ALL MY FAVOURITES ARE OUT, AND ONE OF THE TWO FINALISTS IS A PLAYER I ABSOLUTELY CANNOT STAND.
FOR FUCK'S SAKE, MURRAY ISN'T EVEN ENGLISH. BLEAH.
(pictures from here)
*
Fuck, I have to do the stupid client letter for Conveyancing today. FUCK MY LIFE.
Nothing interesting to say.
Oh I didn't manage to watch the Andy/Del Pot match. Ended up sleeping 4 'cause I was trying to remove something from my face, and when my alarm rang at 7.29 a.m. I turned it off, and the next time I checked my phone it was 8.40. I decided I didn't feel like getting up, and I ended up waking up at 1. Yay.
Time to go check up on my cities. Yay.