Last Night
The humidity level was typical of Singapore. My new pair of jeans from Mango wrapped around my legs oppressively, and whenever I got up to go somewhere I had to hike it up (later on I came home and easily pulled it off without unbuttoning and unzipping it). He pulled back his hair with his hair band; after a while he passed it to me, and I did likewise. I can't remember the last time I pulled back my fringe not just in public, but in front of someone else.
The place was an establishment typical of Singapore, creatively called Sand Bar, along the manufactured beach of the commercialised, soulless Sentosa. It was sandy, humid, and the chair we sat on was too hard for comfort. The potential perfection of the night was almost ruined by the sand, the humidity, my stupid jeans, and the synthetic noises and brainless electronic beats trying to pass themselves off as music, persistently trying to invade our peaceful space. After a while I started bobbing my head to the noise; after a while I started to tune it out.
With him, I have unwittingly acquired the art of tuning out the rest of the world. Under the collaborative, cooperative darkness of the night sky, he was the only person that existed, and in the moment, the only one that mattered. Under the unfettered, infinite and limitless possibilities of the night sky, graced with the calming presence of a half crescent moon, there were moments in which I felt full, contented, truly and genuinely happy. No fireworks, no big production, just simple, unguarded, no-frills honesty, unadorned happiness, unmasked, subtle, real. Absolutely perfect.
With its makeover, Sentosa has become awfully plastic. I don't recognise the place I went to as a kid, full of excitement and wide-eyed with wonder. In its place is an unapologetic tourist trap adorned with the usual inauthentic, manufactured icons and mascots that Singapore dreams up when producing yet another incredible myth with which to market itself. Singapore doesn't realise it doesn't need gimmicks, it doesn't need badly-conceived fairytales; Singapore doesn't realise how good it is as it is, just the way it is. Singapore tries too hard to be something it's not, and in the process Sentosa has fallen victim to the path that the country has apparently chosen to take: Fake, plastic, manufactured. Inauthentic.
Last night I randomly broke into song, subconsciously singing aloud Third Eye Blind's Semi-Charmed Life that the restaurant we left was playing. I stopped just in time to avoid my voice cracking at the high note in "goodbye". He looked at me, amused, and said, "So comfortable that you're starting to sing is it?"
Quite true, that. And this comfort thing, sitting with my legs on top of his on the uncomfortable chair, finding genuine meaning in his gazes and his words right smack in the middle of fake plastic Sentosa, it's authentic, it's real, and it's so indescribably right.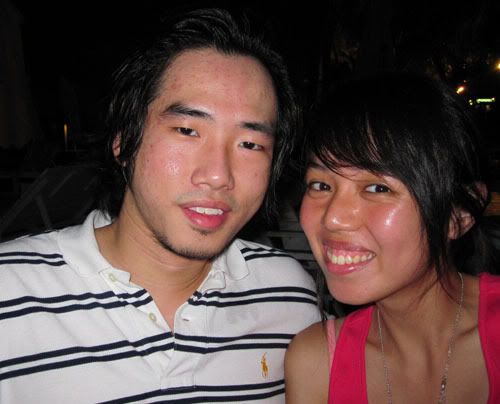 We were both sweaty, but I was the only one that was gross. (On a random note, that Ralph Lauren polo he wore is apparently his bo chap shirt, but I happen to think he looks very nice in it.)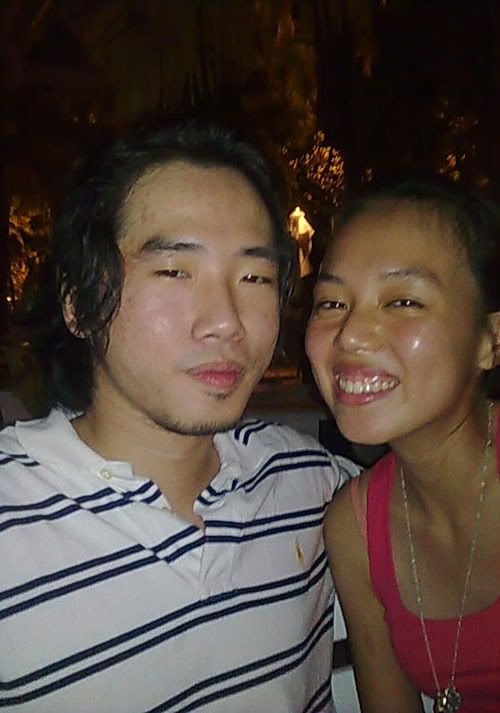 I love this picture. I don't know why. It's currently my phone's wallpaper. (Yeah I booted Roger! Omg.)
***
Today
Took family portrait at some Seragoon studio. My mom got a bit lost on the way there. We drove through Little India, and I think the last time I properly went to Little India was in primary school, during one of those heritage tour excursion things.
Little India looked decidedly un-Singaporean. It felt like I was driving through a foreign country - and not just because of the relative concentration of a particular racial group in that area. It reminded me a little of Manchester, or what little I saw of Manchester. I don't know why.
I texted Tong, "We should explore Singapore one of these days." He texted back something which is not appropriate for public consumption. My point is that Singapore gets boring after a while because I always go to the same places, and I realised today that there are so many places in this tiny-ass country that I haven't seen.
First, though, I want to go to the zoo. For no real reason, just because it's near my house, just because I can. Let's hope the weather permits this excursion soonish rather than laterish.
Anyway, the photo-taking was quite a nuisance. I felt damn weird when the guy adjusted my hands and whatever, and asked me to face the camera straight-on (I usually take pictures with the left side of my face which is my better angle). The studio also provided make-up, to which I was all, "HELL NO." I genuinely think I look horrendous with make-up on, and I'm also genuinely too lazy to go through the hassle of removing it when the thing was done. Too lazy, sorry, can't be bothered.
I finally wore a white shirt under the stupid gown, and I had to button up the top button. I felt like I was being choked to death. I don't know how men wear their ties, I truly don't. I'd totally DIE if I had to do that every day. And I really don't think looking good is a very good trade-off at all.
I feel a lot more comfortable in tank tops and t-shirts and jeans and sometimes shorts than working attire. I hate working attire. HATE. I really don't even care; I'm just going to wear jeans to tutorial all the time. No one said I had to show up in formal anyway. (Okay, I haven't read the PLC handbook. But who has? Wait, don't answer that.)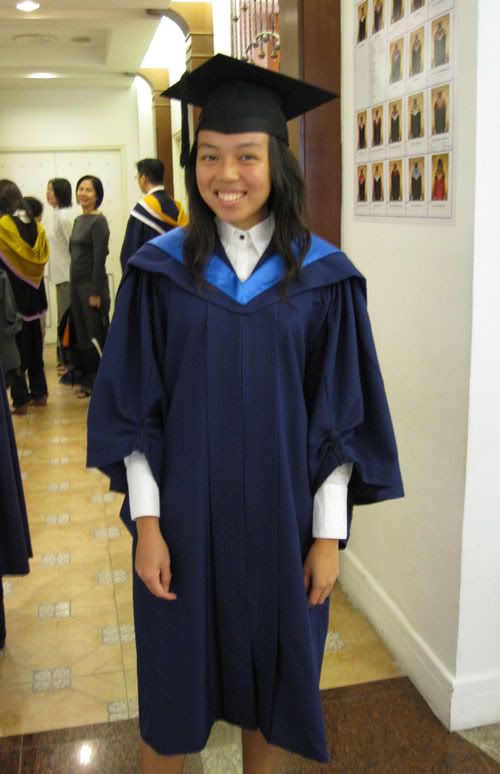 I look retarded. I have nicer pictures in my phone which I'm too lazy to transfer to my computer. The woman at the studio (which was a huge studio) kept trying to get me to use their hats but what the hell for? What is the point of taking an inauthentic picture? I totally regret not thinking of bringing along my certificate.
On second thought, if I'm being honest, I have no idea where my certificate is. I trust that my mom has kept it properly.
After the photo-taking, I declared that I wanted coffee and cake, and after a botched attempt at going to Ion for Dunkin' Donuts because there were too many cars somewhere, my parents and I (bro went off to see girlfriend) went to Sheraton Towers.
I LOVE Sheraton Towers. The hotel restaurant is next to a waterfall, and it has ceiling-to-floor glass walls that give you an uncluttered view of the waterfall. It's really quite picturesque, and when Tong and I went there on my birthday, he said it was vaguely Shangri-La-esque.
It's definitely less pretentious and annoying than Shangri-La. I don't think there's a hotel in this country more overrated than Shangri-La. My family ate at the Chinese restaurant once and the food did not warrant the price at which it went. I ate at The Line once too and I didn't think much of it. On the flip side, I've loved everything I've eaten at Sheraton, both the Chinese restaurant and the main dining area with the economical buffet that features an AMAZING dessert spread.
Today I ordered the chocolate and banana bread and butter pudding. And all I can say is: OMG MAJOR YUMMERS.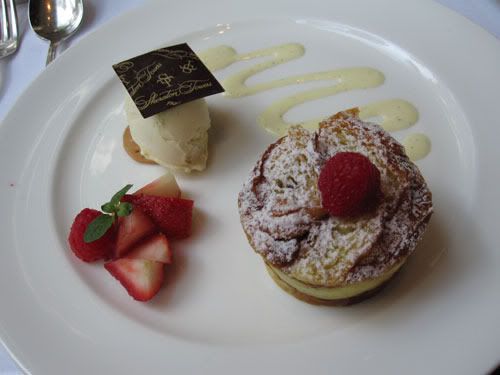 It came with cinnamon ice-cream. I LOVE cinnamon. The ice-cream killed me because it was so good. That tiny plate cost like, $15, but I swear, it's money freaking well-spent.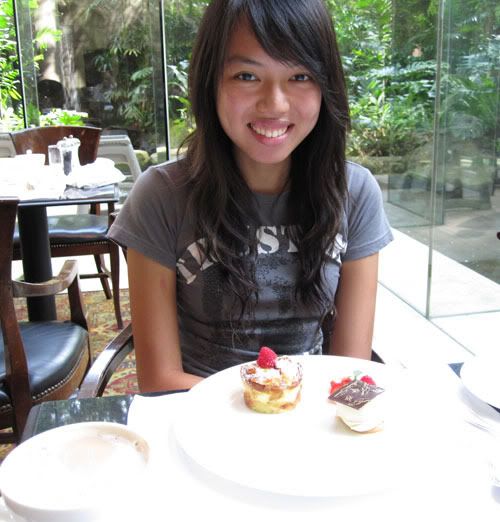 Very happy girl!
***
Yesterday's Tennis
I played one set with NUS Wall Guy.
I lost. 6-1.
Fucks!
Okay, that's pretty much expected. The one game I won, I won on his serve. And obviously he played at like, 10% of his true capabilities; otherwise, it would've been 6-0. And I would've been broken at 0-40 three times.
Whatever it is though, the scoreline doesn't really reflect what really went on. I had many break points; I was up 15-40 a few times and even gained the advantage when his serve got to deuce. The problem was, I'd play two good points in a row to get myself 15-40, but at 15-40, when I was playing to break, I'd just start doing nonsense. There's no other word for it: it's nonsense. Backhand into the net, another backhand hit WAY wide, some rubbish forehand that went nowhere, and STUPID decision to try to volley (yeah right. My attempts have generally failed so far. Except like, two?). The more important the point, the more tensed I get.
And yeah, I never held serve even once. Haha. I cannot serve properly so I served underhand, and I'm quite surprised that I only had one fault. Amazing right? I think so too.
I didn't do anything memorable yesterday...except maybe one forehand return-of-serve winner. And some passing shots. But then, it's much easier to hit a passing winner than a winning volley, so whatever.
I haven't done my tutorial. I think it's high time I started on it.
I hate losing, by the way. And my dear boyfriend has chosen to severely underestimate me by challenging me to hit one winner - ONE winner - the next time we play tennis, whenever that is. Trying to win points against NUS Wall Guy yesterday was quite an arduous feat. In the context of yesterday, his moniker is seriously apt. He was like a wall - the damn ball just kept coming back. The points that he won and lost were mostly by my winners and unforced errors.
So if I could get myself break points and win one game, it means that I'm clearly capable of hitting more than one winner, right?
Okay, that really depends on who's on the other side of the net. It's different playing a squash player playing tennis as opposed to someone who only plays tennis. Instead of getting normal topspin shots, you get bloody slices after slices - and I HATE returning slices. Especially Tong's. The last time we played, I completely died each time he sliced, which was pretty much all the time. And when a high ball comes my way, I also more or less die.
I don't really have a point. But I just saw the Federer #15 cap that I wanted, and still want. And it's still out of stock.
I AM SO SAD.
Okay I really have to do my tutorial. How bothersome, right? I know. I know.