LOOK AT THIS THING OF BEAUTY: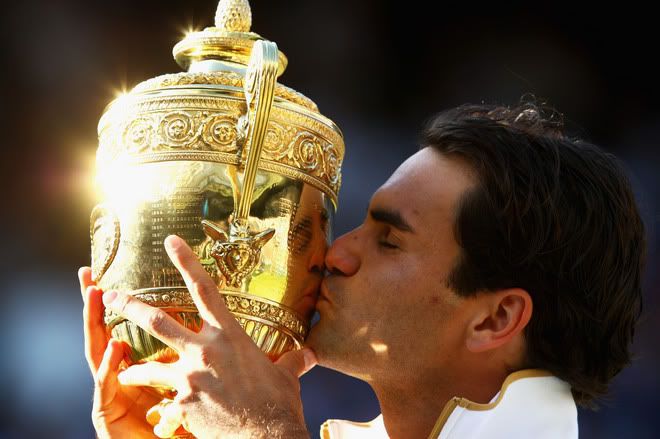 Federer d. Roddick 5-7, 7-6(8), 7-6(5), 3-6, 16-14
16-14.
The tennis gods haven't stopped favouring Roger Federer, and Andy Roddick just can't catch a break.
I have quite mixed feelings about this result. On the one hand, I got into full rooting-for-Roger mode as the match went on, as the fifth set was deadlocked between the two players with no discernible end in sight; on the other hand, if I'm being honest, Andy was the better player today. I honestly thought that Andy was going to take it because he outplayed Roger on so many points, and looked the more stable, consistent player between the two of them. Roger was making uncharacteristic errors left and right (if that up-the-line forehand hadn't been hit out, however slightly, on break point in the first set, Roger would've won this in four) while Andy was serving up a storm and backing it up with some superb baseline and net play. His win over Murray was no fluke, and halfway through I said out loud, "Roger should've watched the Andys semi-final." (He said in a pre-final interview that he only watched one set.)
Was I thrilled when Roger converted the first championship point he got when Andy's forehand sailed way long? Yes. I definitely wanted him to win towards the end, and I'd never stop wanting him to win, but oh my god, seriously, midway through the 4th set I declared that Andy deserved it. Andy played out of his mind; Roger played within his safe comfort zone, turning on the genius for a while then turning it off, not daring to make drop shots, giving up on the drop shot return when the only one he played in the whole match floated wide. Andy was absolutely fearless, going for his shots, going for his second serves, even trying to attack Roger's second serves, playing as if he had nothing to lose. And he had nothing to lose and everything to win, while Roger was the one with the weight of tennis history on his shoulders. Perhaps Roger was nervous, or maybe he just couldn't really handle the Reduced-Fat Andy's new-found, well-executed aggression.
I am quite crushed for Andy to be honest, and when I saw him teary-eyed and looking SO disappointed after the match, it took away from the joy I felt from Roger's victory. And it's not just any old Grand Slam win; it's his 15th, record-breaking Grand Slam. And with this win, he also returns to his #1 spot - and I've been saying since the US Open last year that he'd get it back someday. And when he finally does, when he finally breaks the Sampras Record, it just HAD to be against Andy Roddick who played the best Grand Slam final against Roger, but still couldn't manage to win.
How do you bounce back from such a thoroughly heart-breaking defeat? Andy tried so hard, played so well, never gave up, always believed, took Roger to the longest fifth set I've ever watched, took him to 16-14 for fuck's sake - just to lose in the end. He lost honourably to be sure, and he has nothing to be ashamed about; but I just cannot imagine how crushing and devastating it must be to be in that position, to be on the losing end of a battle that you could've won, almost won, should've won, if only you didn't play Roger Federer.
Poor, poor Andy. Roger should've beaten someone I hate, like Andy Murray or someone. Why couldn't both Andy and Roger have won? It's just so indescribably cruel for anyone to lose like this, and it just proves that the better player on the day doesn't always win.
Having said that, Roger wasn't playing like shit. It definitely wasn't his best tennis or he wouldn't have made those stupid errors, but he was solid throughout. He served some ridiculous 50 aces, a few shy of breaking Karlovic's record for the most number of aces served in a match, and he saved two break points in the fifth set. Those two break points were effectively championship point, judging by the way Andy was literally unbreakable all the way until he stepped up to serve to stay in contention for the title at 14-13. But oh my god, despite his below-par tennis, Roger played so amazing towards the end. Whenever he got the ball back in play (and against the Roddick Serve, sometimes that is close to impossible) it was almost certain that he'd win the point. He went all out, and finally his aggressive shots came back, and were meeting their marks, and he served great on the crucial points too. His performance in the fifth set is truly testament to why he's so great: At clutch moments, you can nearly always trust Roger Federer to deliver.
This is also why he's so great: True champions win even when they're losing. I really thought Roger was going to lose, and I was actually hoping for Andy to cave so that Roger could win. But Andy stayed the course, did not buckle under pressure, and was forced to lose in the end. I still don't really understand how the hell Roger managed to win this one...except, maybe the only explanation is a simple one: Because he's Roger Federer.
Amazing. What an amazing, emotionally draining, epic match. 16-14 in the fifth. Seriously. I wonder if this match would eclipse the final from last year, and obviously, I sure hope so.
Okay, tired now. Going to sleep. It's almost 3 AM.
I really hope Andy continues his great season though.
And I'm REALLY happy Roger's back at #1 where he belongs - even more so than the fact that he now has 15 Grand Slams to his name.
Oh my god, I just realised he's won 2 of the last 3 Slams. Does a guy who's on the decline win 2 out of 3 Slams? Does he? What a great "fuck you" to the idiotic journalists and tennis fans who wrote him off prematurely. I laugh in the face of your presumptuousness and idiocy.
*
ETA:
Oh, Andy.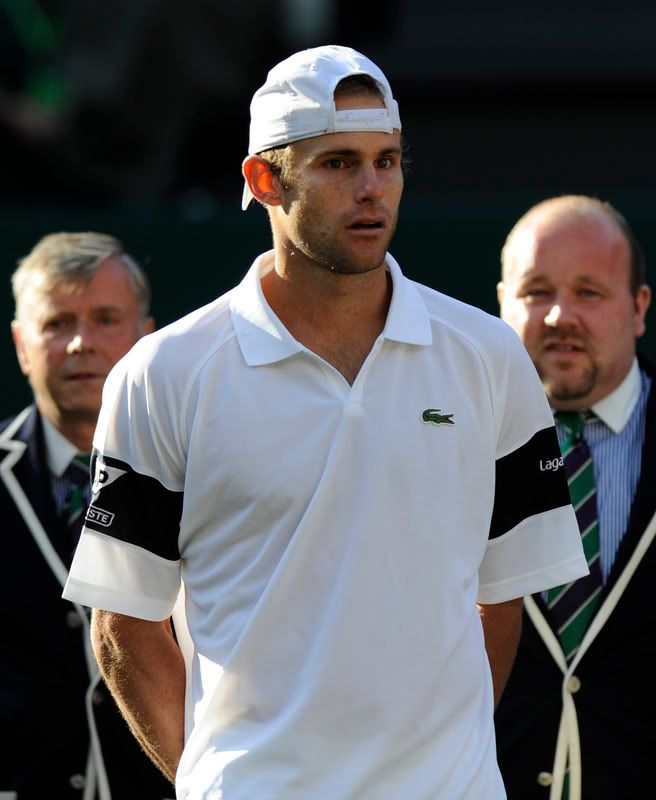 SIGH. Why do I have to adore Andy Roddick so? I adored him before, but now I adore him even more. I feel SO bad for him, it's really taking away from my happiness for Roger.
I guess the bright side is, he tweeted this after the match:
thanks for all the support and well wishes!! it is very much appreciated and we will get out there and do it again soon! thank you!!!
I can't say this enough: I just LOVE his never-say-die attitude. His determination, his fighting spirit, his immense belief in himself. I almost wish he won Wimbledon, just so he can finally catch a break...
But it's Roger 15th. If Roger wasn't going for his 15th, I'd probably want Andy to win just a little bit more. But it's Roger's 15th, his #1 ranking, his beloved Wimbledon...
But look at Andy's sad face. And he played so well.
What a heart-breaking final. =(