Second set, 4-2, deuce. Lu hits a backhand volley, an impossible angle, forcing Roger way out of the court. You'd think it's a winner. It would've been a winner against anyone else.

But Roger runs it down and swipes the ball back into the court, landing in the general vicinity of the left hand corner, a deft backhand winner.

An impossible, not-human deft backhand winner. No follow-through because it was so short and abrupt, taking it on the run, and if it'd been anyone else the ball wouldn't have landed in.

I swear, my jaw dropped, my heart skipped a beat. I've watched him for so long, and he still doesn't cease to completely blow my mind.

*

Star Sports totally cheated me of the first five games of the first set and some of the second. But what's the point of ranting about it? Star Sports has always been rubbish at broadcasting tennis tournaments; no reason they should buck up now. All I can say is, thank goodness my favourite Grand Slam goes to SuperSports (the one in Flushing Meadows. I LOVE THE US OPEN!).

That impossible backhand winner was the shot of the match for sure, but Roger played so many gorgeous points, it's ridiculous. My Taiwanese dude tried to hit all these angled winners but Roger returned them - with interest. It was just amazing to watch him play so beautifully and freely. I think the French Open win really did him wonders in terms of loosening him up mentally. I've always maintained that his tennis, his near-best tennis, is unbeatable, and that when he's playing freely, he can do anything he wants on that court.

Ugh, he's so amazing. Sometimes it really boggles the mind that he even exists. He's from Switzerland, for crying out loud. Who even knows anything about Switzerland? It's like someone from Singapore becoming the greatest of all-time in tennis history - it's just inconceivable. I don't know how he's so talented and amazing and just so...god-like on a tennis court when he's really at his best, or near his best; but he is.

Of course, my Taiwanese was never a match for him. Taiwanese played quite well in the first set but after Roger figured him out, he was pretty much doomed. I actually think Yen-Hsun is quite a good tennis player; it's just too bad for him that he had to face Roger in the first round. At the same time, though, I don't think he's going to do any better than what he's achieved so far.

But not bad. Asia's #1, at least on the men's side, is Taiwanese. YAY TAIWANESE PRIDE!

Lastly, Roger is amazing and gorgeous, but oh my god, what the hell is this monstrosity?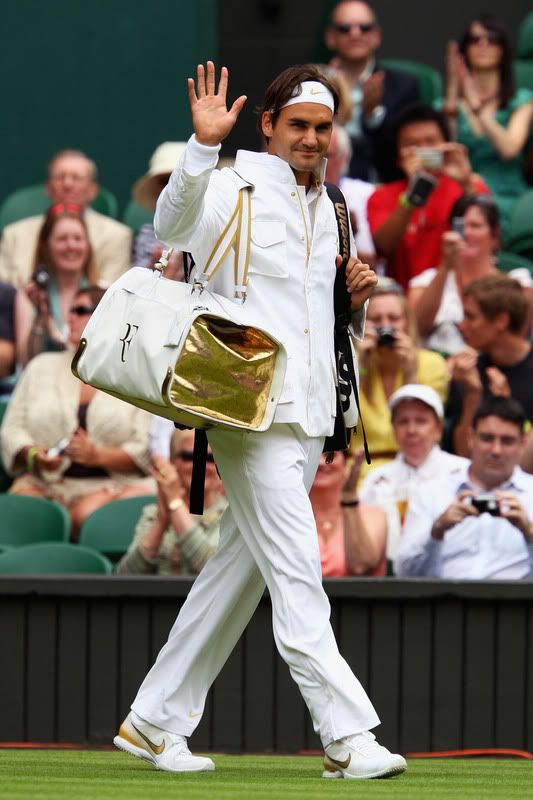 WHAT THE HELL. WHAT AN UGLY-ASS OUTFIT. I AM SO DISAPPOINTED. I MISS LAST YEAR'S CURSED CARDIGAN. BOO HISS.
To make up for that assault on the eyes, here are some gorgeous pictures of my gorgeous husband: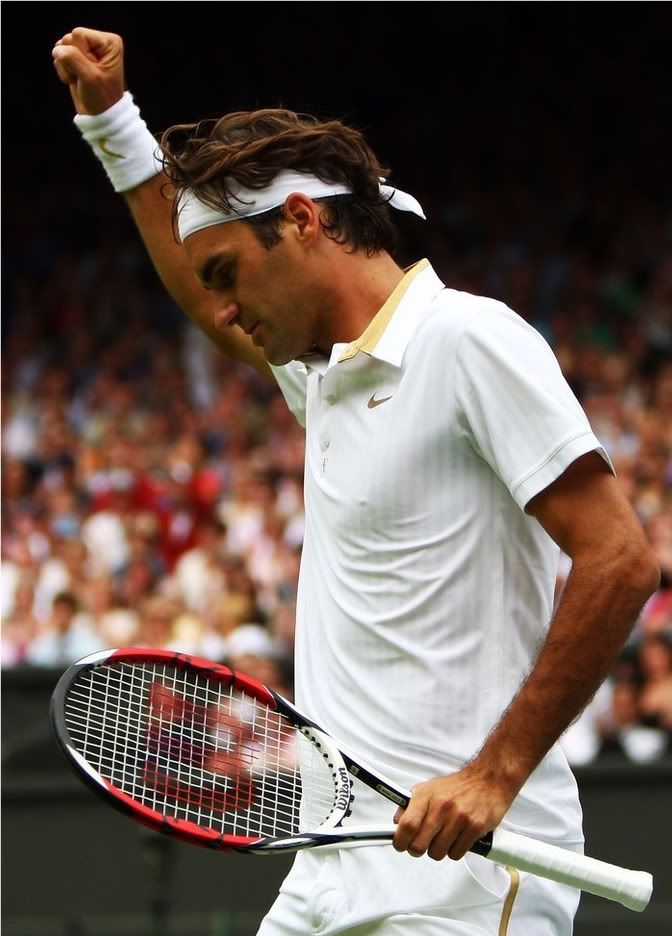 After he won that amazing point I wrote about earlier on.
His Gorgeous Forehand.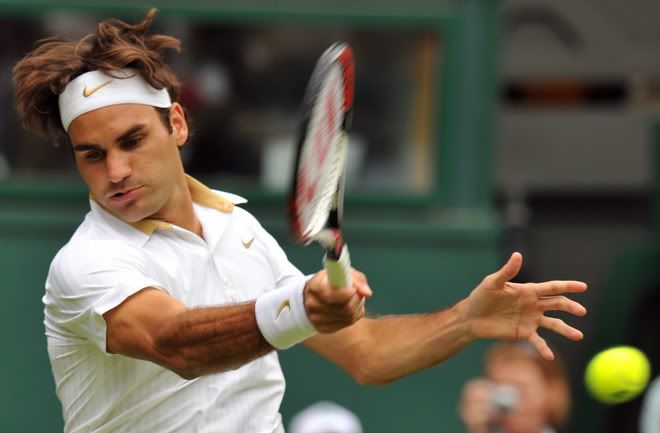 His Gorgeous Forehand II.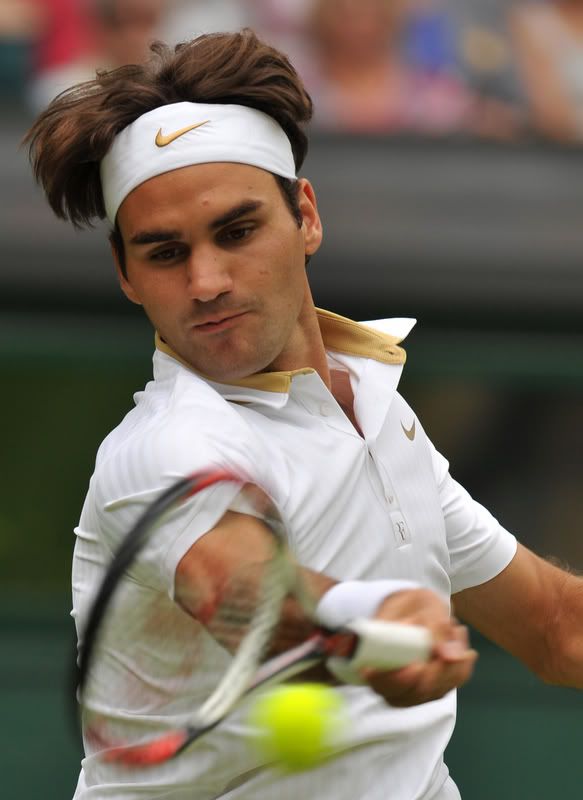 I love the serenity on his face when he hits his shots. A sharp contrast to the contorted facial expressions that all the rest of the players have. The only time Roger has some strange expression on his face is when he serves - that's it. And even then, it's still a human-strange expression.
Roger's Gorgeous Backhand.
Gorgeous Roger.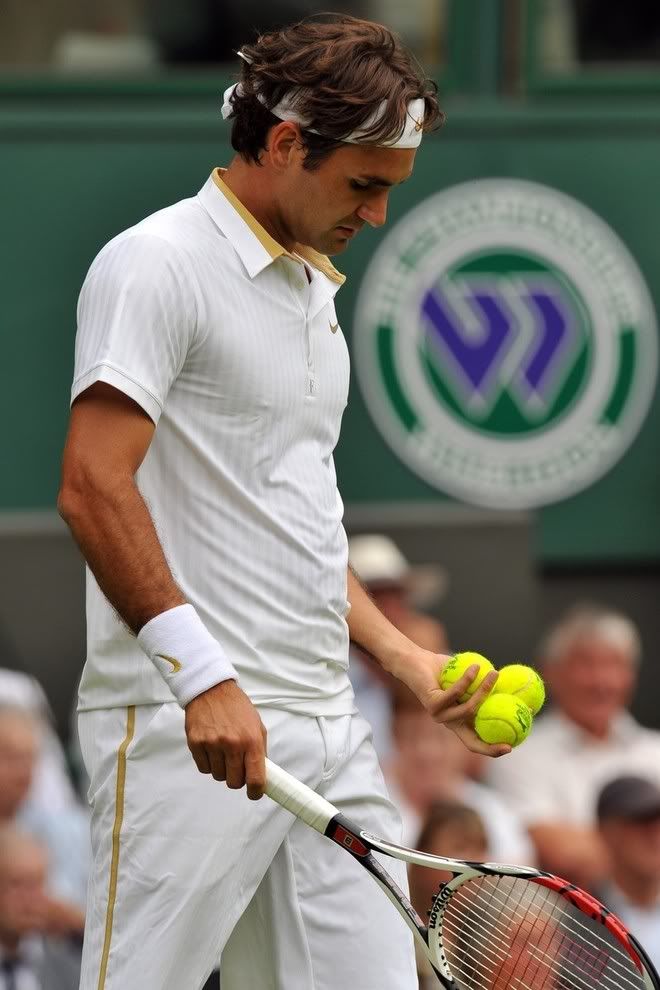 SIGH. I really love him very much. Can't wait for his next match!
***
ETA:
Roger's cardigan from last year: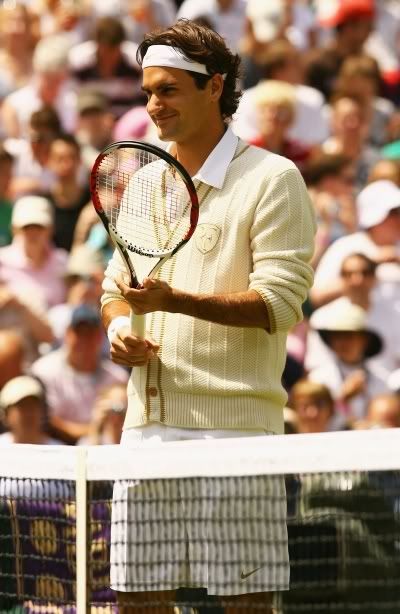 Sooooo much nicer than this year's waiter outfit.
But then, I could care less what he wears to the court as long as he wins. YAY ROGER!