Bringing this from the previous entry because I just can't bury it with the other crap about the finale:

HE DID IT.

I could not not cry. The winning song isn't even that drecky and he sounded so fantastic, and of course he's the first and only Idol winner to NOT be on stage when the confetti starts falling. I LOVE HIM SO MUCH I SWEAR I CAN'T STOP CRYING OH MY GOD.
THAT WAS THE MOST PERFECT FINALE EVER. I REALLY CANNOT STOP CRYING OH MY GOD. THE LAST TIME I CRIED AND LAUGHED AT THE SAME TIME WAS WHEN I GOT MY A LEVEL RESULTS. I JUST...DAVID COOK OH MY GOD.

DAVID COOK!!!!!!!!!!!!!!!! I LOVE YOU SO MUCH I CAN'T EVEN EXPRESS IT!!

I am a sobbing mess right now, I can't even look at him 'cause it'd just make me cry harder and my chest is fucking painful OMG!!! HE DID IT I'M SO PROUD OF HIM I CAN'T BELIEVE HOW FAR HE'S COME. He beat the show, he beat the machine, he was a nobody when the show started and quickly became a contender. HE IS THE ONLY FINALIST TO WIN THE WHOLE THING AFTER GOING FIRST ON TOP 2 NIGHT AND AFTER GETTING THROWN UNDER THE BUS BY THE PRODUCERS.

HE IS THE ONLY FINALIST TO WIN DESPITE SIMON PREDICTING THE OTHER GUY TO WIN.

DGDSVJFRGWHEGTHNWEVHTGHSRGSAGW DAVID COOK YOU ARE SO AMAZING THAT WORDS DO NOT DO YOU ANY JUSTICE.

AND ALL THANKS TO YOU DAVID, "TRITE" IS THE NEW TRITE. I LOVE YOU YOU SEXY GUITAR-SLINGING WORD NERD WITH THE MOST BEAUTIFUL VOICE I HAVE EVER HEARD.

I need to go...collect myself...or brain...OH MY GOD DAVID COOK WON AMERICAN IDOL.

DAVID COOK WON AMERICAN IDOL.

There goes my hero, watch him as he goes; there goes my hero, he's ordinary.

I woke up this morning with David's Silver stuck in my head, and it goes, "So take this small confession as my price to pay, I've never been the kind to let go. But before you up and walk away, I'm miserable without you, you know. This silver leaves me burning for gold - second places never carried me home. Second places never carried me home."

No more second places for you David, no more longing for gold. YOU ARE THE ABSOLUTE BEST.

***

The first thing he did when he was told that he's the new American Idol? Applaud David Archuleta.

He is, quite literally, the classiest winner I've ever, EVER watched on ANY reality TV show. He's fucking amazing - such a great talent, such a great person, and he never forgets the people around him. It was HIS moment but he shared it with Archuleta. And I still can't get over how he's the only Idol winner not to sing the coronation song in a shower of confetti and whatever.

I LOVE HIM SO MUCH. And now, because words are so trite at this point...

PIC FUCKING SPAM.


1. Sweetest picture EVER OMG I'M GONNA CRY AGAIN: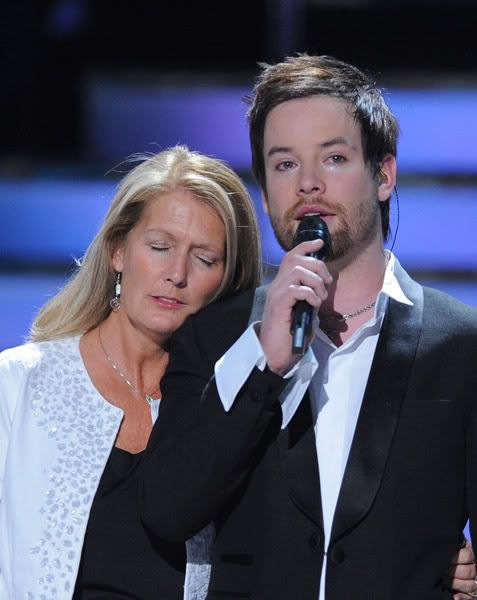 2. Doubling over because HE IS DAVID COOK: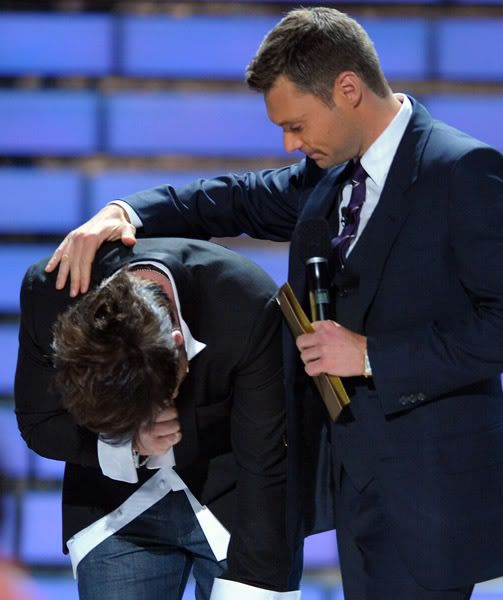 3. "It's all his fault" - Andrew Cook, the reason why the whole world knows David Cook now (I LOVE YOU TOO ANDREW):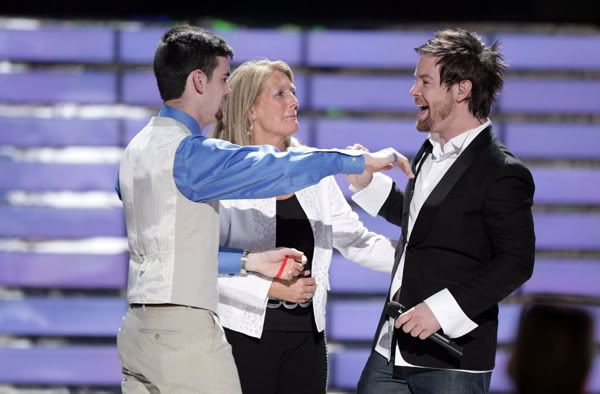 4. The David Cook wave that I've memorised and grown to love: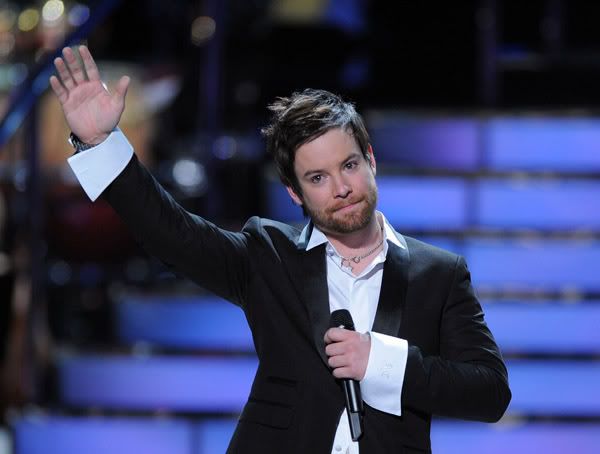 5. The winning moment and never forgetting those around him: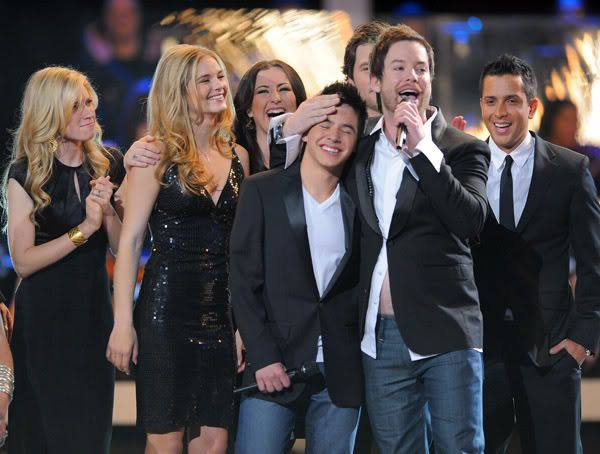 6. David Cook is too adorable, too classy for words: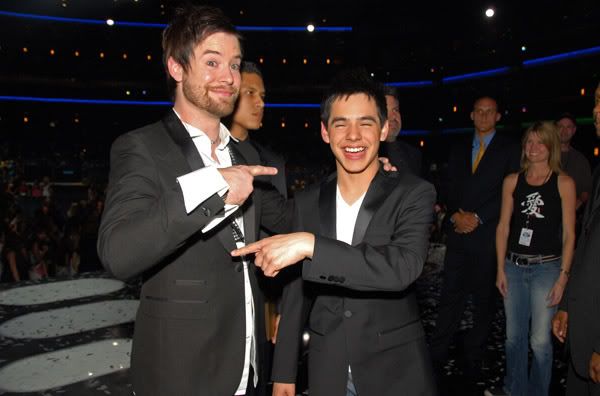 7. Completely gratuitous and superficial shot: OMG HIS BELLY: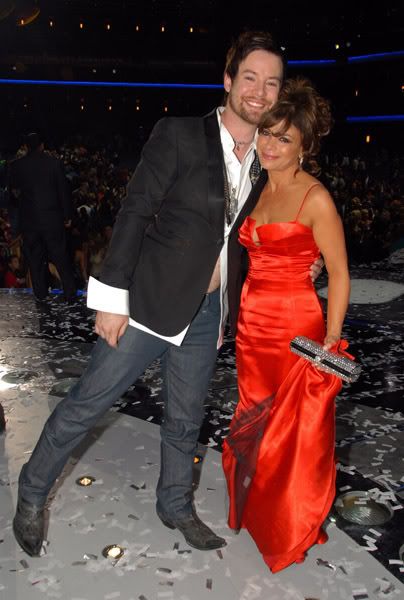 HE IS A BIG TEASER! (He took me half way out now, he's a big teaser, ye-ah YE-AH!) This isn't the first time he's left the last couple of buttons on his shirt unbuttoned. WHY DO YOU INSIST ON ANNIHILATING ME, MR COOK?
8. Making me cry AGAIN!: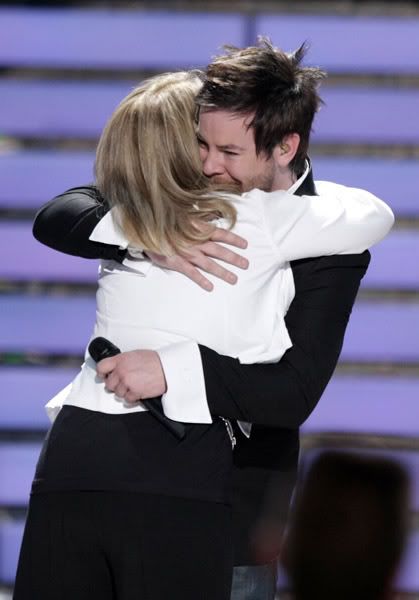 9. Sharing his moment with Archuleta: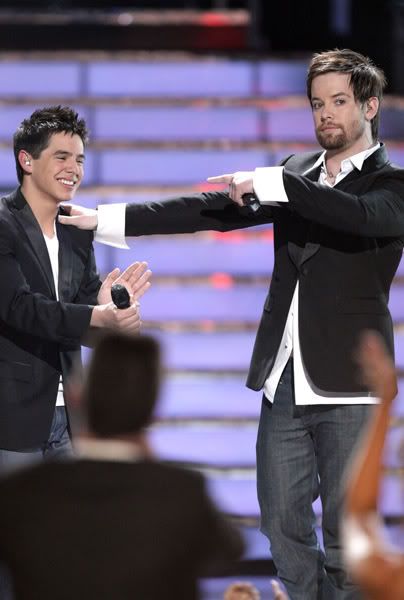 10. He wears his heart on his sleeves: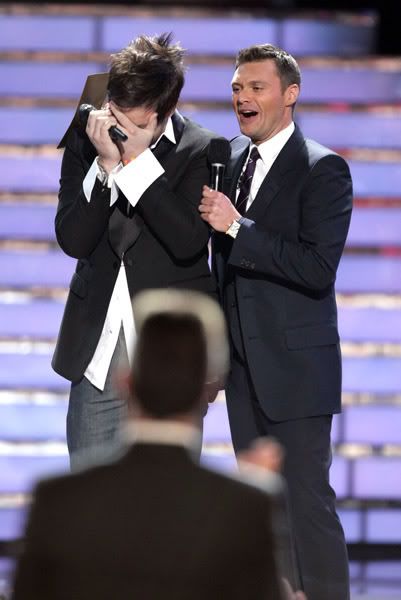 11. #1 on iTunes!: