I can't watch any more videos of David's homecoming 'cause I kind of can't stop crying. I watched him sing Foo Fighters' My Hero at his high school a second time and I just started crying, and ever since last night I've been feeling weepy and at a loss for words because I can't think of anyone else I'd want to see having all his dreams come true. I've been a huge fan since the Hollywood episode and I've never cared about how he looks. It's definitely true that it's so much more fun to fangirl over him after Idol's stylists got their hands on him and made him look like a star; but even when he had his disastrous hair and ugly soul patch and weird, car mechanic fuzz, it was always about the voice, his amazing, beautiful voice, that made a crappy, sentimental song sound tender and heartfelt. Watching him on his Idol journey has truly been an incredible experience, and needless to say I've never, ever felt so touched and inspired by an Idol contestant before in my 5 years of watching the show.

I can't really put it into words right now, but in a way, he's blossomed right before my very eyes. On the other hand, he's always been talented, and this is evident from his pre-Idol recordings. It's just...he went from the bartender/musician to the musician to the heartthrob musician rock star, and it's immensely, immensely gratifying to see someone whom you admire and respect, who's worked so hard to pursue what he loves, get the kind of support and pay-off that he really, really deserves.

I can't really talk about this without wanting to cry - again - so suffice it to say that I feel deeply humbled by him, his experience, and his story, and I can only hope that one day, I can achieve half of what he's achieved. Not just in terms of pursuing his dreams, but also in terms of his strength of character and, generally, what a grounded, humble person he is.

And because a picture speaks a thousand words - a saying that I only believe in right now because I'm too emotional to be articulate - I'm posting a mini picspam.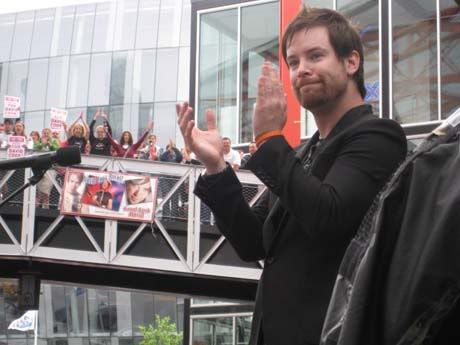 David at his two-song set. He truly wears his heart on his sleeves.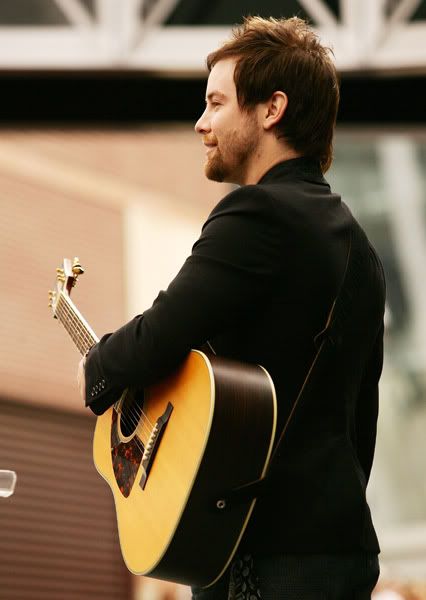 David performing at the Power and Light or whatever it's called, where he did the two-song set.

David and his niece at his high school rally.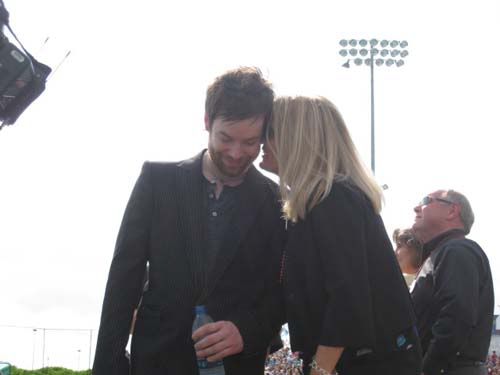 David and his mom at his high school rally. This picture brought instant tears to my eyes. Gad, I'm getting soft.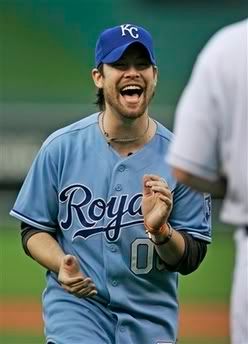 David throwing the first pitch at the local baseball team's baseball game. I think they're the Kansas City Royals? I have no idea. No wonder David wears a blue baseball cap with "KC" on it from time to time. The pure joy on his face is infectious and so touching.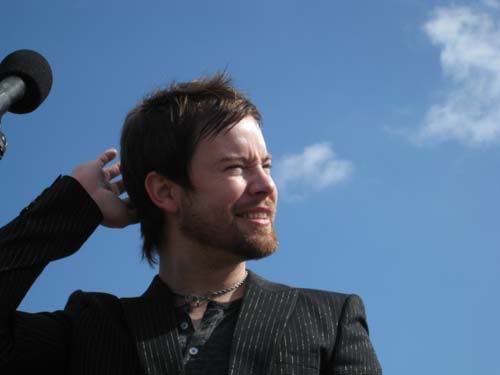 At his high school rally. I love this picture.
The Fox site streamed his homecoming until 10 a.m. today; I fortuitously caught their brief recap of his Idol journey while at the site looking for videos (that was what made me cry this morning. Ugh). I'm so glad I went to bed after watching what was streamed of his Power and Light set; his parade was at 5 a.m. Singapore time. Um...going to bed with puffy eyes - both from staring at computer screen for an extended period of time, and from crying - isn't a good idea at all. Hence, I'm glad I slept when I did.
***
I actually have non-David Cook things to say, gasp shock horror, but I'm so tired right now that I can't really think properly. In fact, I'm quite close to falling asleep, and I'm really just so overwhelmed by how deeply this random dude called David Cook has affected me that I can't quite wrap my head around anything else.
In a nutshell though, I was an hour late to meet Kenneth (for once), we watched Harold and Kumar Escape from Guantanamo Bay because I wanted to watch it, I didn't know it was so full of sexual jokes, and when it ended I was muchly embarrassed. The first one wasn't like that at all, really. Then, for want of better things to do, we went to Sentosa and walked around and didn't do much. But it was nice.
My brain is dead, I'm way too tired, so hopefully I'll have something more intelligent to say tomorrow, though I wouldn't hold my breath if I were you.
**
Edit at 11.52 p.m.:
David says "seriously" quite a bit and that makes me happy!
"So do you guys watch the show, seriously?" Cook asked between tunes. "Man, you guys are fantastic." (Idol finalists bask in adoration of hometown fans)