Roger's first serves have made a comeback in time for the final.

Soderling's playing like shit.

Two more sets to tennis history.

Let's make it 6-1, 6-0, 6-0!

***

Bleah, Roger gave Soderling one free game. 2-1 now, on serve.

***

9.53 p.m.:

OMG. SOME PSYCHO RAN ONTO THE COURT WHEN SODERLING WAS SERVING AT 0-15, 1-2, WITH SOME RED AND YELLOW FLAG AND TRIED TO COVER ROGER WITH IT.

STUPID PSYCHO WAS CLEARLY TRYING TO HARASS HIM.

SOME SUITS RAN ONTO THE COURT AND TACKLED THE PSYCHO.

ROGER PLAYED ON. 0-15 BECAME A HOLD FOR SODERLING.

THEN ON HIS OWN SERVICE GAME, HE PLAYED A REALLY LOOSE BACKHAND.

SHIT.

I WONDER HOW HE CAN STILL PLAY WHEN I'M STILL THINKING ABOUT THAT STUPID FLAG PSYCHO.

I HOPE HE'S OKAY.

SHIT.

IF HE LOSES THIS, I'M BLAMING THE STUPID FLAG GUY.

***

10.09 p.m.:

No breaks as of yet. I'm getting impatient. The weather is not holding up too well either; it's already drizzling.

Come on Roger, finish this before it pours! I have to work tomorrow!

(Because, yeah, it's all about me.)

***

10.26 p.m.:

Hahahahah Roger won the second set tie-break 7-1.

Not only that: He served ALL aces in this tie-break.

THAT IS AMAZING ROGER.

ONE MORE SET TO TENNIS HISTORY.

***

10.54 p.m.:

Roger's up a break in the third. Was hoping he'd go up a double break, but...if he continues to hold serve, he's gonna win this within the next 15 minutes.

OMG OMG OMG I CAN'T WAIT.

He served three aces in a row when it was 15-all on his serve. He's really amazing. I don't even care he's losing the long rallies; as long as he wins this match, I don't care how he wins it.

He needs the title. He deserves it, more than anyone else.

***

11.13 p.m.:

ROGER FEDERER IS THE GREATEST PLAYER OF ALL-TIME.

OH MY GOD OH MY GOD I CAN'T BELIEVE IT I CAN'T BELIEVE HE JUST WON THE FUCKING FRENCH OPEN.

HE JUST TIED THE SAMPRAS RECORD.

WHEN HE WINS WIMBLEDON AND THE US OPEN LATER ON, HE'S GOING TO BREAK THE RECORD.

OH. MY. GOD

I DON'T EVEN KNOW.

GOING TO WATCH THE CEREMONY NOW.

***

11.36 p.m.: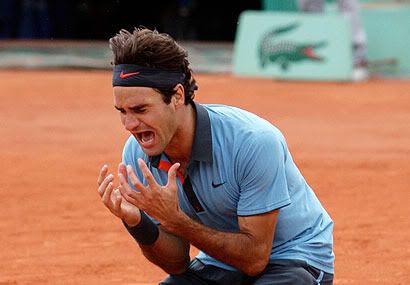 He cried.
OMG HE CRIED.
And this time? IT WASN'T BECAUSE HE LOST.
How amazing is he? He was so nervous serving it out, he hit an easy put-away long and gave Soderling a break point. Thankfully Soderling eventually shanked a forehand; after that, Roger hit two great first serves and when Soderling's return on championship point sailed wide, Roger dropped to his knees, let out a yelp, and started crying.
OH MY GOD.
I honestly cannot believe I just witnessed him win the French Open. It was the ONLY Grand Slam he'd never won, and it was the Grand Slam I thought he'd never win. But he did it. HE. DID. IT. Soderling was never a match for him for sure, and I was too relaxed throughout the match; if it'd been Nadal, my nails would've been completely gone by now. I don't even care he didn't beat Nadal to nab the French. All I care about right now is...
ROGER FEDERER WON THE FRENCH OPEN.
With this win, he did the following:
1. Tied Sampras' record for 14 Grand Slams;
2. Became the 6th man to ever achieve the Career Slam (win all four Grand Slams, though not in the same year); and
3. Arguably, became the Greatest of All-time.
Pete Sampras never reached a single French Open final. He won 14 Slams, but not a single one of them was won in Paris. Roger winning 1 of his 14 Slams on clay arguably puts him one rung above Pete - which is why I keep harping on about tennis history. Tennis. History.
Oh my god. I hope wins the Grand Slam next year, sweeping all four Slams in one year. A pity he didn't win Australia; but shit, who even cares. He just won the French Open.
His website is down. Not that I expected any less.
OH MY GOD. I LOVE ROGER FEDERER.
***
11.52 p.m.:
I can't imagine what it'd feel like being one of the Fedtards who have waited for him to win this tournament for four years. Because I've been a Fedtard for less than a year, and already I don't know what to do with myself. MY WEEK HAS OFFICIALLY BEEN PERFECTED BY THIS GLORIOUS, PERFECT WIN BY THIS GLORIOUS, PERFECT MAN.
This win has erased all his shitty losses in the beginning of the season. This win is the reason I don't give up on him - because when he's back, it's glorious; it's magnificent; it rights all the wrongs in the world; and there is just nothing like it. Absolutely nothing. I can't even begin to express how it is that a complete stranger's personal success is capable of meaning so much to me - but it is.
I wasn't teary at all the moment he won, but now, writing this, I'm seriously getting a lump in my throat.
OMG.
More pictures coming soon. You can bet on it. Be prepared for yet another Epic PicSpam!