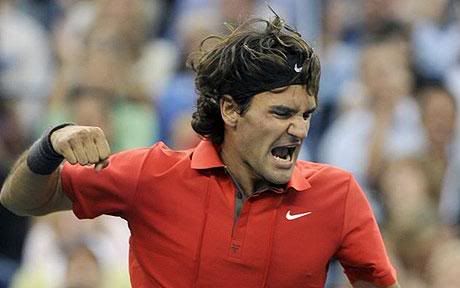 HE DID IT. FIFTH CONSECUTIVE US OPEN CHAMPIONSHIP.
And he did it in straight sets, defeating Andy Murray 6-2, 7-5, 6-2. No tie-breakers; he broke Andy's serve when it really counted in the second set, when Roger was up 6-5 and Andy was serving to push the game into a tie-break. Roger's second set was a bit of a mess and I sat there clutching my cushion and clinging on for dear life and I swear, a few times I almost forgot to breathe. I thought Roger would not get himself out of trouble when Andy broke his serve right back at the start of the second set, and Andy broke him at love. SERIOUSLY! Roger couldn't break the next game, and when it was Roger's serve, he was actually down 0-40. Andy Murray had three break chances there that would have given him a one-game lead over Roger...but Roger, displaying what it must mean to have won 12 grand slam titles and four US Open championships, fought back from the three-point deficit, got the game to deuce, and saved all those break points. Not only that? By some stroke of miracle and Federerism that only Roger Federer understands, he actually HELD IN THE END.
I was so freaked out during that whole game. I was so scared that Andy would break again and possibly take the second set. That was the most critical point of the match for Andy, and he blew it. And it wasn't because Roger was playing exceptionally well; Andy, for some strange reason, didn't challenge a Roger shot that was probably out, that wasn't called out. So the ball was back in play, Andy lost his chance to break and lead the set, and Roger bagged the game. They were tied at that point and I was gearing myself up to sit through a nerve-wrecking tie-breaker that I was pretty sure I wasn't going to survive, but Roger saved me from myself and broke Andy at love, bagging the second set 7-5.
Although Roger had an uncomfortably high number of unforced errors, especially in the second set, he also hit so many beautiful winners that they totally helped him win the match. Roger has a wonderful backhand (the one-handed backhand also helps to make it look better than the two-handed backhand that Murray, Nadal, and about half the world play), but today, I totally fell in love with his amazing powerful forehand shots. Whenever he sends a forehand down the line, it hits the court just at the bottom left corner of his opponent's forehand side, and it's such a powerful shot that there is simply no way his opponent can return it. Bloody brilliant and breath-taking winners. And it's not just his forehand; he had 31 out of 44 points at the net, and at one point he executed this amazing slice that put enough spin on the ball to get it just over the net so that Andy had absolutely no chance of hitting it back.
I think he's completely, completely amazing. The way he aggressively approaches the net strikes fear in my heart, and I'm on the freaking Federer Express. I still can't get over how he held serve after a love-forty deficit. Anyone else would have squandered the game and dropped the second set, and the only person that could have got himself out of trouble is Roger Federer.
Andy looked so crushed during and after the match that I felt a bit sorry for him. It's definitely an achievement to reach your first grand slam final, but to lose in straight sets in such a thorough and no-holds-barred manner, even if it's to the Roger Federer, must be really shitty. I mean, really. Despite Roger's shaky second set, he completely dominated the entire match and crushed Andy. He was actually up 5-0 at the third set, and if he hadn't been broken by Andy when he was serving for the championship, he would have won the third set 6-1.
I'm so happy for him 'cause I can't think of anyone more deserving than him. I still think he played the best against Djokovic but other than almost hyperventilating to death when he made all those errors in the second set, I have no complaints. In fact? I'm going back to sleep happy now because my darling has just nabbed his fifth consecutive US Open and his thirteenth grand slam title. I'm telling you, there's no way he's going to back down now, and he won't stop until he breaks Pete Sampras' record! So whoever's been spewing crap about how he's old and has reached his peak and whatever can go STFU, thanks.
One last thing before I go back to sleep: HOW CUTE WAS HE DURING THE AWARDS CEREMONY. Wait, even earlier, HOW CUTE WAS HE AFTER HE WON AND DID A LITTLE SHIMMY WITH HIS FISTS AT THE CAMERA. He's so adorable OMG, and he's just such a likeable person generally. He has amazing PR skills...or maybe he's just a genuinely nice guy. He thanked the audience when he accepted his trophy, and he thanked them "from the bottom of my heart". He's so sweet. And his Swiss English accent is SO adorable. And he can speak four languages (I think Swiss German counts as a separate language from German) and he's actually fluent in English, though he tends to pepper his sentences with "you know". Which is like how totally adorable.
ARGH I WANNA MARRY ROGER FEDERER.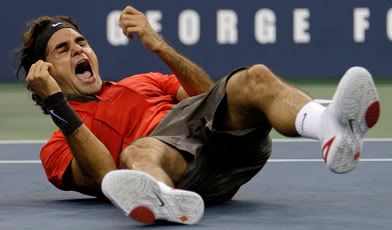 Roger falling to the ground in joy after winning