I'm hoping a little bit that it would rain so that I don't have to go for tennis training because I'm feeling a bit lazy, and I'm a bit woozy from too much coffee. Oh, and the court is all the way in Marina Square, which became Very Far Away ever since I stopped working.

*

Speaking of tennis, I have two things to say:

Roger Federer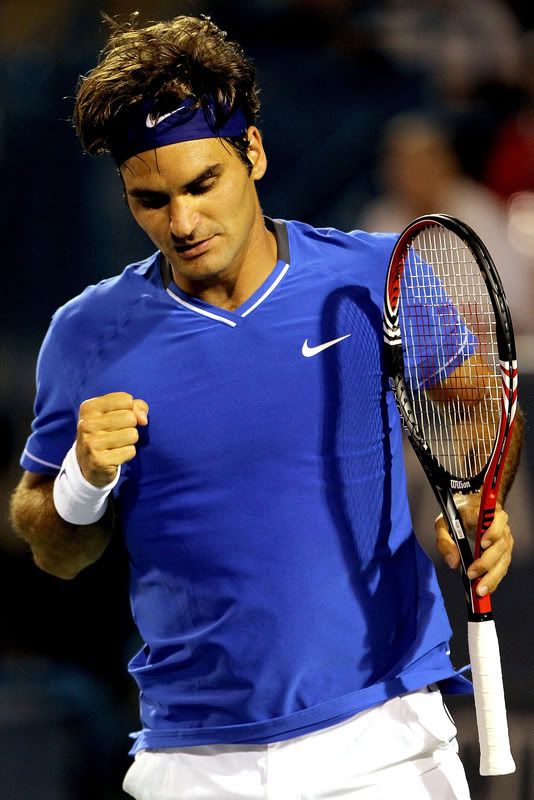 I dragged myself out of bed at 9 a.m. today ("Siao," says Wei Chuen) to watch Roger's opening match in Cincinnati against Juan Martin del Potro, whom Roger lost to in their previous two meetings in 2009, one of which was the very very very VERY fucking heartbreaking US Open final, which Roger lost in a painful 5th set 6-2, looking as though he ran out of gas and ideas (omg why am I writing about this? It's bringing back such shit memories. HE COULD HAVE WON HIS 6TH STRAIGHT US OPEN TITLE BUT IT WAS NOT TO BE).

Roger also recently lost to Tsonga in another inexplicable and fucked up loss. Ergo, I was slightly fearful that he'd lose in his opening match.

THANKFULLY HE DIDN'T. He played a pretty sublime first set in which he remembered that his forehand was the most feared shot in tennis between 2004 and 2007. I was positively afloat in cloud 9 watching him hit those crisp, sharp inside-out forehands for which Delpo had absolutely no reply ("Unplayable," says the commentator. "Insurmountable."). His serve, too, was in perfect order; Delpo didn't have a single break point in the first set.

When Roger didn't convert some 5 or 6 break points that he had in the opening game of the second set, it was damn irritating but unsurprising (what was surprising was his 100% break point conversion in the first set). When he had a break point to go up 5-4 and serve for the match, AND Delpo missed a first serve, there was nothing that could be said but Too Good when Delpo hit a courage second serve down the middle that caught Roger by surprise. Delpo went on to hold.

Then Roger finally got the break to serve for the match at 6-5 with a sublime cross-court forehand winner. When he served for the match and raced to a 30-0 lead (amazing net play to net the first point - net play, net, boy I'm so clever), I was pretty relaxed, thinking that he had this in the bag. But then it soon became 30-all - and it was all too reminiscent of that horrible US Open final, when Roger served for a two-set advantage, just to get broke and lose the set.

Thus, when Delpo made a bad forehand error to give Roger match point, there was nothing more to be said but OMFG THANK YOU JUAN MARTIN DEL POTRO THANK YOU.

Roger won, made a small fistpump, and the two players had a warm handshake at the net, during which Roger reportedly told Delpo that it was good to have him back on the tour.

It was a good match for Federer fans. Any match when he goes into it with some possibility of losing and comes out of it victorious is a good match in my books. Delpo was definitely below the peak level that he displayed in 2009 to win the US Open defeating Nadal and Roger back-to-back, but he did show some flashes of brilliance in the second set; in fact, he won more baseline rallies in the second set than Roger, AND played pretty well on the big points (though Roger has no one to blame but himself for making two unforced errors on the forehand wing and missing two break points in the opening game of the second set).

Ultimately, as it should be, Roger won. He faced a break point in the second set, during which I was all nervous and dying inside, thinking, "Fuck fuck fuck NOT AGAIN. He's just going to fade in the decider. It's going to be another shitty loss that he should have won." THANKFULLY HE SERVED AN UNRETURNED SERVE AND WENT ON TO HOLD. I really wanted him to win this. In fact, I would be overjoyed if he defended his title here.

Tennis with Thx U

WAH LAU.

Halfway through - could've been towards the end - in my head I was all, "Fuck, I've had enough of this." By "this" I mean short loopy balls that land somewhere near the service line, with no fucking pace whatsoever, that I had to keep running forward to hit. And all those high balls that he hit from his backhand - shit, it was bloody tiring to keep forcing myself to keep track of the ball, especially on my crappy backhand side, and try to hit it back. Most of the time I ended up hitting the ball to the adjacent court where two super pro ang mohs were playing a match, so it was doubly embarrassing.

I do like playing with Thx U, but like I've said before, I hate balls with no pace. Just don't give me time to think and panic; just force me to hit it back and react instantly. I hate balls with heavy topspin that land deep in my side of the court, I hate high balls, I hate Wei Chuen's low skidding slices, and I hate balls with no pace.

I played a forehand volley and actually made good contact, but of course, I volleyed the ball out. That was all shades of unsurprising. And also unsurprisingly, I was at the net and let this high ball that Thx U hit land first before hitting (because my backhand drive volley has not been in existence since maybe 2008 or early 2009), and when I tried to hit it, on the backhand side, I completely missed.

I'm such a mug.

Lastly, the lion dance troupe drumming away nearby made a lot of noise and it was very distracting at first (so were the heavier Wilson trainers that we played with; couldn't hit a ball properly for the first ten minutes). And the fucking lights that lined the pathway behind the courts, the ones that I kept staring at, and the fucking floodlights, those lights were blinding and bloody annoying. This is why I don't like playing at night as much as in the day. The lights don't sit well with me at all. They make my eyes hurt and I lose a few seconds trying to see the ball clearly again.

I'm such a mug.

*

In other news, Wei Chuen is finally back from Taipei. He bought me this pretty vase of preserved flowers from Yang Ming Shan, and a bookmark and a pocket mirror from the souvenir shop of the National Palace Museum. The unfortunate thing is that I always end up losing my bookmarks which compels me to use my credit card statements as bookmarks. I hope I don't lose this one, for obvious reasons.

I'm quite sad he said that Taipei is an upgraded version of Bangkok. In my mind, Taipei is superior to Bangkok in so many ways. In my mind, in fact, Taipei is the Only City in the World.

But I will show him around MY CITY when we get the chance to go there together. Haha. He kept saying how hot it was which is quite inexplicable to me; whenever I go there it's usually cold. It was even slightly cold when I went there this March and only became warmer on my last day.

What he said, though, about the food becoming boring after a while is true. I definitely felt that when I was in Taiwan for two weeks in March and started craving for, say, Indian, Western, Italian, or even fucking nasi lemak. In that respect, and amongst all the places I've been to, I'd say that Singapore is still the place to be for a variety of different kinds of food - quality food. I even found the food in Melbourne overrated. Maybe I didn't go to the right places, but I don't even remember what real food I ate, only what desserts I ate and where I had my coffee; and the only Asian food I had was absolutely disastrous.

Still, I have my issues with Singapore. I guess we'll see how all this pans out.

*

I wanted to write more but it's time to get ready for tennis. It seems like it's not raining in Marina Square. I'M FEELING SO BLOODY LAZY.