1. Tennis-related content: Maria Kirilenko (I will get on to other matters after I'm done talking about this)

She's a babe. She's a total babe. To illustrate my point: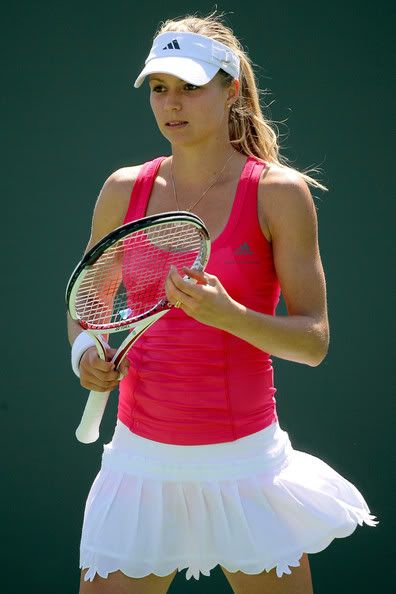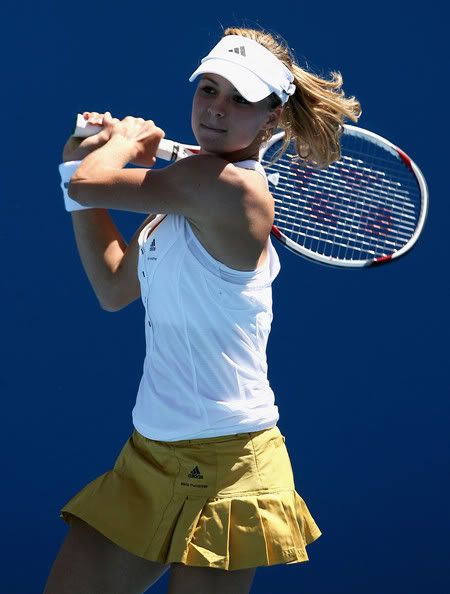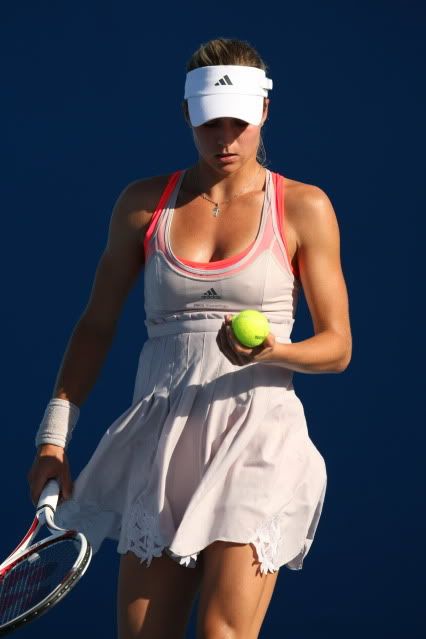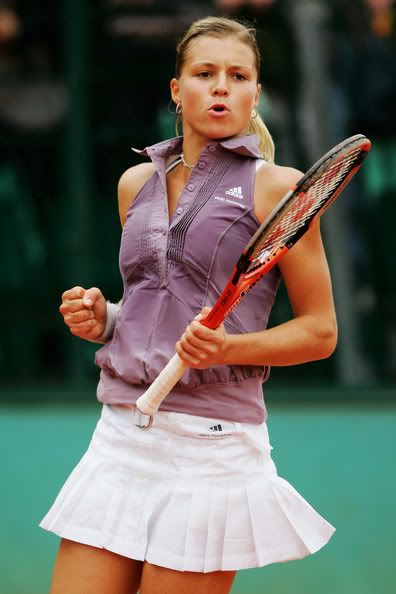 She's unfortunately not wearing Adidas by Stella McCartney anymore, but she manages to make Adidas' ugly Barricade line from this season look good: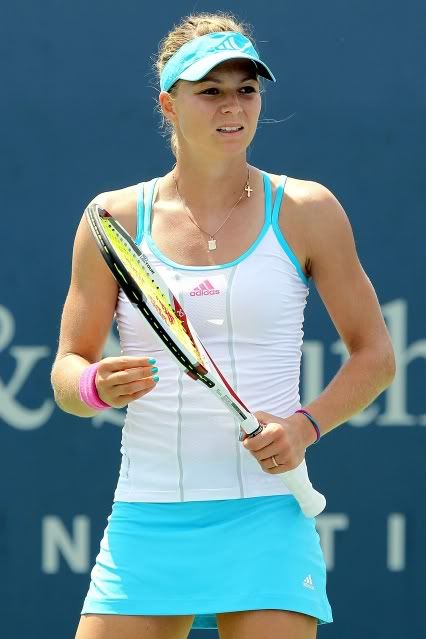 I don't really have a lot of "favourite players" apart from Roger Federer. There's a huge gap between him and the other players that I like, which consist of only a handful - male and female combined. I just find it difficult to really foam at the mouth over the style of tennis of someone not named Federer, because he has the most graceful, elegant and aesthetically-pleasing strokes. He's the reason I got into tennis; his beautiful tennis is the reason I hopped onto this ship and remained on it.

Of course, I won't lie about the fact that I started watching him because I thought he was the most beautiful man I'd ever laid eyes on. And so it kind of follows, in a weird kind of way, that I started watching Maria Sharapova and Maria Kirilenko because they're both gorgeous (though I'd definitely say that Kirilenko's prettier). I became a Sharapova fan because of, first, her blatantly aggressive game - I like players who aren't afraid to pull the trigger, and Sharapova's game is all about that. I also like her because of her competitive spirit, her mental toughness, the way she does not give up even when staring in the face of defeat.

Kirilenko's another matter altogether. She's probably never going to be a grand slam champion, simply because she does not have the power off the ground to really hurt her opponents. But watching her these past few months, at the US Open and then today, her match in Tokyo against Sam Stosur, there's something about her game that's kind of compelling. Her groundstrokes aren't powerful, but her movement and defence are rock solid. More importantly, she has an actual net game with which she can hurt her opponents. She's a very accomplished doubles player, and this translates to her singles game as well.

Like Sharapova, though, she displays tremendous fight and passion from a losing position. She was overwhelmed by the Stosur forehand in today's match, but she scrambled, she rushed the net, she dug out winners from impossible positions, and she got the win. Her reaction at the end showed just how much the victory meant to her.

On another note, I just acquired that purple collared top/white skirt combo in one of the pictures above. It looks absolutely amazing. At this rate, I may have to revamp my entire tennis wardrobe and make it exclusively Maria Sharapova's Nike line and the Adidas by Stella McCartney range.

*

2. In Other News

I've actually resorted to selling some of my old tennis outfits on eBay, i.e. those that I bought when I was skinnier which I can't wear anymore, or outfits that I bought thinking they looked nice but which I now think are quite ugly. I have this particular white/pink one from Nike which I never wear, save a few times at night, because of the cross-back on the tank top. I like to keep my ugly tanlines consistent and only wear racerbacks or t-shirts. Wouldn't it look even worse to have some random criss-cross tanline over the white part of my back? I think it would.

Anyway, I've been lazing around without a job for nearly two months now. In the course of said lazing around, I've blown a lot of money on online shopping. Sometimes, to entertain myself, I'd go look at clothes on ASOS.com and eBay, etc, and inevitably would end up buying more clothes that I don't need. I am quite afraid to see my credit card bills when they arrive; they're definitely not going to be pretty.

Ergo, I bloody need to go back to work and earn a salary again. It's going to be less than what I was earning previously, but if all goes well, I'm gonna be back to work soon. All I'm going to say about it, at least for now, is that...I would probably need to work to keep my arrogance in check a bit. Ha ha, ha ha ha. It's really not a case of it being about law or whatever; I just can't help but be irritated by people who aren't smart.

Not that it justifies anything. It's like the way I was in JC. I thought I saw the error of my ways after the fact, but every now and then, I'd encounter some random idiot, in time to remind me of why I was the way that I was back then. Really, you could have smelled the arrogance reeking from my body miles away; it was unstoppable. Pair that with my impatience and general lack of tolerance and...you get the picture.

Anyway, I'm really free at the moment because Wei Chuen's been called back to the army. He comes out at night but is too tired at the end of a long day in camp to meet me. It's very sad.

He finally gave me my birthday card on Sunday (yeah, I know). He drew a girl hitting a tennis shot on the cover. The girl is hitting a backhand. I think it's really sweet how well he knows me. I'm looking forward to the weekend, now more so than ever.