I hate the Paris Masters mainly because of the obnoxious French crowd (same reason why the French Open is my least favourite slam), but who even cares whether I like this tournament or not when Roger's looking so happy with the ugly trophy in his hands?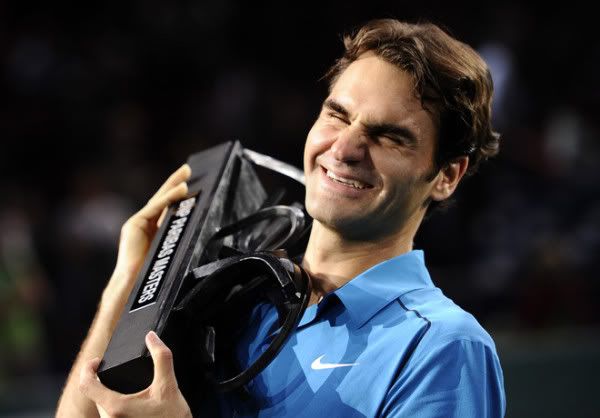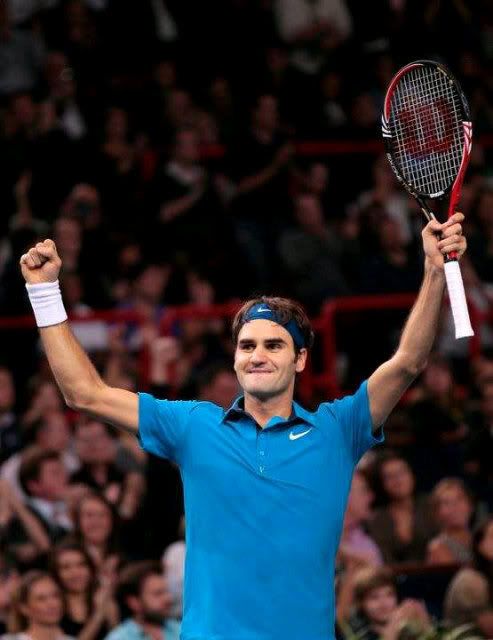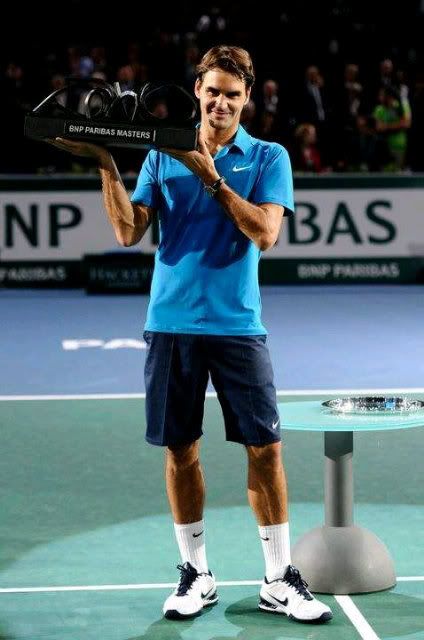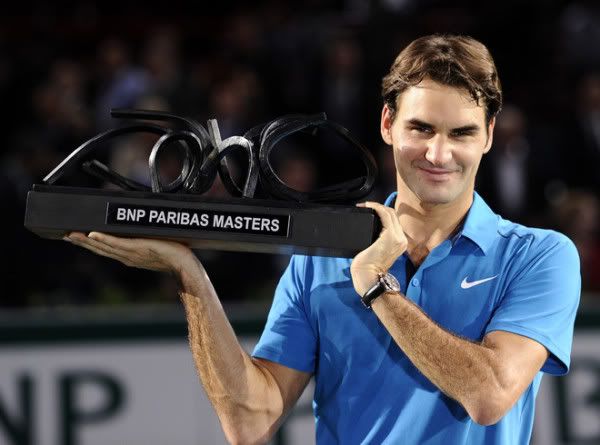 Emotional Fangirl Response

He's been lacklustre the entire year and he's ending 2011 without a grand slam victory. I hate admitting that he's on his inevitable decline because it would mean that we're getting every bit closer to his inevitable retirement. But watching him in some of the big matches this year has been really painful, and one of them even made me cry; and so there's just no denying anymore that he will never be as dominant or as sharp as he used to be.

Still, he gives us flashes of brilliance and of his old form every now and then. He did it again this week in Paris. He wins Paris for the first time ever in 10 years' of trying and he did it without dropping a set. More importantly, at 30 years of age, when most tennis players have long retired, he shows, once again, that there's no limit to what you can achieve.

What a Difference a First Serve Makes

Roger couldn't get a first serve in midway through the second set, when he serve at 4-3 to even the score to 4-all. Tsonga, repaying the compliment that Roger paid his second serve in the first set, whacked return winners all over Roger's second serve. At break point, Roger's first serve found the net. I groaned in dismay and fully expected Roger to drop serve and possibly let the second set slip away.

Tsonga, though, reverted to his Clownga persona and, after blasting the ball at Roger and making him go on the defence, finally blasted a forehand long.

That could have changed the complexion of the rest of the match. But thankfully, thankfully the ball was out. After narrowly surviving this game, Roger's first serve returned for the rest of the set. Clutch serving at 5-4, then clutch serving again at 6-5. Clutch serving throughout the entire tie-break. I don't even think he missed a first serve in that tie-break, and barely missed it after that 4-3 game.

Glimpses of JesusFed

The tennis definitely wasn't as Jesuslike as in the match against Berdych; the first set had glimpses of it, but Roger was getting bossed around in the second, and did what he had to to hang in there and play to win. But when he shows us glimpses of his old form, oh my god, he's a joy to watch. The point of the tournament occurred in the second set when Tsonga served at 4-all, 30-all. Roger chased down a perfectly placed lob from Tsonga, running back all the way to the baseline from the net, and miraculously placed himself in the perfect position to rip a backhand passing winner cross-court.

I was simply stunned. You know you're watching a genius at work when he pulls off impossible shots like that. In the first place, it's not easy to chase down a lob, and when players succeed, the reply is usually a weak, defensive one. I haven't seen anyone pull off the shot that Roger did - a flat backhand drive after running back to the baseline from the net, past the server at the net, finding its mark within the sidelines.

Absolutely, jaw-droppingly incredible. What makes it more incredible is that Roger plays a single-handed backhand. The amount of control he had to have to pull that off is just mind-blowing.

And of course, those amazing forehands towards the end of the second set. Big serve, weak return, flat forehand winner. What a combination for him, especially the more so when his first serve is clicking.

That forehand. If I could freeze it and frame it somehow, I would. I can't properly put into words just what an amazing shot it is.

Concluding thoughts

Roger wins his first Paris title at age 30. He's undefeated so far in the indoors season. I hope he pulls a Petra Kvitova and makes a clean sweep of the indoors season.

YES ROGER HAS TO DEFEND THE WTF. THAT WOULD PARTIALLY MAKE UP FOR HIS WTF LOSSES THROUGHOUT THE SEASON. I WILL NEVER FORGIVE HIM FOR THAT US OPEN FIASCO, BUT WINNING THE WORLD TOUR FINALS WOULD MAKE UP FOR EVERYTHING ELSE. INCLUDING HIS WTF LOSS TO TSONGA IN WIMBLEDON.