Apple

I spent 40 minutes trying to figure out how to transfer my photos from my iPhone to my computer with iTunes and at the end of those 40 minutes I had to give up because it just wasn't working out for me. My iPhone is my first Apple product and it's definitely going to be my last (not counting future generations of the phone which I was probably enslaved to the minute I switched to Apple). Apart from how I'm just too used to Microsoft and can't be bothered to change, I resent Apple's money-sucking ways. The fact that I had to get a micro SIM card for my phone, which I can't use with non-Apple phones, says a lot about this company. Of course, it can always be interpreted in a positive light (unique product blah blah) but I don't feel very kindly towards a company whose shares closed at USD403.33 on 23 December.

Also, please remind me to never buy a screen protector from an Apple store ever again. My brother got his done at some random kiosk in Clementi and it looks exactly the same as mine.

I opened a trading account with the intention to trade Apple stocks but the damn company is too expensive. Shit shit shit. How am I supposed to grow my money? I can't buy local shares due to the nature of my job and the only overseas company that I really wanted to buy was Apple, which even managed to dupe someone like me into buying its product. What a waste. If there's really an economic downturn next year and its share price falls I may just be opportunistic and buy some shares.

Australian Open trip - my various snafus

I can't remember what I wrote in my previous entry about how I fucked up my planning for my trip. Nevertheless, here's a snapshot of the areas where I fucked up when I booked my trip:

1. My original intention was to take a 9 p.m. flight on Saturday, 14 January, and reach Melbourne the next day on Sunday, 15 January, so that I can rest before I start watching tennis on Monday, 16 January. I booked my Singapore Airlines flight a couple of months ago and only realised a few days ago that I had booked a 9 p.m. flight for Sunday instead. This would mean that I would reach Melbourne at 8 a.m. on Monday morning. Tennis starts at 11 a.m. on Monday.

2. I booked my tickets and accommodation also a couple of months ago and I received my tickets in the mail a few days ago. When I looked at the dates of my accommodation I realised, quite instantly, that something was amiss. Apart from my flight problem, I booked an extra night of accommodation. My flight is 15 January - 21 January. My accommodation is for 15 January - 21 January.

The conclusion, therefore, is that 1) I am such a genius; and 2) obviously I need adult supervision when I try to do these things. I get numbers confused and I forget that if I intend to leave a country on X day, I should not extend my accommodation to that day.

In order to rectify my mistakes, I have done the following:

1. I booked an alternate SQ flight that leaves at midnight on Friday, 13 January (ooh I just realised it's Friday the 13th. But technically it's Saturday morning) and reaches Melbourne on Saturday.

2. As I had no accommodation for Saturday night, I searched for cheap hostels with the optimistic thinking that I might be able to withstand discomfort and bathroom-sharing with strangers and perhaps even sleeping in a dorm for a night. It turned out that I severely underestimated how spoiled I am. I ended up spending SGD140 on this Queen bed room with ensuite bathroom. The other option was a twin sharing room for SGD90-ish. Obviously I would rather spend a bit more money and get my own bathroom, even if it's just for one night.

3. As a result of my idiocy, I will definitely be incurring a cancellation fee of USD100 for one of my SQ flights. I put myself on various waitlists for the original flight, including the Friday midnight. However, those monkeys refused to let me change my flight to the Friday midnight one that I booked because there's a price difference of a grand total of maybe 30 dollars, which is really so much money, so in order to abate my kiasuness and anxiety, I decided to fuck it all and booked the alternate flight.

I can't believe how much money I'm spending on this trip. That said, apart from how I really should not have been so stupid in doing the bookings, I absolutely cannot wait to go. Now I get a few extra days to shop which will be awesome - my last-minute hostel is a Victorian building outside of the CBD near this shopping place called Chapel Street. That should keep me entertained for a while.

I'm just wondering about how I'm going to get my ass to my actual hotel (which is definitely more upscale and comfy than the last minute one) after the first night. I have it on good intel that taxis there are expensive and I can't quite imagine lugging my stuff on public transport. Le sigh.

Also, the great news is that I've been frequenting this tennis forum lately and I got to talk to some people, some of whom are Australians and going to the Open too, so I will have company. That is, when I'm not fangirling over Roger by myself in Rod Laver Arena. Nobody serious about tennis has tickets to RLA during the first week; the matches are just the top players wiping the court with their opponents in about an hour, or some Australian getting beaten by a top player, etc. Me? I'm just a Fedtard. Not a serious tennis fan at all.

I am SO excited about my trip.

The new Mission: Impossible movie

Wei Chuen and I watched the new Mission: Impossible movie at 11.30 p.m. last night at Jurong point. Here are my thoughts:

1. Jurong Point is SO disgusting. After the movie ended we were made to leave the premises by this really, really, really smelly staircase that stunk of sewage, rotting garbage and the fucking toilet. I was so grossed out. This guy in front of me kept complaining about the stench too.

2. I found it amusing that Wei Chuen was visibly amused and entertained at various parts of the movie. He kept giving out this soft laughter and I looked over at him and caught the expression on his face that could only be described as...enthralled. Le sigh.

3. I say 'le sigh' because the movie was really bad. I mean, I guess it's decent entertainment if you want some popcorn entertainment but it's just not my kind of movie at all. The dialogue was awful, the acting was laughable and the entire movie was just a vehicle for Tom Cruise to perform his crazy stunts. The action scenes were great, of course; but that's about it, really.

4. Then again, that's pretty much what this movie is about, isn't it? All I'm saying is that I don't like action movies and the action movies that I like are usually deeper than the average action movie. The Bourne Identity, for instance. The Dark Knight. Inception. I don't even need a movie to have some bullshit hidden meaning; all I want is for it to have compelling characters that drive the plot, not vice versa. For the case of the new M:I movie, it was the stunts that drove the plot. There was an extremely contrived moment in the movie when the team was in Dubai and Tom Cruise broke open a hotel window from his 100th-something floor room and literally scaled up the hotel to another floor. I don't even know why he had to do that. Some contrived problem occurred and in the spirit of contrivance they couldn't find a solution. Or something.

5. The last scene was so cheesy that I wanted to puke.

6. The female lead was not very pretty.

7. Tom Cruise looked visibly older and I didn't like his hair in the movie.

8. Simon Pegg was incredibly wasted, no thanks to the horrible script and the stupid "jokes" that he got.

9. I was yawning throughout the movie. And when they said "IMF" I turned to Wei Chuen and said, "International Monetary Fund?"

10. Despite all that, I loved watching it with Wei Chuen.

Trimmed my hair

I finally trimmed my hair today.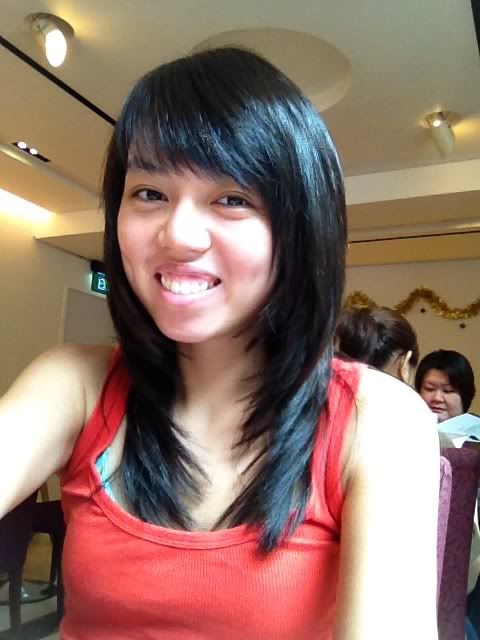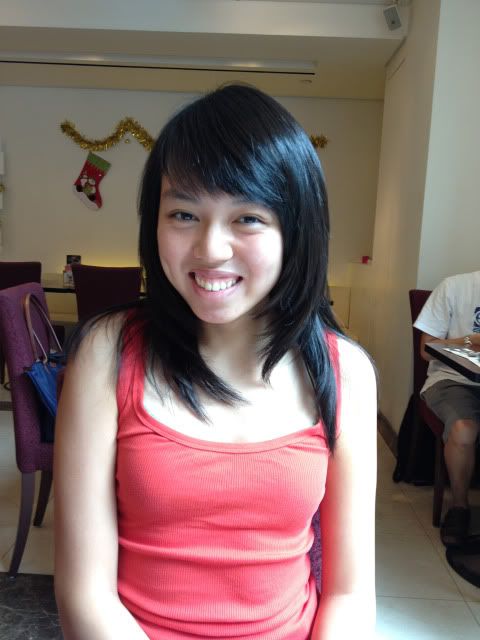 </center>

No, I did not just post 2 pictures of a baby alien. That's me. That's really me.