...when nothing else does.

(Actually, to put it more accurately, it's "my obsession of the day" that makes me happy blah blah blah.)

So I totally forced myself to get up at 10 this morning to go to town and buy me a tennis racquet so that I can play! Well, haven't yet sorted out the details, but buying a racquet is the first, and easiest, step to take towards my endeavour to play tennis - and it's done! Except, I really don't know where the hell my JC Asics shoes has gone to and it's the only pair of track shoes that I had. Hopefully it's still lying around the house somewhere.

I joked to my mom before that I wanted the same racquet brand that Roger uses (no duh, right?) but wasn't actually serious about it because I was never high-class enough to learn tennis as a kid and prior to today, I've never actually touched a tennis racquet before in my life (maybe I exaggerate. Maybe. A little). But we walked into Royal Sporting House at Lucky Plaza and they only carried two brands - Wilson, and the one that Rafa uses. Obviously I'd go with Wilson, right? Roger v Rafa, gee I wonder who I'd choose.

Unfortunately my racquet is yellow which sucks 'cause I wanted a red one. Nevertheless! I think it's gorgeous and I'm so in love, and it came with a picture of Roger at Wimbledon!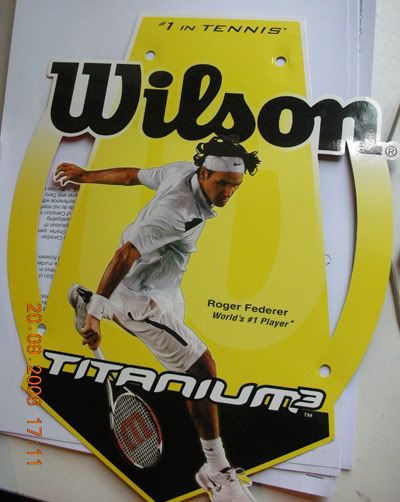 The whatever-you-call-it that was tacked to the racquet, that my brother kindly removed for me. (Yeah right - he just can't keep his itchy hands off my things.)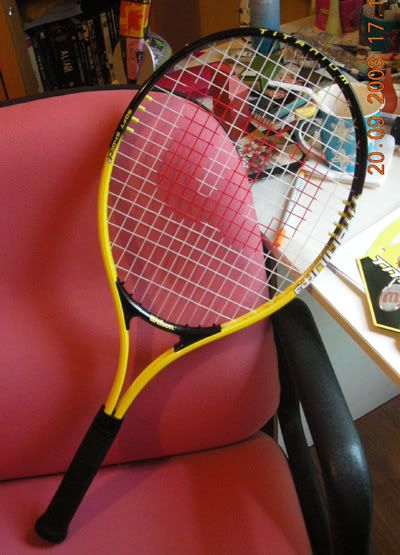 My yellow racquet. I should've just bought Roger's gear off his website, right?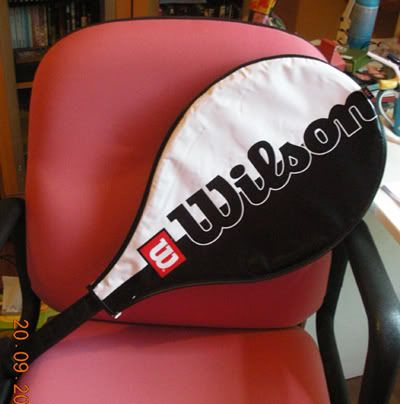 With the cover. And that's my chair. Obviously.
So I'm a happy girl with a racquet but no one to teach me how to play, let alone play with. But hey, details schretails; things will sort themselves out, mostly because I said so.
The happiness didn't end there. My mom wanted to change her watch battery and we walked into some watch dealer at Lucky Plaza. First thing I saw? This: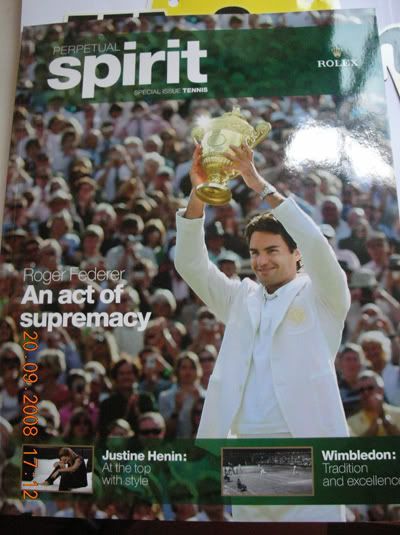 I kind of died on the spot. Roger and his Wimbledon trophy! I don't know which one; there are five! (Definitely not the first one he ever won though.) And the Rolex magazine is FREE! I might have paid for it but I'm glad I didn't have to.
His Rolex ads are just gorgeous, really. It makes me want a Rolex of my own, and a part of me thinks I should've asked for a Rolex instead of a Tag Heuer last year...but then, I look at my Tag and I fall in love with it all over again. Besides, Rolex is more mature and I'm not really a fan of gold or too many shiny diamond-type things. The great thing about the diamonds on my watch? They're crushed, so they don't shine too brightly, which suits my taste exactly. And the pink mother-of-pearl face of my watch is just gorgeous. I love it.
Still, Roger makes a Rolex pretty irresistible: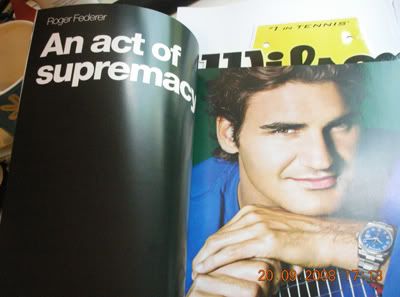 Anyway, after my mom fixed her watch, we headed over to Kinokuniya where I resisted the urge to buy the unauthorised Roger Federer biography (because I know I probably won't read it; I'll just look at the pictures and put it away. Why spend $43 on pictures when I can get them free online?) and happily bought McEwan's Amsterdam. And oh my god, from the synopsis of the novel I kind of expected something like Atonement in terms of length, so I was really surprised when I saw how thin it is. The novel opens with an amazing hook though and I kind of want to read it now and chuck aside Amis' Money for now. Shall resist the urge, however; must finish Money first. Even if the protagonist pisses the shit out of me and the writing style isn't really my cup of tea. Will finish it anyway.
I love British writers. This has to stop. I need to expand my horizons, read writers of other nationalities, other styles. But honestly? Once you're used to the elegance of Barnes and McEwan, you really can't read something "edgy" and "post-modern" or whatever because they come across as pretentious and try-too-hard. It's also not what you say, but how you say it. Well, it's both really, but how you say what you say leaves a longer impression than what you actually say.
Anyway, Amsterdam won the Booker over a Julian Barnes novel (was it England, England? I can't remember) so it better be good.
I'm now waiting impatiently for the doubles match to start. I'm going to try the live streaming, failing which I'll proceed to freak out over live scores like I did this morning. In between, hopefully I'll get some work done but...yeah right.
It's so much easier to be single-minded and focus all your attention on one thing so that you don't have to think of anything else.
Oh, oh!! DAVID COOK HAS A NAME FOR HIS SINGLE. IT'S CALLED LIGHT ON. OMG!!! And his album is coming out November 18. I don't know if we're gonna get it on the same day; I've never bought an Idol winner's CD before. Blake's CD came to Singapore a month after it was released in the US. If that happens with David, I think I will seriously die. I'VE WAITED SO LONG. I CAN'T WAIT AN ADDITIONAL MONTH GODDAMMIT.
OMG HIS SINGLE IS COMING OUT NEXT WEEK. OMG OMG OMG OMG OMG OMG OMG OMG OMFG. Best news EVER. EVER!
Okay, I should revise the title of this entry to "Tennis and David Cook make me happy..." but I'm too lazy so I'm gonna leave it as it is.
Oh, before I forget, selling food and ice-cream yesterday was more fun than expected. Could've been in a better mood, but judging by the way I've been feeling lately, I did damn good for not bursting into tears every other ten seconds, so whatever.