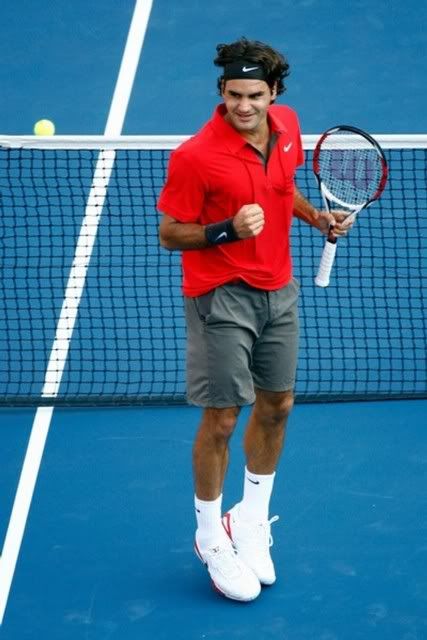 He did it in straight sets and played much better than he did against Andreev, and Muller is no pushover. Roger converted one break point out of all the chances he had, not because he missed, but because Muller was totally on the ball and fended off Roger's attempts brilliantly. Roger's unforced errors went down by so much (19 this match compared to 60 the previous one!) and it was awesome to watch him dish out winners rather than balls that fly way over to the other end of the court.
YAY ROGER! My absolute favourite moment of the match was when they were engaged in this intense rally and Roger hit a forehand that barely skimmed the line. It was called out and Roger yelled, "Challenge!" (The standard practice is for players to raise their hand if they wanna challenge a call.) I think I rewound that like five times. He also had all these random outbursts that were just so amusing, like the time he challenged another call that his shot was out and he yelled something like, "Just give me one!" And then he smiled, oh my god.
He also changed his shirt during one of the breaks. He pulled out something from his bag and I didn't really notice until he took off his shirt. Mmmm. This is purely superficial, of course, but damn, he has a fine physique. He's so slim and yummy-looking and his shoulders are Fine.
So anyway, I'm very happy with the way Roger played against Muller. He was actually down a few points in the third set tie-breaker but bounced back from his points deficit to win, like this: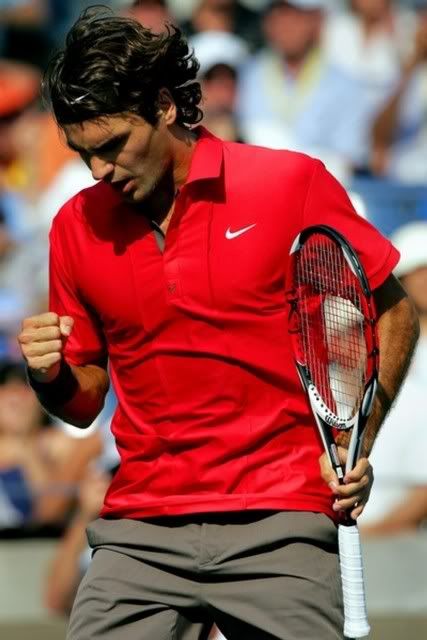 And this, just because it's pretty:
As for Gilles Muller, I'm slightly bummed that his run at the Open is over. He played really well and the match would have ended much earlier if he hadn't fended off Roger's break point chances save for one. But Roger was the better player (Muller had a grand total of one chance to break Roger's serve and Roger denied him the chance) and his win was well-deserved. And it's not like the other guys Muller played were shit; they're not.
They just aren't Roger Federer. <3
***
So anyway, I just came back from the seminar on the Russia-Georgia conflict. I wish I had something intelligent or substantive to say about the issue, but I don't. All I have to say is that Cute German Guy attended the seminar too, and he asked a question during the Q&A. I didn't even listen to what he was saying; all I heard was "argumenting" and I started mentally giggling to myself.
If an Asian person had made the same mistake, I would have laughed too, but in a much more different fashion and with a much more different intent. Heh, I'm so mean.
Okay, I'm off to have a good Friday night with my friends. How totally awesome!1!111one!1!!!
PS. Shit, I can't find my camera batteries. WTF.