I really ought to be sleeping, but I just have to say how amazing this was: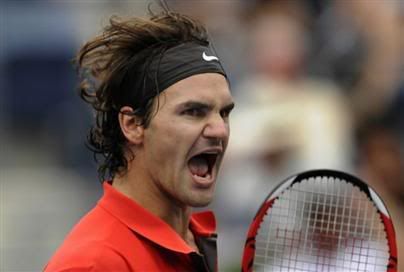 It wasn't a straight-sets victory like I'd hoped, but when Roger got the break in the third set, I knew that there was no way he was going to lose. Admittedly, he dropped the second set along with my heart when Djokovic got the break at 6-5, but Roger pieced it back together when he won the third set and secured the fourth set with two breaks of Djovokic's serves. And the first set was just played so perfectly by Rog. Zero double faults, 3 unforced errors (I think. It was single digit) and so many winners that I've lost count. When he broke Djokovic's second service game, I was ecstatic because it meant that he just had to hold serve to bag the first set - and he did.
Absolutely fantastic match, and I'm very happy that Roger served out the match quickly so that I could sleep earlier. He served out the match by opening with two aces and he had like, what, 20 this match? He played fantastically, and I know I keep saying this but I can't stop noticing it: he truly has the grace of a dancer when he plays. Djovokic, for all his stupid immature antics, is also an excellent player, but he, and pretty much everyone else I've seen, simply doesn't have the ease and the grace that Roger has. I'm not even exaggerating when I say that Roger turns tennis into an art form.
He is amazing, and I'm absolutely rooting for Andy Murray to win against Rafael Nadal. Murray is, indeed, leading Nadal two sets to love right now but it's apparently raining in New York so the match has been delayed. I couldn't believe my eyes when I turned on the TV to see what's happening and saw that Andy was leading Rafa 4-2 in the first set, and then he went on to break Rafa again. SO. TOTALLY. AWESOME. It'd be great if Roger had the chance to take revenge for Wimbledon, but I'm chicken and risk-adverse so I'd rather he plays Murray in the finals. He has a much, much higher chance of a straight-sets victory against Murray than against Nadal.
Oh I love Roger so much. He made the staying up to watch him so worth it, and he changed his shirt twice. The first time I was in the toilet (I couldn't hold in my pee anymore I swear and there was so much) but the second I was sitting right there in front of the TV. He has the most perfect chest. And honestly? He's a perfect specimen of a man.
I was really worried when Roger's unforced errors suddenly spiked in the second set, and when he failed to convert a few break points, I was all ready to throw my cushion at him. I didn't want it to drag to Set #5 because, like, I really wanted to sleep, so I was really pleased that he finished it off quickly in the end. He made this amazing overhead return when Djokovic seemingly went for a smash and I was just dumbstruck that he was able to do that. And his corner aces? A-mazing. One of them was like 202 km/h or something.
I really really really hope he gets his fifth US Open title. Andy, please do your job and eliminate Nadal, thanks. And since Andy is British (Scottish), he automatically has my support. If/when he gets to the finals though, my alliance will be re-aligned with Switzerland.
I am so sleepy now OMFG.