Cincy Masters: Federer d. Acasuso 6-3, 7-5
THE MATCH WAS SO BORING. ACASUSO LIKE CAN'T PLAY TENNIS OFF A CLAY COURT OR SOMETHING. WHAT THE HELL MAN. THERE WAS A GRAND TOTAL OF ONE LONG RALLY. ONE. HOW TRAGIC IS THAT?
AND ROGER LOST THAT POINT.
I can't believe Acasuso troubled Roger at the French Open.
Even worse? ROGER HAD 0-40 ON ACACUSO'S SERVE SECOND SET, 4-4, BUT HE FAILED TO CONVERT A SINGLE BREAK POINT. His break point conversion is seriously tragic!
And I never knew that if a player correctly challenges a second serve out call, he gets two serves again. That makes no sense to me. Why does the second serve erroneous out call override the correct first serve out call? Stupid challenge system. Acacuso correctly challenged his second serve out call and made his first serve (an ace or something) and Roger was all annoyed. Really cute.
Other stuff:
1. Match point was a backhand winner from The Mighty Fed. OMG jaw drop and everything.
2. He made this amazing backhand volley when Acacuso tried to pass him on A's forehand side. Commentators were all, "GREAT ANTICIPATION!" Totally. I totally thought Roger was going to get passed. And that was the point that gave him 15-40 on Acasuso's serve, second set, 5-5.
3. Roger's serve was totally on in the first set. He was firing aces like nobody's business. And his aces are so silently lethal, they are incredible. Andy fires bombs; Roger fires silent bullets. Both equally deadly. But the nuances in Roger's game...they're seriously incredible.
4. Was observing his forehand and he doesn't take a very big backswing. I have no idea how the hell he does it. Fluid and beautiful, and so fucking effective.
5. Roger Federer, I conclude once more, is not human.
6. Okay, the break point conversion tends to say otherwise, but the way he plays tennis is simply not human.
7. Been watching him for close to a year and I still have not gotten over how beautiful his tennis is. Everytime I watch him there is SOMETHING to gawk at, as if it's something new I've never seen before. It probably isn't (like that backhand volley which gave him two break points. Oh and that volley off a ball that came straight at his body. Comms went off about how he created angles with his body. OMG) but I swear, every single time I watch him - the jaw will definitely drop at least once.
8. The intrigue with him is that he makes incredibly difficult shots look so damn easy. He makes an incredibly difficult sport look so damn easy. It's complete misrepresentation, to be sure, but wow. Wow. It's like he's dancing on air when he plays, as if gravity doesn't exist, as if time stops for him. As if the ball is suspended in th air a few seconds longer, just for him - as if he has the power to do so.
9. He creates magic with his Wilson K-90 racquet. Even in a boring-ass match like today's, watching him play - merely watching him play, with no regard to whether he wins or loses - is seriously absolutely incredible.
10. No disrespect to past legends, but Roger Federer is really the greatest of all-time - if only because no one, absolutely NO ONE, plays the sport the way he does.
I can keep gushing, but I have a feeling this isn't gonna be the last I'm gonna gush about him so I'll just shut up for now.
*
Writing Statement of Claim, want to tear hair out, very irritating.
Wait, just saw match thread on Roger's forum. HAHAHA IT'S ONLY 50 PAGES LONG. WTF. THAT GOES TO SHOW HOW BORING THE MATCH WAS.
This is totally going to screw up the layout but whatever. This picture is just too good not to post in its original size: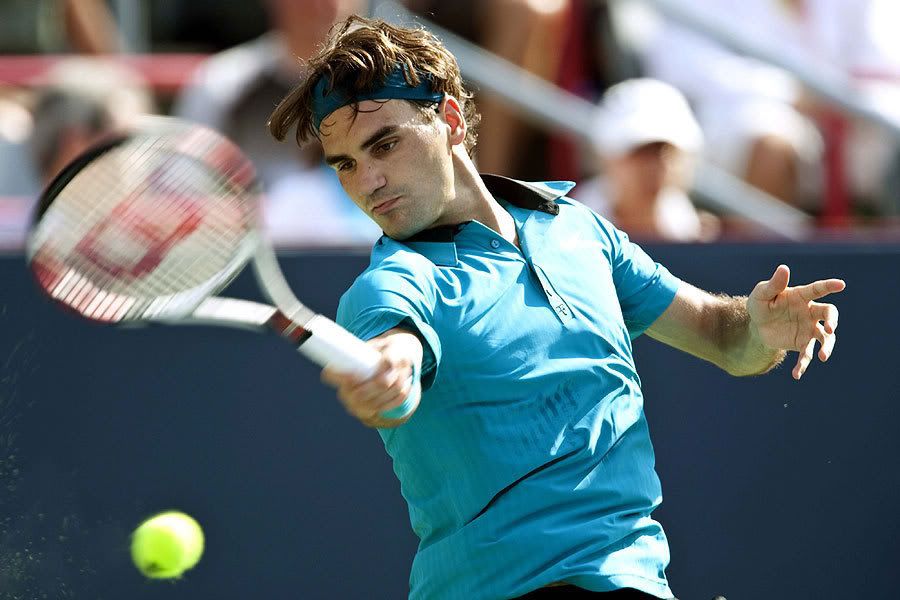 Look at his serene expression. Look at the bloody fur flying off the tennis ball. He whacks the ball as hard as any pro worth his salt, but he doesn't look as constipated as them. He doesn't look constipated AT ALL.
Shit, I can't stop gushing. I REALLY THINK HE'S INCREDIBLE.
Okay, moving on now. For real.
*
I JUST SENT OUT THE STATEMENT OF CLAIM.
SHIT, I THOUGHT IT WAS DUE TUESDAY. OMG I DIDN'T KNOW IT WAS DUE MONDAY. THIS IS QUITE BAD. I HOPE THE MENTOR DOESN'T KILL ME. BOO.
*
In other news, I played tennis with Mr. Thx U in the afternoon.
That guy is seriously good. Even when he's missing his shots, he's still seriously good. He did some ridiculous touch volley that had me going, "OMG WTF DID HE JUST DO." Then he whacked this whipping forehand to MY forehand side, which I tried to whack back, and when I swung my racquet I hit nothing but air.
Oh my gad. Amazing. And I have decided to be nice to him because he's really very harmless, and I shouldn't be mean just because his English...isn't super good. To put it mildly.
Anyway, I'm pleased to announce that my forehand is officially made of utter fail. I was all out of sorts, couldn't move properly, it just sucked.
So I shall talk about something more positive: OMG WHEN I HIT IT PROPERLY MY BACKHAND IS REALLY A FORCE TO BE RECKONED WITH. SERIOUSLY. WHEN I HIT IT PROPERLY IT GOES SO FUCKING DEEP, IT LANDS JUST AT THE BASELINE. AND SUCH SHOTS ARE DAMN HARD TO HIT BACK 'CAUSE YOU'LL HAVE TO MOVE BACK AND SOMETIMES YOU JUST DON'T SEE IT COMING.
YAY. MY BACKHAND. THANK YOU FOR EXISTING SO THAT I DON'T HAVE TO QUIT TENNIS.
One last thing, and this is quite hilariously embarrassing: I tried to put my volleying practice on Saturday to use, and so I stood guard at the net, and when the ball flew towards my backhand side, I panicked and knew not what to do, so what I did was switch my racquet to my left hand. As if people really did that.
What the fuck. I had to laugh at myself. That was SO retarded.
Managed to volley successfully once though, and of course Thx U lobbed the shit out of me. Great.
I love tennis. Both watching and playing. I can't decide which I like more, but that totally doesn't matter.
*
I'd like to say one thing: Tong makes me incredibly happy. I was all moody over the drama with my parents, even cried while fucking driving home from tennis (crying and driving - last time I did that was over some guy and I don't even remember what THAT was about, and yeah, totally not fun), but Tong just made everything better.
I adore him so much. I can't even put it into words. I can't.
Talking to him on MSN now. Yeah I totally downloaded it for him 'cause I wanted to see him display one of our pictures as his display pic. Cuteness max! Yay!
Anyway we went to Great World City where we had dinner at TCC then went to a very empty Pump Room for quick drinks. Very fun. Very comfortable. Very lovely.
Very happy girl.
*
Lastly, this comment on ontd_tennis regarding the stupid Murray article I posted in the previous entry made me LMFAO so fucking hard:
Comment:

ik, I kind of hate when people say things like this. "What ifs" are stupid, especially in tennis.

What if Soderling hadn't beaten Rafa at RG. What if Stan had beaten Muzz at Wimbledon. What if Nando had beaten Rafa in Australia. What if Roger didn't have mono last year? What if Rafa hadn't messed up his knees this year.

What if, what if, what if.
Reply to comment:

WHAT IF GASQUET WAS STRAIGHT

WHAT IF SODERLING WAS FROM OHIO AND NOT BORGLAND WOULD US COVERAGE OF THE FRENCH OPEN BEEN BETTER

WHAT IF RAFA WAS SECRETLY A FLAMINGO

WHAT IF MARAT IS RETIRING FROM TENNIS BECAUSE HE WANTS TO EXPLODE WITH JEALOUSY EVERY TIME HE SEES THAT LITTLE PIMPLY HUSSY STAN ~ALL UP ONZ~ HIS ROGER

WHAT IF ANDY RODDICK BECAME A PORN STAR NAMED "RANDY ODD DICK" AND STARRED OPPOSITE CUM CLUSTERS KIM CLIJSTERS

WHAT IF THE ENTIRE ATP QUIT AND WENT INTO GOLF BUT THEN ALL THE SPANIARDS RETURNED TO TENNIS BECAUSE THEY HATED ALL THAT GRASS

WHAT IF ROGI GOT MONO FROM TONGUE KISSING MARIO WHO TONGUE KISSED HENIN WHO TONGUE KISSED MAURESMO
HAHAHAHA WHAT THE FUCK.
Okay, post time!