IF THERE IS ONE TOURNAMENT I HATE WITH ALL MY HEART, IT IS DEFINITELY THE STUPID PARIS MASTERS, ALSO KNOWN AS BERCY, ALSO KNOWN AS THE BNP PARIBAS MASTERS.
IT SUCKS ASS.
Putting aside Roger's perpetual shitty performance in Paris, it's just a shit tournament all around. And this is solely because of one reason: The Crowd Sucks.
I had the misfortune of reliving last year's final between Tsonga and Nalbandian (oh Nalby where have you been =() and it reminded me of why I'm not fond of this tournament. The French crowd lacks class and does not understand the meaning of "shut up and keep quiet". It's a miracle they're able to contain the ruckus during matchplay; but otherwise, they turned a fucking tennis match into a football match. Especially when a French player is on court, NO MATTER WHO HE IS.
Watched a bit of Djokovic/Arnaud Clement just now. Is it just me or is it COMPLETELY ridiculous to support a player for NO REASON other than "OMG HE'S FRENCH1!1!!!!!1111!!1ONEONE!1! ALLEZ!!!"? Maybe you should support a player because of his tennis skills, not his country of origin.
But since nationalistic fools will always be around, I will just have to accept that some people will support a player simply because of his nationality. Fine, I concede that. I won't ever complain about the entire Swiss Indoors rooting for Roger (and going dead silent when Roger/Marco were broken in the second set of their doubles match).
But this nationalistic nonsense gets worse when the tournament Powers That Be don't check the kind of crap that their audience brings into the stadium. Just watch ANY Paris match with a French player on the other side of the court and you'll know what I mean: These jokers come equipped with drums, with trumpets, with cymbals. Am I watching a tennis match or a very bad People's Tonedeaf Orchestra? What the fuck is this nonsense? And you think the US Open crowd is bad?
I swear, Bercy is HANDS DOWN the WORST tennis crowd of all the tournaments that I've watched. They completely go overboard in their cacophonous support of their "local guy". Cheering is one thing, but do you have to bring the whole fucking percussion section of the orchestra? Why don't you just bring your entire damn kitchen and bang the crap out of your pots and pans instead? That's way cheaper than buying drums I'm sure.
Anyway, Paris sucks and I could care less who won. I'm very sad Roger's out so early; last night Almagro had match points against Nadal but OF COURSE he choked. Bleah. And the ironic thing was, when I wrote the previous post this morning, I wanted to write something along the lines of how Roger winning early-round matches is as dependable as me screwing things up. Then I found out he lost.
But still, he's still soooo gorgeous: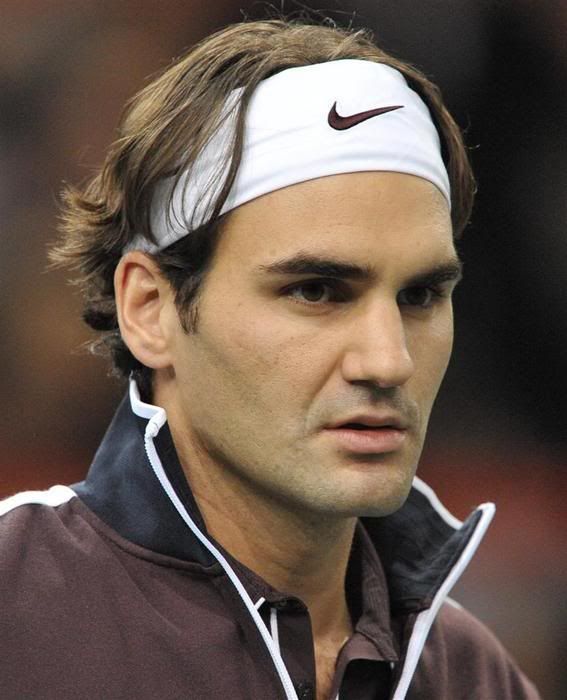 HOPE HE DOES SOMETHING ABOUT THIS POST-US OPEN SLUMP IN LONDON. HE HAS TO GET THE YEAR-END NUMBER 1. HE HAS TO! NADAL CAN'T HAVE IT. =(