Roger was up against Tomas Berdych this morning Singapore time in the quarter-finals of the Toronto Masters. The last time they played, Berdych booted Roger out of Wimbledon in the quarter-final stage. I can't remember if I was devastated, but I was definitely sad. I think I was also a little bit relieved that I was put out of my misery.
Since then, Roger has hired himself Pete Sampras' coach and got himself a pink polo t-shirt in which to play. His first two matches showed some rust, but also huge promise: he was taking the ball early, he was stepping inside the baseline, he was attacking second serves instead of chipping it back like he's used to. Sure, he got broken serving for the first set in his first match against Juan Ignacio Chela, but that was chalked down to rust. He WAS, after all, playing his first match in six weeks.
The match against Michael Llodra was a nice change of pace, but it didn't really test him much. Llodra is like a blast from the past, playing the classic serve-and-volley game of old that's hardly seen nowadays. Llodra was also a clown, attempting funny between-the-legs shots and even giving Roger an underhand serve. They had a lot of fun on the court. The match got rather boring after a while because Llodra, from the get-go, was no match for Roger. The most memorable part of the match came when it ended, when Llodra got Roger to exchange shirts with him (Llodra: "Roger is a legend. My kids would love this.")
Coming into the Berdych match, I was cautiously optimistic that Roger would win. More than anything I banked on the ego of a player who's widely been called the Greatest of All-Time by fans and experts alike, and the ego of a player who's used to winning 3 Grand Slams in a year. Namely, I
know
, without needing to know him, that somewhere deep down inside, Roger would rather die than to lose to an opponent who is good, but not that great, 3 times in a row. That would be like getting a lousier grade in a subject than someone whom I think is quite bimbotic, and repeating that 2 times in a row.
Roger was hungry for revenge, and so was I. I wanted nothing more than seeing Roger beat this guy. I used to be able to say that I like Tomas Berdych, but not so much anymore. I was still saying that after Wimbledon, but my like turned into disdain quickly when Berdych whined about the scheduling in Washington after he lost to Xavier Malisse. He was all, "I played a night match the day before! Why was I scheduled for a day match! I'm never coming back to this tournament!" Seriously, it happens
all the fucking time
to
all the fucking players.
Andy Murray had to play the US Open final in 2008 after finishing his hard-fought semi-final over Nadal the day before. So what? It's part of the job, so suck it up and move on.
I woke up in time for the second set. Roger had already bagged the first, and I would watch my recording later and see that he was in full control of the set -
full goddamn control
. It was
incredible
. Berdych didn't have even
one
easy service game, playing 0-30 games
back to back.
If it weren't for some errors on Roger's part during the first few games, the scoreline would NOT have been 6-3.
Unfortunately, Roger fell apart in the second set. He was serving to push the set into a tie-break, had 40-15, then threw in two double faults, got it to deuce, and two points later, Berdych had his fist clenched and was running to his chair. Fucking hell, I had to go for tennis; I didn't have time for a third set! And the the third set started and Roger fell behind 1-4 and I thought, "Oh no, this is the end. It's over."
See, I had some pretty reliable precedent to support that. Miami this year: Roger lost to Berdych in three tight sets. Indian Wells: Roger lost to Marcos Baghdatis in three sets.
Wimbledon quarter-final
: Roger fell behind a break in the fourth set and couldn't break back and lost the match.
Roger had his chances but couldn't take them. Berdych either went to his go-to serve on crucial points and hit a slider out wide, or played spot-on tennis and erased Roger's break point chances himself. And of course, Roger did his classic backhand-into-the-net on some of the break points which caused me to groan and yell really loudly at my poor TV.
It was then 5-3, Berdych serving for the match. A part of me wanted it to be over so that I could be put out of my misery. I love watching Roger play; there's honestly nothing quite like it. But I hate watching him lose, and I haven't quite acquired the requisite peace of mind and calm centre that's necessarily to survive these heart-attack kind of matches. I was filled with dread; I didn't want to watch it; I just wanted to close my eyes and let it be over. But I watched on, bravely - and I watched Roger fight on, bravely.
There's something special about watching him play when he's facing defeat in the face. It's not quite the same as watching him serve out an easy victory, or watching him clinch a routine win. When his back is against the wall and defeat is closing in on him on all sides, he fights back with a vengeance, and absolutely
refuses
to give up. That's the bright side to these kind of matches: Roger displays his full fighting spirit, his strength of character, his mental fortitude. A lesser player would've caved; heck, I as a spectator almost couldn't handle the stress. Roger, however, was out there, racquet in hand, fighting to stay in the tournament.
And fought, he did. He turned on the aggression. He pounced on Berdych's shots, whipped his forehand cross-court, forcing Berdych into error. He got his first break point and roared his first "come on!" He faltered a little, but on his third break point, he sliced his backhand deep into the baseline and Berdych hit his return into the net. The entire stadium
erupted
into cheers for Roger. I'm still amazed by how much the general tennis crowd loves this guy.
So it was the tie-break and Roger raced to a 5-2 lead. Berdych hung in there, not making it easy for Roger to win, and made the score 5-4. Roger had two serves and was two points away from victory. He squandered his first service point, but on the next, he hit this
outrageous
inside-out forehand that was so sharply angled, Berdych couldn't do anything about it. Roger was just too good, and he scored his first match point.
And the match point conversion encapsulates why he's so, so great. His tennis, so nuanced, all these shots at his disposal, and after engaging in a pretty long baseline exchange, he suddenly threw in a slice backhand down the middle of the court. This change of pace forced Berdych to step into the baseline and bend down low to retrieve the ball - and then he hit it long.
YES YES YES YES FUCKING YES!!!!!!!!!!!!!!!!!!!!!!!!!!!!!!!!!!!!!!!!!!!!!!!!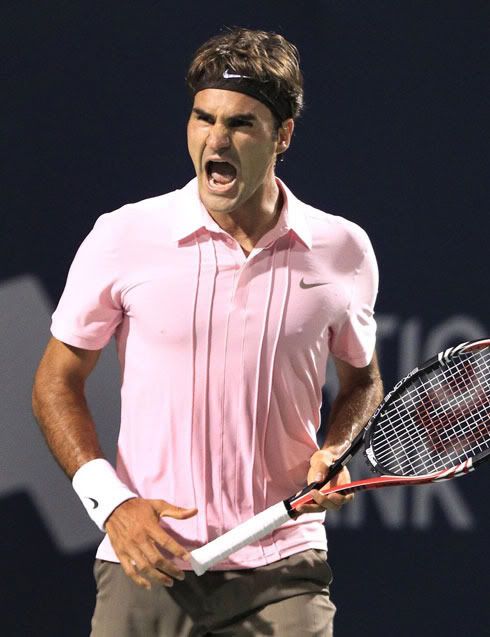 Okay, I left for tennis at 5-5 in the tie-break but I was grinning like an idiot to myself when my mom texted me the result, and I was in a terrific mood pretty much the whole day. It's been a while since he last won a tight match, and I'm so glad he did. This is a pretty huge win for him considering his post-Australian Open season. He's on course to winning this tournament and...I REALLY FREAKING HOPE HE DOES! He has no business being world number 3!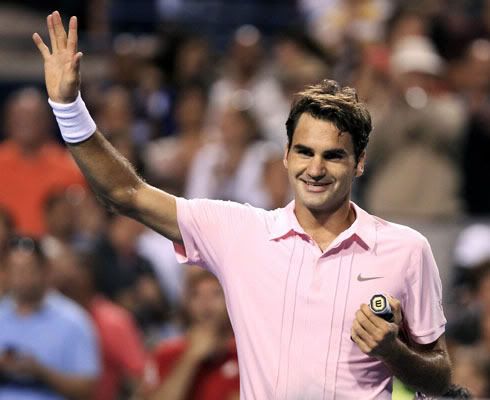 He really did play super well in the first set. Not sure what happened in the second set but well, a win is a win. He plays Novak next, a player whom I think is less threatening to him so I hope he wins in straight sets. Maybe I'd even wake up at 7 in the morning, on my sleeping day, to watch it.
(Okay, 8ish is more realistic.)
(
Collapse
)