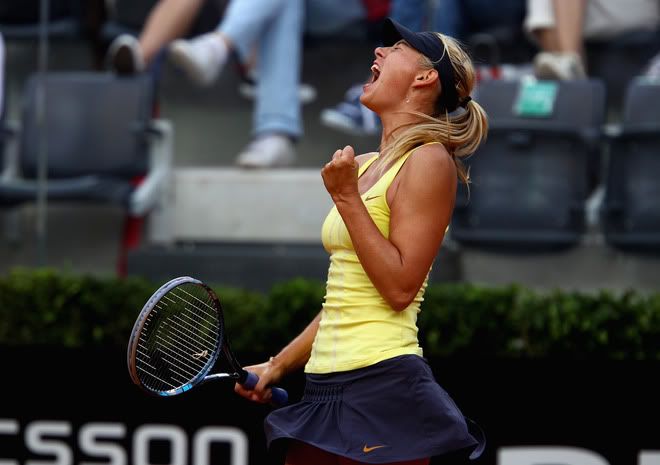 I didn't watch the match as Eurosport didn't broadcast it live and when the repeat came on, Nadal/Djokovic was live on Racquet Channel so I watched that instead. But I watched a bit here and there and to be honest, it looked pretty boring. Maria owns Stosur with what's now a 8-0 record, so it's not unthinkable that Stosur had no answers to Maria's power shots.
But whatever it is, I'm so happy Maria's back to her winning ways again, especially since my ultimate favourite in the whole universe, also known as this guy called Roger Federer, hasn't been winning since January this year (boooooooooo). Maria is pretty to look at but not so much her tennis; but I love watching her because she's exciting to watch. When she's playing well, the shots that she creates are incredible.
Highlights:
*
In other tennis news, omfg, I cannot believe that Novak Djokovic HAS NOT LOST A SINGLE MATCH SO FAR THIS YEAR.
Even more alarmingly, HE JUST BEAT RAFAEL NADAL IN FOUR FINALS IN A ROW,
INCLUDING TWO FINALS ON CLAY
.
It says something when
I
start to root for Nadal, seeing as he's my least favourite player. But it's about time Djokovic's streak came to an end, and so I watched the match early this morning at 1 a.m., hoping that Nadal would get his shit together and reclaim his clay king title...but alas, I knew after the first 3 games that Nadal wasn't going to win it.
Djokovic was just too good. Seriously, he moved so well and had firepower off both wings, defending excellently, returning Nadal's aggressive shots with interest, returning
everything
. I felt like I was watching a Nadal/Federer match, with Djokovic doing to Nadal what Nadal does to Roger. Most tellingly, I had the distinct sense that Nadal would lose a rally the second it got protracted - I always feel that way when Roger gets himself caught up in a long rally with Nadal/Djokovic/Murray.
I've felt all year long that Nadal isn't what he used to be. He doesn't seem as imposing on his opponents as he used to be, and in his last two clay finals he did all the defending, and his trademark cross-court forehand seemed to have lost its sting. That said, he's not an aggressive player by nature, and I've always thought that a very solid aggressive game can take him apart quite easily.
Unfortunately, I've always wanted Roger to be the one to do that. Unfortunately, Roger hasn't been able to; and unfortunately, the person who has successfully done so is Novak Djokovic.
I like Djokovic's game. I've always thought he's a very talented all-court player. But he's still no Roger Federer - he doesn't play with the beauty that Roger does, his strokes aren't as aesthetically-pleasant as Roger's (no one's strokes are), and perhaps most importantly, since he's looking good to be the future #1, he doesn't carry himself with the same class that Roger does. I get that athletes celebrate winning moments in their own ways and there's no right or wrong to this; but I absolutely cannot stand Djokovic's obnoxious chest-thumping. It simply reeks of arrogance, even if he may not intend it and even if he's not actually arrogant.
But on a positive note, I'm happy that someone who can play all-court tennis and isn't just a boring pusher is on the brink of taking over the top spot in tennis. I've never liked Nadal's style of play, though I do admire his competitive spirit; but it seems like Djokovic is right up there with him mentally, and I definitely prefer his style of play.
I just wish...as a Federer fangirl, I just wish that Roger would...DO SOMETHING AND TAKE BACK WHAT IS HIS.
Okay, realistically, I accept that his dominance is long over. But I'd like to see him win 20 slams before he retires. And right now, in all honesty, I don't see him beating Djokovic if Djokovic is playing like this.
I'm hoping, therefore, for Djokovic's level to drop sometime before Wimbledon. He can win the French Open; just please, PLEASE stay away from Wimbledon.