Just to get this out of the way first:
For the first time in his illustrious career, Roger lost a match after winning the first set. The thing that sucks most about this fact is that it just had to come at the quarter-final of
Wimbledon
.
I really had high hopes for this tournament after seeing the fine form that he was in at Roland Garros. I hadn't seen him play that well since the World Tour Finals in London last year, and I thought that, surely, he HAD to win a Slam this year, and it HAD to be at Wimbledon, where it all began for him.
But it was not to be. Most fortunately, I only watched the last two games of the match when he was already down a break in the 5th set and he was serving at 3-5; but Tsonga, to his credit, gave nothing away in his final service game when he served for the match. He served to love. Roger could barely do anything. It was so sad.
I don't know what happened; I don't want to know; all I want to know is that he wasn't injured. Nothing - NOTHING - would suck more for me, and for fans in general, than your favourite player being injured (Wei Chuen would be familiar with this as a Nadal fan). I hope that he takes a long relaxing holiday with his family, then go back to the drawing board and prepare for the US hardcourt season. Call me stupid, but I'm still holding on to hope for a Slam victory this year. The US Open is my final hope. I'm not going to expect anything anymore; I expected him to win this and it got me nowhere. But as an ardent supporter, I simply cannot
not
hope.
I'm heartened, though, by Roger's show of class and graciousness after he lost. He waited for Tsonga to leave the court together (Wimbledon tradition I think). Tsonga made him wait a bit longer than he should have, probably because he didn't realise Roger was waiting; but it's moments like these in defeat that remind me of why I like him so much. I love his respect for the game and for his opponents, and how he's gracious in victory and defeat alike (haters can fuck off and shut up about his injury excuses or whatever. This is not Nadal we're talking about; take your shit elsewhere).
Sigh. I had a feeling that this match wouldn't go according to plan. I just had an inkling that he would lose it. I wanted Ferrer to be his opponent because Tsonga is dangerous on grass, but...alas.
Sorry boyfriend, from now on I'm rooting for everyone but Nadal. He just cannot close the gap on Roger's record, absolutely canfuckingnot. It's also heart-wrenching, the thought of the bull winning 3 Wimbledon titles. Just NO BLOODY WAY. I'd root for Djokovic, even Murray; anyone but Nadal.
Okay I'm done talking about this. I shall move on to something happier now.
*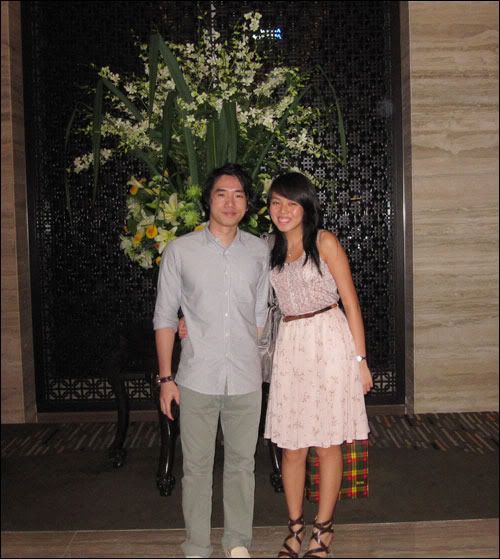 First, can I say that I bought the shoes that I'm wearing in the picture from Isetan an hour before I met him and that I'm totally in love with it? It's sooo sexy.
We celebrated our two-year anniversary (which was actually 28 June but I got the dates mixed up and he never remembers these things) at Triple 3 Meritus Mandarin. The buffet was pretty good: spread and quality were good overall, though the Indian was um, well, let's just say I've had much better elsewhere. My favourite dish was definitely the teppanyaki salmon; it was
amazing
. It almost melted in my mouth, so delicate it was. The grilled seabass was good too, as was the prawn tempura.
I thought it was interesting how the bread and butter pudding was made of whole meal bread. Wei Chuen could not take it, but I quite liked the crunchiness of the wheat. But then, I'm quite partial to whole meal bread, so maybe it's just me. The dessert spread was limited but the quality of the desserts was good, so that made up for it. Besides, by the time I got around to the desserts I was quite full already so it was probably good that I didn't have much to choose from.
I bought him a wallet from whatever Zegna. It cost a lot. This entire anniversary cost me a lot, but probably not as much as my birthday. Haha. But it's so worth it, just hearing that he likes it. I was even excited to pay for it because I was excited to give it to him. I guess that's what love does to you: it makes you spend a bomb on a wallet for the person when you would never do the same for yourself.
It's amazing that we've been together for two years. We almost broke up a couple of months back. Needless to say, I'm really happy we didn't. He makes me laugh, we have intellectual conversations (though we hardly ever agree on anything and I bow out of the argument by pouting), he loves me for who I am, he's adorable. What more can I ask for? He's not perfect, but he's mine, and I love him, and he loves me, and really, when you get down to the core of things, that's all that matters.
I can't explain this. It just feels right.
*
What is NOT right, however, is that he continues to beat me in tennis when 1) he doesn't even fucking play tennis; and 2) I'm playing better than I did the last time we played.
It's his fucking volley/slice/lob shit. Ugh. I was scrambling all over the court yesterday, trying to get the damn balls back. I did so much running that I felt like I was running and not playing tennis. He made me look like a tool in my awesome Maria Sharapova outfit (see a few posts down).
BUT! I did actually play a nice forehand drop shot when I chased down a short reply from him (off a good shot from me, I must say), which forced him to push the ball long. That was GREAT.
To be honest, the only reason I played a drop shot was because I had zero confidence that I wouldn't hit the ball out of the court if I attempted some flat shot off my forehand. I swear, my down-the-line was not working. My backhand cross-court, former favourite shot of mine before it went six feet under, has not worked in over half a year. All my cross-court backhands were out. I was very sad.
I NEED TO BEAT HIM. THIS IS GETTING RIDICULOUS. I WILL BEAT HIM ONE DAY, YES I WILL.