I broke my tennis string yesterday when going for what I intended to be a backhand kill.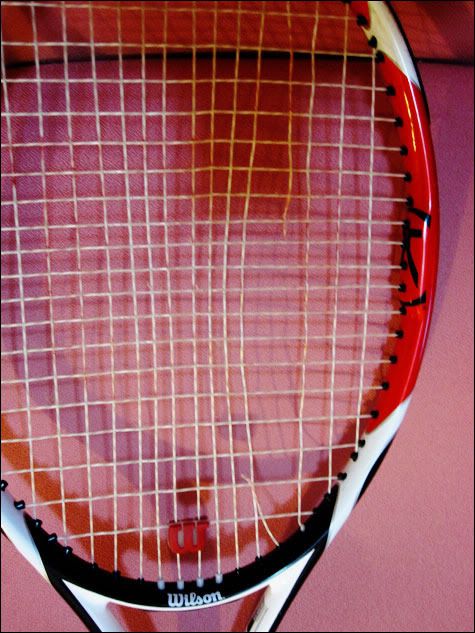 MY FIRST BROKEN STRING. This is almost a rite of passage. But it's also bloody tragic - I've been using this set of strings since October last year. Yeah, Mr Topspin said it right - I ought to be ashamed of myself.
Another bit of tragedy that I would like to share is this: My backhand is good as dead. I hit my backhand at about 60% on average; 75% on a good day; 40% on a bad day. Above all else, I have completely lost the flat cross-court backhand that used to be my favourite shot. To compensate, I attempt for a forehand cross-court kill (see, I can't hit down the line convincingly) but I just don't have the requisite power for that. I can't get enough pace; can't flatten it out properly; most of the time I can't get a proper strike on the ball, unlike the way I can get a nice powerful hit on the ball with the backhand. Unfortunately, when I strike the ball with my backhand, I strike it way, way out.
It's very sad. I tried it yesterday and I don't think I made it even once. When I broke the string I was going for my third attempt in the row, and the string broke for nothing: the ball landed in nothing but net.
Sigh.
*
Anyway, the US Open has started!!!!!!!11!11!!omg!1!!1!11!!
I woke up at 8.45 a.m. to watch Roger but ended up watching Venus Williams for about 45 minutes before Roger took the court. Last night I finally upgraded my laptop from Vista to Windows 7, despite having the upgrade software disc for two years; I started the upgrade process at 10.30 p.m., during which the software cheerfully informed me that the entire upgrade will take "several hours".
Indeed, it only finished at about 2.30 a.m. so I spent the whole night watching tennis - that is, a lot of boring tennis, like Marin Cilic vs. Ryan Harrison, wtf. But my point is that after Windows 7 was successfully installed, my laptop decided that something else had to upgrade, which took about 20 minutes. By that time it was 3 a.m. and Maria Sharapova was about to take the court, so I thought I would wait a bit to see how the new dress looks on her.
Unfortunately, my dad woke up at 3.15 a.m. and annoyed me by going on about how I was still awake at that time, blah blah. When it was 3.20 a.m. and they were still showing Bernard Tomic and some random American, no sign of Sharapova, I decided, fuck it, and went to bed.
My alarm went off at 8.15 a.m. this morning. I couldn't get up and dreamed that Roger was up a break and 2-1. I finally woke up, and it was Venus Williams playing at 2-0 in the second set.
It was a very boring match from Venus, so I went to make myself an omelette that didn't turn out too shabby, but the two cheeses that I used were surprisingly rather taseteless.
ANYWAY, what I really wanted to say was that Roger was hilarious. He served at 5-1 in the first set and gave his two service games away, 5-4. What the fuck? I must say that I was definitely thinking at that point that he was in a generous mood and, you know, gifted his opponent - Santiago Giraldo, clay-courter who never won any matches in the non-clay Slams - a few points here and there, a few breaks, to make his stats look better. Roger eventually took it 6-4.
When the same shit happened in the second set - serving to maintain his break, then serving a double at 30-all, then losing the damn point with a wild forehand that didn't land anywhere close to the line - all humorous thoughts flew out of the window. If it weren't for Giraldo's poor play, I fear that the set might have a gone to a tie-break, during which Roger might not have won.
The third set was much, much better from him. It says a lot about the quality of his play when I was sad that he didn't win it 6-0 (it's been a while since he's last dished out a bagel).
Overall, the first set was near-disastrous; he found his footing in the second set (6-3); and cruised through the third (6-2). Net play was atrocious on the whole, but
great
to see how aggressive he was. It was clear, though, that he was testing a lot of things out, especially with the serve and volley (when he came in after a second serve and lost the point, I couldn't help but wish he hadn't done that) and some chip-and-charge. YAY I'M GLAD HE'S TRYING OUT NEW THINGS. And it's also quite obvious that he's working to keep the points short, to finish off the rally with a classic flat Federer forehand; he's not interested in getting caught up in protracted baseline rallies. This is exactly what he should be doing - he's not 26, he's so much older than all these guys, he needs to keep the points short, prevent the guy at the other side of the net from breaking down his backhand, be aggressive and go for the kill.
I mean, that's all well and good in theory; unfortunately, Federror creeps in every now and then (like him losing both service games when serving for the first set). All I can say is that if,
if
, he can go for his shots
and make them
, no one is beating him at this tournament. Really, he almost beat himself today. Okay, that's too much of a strech; he was never losing this match. But he needs to be the one doing the dictating, pushing his opponent around, and not to be the one who's pushed around. I don't know, he's never looked much like himself when he's getting pushed all over the court; he's a natural attacking player, and so it was really nice to see his intent and him working on it in this first round match.
I'd also like to say that I didn't think much of Roger's night outfit when I first saw it, but after seeing it on TV, I think it looks great: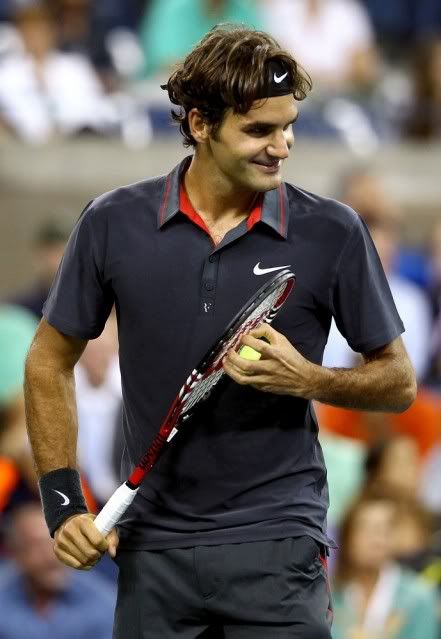 There are
nuances
to this polo. I like the contrasting trims on the collar especially. There's also this line of red down the middle on the back which I'm not too fond of but it's meant to match his shorts so whatever.
*
On another note, I saw a bit of Grigor Dimitrov vs Gael Monfils, which the latter won with some ease. I can't stand Monfils and have no interest in him so this is not about him. What I want to say is that Dimitrov's strokes may resemble Roger's, but oh shit, that boy has no killer instinct. It's quite a shame; his tennis is quite nice to watch, almost like Roger's but not as aesthetically-pleasing. You can see that he thinks his way out of a tight spot but his forehand just wasn't there. I was surprised to see him send back soft balls on a short ball from Monfils instead of pouncing on it and taking his chances. Quite sad to see him lose to Pushfils, but well, Djokovic doesn't need an easier draw than he already has...though Clownfils isn't gonna like, beat him or anything. He's already had two chances to do so. He failed both times. It's not gonna happen at the US Open.
Lastly,
I can't fucking believe that Petra Kvitova lost to some fat girl in the first round.
WHAT THE FUCK WHAT THE FUCK WHAT THE FUCK. WHY PETRA WHY. HOW COULD YOU. WIN WIMBLEDON AND LOSE IN THE FIRST ROUND OF THE US OPEN. HOW. COULD. YOU.
*
In non-tennis news, I've started watching another HBO series, a medieval fantasy series based on some fantasy books that I will never ever ever read in my life, Game of Thrones. The first episode was quite boring but the ending was interesting so I kept watching and now I'm
hooked
. My favourite character is the imp, Tyrion (?) Lannister; too bad his family is full of assholes. And of course, the honourable Ned Stark is also an idiot. How interesting that a character who insists on sticking to his principles and guided by his sense of honour usually makes atrocious decisions and gets himself into trouble.
For some reason, I really like Jon Snow. I don't know why. I couldn't tell the Stark boys apart at first (Snow is Ned Stark's bastard son; no clue why he's called Snow but I don't really care) until they were separated. The actor is quite cute and also very Englsh.
And I think the best character on the show, or the best storyline, or the best relationship, is Daenerys (who comes up with such weird names? Fucking fantasy writers and I use this word loosely) and the Dothraki storyline and the relationship between Dany and her husband Drogo. IT'S SO GOOD. It's the most interesting and it feels really organic and genuine.
And of course, the HBO Nudity and Violence factor in this series is off-the-charts. There was a scene of Dany eating a raw horse heart with blood all over her face and for a split second I thought I was watching True Blood. But Game of Thrones is way bloodier than True Blood. Incredible, right? Drogo literally ripped out a guy's throat -
literally
- in one episode, so yeah, it's pretty gross - and I usually watch it alongside lunch. Ew.
And the sex. There was some random scene of two prostitutes fucking each other. That was weird. And strangely non-erotic. There's a lot of sex but nothing too erotic, for some reason; I think True Blood has better sex scenes.
*
Lastly, Wei Chuen's church dinner on Sunday was more fun than I was expecting. They got the same MC from last year, who's actually really good. The most hilarious part was definitely this silly "dance competition" between 3 poor kids all vying for a lousy hamper. One of the kids (I mean teenagers) was this guy who totally looked like he wanted to die up there. It was so funny.
When the MC was asking for people to go up I kept asking Wei Chuen to go up but he refused. He's so mean right?