I was definitely
not pleased
when Fish failed to get the job done against Tsonga in the 4th round, losing to Tsonga 6-2 in the fifth set. That meant that, once again, Roger would have to play Tsonga in the quarter-finals of a Slam, like in, you know, Wimbledon, when Roger was up two sets
and then went on to lose the match.
When the draw was announced along with the possible QF clash between Roger and Tsonga, I consoled myself by remembering what Roger said after he came out firign and beat del Potro in Cincinatti a month ago - that he was extra motivated because he didn't want to lose to the same guy 3 times in a row. He'd lost to del Potro at the 2009 US Open final and again at the World Tour Finals later the same year.
In this sense, I'm glad that he lost to Tsonga in Montreal, his second loss in a row to him this year. This US Open match would've been the third loss in a row. Would have been, but is not.
I slept through the first five games, then I woke up in time for the rain delay and to see that Roger was leading 3-2 with a break. Then the rain delay started and I fell asleep watching the replay of Roger's 3rd round match against Marin Cilic, so I went back to bed. When the match resumed, it was deuce on Roger's serve, 3-2, then advantage Tsonga, then game Tsonga.
I was like, what the fuck? Two forehand errors from Roger to give away the break - two forehands where he tried to paint the lines, but missed by the narrowest of margins. I was beginning to panic. Images of his awful losses over the past year flashed in my mind, losses where his forehand completely deserted him and his backhand couldn't do much to save him. It started to feel like deja vu all over again and I watched on with a slight sense of dread.
HOWEVER, Jo-Wilfried Tsonga forgot to turn up for the match today; instead, his alter-ego, Jo-Willy Clownga, took his place. Roger wasn't at his best by any stretch of the imagination, but Clownga absolutely was. He made a double-handed backhand cross-court pass, then Roger figured that out and started covering the cross-court and blocking Clownga's two-handed backhand pass. Maybe this was why Clownga started to hit passing shots on his backhand with a single-handed backhand, because I can't think of any other reasons he would do so. He baffled the commentators as well. What baffled
me
was how often Roger let him get away with his awkward one-handed backhand pass. He shouldn't have let Clownga get away with
any
of them.
But let's not nit-pick. Roger won this match on his serve and his return game. I read that he couldn't get any decent returns in on Tsonga's serve in Wimbledon; today, that wasn't the case at all. To be sure, Clownga assisted quite a bit by hardly getting any first serves in; but even when he did, Roger got in at least decent returns. The match started with both guys spraying errors, trying to find their rhythm; midway, Roger tightened up his game while Clownga continued to struggle to find his range. Towards the end, Roger's clutch serve appeared and pushed him past the finishing line.
Roger would need to have his A game on if he wants to beat Novak Djokovic in the semi-final. But I'm hopeful: he knows how to play Nole. He's beaten him in Paris earlier this year, also the semi-final of a Slam. He's beaten Nole in this same stage, save for one final, 4 out of 5 times. And I think he wants more than anyone else in the world to continue his streak of winning at least one Slam every year since 2003.
I'm quite a happy Federer fan right now. Like this: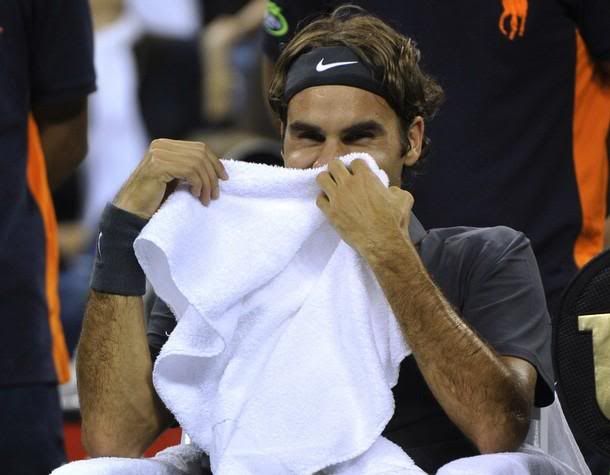 Lastly, a table of his Grand Slam streaks viz. other players, just because it looks great: