And it's fitting and very appropriate that this "something" is a fifth all-time title at Basel, his hometown tournament, at which he famously worked as ball boy.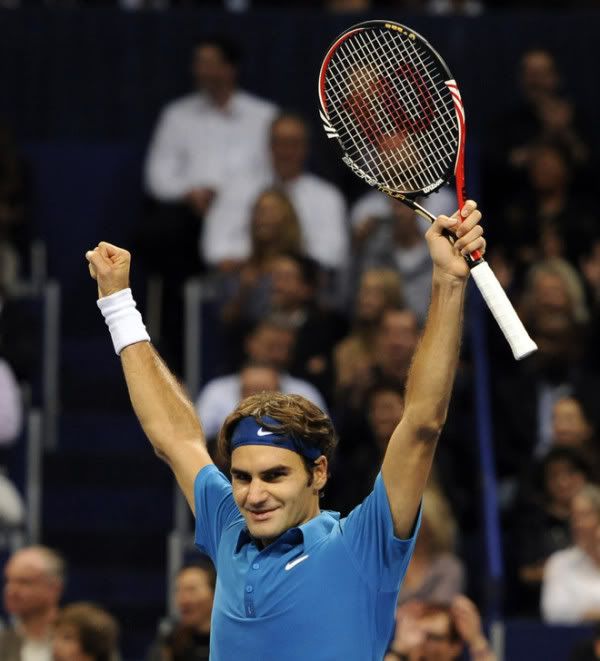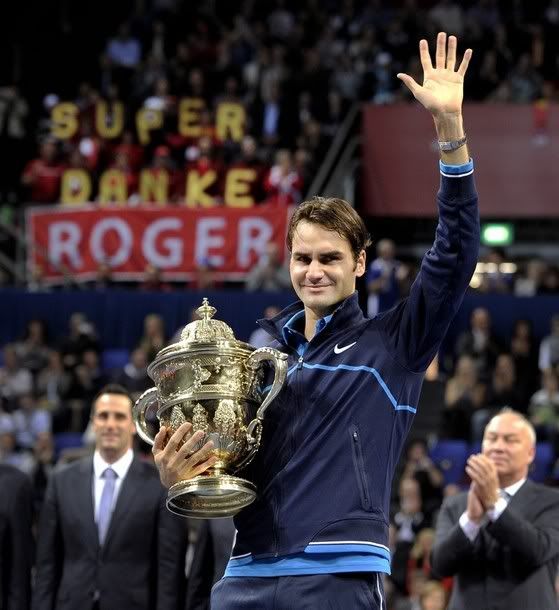 He wins the tournament - an ATP 500, being the 3rd biggest after Grand Slams and Masters, or the second-smallest if you wanna be negative about it - and then he tears up after receiving trophy. He didn't even tear up when he won Wimbledon in 2009 and broke Pete Sampras' grand slam record. The last time he cried after winning a tournament was the French Open in 2009.
I love his openness, his passion for his sport, and how his hometown tournament still means so much to him after everything that he has achieved. 68 titles later and he cries after winning the Swiss Indoors in Basel. This Roger Federer guy is just an amazing human being all-around.
As a tennis player, though, he is out of this world. Sometimes I think it's physically impossible for everyone else to hit the shots that he does. He hit a pin-point accurate forehand down the line, into the corner, off a Nishikori slice approach, and he was almost squatting; he was bent so low and so close to the ground. How does anyone hit a shot like that? They don't, actually; only Roger Federer does.
The first set was just absolutely sublime tennis from him. Backhand down-the-line, lethal inside-out forehand; Nishikori was up 40-0 in his opening service game, then went on to lose 6 points in a row. Roger turned on a switch, went on the attack, took time away from his opponent by hitting the ball so early, rushing the net; Nishikori probably didn't even know what had hit him until 3 game points were gone and he found himself broken in his opening service game. Roger is such a sight - such a sight - when he's playing - flowing, really - like this.
Nishikori attempted a comeback when Roger served for the match at 5-3 and forced a break point. Roger saved it with a first serve that elicited a return that sailed long. Before this, Nishikori forced Roger to play to 15-30, then 30-all; at 30-all, Roger let out the first yell of the night. After he saved break point, he let out another yell. The deuce point was probably the most nerve-wrecking point of the match. Nishikori threw everything he had at Roger - he seemed to hit the ball harder than he had the whole match, he defended well, then he hit a slice approach to Roger's forehand.
And then Roger hit that superhuman forehand winner.
On match point, Roger let a desperate Nishikori defensive lob bounce, and then finally smashed it to put it away and clinch a fifth title at a tournament that means so, so much to him. He had his arms in the air, he was grinning from ear to ear; at that moment, he didn't look 30 at all. He looked like a newcomer who had just won his first title.
I'm really happy for him that he won this. I don't feel that much joy for myself; but for him, all his fans know how much this tournament means to him. I'm just really happy that he won this one.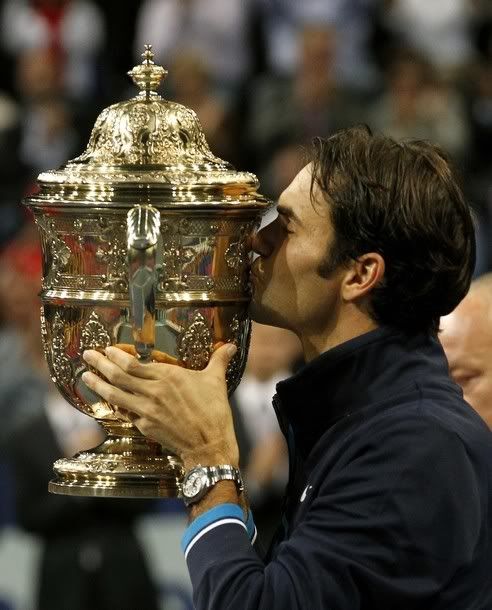 I hope he wins that horrible Paris Masters for the first time ever, and then defends his title in London, and then goes for a long restful vacation,
and then turns it the hell on at the Australian Open in January next year and make it worth my S$4,000 and my flying all the way down under to watch him play.
YES I'M FUCKING WATCHING HIM LIVE, FINAFUCKINGLY, IN A GRAND SLAM. IT'S ABOUT FUCKING TIME. I DON'T EVEN CARE THAT I'D BE SHIT BROKE AFTER I PAY OFF ALL THIS. OH MY GOD I CAN'T WAIT TO SEE HIM!!!!!!! I DON'T EVEN CARE THAT I'D BE WATCHING ROGER AT MAYBE 65% OR LESS, PLAYING NOBODIES. I JUST WANT TO WATCH HIM. I CAN'T FREAKING WAIT.
*
Got more to say but I'm damn tired, so I'll leave it to tomorrow.