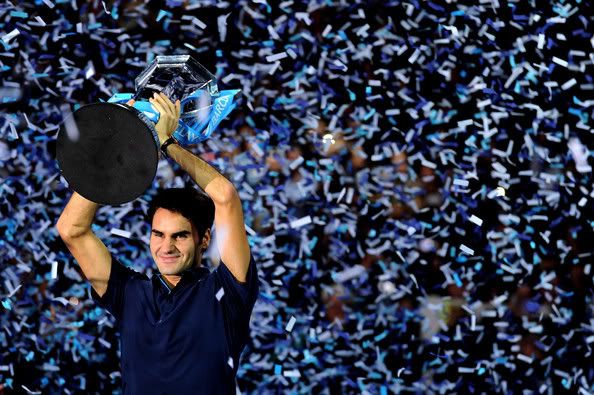 There is another dimension to Roger Federer that doesn't get talked about often, especially in his 2011 season when he's suffered seemingly unbearable defeats at the hands of his younger rivals who snatched the victory that was within finishing distance from him with a combination of fearless play at match point and a stroke of luck. When one thinks of Roger Federer the superlatives that instantly spring to mind eagerly try to put into words his greatness in terms of his incomparable achievement in tennis, in terms of how he seems to break records each time he takes the tennis court, in terms of his flawless, complete, all-court game.
Sometimes the superlatives exaggerate, of course: he only breaks records once in a while, like the ATP World Tour Finals final against Jo-Wilfried Tsonga, which he'd won 6-3, 6-7(8), 6-3 for a record 6th time; and gushing about his records and number of grand slam victories sometimes overlooks the other dimension to all great champions - and it is perhaps the most important factor that separates the true champions from the occasional winner.
The final was not Roger's best match by any stretch of the imagination. Jo-Wilfried Tsonga, a talented player with a booming first serve and fearless forehand, pressured Roger's serve from the first game of the match and allowed Roger stingy looks on his own serve. Tsonga, facing the possibility of defeat as Roger served for the championship at 5-4 in the second, took advantage of Roger's missed first serves and cracked unretrievable returns off Roger's second offerings, and all Roger could do, after saving two break points, was try all he could to fend off Tsonga's aggression until Tsonga finally put away a smash volley. Tsonga, again, facing break points at the start of the third that would give Roger a dangerous lead, suddenly cracked an inside-in forehand winner that was absent the entire match because it was not his go-to shot, but the adrenaline of the moment inspired his clutch play, and there was nothing that Roger could do except shrug his shoulders and move on to the next game.
When it looked like all hope was lost, when Roger had a championship point in the second set tie-break and Tsonga snatched it away by yet another patch of fearless play, all anyone who rooted for him could hope for was that his heartbreaking losses in grand slam matches this year did not repeat themselves; that he hung in there, maintained his mental focus, took care of his own serve, and somehow, found a way to win.
The thing about the truly great champions that inspire millions of people worldwide is that they find a way to win when they are losing, when they are outplayed. This is the other dimension to Roger Federer that don't get talked about as often, because when he dominated the tour, he made winning look so easy, as if he'd amassed all those titles and had an iron-grip on the #1 spot between 2004-2007 with barely any effort. But when he is getting outplayed by a younger opponent who can serve as well as he and enjoys the same aggressive game that he does, it takes a certain brand of champion mentality to be patient and wait for the right moment for his opponent to make a few mistakes - enough for him to find the extra gear and wrestle the trophy from the guy at the other side of the net.
Tsonga lost 5 points on serve in the first set. 4 of those 5 points came when he served at 3-4. The margin at the top is so thin; big matches like this one are decided by one or two points. Tsonga played flawlessly until that point, while Roger didn't have a single love hold. But it was Roger that took the set; it was him who upped the tempo when it truly mattered; and it was him, ultimately, and perhaps for the first time this entire season, who kept his mental focus and belief and took his chances. Learning from his mistake when serving at 5-4 in the second set, he served like the true champion that he is when he served again for the title: 3 first serves in, 3 championship points, and he only needed one of them to finally, finally clinch the match and his record 6th World Tour Finals title, surpassing Pete Sampras and Ivan Lendl.
***
At the end of another gruelling tennis season, the last person left standing amongst the top 8 players that qualified for the year-end tournament is a 30-year-old father of two from Switzerland who lost the US Open semi-final to Novak Djokovic after losing two match points on his own serve. Since that heartbreaking defeat, he has not lost a single match. Around him, his rivals, 5 or 6 years younger than him, either withdrew from the tournament citing injuries or were apparently too tired from the long season to properly compete in what is the second most prestigious tournament in tennis after the grand slams.
Roger Federer, on the other hand, contested in his 100th career final and his 3rd consecutive final. In a subdued year where he found himself without a single grand slam title since 2002, in a year where he suffered his first defeat in a grand slam match after a two-sets lead and then went on to repeat the dubious feat at the next grand slam, no one, not even his most arduous fan like yours truly, could have guessed that he would come back from all that heartbreak to defend his World Tour Finals title, let alone make a clean sweep of the indoors season. Of course, the haters can say what they want and try to downplay the prestige of the WTF, or the 3 straight titles that he won by saying that he didn't face quality competition; but in tennis, you can only beat the guy at the other side of the net. For Roger, though, he has done that, and more: he has kept himself fit and healthy after 13 years of professional tennis with a combination of expert scheduling and his economical style of play that is both beautiful to watch and gentle on his body. If anyone at all deserves this victory, it is Roger Federer - for being the only player in the top 4 to care enough about his sport and compete with all his heart and soul for a tournament that is befitting of a champion.
***
(
Collapse
)