Omg I can't believe it's only March and I'm making my third entry about my darling Rogi winning a title! He's lost a grand total of two matches since that devastating US Open semi-final loss to Novak Djokovic last September. After winning two titles back to back (Rotterdam then Dubai), he's just extended his winning streak to three tournaments in a row by defeating John Isner 7-6(7), 6-3 in the Indian Wells final. With this win, he's tied Nadal's record of most number of Masters title won at 19.

(I'm tempted to type a bunch of "hahahahahahahahaha" here but that's such tardish behaviour and I refuse to stoop that low).

Scattered thoughts on the final and the tournament:

1. Roger was sick at the start of the tournament; he caught some flu virus or whatever. Nobody really expected him to win and I would have been content if he'd merely defended his semi-final points from last year, especially in light of his three-set victories against Raonic and Belluci. Even during one of his on-court interviews he said that he was just taking the tournament match by match which seemed to be the logical thing to do in light of his pretty serious sickness. He even sounded sick; he was panting more than usual. When he easily dispatched del Potro I was surprised. When he easily dispatched Nadal I was shocked. When I woke up to news that he easily dispatched Isner I was over the moon.

2. This Federer is a different Federer from the Federer that I watched over the past two years. He's visibly more motivated now than he was last year or even in 2010. The 2010/2011 Federer might have lost to Raonic after dropping that first set, or even freaking Belluci; he might have somehow found a way to lose to Nadal and relinquishing his set and double break lead. It's very heartening for me as a fan to see him battling his illness and fighting for his victories on court the whole week; it gives me hope that him winning his 17th major isn't totally impossible. In terms of the tennis, I'm just shocked by how I continue to be shocked by how sublime his forehand is when it's on song. His backhand, however, is probably the biggest and most visible difference in his game, generally speaking, and comparing now to the previous two years. Simply put, it's going into the net so much less. He's able to stay in a rally without going to the slice, like he did against Nadal, and without his backhand eventually breaking down like, 50% of the time.

3. The final against Isner was some of the best tennis I've seen from Roger so far this year. It was a very one-sided match, especially in the second set when Roger lost just one point on serve. It was probably boring for the casual tennis viewer or the tennis fan who isn't simultaneously a Federer fan, but it was just a visual treat for me. He was hitting forehand winners all over the court. The points were short, began by a big first serve and finished with a strong forehand winner. Roger completely dominated the rallies, often ending them with - wait for it - a forehand winner. I don't have much personal affinity with the forehand as my forehand is the worst shot in the history of tennis, but Roger's forehand was the reason I fell head over heels in love with tennis. It's one of those rarities in life that has an effect so profound on a person that the person is unable to adequately put it into words; it's one of those rare times when I really feel like all the superlatives have been used up by journalists and fans alike over the years scrambling to find the right words to describe the Federer Forehand. I wouldn't be so bold as to say that it's the best forehand in the history of tennis because I'm no tennis expert and I have but scant knowledge of tennis history; but it's certainly the most beautiful shot that I have ever seen. Aided by his superior footwork, he runs around the backhand and gets in a favourable position to allow him to hit the forehand seemingly anywhere he wants. Some of the inside-in forehands that he hit against Nadal were just incredible.

4. Speaking of Nadal - oh my GOD, Roger's incredible defence at 5-4, 30-all, to set up match point. Nadal played like the player that had a 18-9 head-to-head record against Roger Federer - he basically dominated that entire point, leaving Roger scrambling from side to side, digging out shots from awkward positions, and finally, just as Nadal closed in on the kill, he smacked the forehand into the net. My heart was in my throat that entire time; if Nadal had made it, or if Roger had failed to retrieve one of the preceding shots, it would have been break point and there would have been a very high chance of Roger choking away a set and double break lead and eventually losing the match (which would have left me utterly shattered for sure). Roger's highly pumped up reaction after that point said it all.

5. This is getting to be a lot longer than I'd initially intended and I'm freaking tired, so my final point will be dedicated to laughing at the commentators. In the tie-break against Isner, Roger missed like 1746387167346732 set points (okay it was just 3) and let Isner hang around until the score was 7-all. Isner hit an approach (his approach shots were really good actually; definitely way superior to Roddick's. Not sure why I even made this comparison apart from how they're both Americans with a big serve) to Roger's backhand and Roger shanked a backhand lob that landed in, which Isner chose not to chase down. The American commentator actually said something like, "Oh my god, what an amazing shot!" I was just like...who the fuck pays this gimp to commentate? Anyone who's watched enough tennis can hear that the shot was a mishit. I hate it when commentators try to make players' shots look better than they really are. This shot was an obvious shank and Roger was lucky that it landed in, and there this guy was, drooling all over the shot. At least Robbie Koenig set the record straight and said that it was a framed shot.

Anyway, whatever. Roger won!!!!! Pictures!!!!!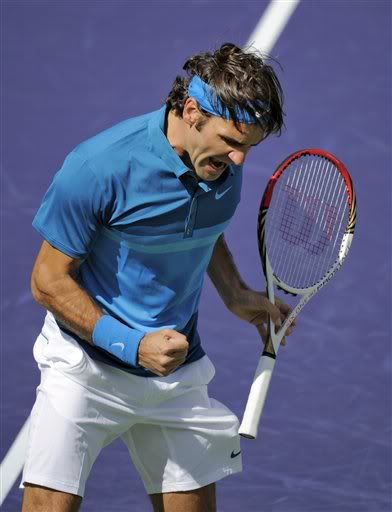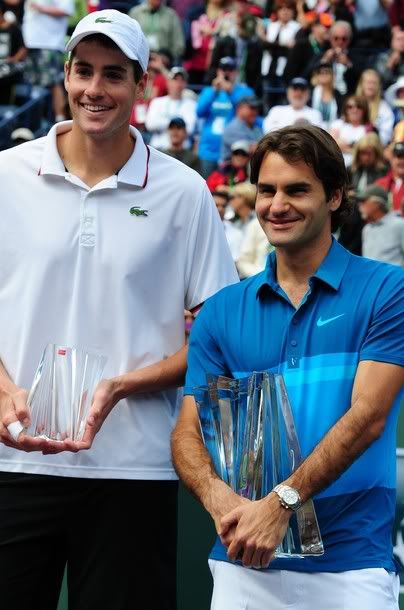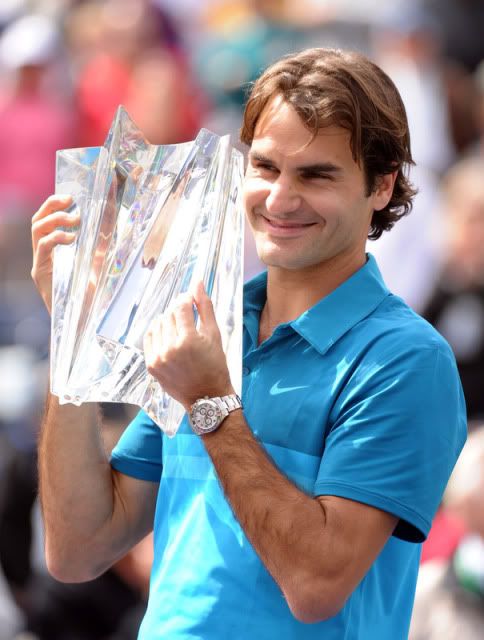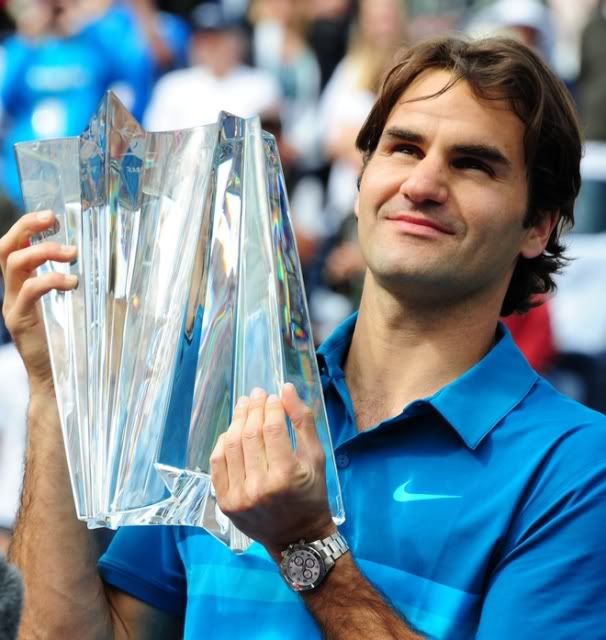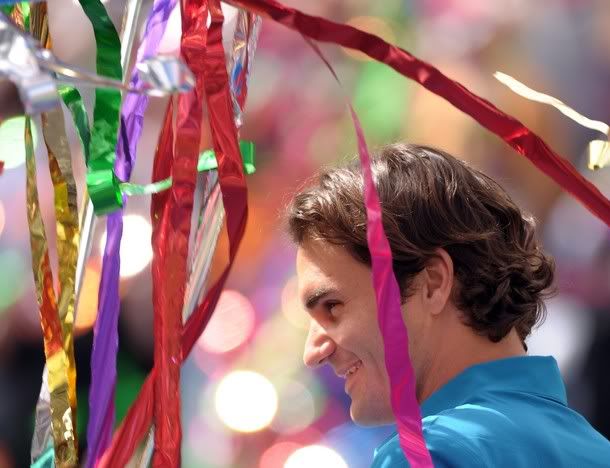 And lastly, my favourite: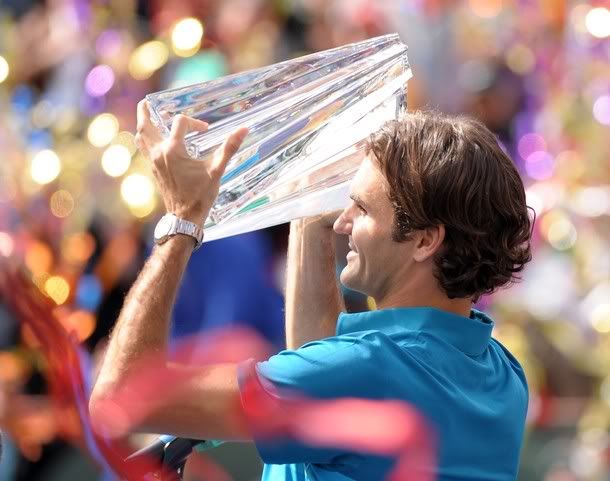 ***

On another note, I'd just like to state for the record that I absolutely hate playing tennis at night now. I cannot handle the humidity. I cannot stand how wet and clammy I become just 15 minutes into the session. I bent down after 15 minutes last night to tie my shoelaces and sweat was dripping off me. 30 minutes later I felt like I'd just emerged from a sauna. My wristband was pretty much soaked by the end of the 2 hours.

Playing under the sun or in the day is so much better. Natural light beats flood lights anytime; it's not as humid in the day and the heat makes the perspiration feel a lot less uncomfortable; and it feels so much happier and less dreary to play when the sun is up and it's bright. If it weren't for the fact that I need to work, I wouldn't even play tennis at night. It makes me not want to go at all; I just drag myself because I need the exercise and I'm trying to fix my shitty forehand.

Speaking of shitty forehand, it was incredible how I missed literally every single short forehand that I tried to hit cross-court last night, either hitting it out or into the net (more out than net). I hate getting short balls; it means I need to run forward to hit it which is so tiring. Also, I still cannot handle balls with like, zero pace to my forehand that give me too much time to think and screw up the shot. I can't generate any pace with my forehand anyway 'cause it's so lousy and so I really prefer balls to have some pace when they come to my forehand side (which I try to run around whenever possible; that's how much I hate it). I like floaty and paceless balls to the backhand though, and needless to say it continues to be the only thing preventing me from giving up tennis altogether.

I've stopped the training because I ran out of motivation and it's too expensive. The bright side is that I bought myself a forehand volley, albeit at a rather high price (780 x 3 - can't be bothered to calculate). The downside is that my serve is still non-existent and I'm too lazy to practise it. The downside is also that I have virtually no backhand volley. The double-hander stil doesn't come intuitively, and I can't hit a one-hander so I'm just flustered at the net when my partner tries to make me hit a backhand volley. Please freaking don't. It's super embarrassing and 9 out of 10 times the ball ends up hitting nothing but frame and dropping into the net.

***

In other news...sigh.

I had a nice dinner with Wei Chuen tonight, after which we went to Ngee Ann City and walked around. I bought two new books. I'm happy with my purchase.

Miami is starting soon. Hopefully Roger does well there again.