I finally worked up the courage to play a set at tennis tonight with a friend who's around my level (which, obviously, is bad news for him). It was the first time in more than half a year that I psyched myself up enough for match play.

I am beyond thrilled that I lost 6-3.

I held serve once out of 3 (? I think) service games and won my other two games by breaking serve. The latter was quite expected; my return is way better than my non-existent serve, obviously. It was the manner in which I lost my service games that pleased me though - it was mostly through my gimped out shots that were mostly long, or I couldn't return my friend's return. In other words, I didn't hit 4 double faults in a game to lose serve. In fact, I served 2 or 3 double faults in all.

This is amazing. This is absolutely incredible. Granted, when it came to the second serves I just focused on getting the ball into the court and didn't bother so much with hitting it properly; but still. The biggest reason I didn't like match play was because my serve sucked. It still sucks, and it's still an abomination to my beloved sport, and I really need to sort out my lousy ball toss; but my serve, shockingly enough, wasn't the reason I lost. I expected to lose all my service games by double faulting everything away, but I didn't.

I'll list a few more positives before I get to the negatives: I pretty much don't remember anything that I did okay (and remember everything that I fucked up) except this one point where I hit a serviceable approach and got a pretty weak reply at the net. Granted, the reply floated to my forehand; still, I didn't panic and actually hit a good winning volley. My friend's second serves mostly landed pretty short and after I settled a bit I hit some pretty good returns off those.

That said, after hitting those pretty good returns my next shot was a crap one that either landed into the net or ended up way long; it was usually the latter. I couldn't sustain rallies longer than 5 shots and after the 5th shot my immediate thought was, "Okay I want to end this now. I'm gonna hit a winner." I hardly ever did - backhands went into the net and forehands sailed long. I had a few sitters mid-court and I tried to finish them off with my forehand but to no avail. Match point was like that - tried to put away the sitter, just to hit it way out. So facepalm-worthy, oh my god.

At first I was so scared and out of my element that, as I waited to return, I actually had my racquet in the wrong forehand grip. I gripped it continental for some unknown reason, when usually I got ready by gripping it in my semi-Western forehand grip. Thank goodness my friend's first serve went into the net; the return would've been seriously ugly if I'd tried to do so with a continental forehand grip. I must've thought I was gonna serve or something.

Basically I made a lot of errors, even when I was just hitting a normal ball. Mentally, too, I was always more ready to throw in the towel than hang in there and try to win. For someone who supposedly hates losing, it was pretty sad that I was hoping my friend could serve it out at 5-3 so that I didn't have to face the pressure of serving to prolong the set. When I was down 15-40 on my serve I was hoping for a double fault so that I could put myself out of my own misery (I ended up saving those two break points, then played some crap point at deuce, then got broken). Most importantly, I didn't know what I was doing; I just hit the ball and hoped for the best. The only time when I felt like I was consciously doing something right was when I hit a good forehand volley at the net. Even then, every time I approached and the ball went to my backhand, I panicked and dumped the ball into the net, no thanks to the fact that I basically can't hit a backhand volley. Sigh.

I shouldn't actually lose to this guy though. My ground game is better than his; his backhand is actually worse than my forehand, which is a pretty amazing feat considering how shit my forehand is. The one thing that he's better at is the serve, but I got lots of free points off his serve because he started throwing in a bunch of double faults half way through (he had more DFs than me for sure). All in all, I'm gonna keep playing this guy until I beat him. 5 more times should do the trick...I hope.

***

I don't want to talk about anything else. This was pretty much the only thing that made me happy the whole day.

I bought Maria's French Open dress.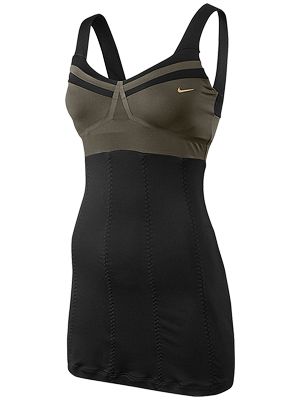 I absolutely love it.