I beat my friend today, 6-2 6-3.

Prior to today I hadn't held serve even once in 3 or 4 sets. Ever since that entry I'd played a couple of more times during which I was on the losing end of such scorelines as 6-1, 6-3, 6-4; I only managed to win games by virtue of the fact that my friend's serve isn't that good which means I could break him quite easily...not to mention get free points whenever he double faulted.

I started off today playing like shit. A double fault, a return at my feet that forced an error, some other crap off my racquet later and I was down 0-40. I somehow managed to get it back to deuce but quickly lost my serve, at which time I couldn't help but think - what the fuck do I need to do to fucking hold serve?

Quite frankly my friend helped me quite a bit by playing rather badly. Having said that, I helped myself too by 1) preventing myself from serving too many doubles by just getting the ball in on the second serve; 2) not overhitting on the forehand and focussing on getting the ball back; 3) actually hitting my backhand fucking amazingly well today; and perhaps most importantly, 4) wearing a super cute Stella McCartney skirt that probably inspired me to play decently today.

This skirt (just the skirt) is officially my lucky skirt: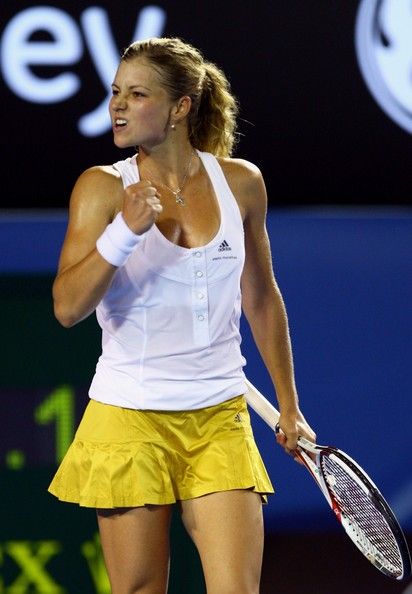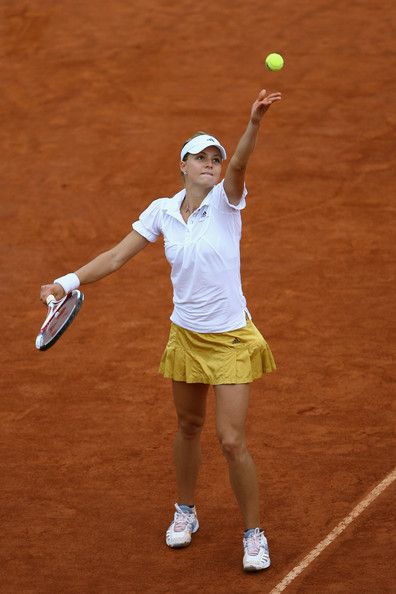 I fortuitously saw this on eBay and bought it immediately. I'd been coveting it ever since I saw old pictures of Maria Kirilenko wearing Stella because it's just so bloody cute. The seller listed it as previously-owned but the condition is amazing; like new.

Anyway, I'm quite surprised I won tonight, considering I fell asleep for a bit when I came home from work and I was just so knackered the whole day. I'm very pleased with my backhand tonight; for once I wasn't constantly hitting the ball into the net. I hit 5 backhand winners today - 3 down the line and 2 return winners (down the line as well). There was also some random cross court forehand winner and some pretty good forehand returns.

I got lucky a few times too. My forehand started breaking down towards the end and I was mishitting all over the place. I hit a forehand mishit that landed short and really angled wide when my friend was serving at 0-30 and he couldn't get it back so it was 3 break points for me. I also hit another complete fluke backhand "drop volley" which only dropped so short because I have no backhand volley at all. There were also a couple of desperate single-handed backhand "slice" lunges that got the ball just over the net, causing my friend to scramble forward and meekly get the ball back. Hilariously I was still hanging around the baseline watching the show, not realising that I should be getting forward; but even more hilariously, I wasn't too late when my brain started to work and I won those points. It's quite a joke.

I'm happy. I hope I don't surrender too easily the next time I play him. It's also quite amazing how adrenaline and being in the heat of the moment can make you do things that you wouldn't do without these two factors present. Despite being tired as hell in the middle of a rally, during which I found myself squatting, literally, as I hit a forehand, I nevertheless found myself running forward to get to the ball. When do I ever run? When I'm just hitting I barely run. I hate running. I didn't even think in that moment; I just reacted. Needless to say I was super breathless after that but still, I ran. It's always a miracle when that happens.

My legs and feet hurt like hell. I'm so tired. I'd like to end off by saying that I'm very pleased that I own Maria's French Open-winning outfit and that it looks much better on me than the Australian Open white dress.