I seriously love being in London right now because it means that I get to attend the ATP World Tour Finals live! Roger wasn't scheduled to play on the days for which I had tickets, but no matter; all I had to do was to fork out a hefty sum of money to buy a couple more tickets and skip a few classes on Tuesday afternoon to watch him. I can't wait I can't wait I can't wait! I'm going with this girl staying in my hall and we're gonna try to watch him practise, which was something I stupidly didn't do in Australia. I hope I get to see him! Omg, I hope I get his autograph!!!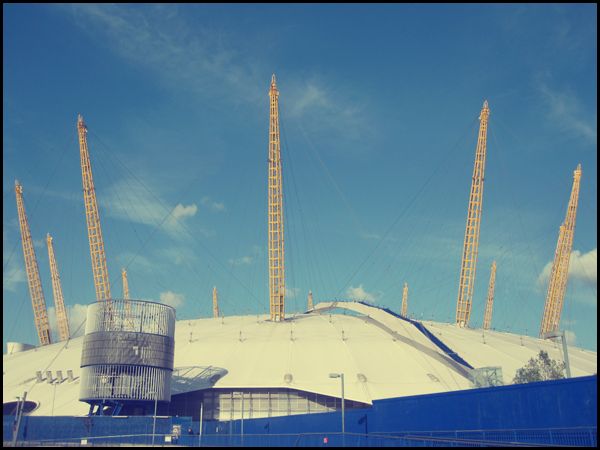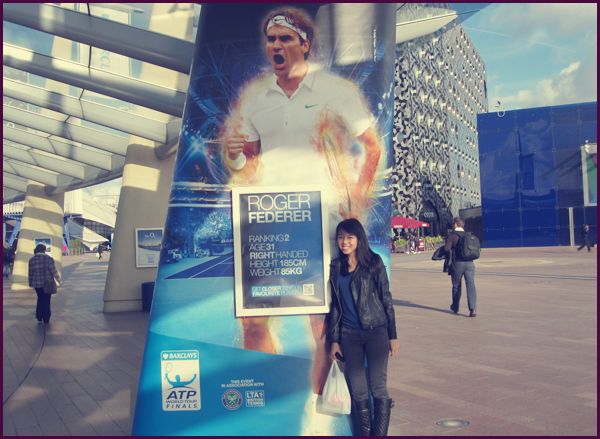 Anyway, I must admit that it's extremely tiring to be at the tennis the whole day. It was tiring in Australia when I was at Rod Laver Arena for the whole day on the first day of the tournament and it was similarly tiring today. It didn't help that the O2 Arena was really stuffy when it became crowded (i.e. when the singles matches started). But still, watching tennis live is always a tremendous experience in itself. It's three-dimensional, the players are real, and TV doesn't quite do justice to the spins and touches that the players put on the ball. When Tsonga drove his forehand flat, it was almost like a missile that shot through the court; when Murray softly hit a drop volley, the deadly subtlety of the shot was even more awesome in person; Djokovic appears fast on TV, but he seems to possess superhuman speed in person; and somehow, Berdych's strokes, which I objectively find very technically perfect and textbook, are even more pleasing to the eye in person.

The best match of the day, though, was definitely the doubles match between the Bryans and Marcel Granollers/Marc Lopez. The Bryans are the top seed and probably the most famous doubles team; they won Olympic gold and the US Open, among other things. Granollers/Lopez made their first ever career appearance at the tournament and went in as the heavy underdogs. But oh my god, they played like champions. Lopez hit some fucking insane volleys that made me feel lucky to be alive, and even when they were fell behind in the super tiebreak, they continued to play such inspired tennis that they wrestled victory from the hands of the Bryans the first chance they got.

In contrast, the singles matches were pretty crap. I was supporting Berdych even though I hate him because the hilarity inherent in Murray losing a match was just too good. I was all excited after Berdbrain snatched the first set, but in the second, he got broken by way of two RETARDED unforced errors after heroically getting to deuce from 0-40. The third set was just a formality; the winner was never in doubt after Murray equalised. Tomas Berdych annoys the shit out of me because he seems to have made a career out of beating Roger Federer, but when it comes to the lesser top players, he just can't get the job done. Why? How is it easier to beat Federer than Murray and Djokovic? It just pisses me off so much.

Also, the British crowd was pretty scary when they were all cheering for Murray (still not as over the top as the Aussies cheering for Lleyton Hewitt in Melbourne). The woman next to me was damn annoying and the only person that seemed to know anything about tennis was the guy to my right. Speaking of people with no tennis knowledge, during the super tiebreak in the second doubles match, I was quite aghast to hear the couple behind me say, "Isn't this match point?" when the score was 6-4 or 6-5 or something like that. How do you attend a tennis tournament and not know that they have massively fucked up doubles and changed the rules so that doubles tennis doesn't look like tennis anymore? There's no third set; it's called a match tiebreak, or a champions tiebreak or whatever retarded euphemistic name they gave it, but it's essentially a super tiebreak: first to 10 wins with a difference of 2 points.

Anyway, the Djokovic/Tsonga match was such a disappointment. I mean, I never seriously expected Tsonga to win because he's nicknamed Clownga for a very good reason, but he played so well in the first 12 games of the first set that for a brief moment, I really thought he'd actually pull it off (when I say 'pull it off', I mean 'win a set'). He had a good look at the down the line pass on break point but missed, and against the top players, if you don't take your chances, you're just not doing yourself any favours. When the tiebreak came, Djokovic shamelessly attacked Tsonga's disgraceful backhand until it broke down - and just like that, he got himself the minibreak.

Disgusting. Disgusting. Disgusting. How is Tsonga a top 10 player with such a disgraceful and shitty backhand? The second backhand error from Tsonga's racquet didn't even make it anywhere near the net. Predictably, after he lost the first set, Clownga took the court and clowned away the second. I was so happy when he gave the match away on his serve at 3-5 as it meant that I could finally pee and go back to my room.

So that's that. Roger had better not lose a set to Tipsarevic or I'd be very angry. I've pretty much prepared myself for the likelihood that he won't make it to the final, so I'm just hoping that he makes it to the semi. I don't even care how much the ticket is going to cost; if he makes it, I will be there. He's like the only reason I'd skip class and the only reason I'd spend all this money. I'm thinking of getting some face paint and painting a small Swiss flag on my face like all the fangirls on TV that I laugh at. I bought a Swiss flag tube badanna from the merchandise store and I'm totally gonna be wearing my RF t-shirt to the match. Too bad I didn't have space to pack my Federer caps.

ROGER!!! I CAN'T WAIT TO WATCH YOU!!!