When Roger lost his third round robin match to Juan Martin del Potro, I texted Wei Chuen this: "Sad. Oh well, can practise my emotional response for the semi-final."

I'd been to all of Roger's matches at the World Tour Finals and while I knew that the del Potro match had no impact on his semi-final situation as he had already qualified, I left the match feeling rather pessimistic about his chances against Andy Murray in the semi-final. He played fantastic against Tipsarevic, no doubt; but he was woeful against Ferrer. Against del Potro, he let slip away a match that should have won in straight sets and his play was horribly patchy: he was solid on serve in the first set and faced no break points, then played a horrendous tie-break to lose it; he played a controlled, aggressive second set and won it easily, then went on to drop his opening service game in the third, and del Potro never loosened his grip on his lead from then on. Roger ended up losing 6-3 in the third, and I left feeling pretty lousy, having just witnessed live for the first time my idol losing a match.

No one could blame me for thinking that he was unlikely to win against Murray, because the general sentiment was the same as mine. Nonetheless, I bought a first row ticket for the semi-final, along with a fellow Federer fan who lives in my hall. A live Federer match is in itself an incredible experience to be a part of, even when he doesn't play well, even when he loses. Would I take back the 58 pounds I paid for the del Potro match just because he lost? Hell no. I wouldn't trade my experiences for anything. More importantly, I was intent on watching him play from as short a distance as possible; that was the only way to watch him, the cost of the tickets be damned. (Thankfully, the ticket came up to only 178 pounds.)

And so it was with low expectations of a Federer victory that I went for the semi-final wearing my red RF t-shirt and with my Swiss flag in my bag. What ensued was one of the most thrilling experiences of my life. He was so close; I could see not just his face, but the lines on his face. I could see his expression (not that he ever has much of one), I could see the outline of his shoulder blades against his shirt, I could see the curves of his leg muscles. He wasn't just a figure darting around a tennis court, hitting a tennis ball; he was real, right in front of me, three-dimensional, almost larger than life. And seeing him play tennis from such a close distance was absolutely incredible: watching him brush from low to high in a split second to hit his topspin backhand and hearing the impact of strings against ball, almost feeling the impact of his shot beneath my skin; watching him whip his forehand with such grace, such force, such power, such beauty; feeling his urgency and intensity when he broke back in the first set with a roar of authoritative delight...for me, it was the Roger Federer show, and Andy Murray was just the necessary prop to make Roger's performance come to life.

I screamed my lungs out for him. When he was at the other side of the court and he was down 0-30 on serve, I shouted "come on Roger!" as if my life depended on it. When he was on my side of the court, I shouted "go Roger!" at him and hoped that he could hear me. I'd like to think that he did. Whenever someone cheered for the opponent, I followed it up by cheering for my player. When he won the first set, I waved my Swiss in the air like a deranged fangirl. In many ways, I did sort of lose my mind; when he won, I was jumping up and down and yelling and waving my flag as if his victory had anything to do with me.

But it did, sort of, even if it didn't. I love this man: I love him irrationally (when I 1) skip classes to watch him; 2) wait two hours in the freezing cold hoping to see him so that I could take a picture with him; 3) spend a hell lot of money to watch him live; 4) get upset when he loses; 5) become insanely happy when he wins); I love him miserably (when he loses big matches, especially after having match points); I love him unabashedly (when I walk around with a Swiss flag wrapped around my shoulders and wear cheesy RF merchandise); and I love him happily. I love how happy I feel when I watch him play his beautiful tennis on TV; I love how happy I feel when I look forward to watching him play his beautiful tennis in person; I love how happy it makes me when he's a few metres away from me and he hits an amazing, sometimes miraculous shot; and I love how witnessing the Federer Genius in person makes me feel like life is worth living. I am happy to be alive because (among a host of other reasons, obviously) it means that I have the chance to watch this man play his beautiful, beautiful tennis.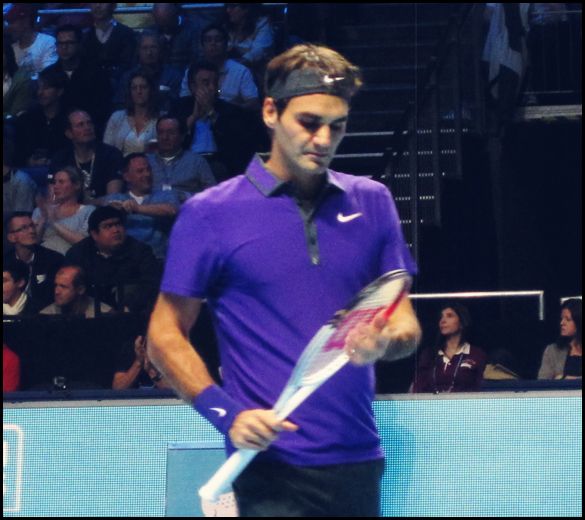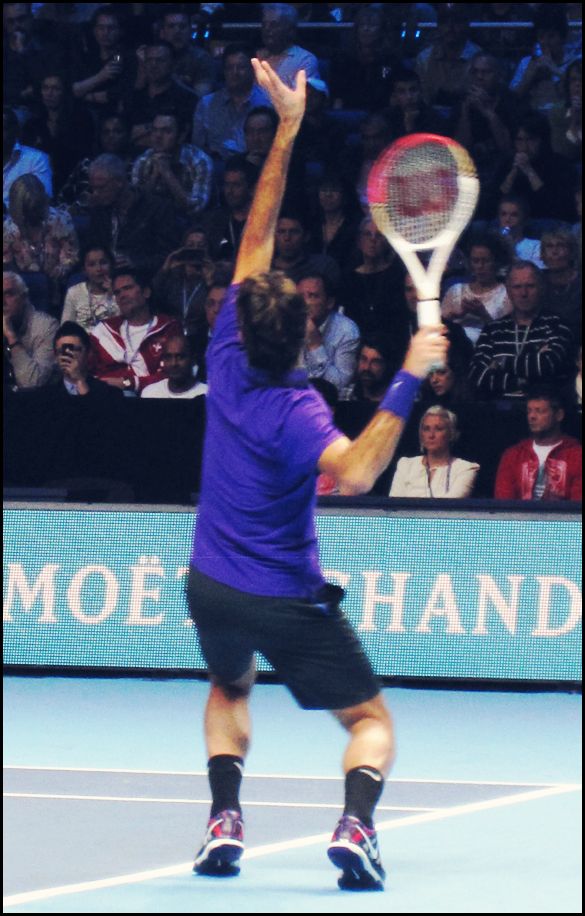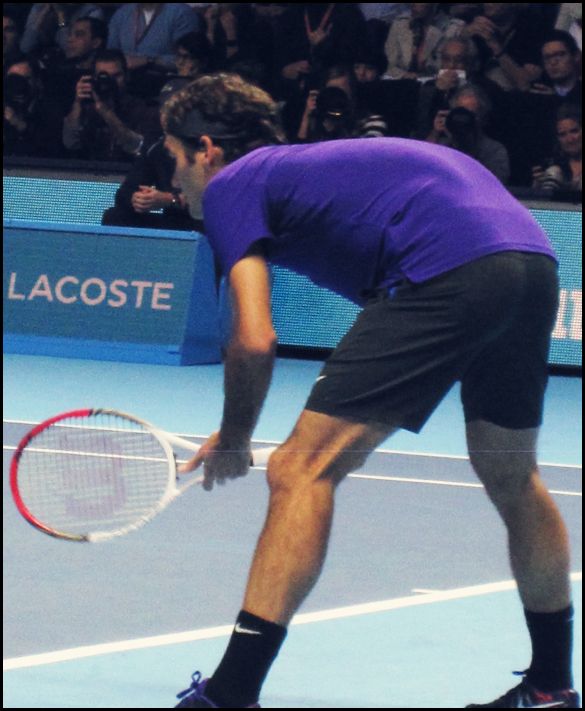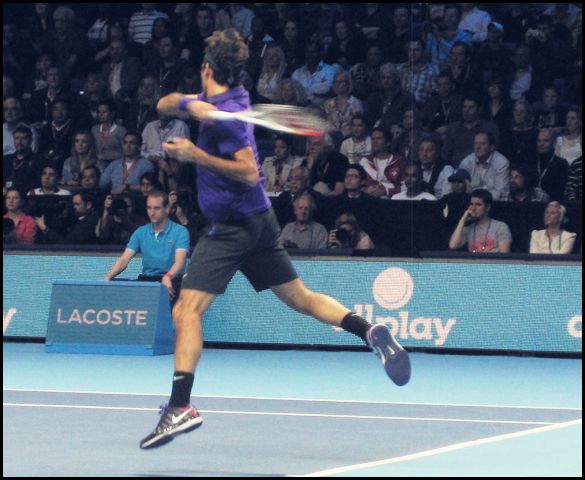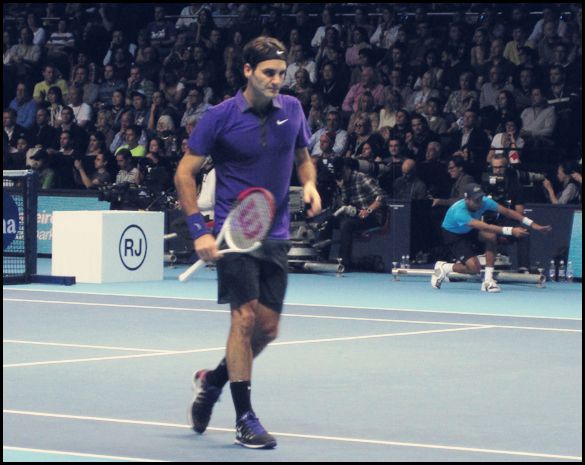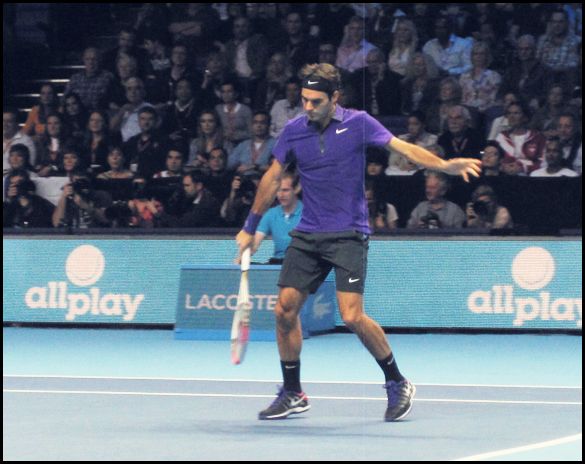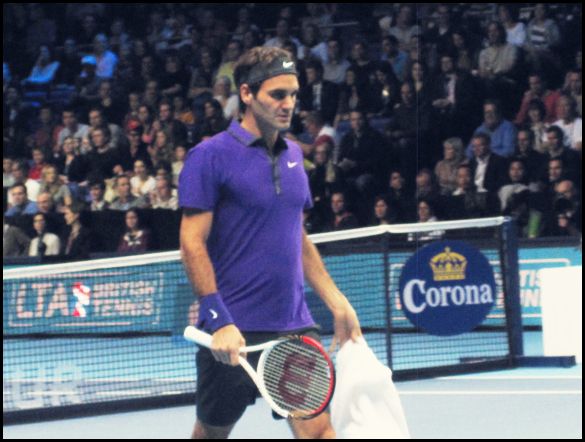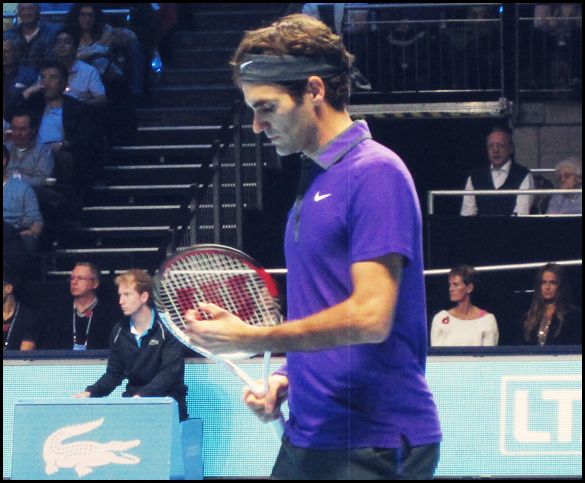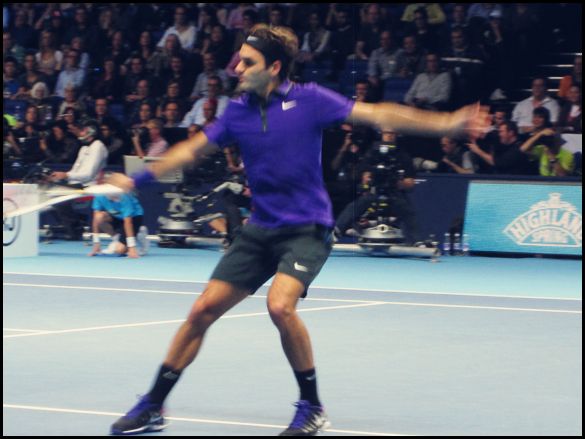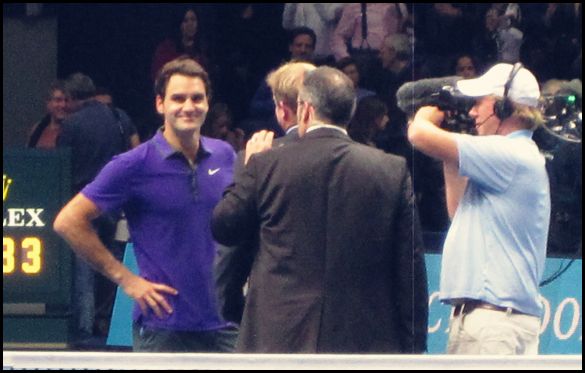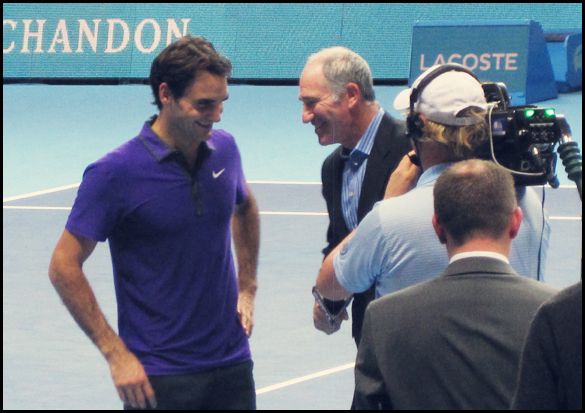 This was how badly he wanted it: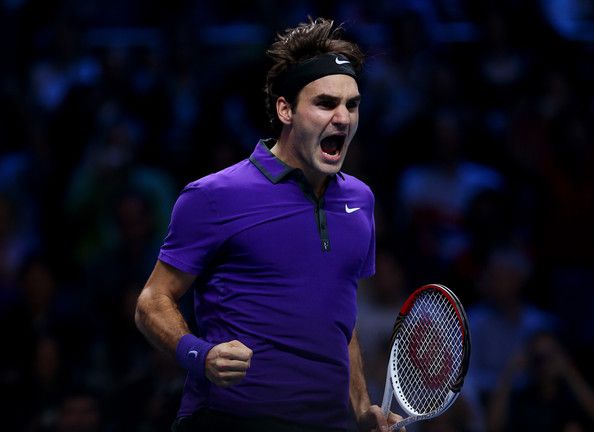 With my neighbour: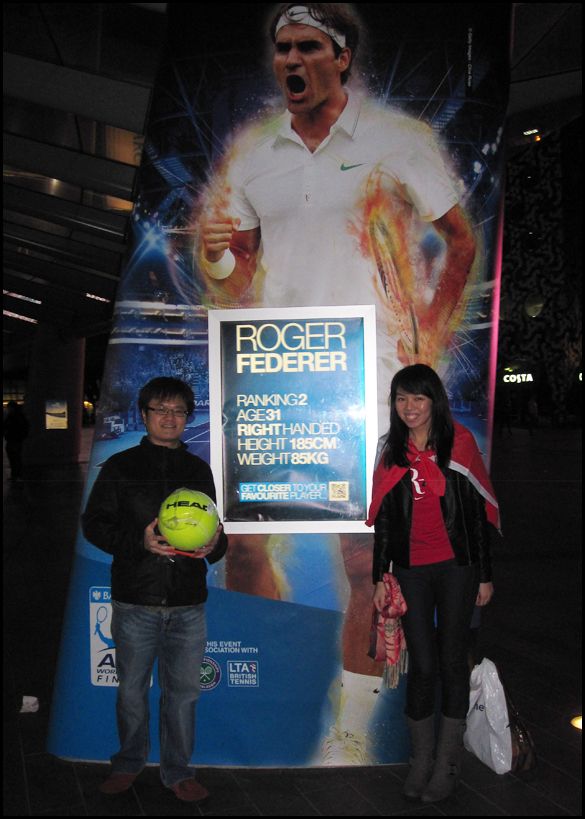 It was so amazing when he won. He played a British player and he still got so much crowd support; it wasn't as lopsided as I had feared it would be. He'd definitely be getting at least 75% of the crowd behind him in the final against Novak Djokovic, so that would be wonderful for me. I was afraid that the girl to my left was a Murray fan when she started cheering when they screened his ATP profile video, but it turned out she was there for Roger. We were both cheering for him like crazy people and it was actually really fun.

To be honest, I'm really nervous about the final. I'd really hate to watch him lose the final after he did so well to get there. But I'm just gonna try to have fun and have no expectations like I did today; though Roger making it through obviously has whet my apetite for a SEVENTH WTF title. He's such a legend.

*

Pictures from the Ferrer match which I'm posting just because I photoshopped them and it took a lot of effort: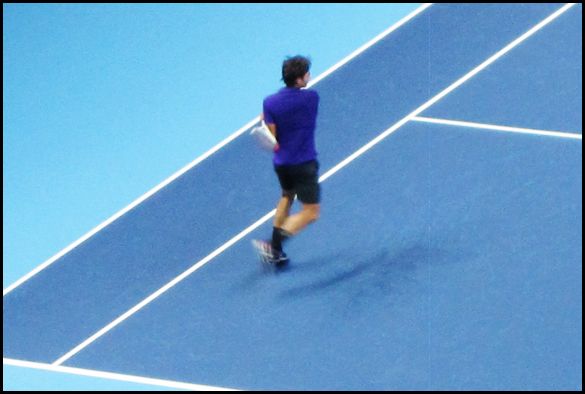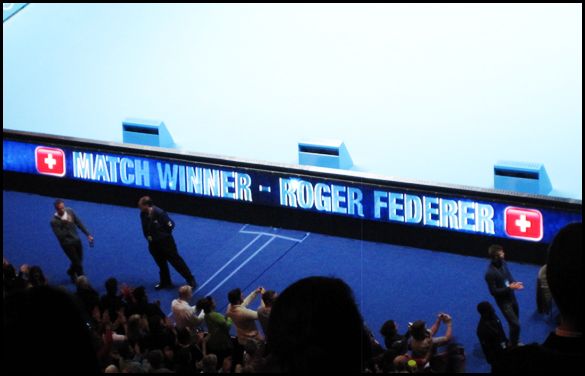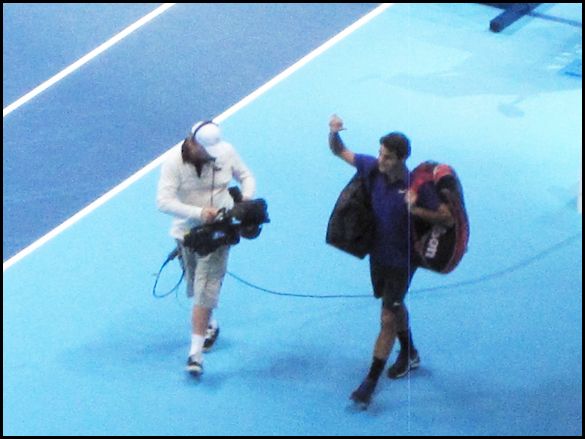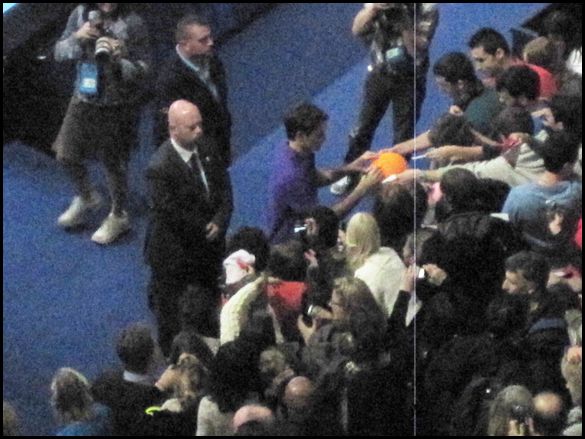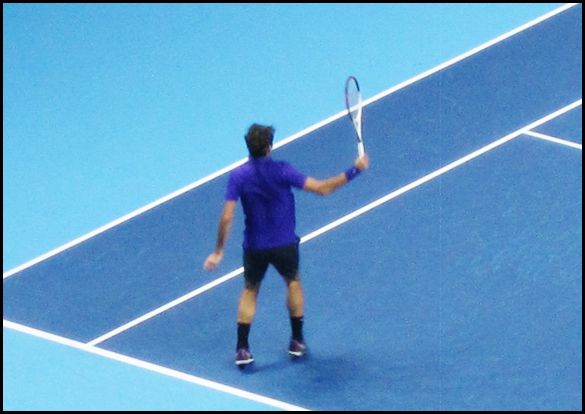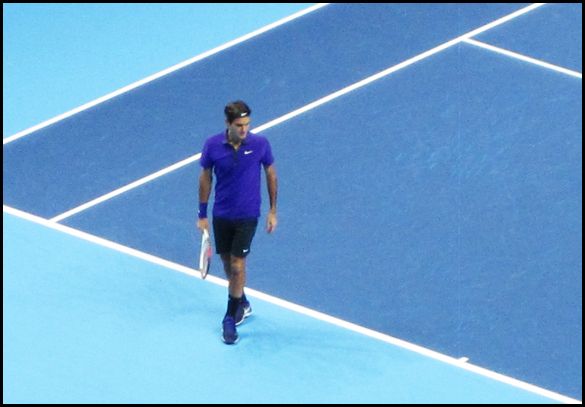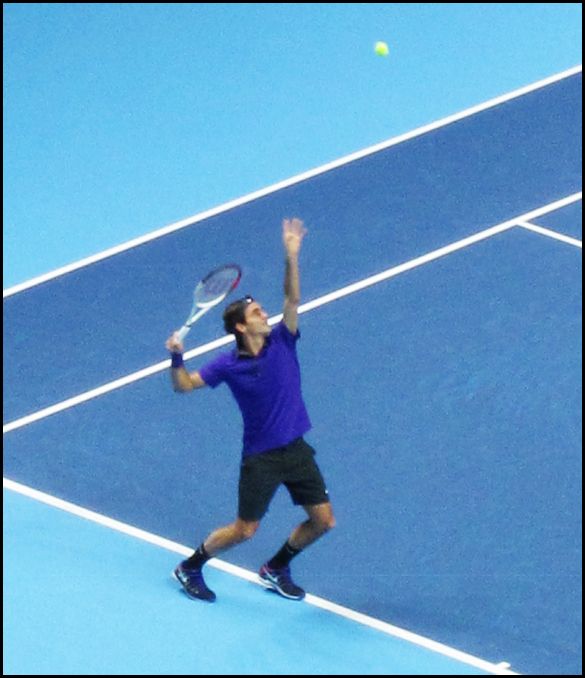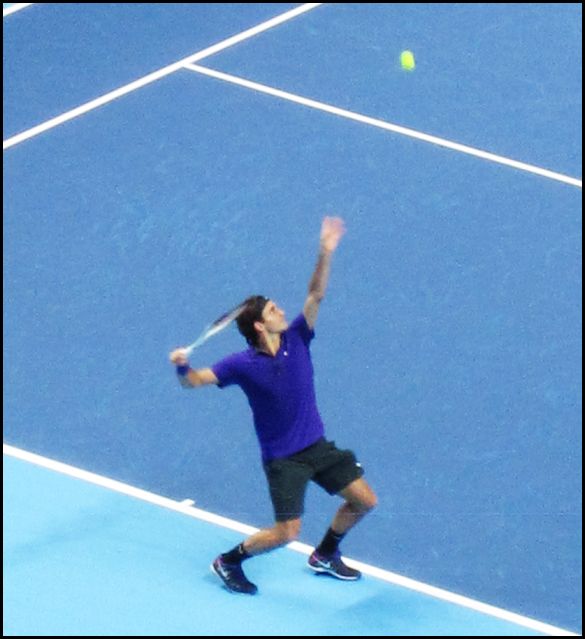 Pictures from del Potro match: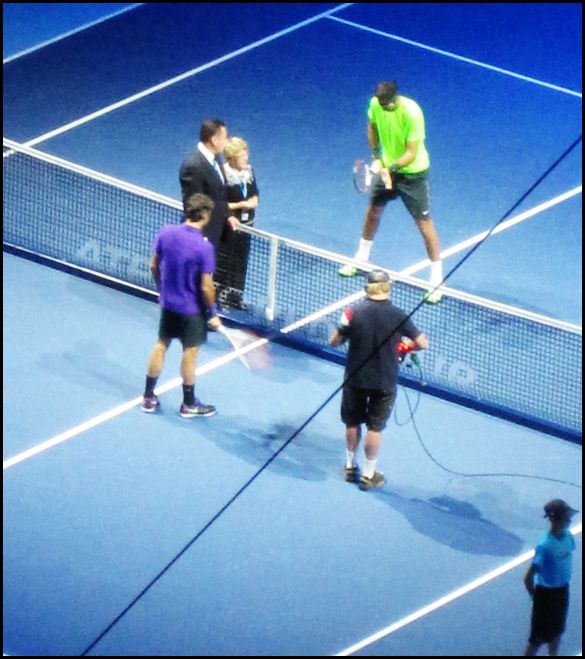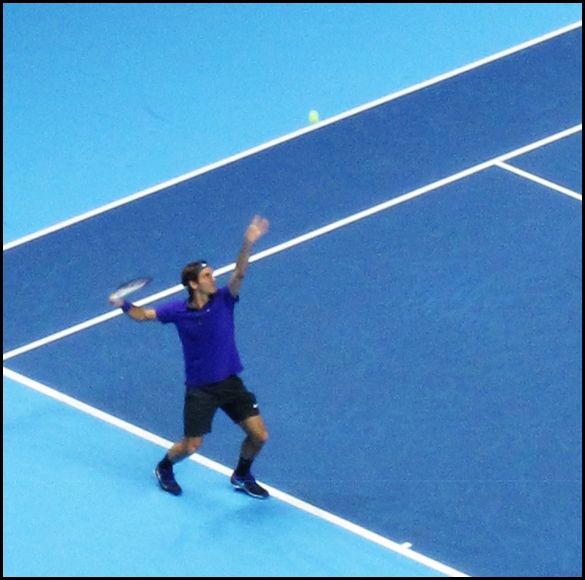 I went to the Greenwich Pier or whatever after the del Potro match hoping to catch Roger so that I can take a picture with him, which is something that I can't get out of my head ever since Tuesday when I missed my chance (when I want to do something, and it's stuck in my head, I won't be able to get it out until I exhausted all possible options, or until I make it happen). I sort of hung around a few fans from his official forum, which was an interesting experience: if I thought I was a fanatic then, I felt like a pretty average fan after listening to their conversations and seeing the kind of stuff they were carrying. One of them had a custom-made tote bag with her picture with Roger; another had RF earrings; another was carrying a red bag with Roger's signature; and needless to say, all were dressed in RF gear.

They weren't really super friendly, but were friendly enough, so I just hung around them and waited. It was really cold. It was REALLY cold. I started shivering after a while, and two hours later, the friendly security guards came out and told us that Roger had taken the car back and therefore wouldn't be coming out to the pier to take the boat. It was pretty disappointing, but I sort of expected it because I figured he'd probably be in a bad mood after losing to del Potro.

Still, I wasn't too disappointed though, because Novak Djokovic came out and I got a picture with him.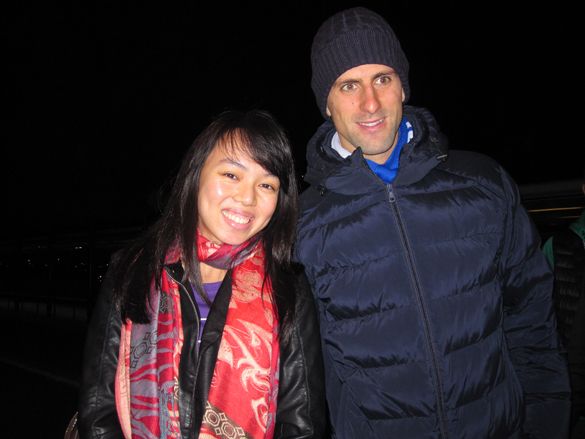 I'm not really a fan of his; in fact, I like him a lot less now that he's world #1, and I always want the top players except Roger to lose, just for the comedic value. Still, I thought it would be cool to have a picture with him and I was quite surprised that he entertained a bunch of Federer fans. He took a picture with me, with another fan, and signed the Bag Girl's programme. He'd probably just showered because he smelled like aftershave/sports cologne/something.

Gah, how I wish I could get close enough to Roger to be able to say what he smells like. That's always the first question I ask people who have been close to Roger: what does he smell like? Considering the extent of my fangirlism, I'd probably think he smells like heaven even if he objectively stinks.

Anyway, Nole was really nice but I didn't say anything to him because I had nothing to say and he was in a hurry to catch his boat. On hindsight, it was lucky that he came out; at least now I have something to show for my crazy waiting in the cold for two hours for something that never happened. I waited for him again, along with my neighbour, today after the match, but alas, he took the car again. This time, though, I probably waited less than an hour, so it wasn't all that bad.

There weren't actually a lot of people waiting at the pier; there were maybe 20 or 30. I was quite amazed to see this grown couple join us crazy people to wait for Roger; they looked like they were about 40. There was also a grown man waiting by himself, and of course, the fangirls. When I bought my Swiss flag yesterday, this super cute grandma was buying one as well. The extent of Roger's popularity is really insane. Normally I'd deem myself too cool to like someone so popular, but Roger is just such an amazing tennis player that I can't help myself.

Anyway, I left for Deptford after my adventures at the O2, because I was going for an Athlete gig! I totally didn't know anything about the band except that I love their music. I'd been listening to their albums pretty much non-stop since July or August, and I knew and loved nearly all their songs. Conversely, I didn't know anything about the band; didn't know their names, didn't know where in London they were from, and didn't know the significance of the concert venue and therefore didn't know what kind of venue it would be. The gig was called "Athlete: The Hits Stripped Back", but I didn't expect to be treated to the band in such a nice, cosy intimate setting.

I love gigs like that: small, intimate, with well-behaved people. It was amazing. Not only was Joel the lead singer (I read their Wiki page after I came back) really funny, the performance was great as well. I was actually really moved by a couple of songs a few times despite being distracted by my phone as I was sorting my semi-final tickets with my neighbour. I was definitely choked up a bit during Wires, when Joel sang, "Running down corridors through automatic doors; got to get to you; got to see this through." I was thinking of something entirely different from what the song is about (his prematurely-born daughter), and it made me really sad. But anyway.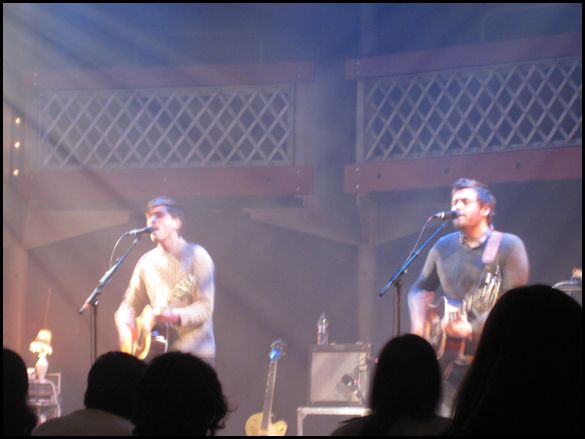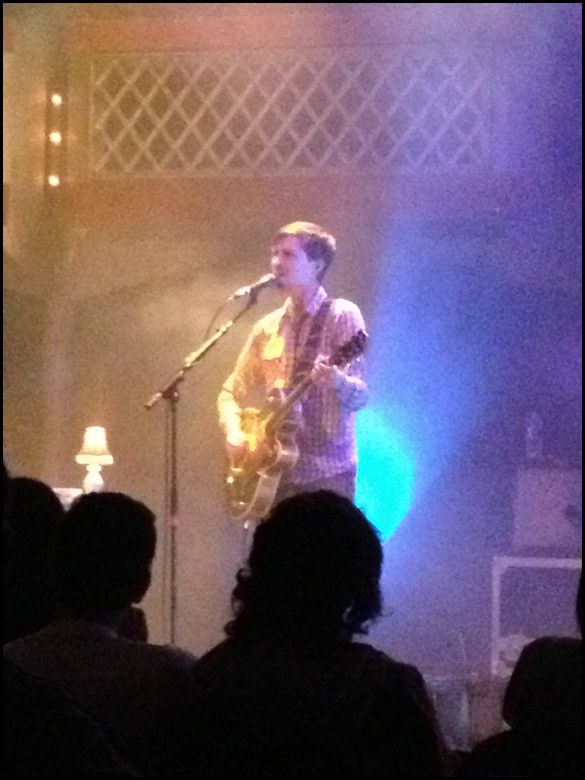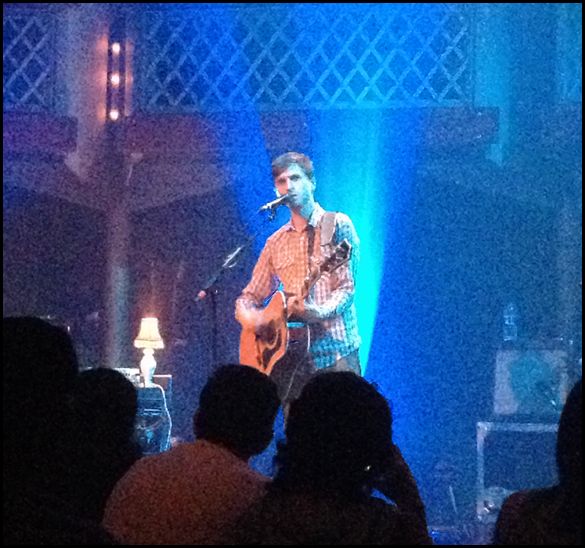 (the band swapped instruments and each played a random song of their choice at the same time. It was hilarious)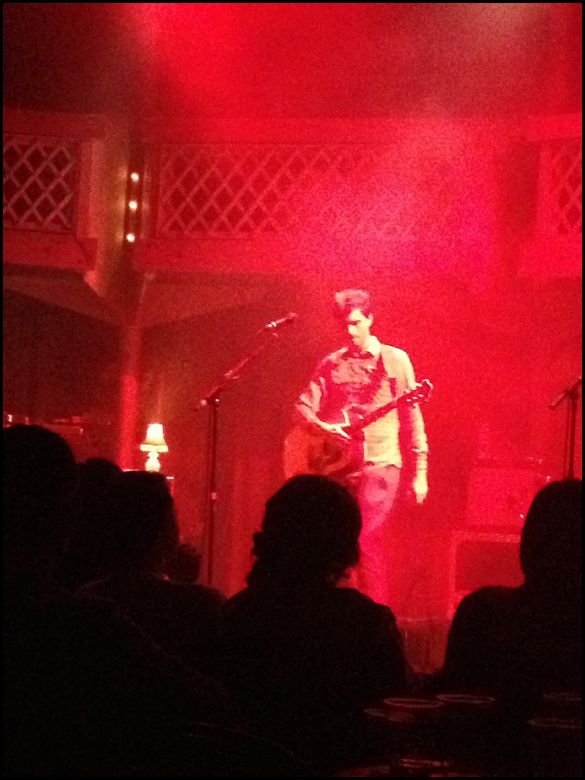 The gig venue: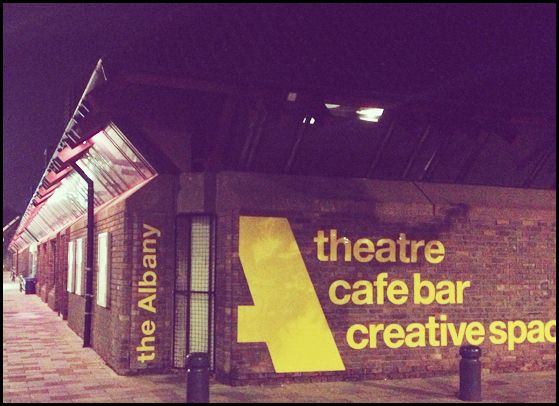 I love London.