I went to Victoria Park for social tennis on Sunday morning. It was a cold (4 degrees when I left my room wearing 3/4 compression pants, short skirt, polo t-shirt and Nike jacket) but sunny morning. It became a beautiful morning when I reached the park.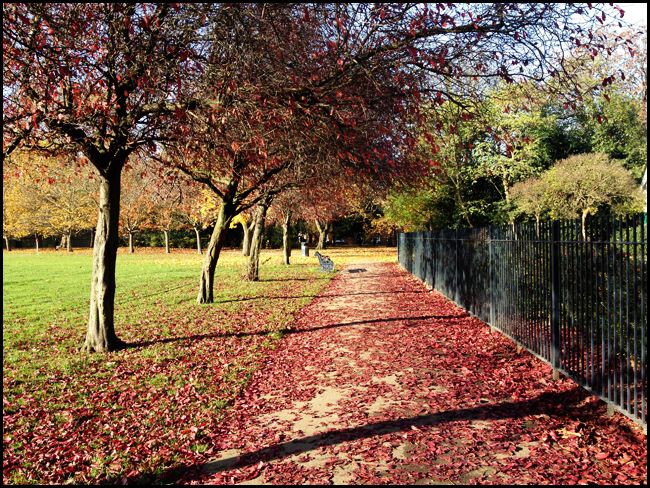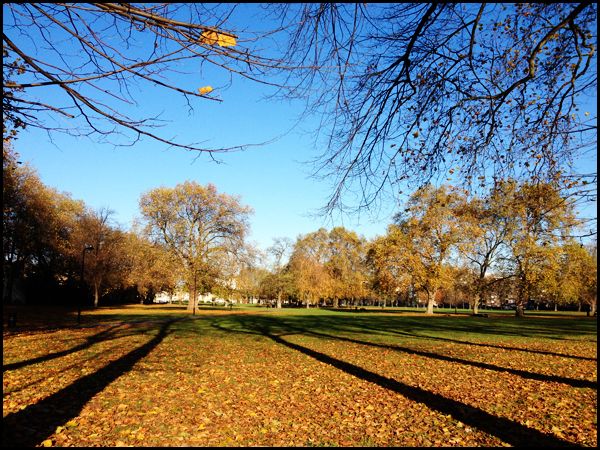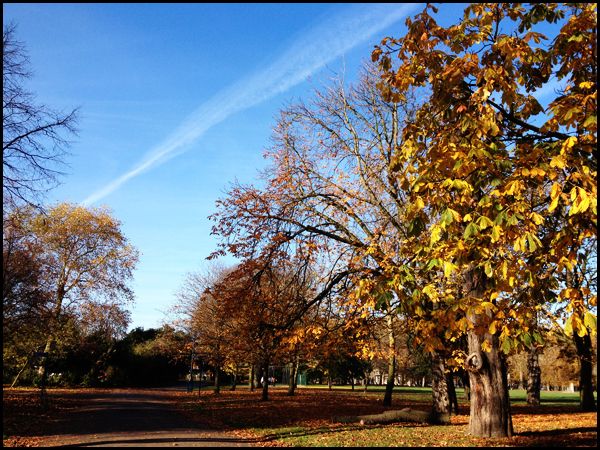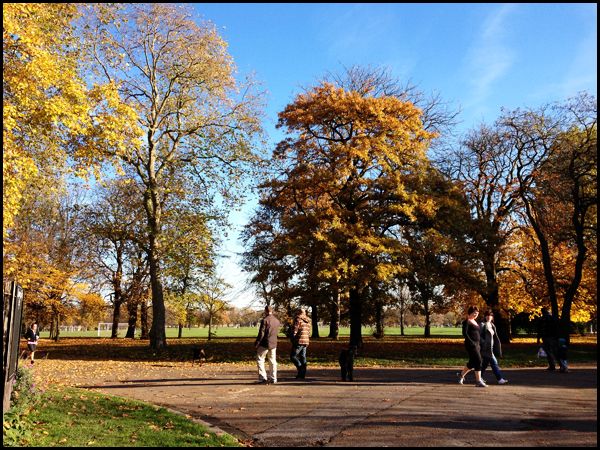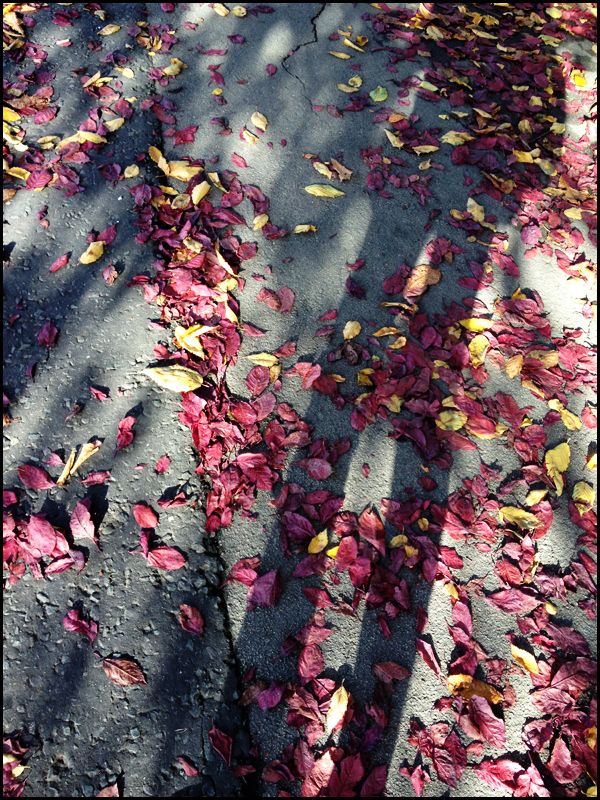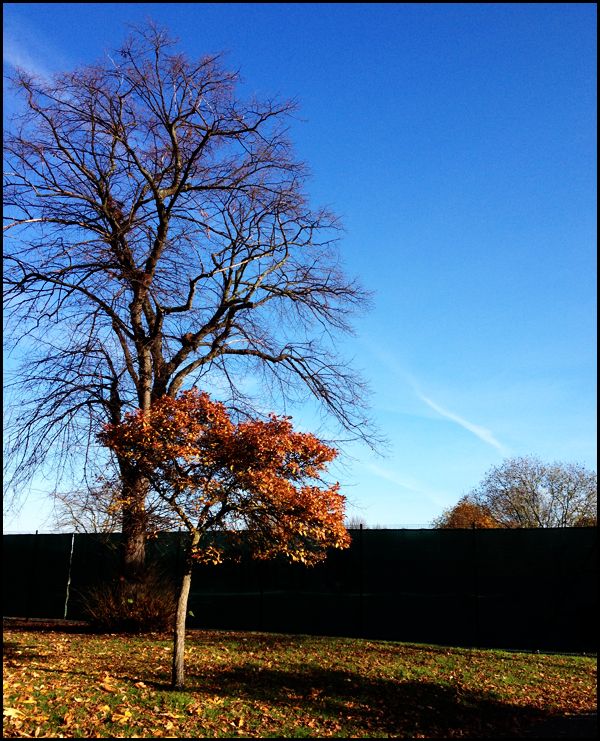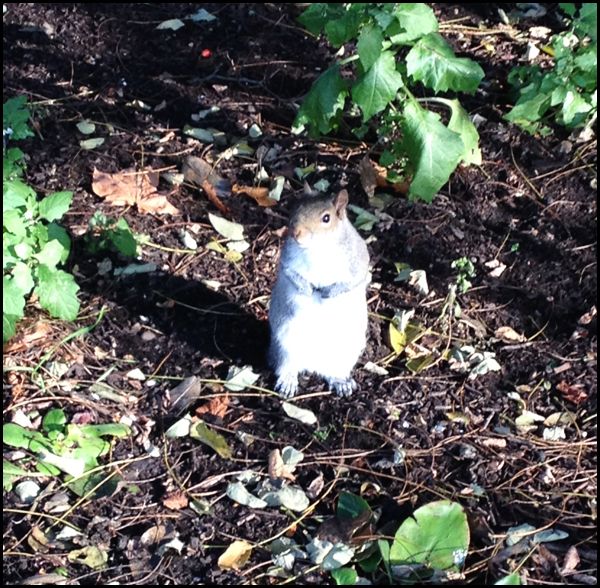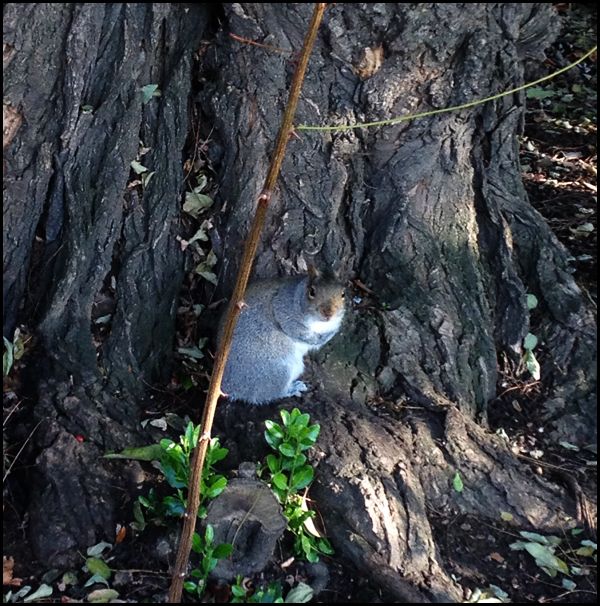 When I was walking out of the park to get to the bus stop after the tennis session, I was quite literally awestruck by the beauty before me. I had a Federer moment in that sense: so overtaken by a sense of awe inspired by something so beautiful that I felt genuine happiness at being alive.

I like this kind of accessible, non-threatening nature. Put me in a jungle and I'd freak out; put me in a park in the middle of a city (okay, in the eastern part of a city) when the sun is shining bright and the sky is a delightful bright blue and the leaves are changing colours and I'm in love.

However, I have to say that going to the park, which entailed walking to the bus stop to get the bus, and walking from the bus stop to the park which took 20 minutes because I didn't know I could take another bus in, was not fun at all. It was so cold and I made myself walk as quickly as I could to keep some of the coldness at bay.

The tennis itself was pretty fun, albeit intimidating. I found this company online that organises social tennis classes and the venue was pretty near me, and I had only played tennis a grand total of once since coming to London, so I thought I'd give it a try. The format was doubles matchplay with rotating partners. There were 7 others there.

They were all men.

I mean, I'm used to playing with guys, but it's still intimidating to be the only female in a group of men and to pretty much be the weakest link in any pairing. I completely missed an overhead this one time and in fact I don't even know why I attempted it since I can't hit overheads, and my serve is still shit so I had a few double faults. I played with my jacket on (I have the same jacket as the one that Roger wore in my picture, except mine is white - I only noticed that yesterday and I was so excited) and I didn't realise how it slightly restricted my movement until I took it off when it became a bit hot.

I didn't sweat at all though. I barely ran that much, though I did hit some pretty miraculous and flukish shots off a single-hander backhand slice/whatever thing when I was retrieving balls. My best shot was a forehand cross court winner that I hit (amazing to hit winners against guys in doubles), followed by a flat backhand cross court off a short ball that the guy at the net dumped into the net.

I signed up for next Sunday again, though I expect the weather to be cloudy this time. Nevertheless, I'm totally going to Niketown after school on Thursday to buy the new purple Federer cap. The sun was so bright on Sunday that I literally couldn't see the ball on a few occasions.

*

I have an essay due on Wednesday and I haven't started.

Shit.

I'm reading the paper on judicial review that I wrote 3 years ago to get a clue of what to write for this essay since it's the same topic and I can't believe how my arrogance was even apparent in an academic piece of work. It's all in the tone and the choice of words - so dismissive and, well, arrogant. I called the proposal for legislative supremacy in place of judicial review in the protection of rights a "utopia"; I characterised the criticism of judicial review as anti-democratic "narrow and over-zealous"; and perhaps most tellingly, I actually wrote this paragraph:

"A society is intrinsically diverse: educational and intellectual levels are not uniform across the board. Expecting the average citizen to care about, let alone understand, the Constitution and his constitutional rights is too much of a stretch of the imagination. Judicial review, on the other hand, is carried out by qualified individuals specially trained in the interpretation of legal documents, and constitutional court judges are specially trained in the interpretation of constitutional documents. "Taking the Constitution away from the courts" and entrusting it to the arbitrary whims and fancies of popular opinion serves only to belittle everything that the Constitution seeks to protect."

I'm cringing so hard right now and it suddenly makes sense why Mark Tushnet only gave me a B+ for this piece of over-written crap. Although I still think that many people don't know their rights either because they don't care or they don't fully understand them, writing that in an academic essay and in such transparent terms is just the worst thing that I could do. I can already formulate all the attacks that it would draw if this had been a published paper.

No wonder I was accused of elitism on the tennis forum that I frequent when I said that it was offensive to call Harry Potter "literature" because it's not real literature.

Then again, how is it elitist to have good taste? Not to mention I can hardly be faulted for my "elitism" when I am the product of that very elite system...

Okay whatever. I have an essay to write. I am falling asleep already. Sigh.