Wow, for some strange reason I thought Wimbledon was played at the end of July (nevermind that Roger's currently playing Halle, a warm-up tournament to Wimbledon) and just discovered that it's starting in 10 days and will be shown on Star Sports.

Bright side? I get to watch the tournament until July 1 when Star Sports switches to fucking goddamn bullshit trouble-maker fucking burn in hell SingTel.

Down side? I get to watch the tournanment until July 1 but the tournament, i.e. the final, ends on July 4.

WHAT THE FUCK SERIOUSLY COULDN'T THEY JUST LET WIMBLEDON END BEFORE THEY SWITCH FUCKING BROADCASTERS. AND SINCE WORLD CUP'S ON NO ONE'S GONNA BE BROADCASTING THE WIMBLEDON FINAL. AND WHEN I SAY 'NO ONE' I MEAN ALL THE PUBS IN SINGAPORE AS MY GRAND PLAN WAS TO CALL UP EVERY SINGLE PUB IN SINGAPORE (AND YOU CAN TRUST THAT I AM DEDICATED AND CRAZY ENOUGH TO DO THAT) AND ASK IF THEY'RE BROADCASTING WIMBLEDON AND GO DOWN TO WHEREVER IS BROADCASTING IT TO WATCH IT. NOW MY GRAND PLAN IS RUINED BECAUSE OF THE FUCKING WORLD CUP.

OH MY GOD I DON'T KNOW WHAT I HATE MORE: SINGTEL OR FOOTBALL.

Well, now I'm just going to have to find a tennis-crazed friend that hopefully has Singtel and hopefully would be willing to let me crash at his/her place to watch my Wimbledon final. This is assuming Roger makes it to the final - but then, I'm assuming he'd win.

Fuck man, the ATP needs more grass-court tournaments. It's a joke that they have 3 freaking Masters tournaments on clay but not a single one on grass. What's this, grass is the new indoor carpet? Screw you. For fuck's sake, my love for tennis was the only thing that helped me survive the clay season. There's a reason I'm not a fan of Nadal: clay, like his game, is slow and boring. Too damn bad they've been slowing down the speed of the courts at Wimbledon; watching the 1981 match between Bjorn Borg and John McEnroe is really a completely different experience from watching, say, last year's Wimbledon final.

Okay, anyway, what I really wanted to do was finish blogging about Taiwan, so here goes - last day.

*

This time round, I really have nothing to narrate. All I did was go to Zongxiao East Road in the day and then to Taipei 101 after that, then to Ximending for dinner. Oh, I could rant about how fucked up tennis coverage in Taipei is, so much worse than in Singapore, as my plan was to go to my uncle's house to watch Roger's French Open match against Falla at 7.30 p.m., a match which Star Sports advertised the day before. When I reached my uncle's house at 8 and turned on Star Sports, they were showing some stupid computer games programme. My cousin checked the TV listing and told me that they only broadcasted it from 7.30 to 8.00 p.m.

That was the funniest shit I'd heard all day. The start time states 7.30, but the match doesn't actually start until 10, 15 minutes later. They need to warm up. They need to prepare the court for the players. The players need to make their way onto the court and that takes time. By the time they get down to playing, at least 10 minutes would've passed. So basically tennis fans in Taiwan, all 10 of them apparently, got to watch a grand total of 15 minutes of Roger's match.

At that very moment I was really happy I moved out of there.

Anyway, Taipei.

Swinging by Sogo in the morning at Zongxiao East Road had me feeling like a beggar. As ridiculously cheap as things may be in places like Ximending and night markets, things can get as ridiculously expensive in the shopping malls. Sogo is just one of them. Even after you've moved away from the obvious brands, you still can't afford anything if you're middle class and are not one to spend over a hundred dollars on a plain white baggy T-shirt that caught your eye but is really too ridiculously expensive. And I'm talking Singapore dollars.

But it was awkward going to Sogo and being one of the first few people there. They had their sales staff lined up in two rows at the escalator landing, and they all collectively bowed to you and said "welcome" when you arrived at a certain floor. It was just weird and I wished they didn't do it.

It was nice, though, the bigger Sogo. I wanted to take a picture with the Chanel shop but the snooty guy there said no photos allowed. I didn't know how to argue in Mandarin so I settled for this instead: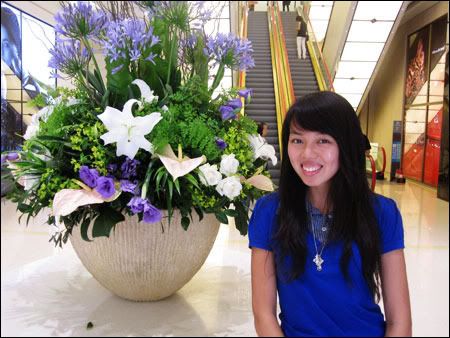 My mom and I went to the smaller Sogo after getting some food from the basement (tried this Japanese pudding and it was SO good. Sometimes I wonder if it's all in my head, that food that really tastes normal simply tastes better in Taipei because of Taipei...) and I behaved like a total tourist.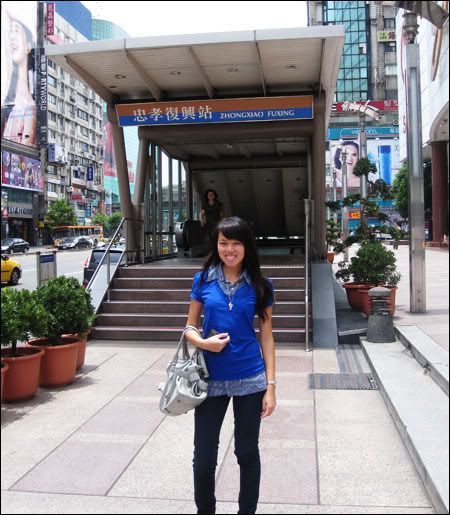 We had lunch at the cafe on the second storey, where we ate at before once, but the establishment had changed hands. We got the window seat and I was blown away, absolutely blown away, by how good my food was.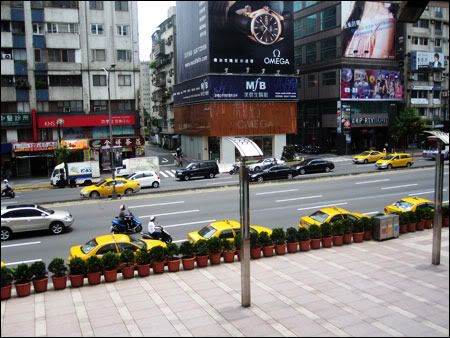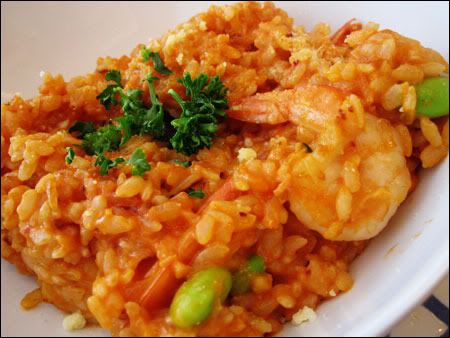 It was called risotto but probably wasn't true to form but no matter. It was HEAVENLY. The tomato sauce was great, and it was slightly spicy which totally worked for me. Best of all, the Taiwanese rice was SO FUCKING GOOD. Taiwanese rice is the best best best - it's chewy and round and I could actually eat it plain. This is coming from someone who hates eating cai fan outside because she hates rice in Singapore.
Maybe we should import rice from Indonesia instead.
Anyway, lunch was awesome. This was the restaurant: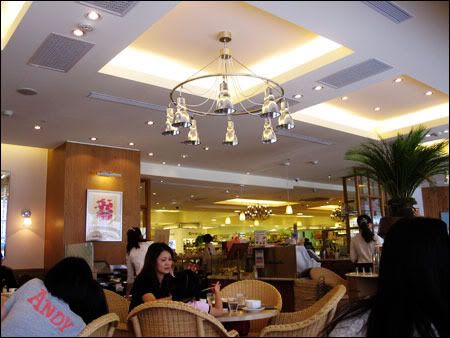 After lunch we met up with bro and dad at Taipei City Hall station to head for Taipei 101. My brother actually wanted to go Esprit, oh my god. Shocker.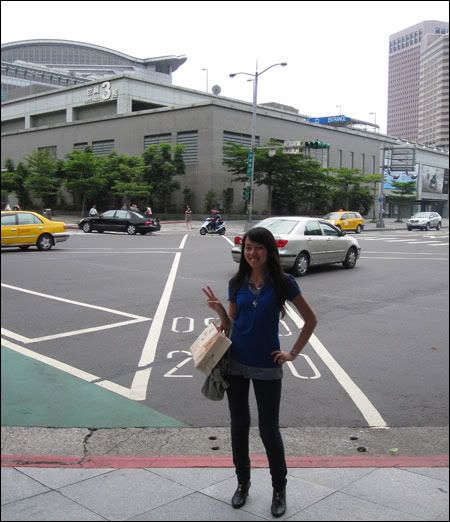 Diagonal crossing! Very useful.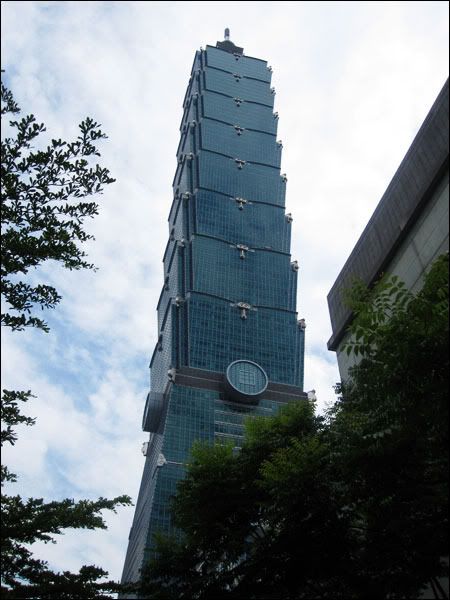 The obligatory shot.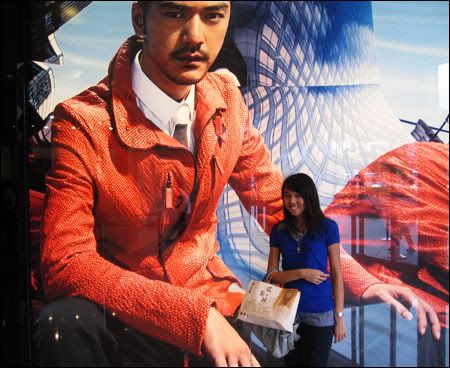 Before recognising him, I thought, "Who's this hottie?" When I realised it was Takeshi Kaneshiro, it all made sense. RUI I TOOK THIS PICTURE FOR YOU HAHAHA.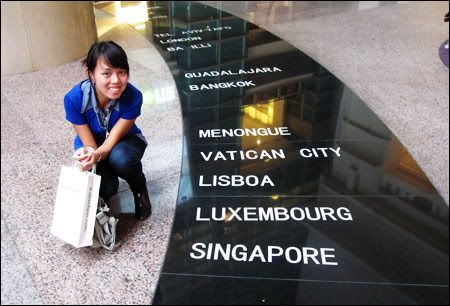 Outside PageOne. Unfortunately I spent maybe 5 minutes in PageOne; I drank some banana yogurt drink from one of the juicers in the basement and it made me feel absolutely sick. I even went to the toilet and squatted over the toilet bowl in an attempt to puke but I wasn't sick to that extent. But I really did feel like puking. I ran out of PageOne to go to the toilet. I was very sad. (And no the PageOne at Vivo doesn't measure up to the sheer awesomeness of the PageOne at 101. Mainly because of Singapore's stupid censorship laws.)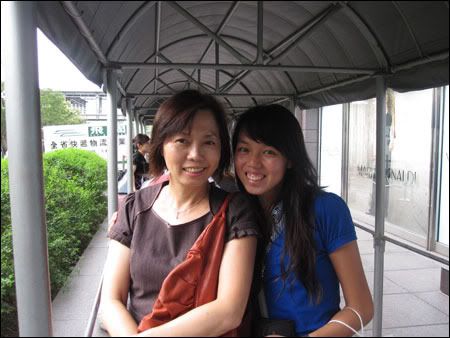 Outside, while waiting for the shuttle bus to the MRT station.
We had dinner at this Western place in Ximending where Mom and I had coffee and cake a few years ago. It was under renovation in 2008 but reopened when we were there so we decided to try the food.
I think after Wang Steak, all Western food would just taste okay. Mine was just okay. But my brother's steak came with this funny huge-ass steak knife!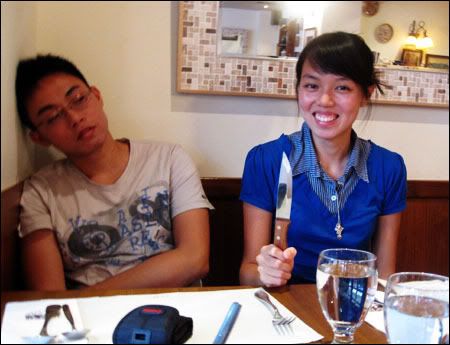 Seriously, what the fuck?
And that's all.