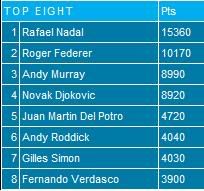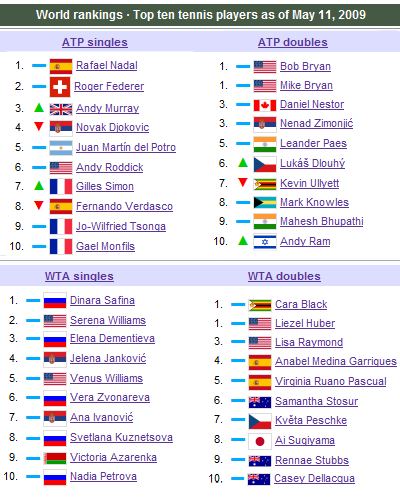 Andy Murray becomes World Number Three.

Oh Roger, please come back and save us all from this nightmare.

*

Speaking of nightmares, how nightmarish was Marat Safin's tennis against Jo-Wil just now? I was looking forward to the match-up because they are both awesome players, and although Jo-Wil is my #4, I wanted Marat to win just because he's from the older generation and I have a soft spot for the older players.

But it was just...uninspiring tennis. Even though the score was 6-4, 7-5, he was totally outplayed by Jo. Like, totally outplayed. Jo-Wil had Marat's second serves for lunch, and if Marat's first serves hadn't bailed him out on big points (well, most of the time), he would've lost way worse.

I'm quite irritated at myself for picking Marat to reach the freaking quarter-finals in the ATP Draw Challenge. Seriously, self. SERIOUSLY. This isn't the first time you're watching tennis. The only thing I can't believe more than Marat's crappy tennis is the fact that...I picked him to reach the quarter-finals.

ARGH. Yet another nightmare of a draw. Why do I even bother? In any case, I'm going to be losing lots of points because, again, I picked Roger to win it all. That at least is excusable because he owns my heart, but Marat...doesn't. I like him, but not even THAT much.

I'M SO STUPID. If this involved money (it doesn't), I'd totally jump off a building right now. TOTALLY.

*

I bought clothes today. Happiness.