There's not much to narrate so I'll post pictures and write some brief commentary. (This is a better way of saying that I'm too lazy to write.)

We had lunch at Taipei's famous Yuanshan Hotel for dim sum lunch. I read about the gorgeous view from the Chinese restaurant on Lonely Planet and decided to check it out (also, we've never been to the hotel and it really was about damn time).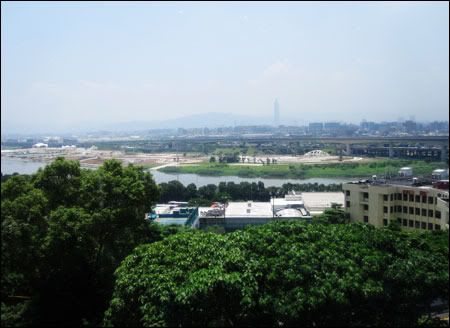 This was basically the view. The restaurant had glass panels from ceiling to floor that provided an unobstructed view of the Yuanshan area. Not too shabby.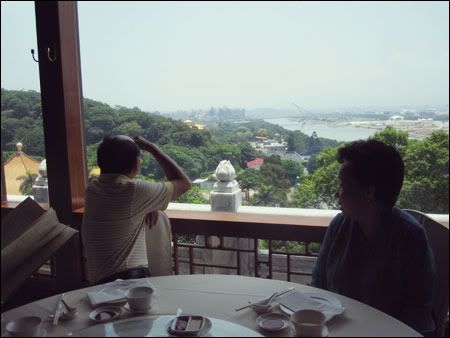 My dad. Haha.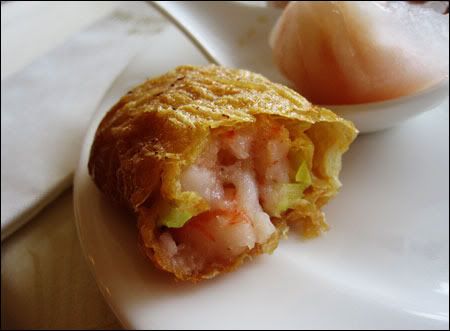 Not gonna post all the food pictures so I'll post my favourite: this was REALLY good.
There was a bit of a snafu with one of the dishes. I ordered this vegetarian ham thing panfried with macademia nuts, as stated on the menu in English. When the dish arrived I saw that it was cashew nuts instead, which negated half the reason I ordered the dish. Confused, I checked the menu to see if the Chinese version stated cashew nuts instead of macademia, but it didn't - it simply stated "nuts". So I called the people over and told them that I'd expected the dish to contain macademia nuts, as stated in English.
They changed it for me. And the fake ham was really, REALLY good.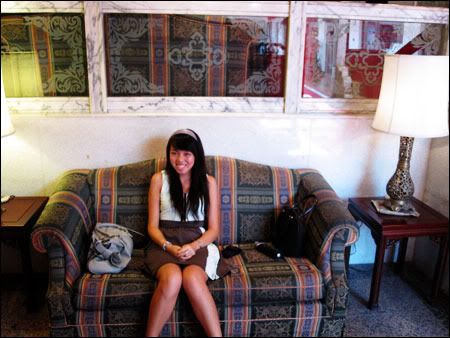 Nice couch outside the toilet.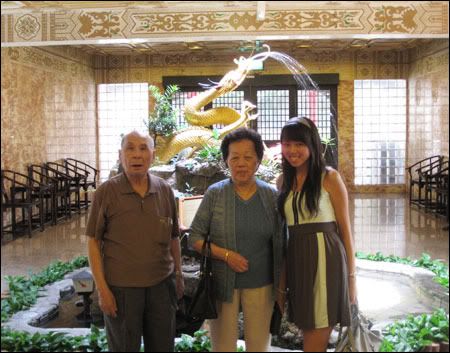 With my grandparents.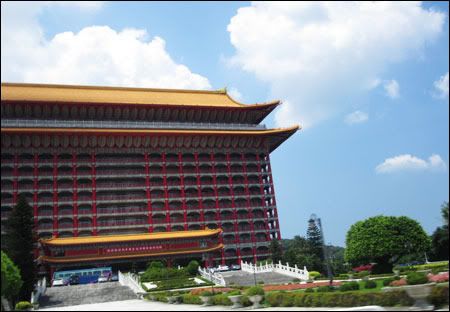 The hotel itself.
I liked the hotel - the interior design, with its classical Chinese style, is a nice throwback to a period that has long since passed. Wei Chuen saw the pictures and said that it was not his style, but I, for one, liked the tempered opulence of the place. Very oriental.
Anyway, we took a cab back to the MRT station (as it was too far to walk) and my mom spotted this at the back of the front passenger's seat: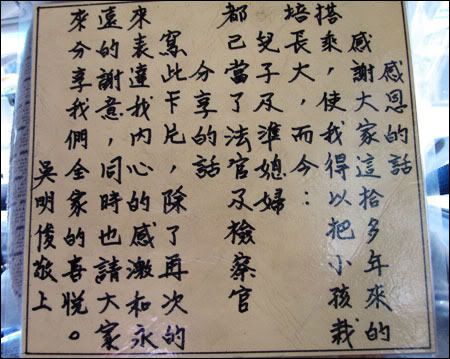 The driver wrote a note to thank all the passengers that have boarded his taxi as his son was a judge married to a public prosecutor or something like that. I thought it was a rather unique gesture, and certainly something I've never seen before.
After lunch, we headed to Danshui sans grandparents.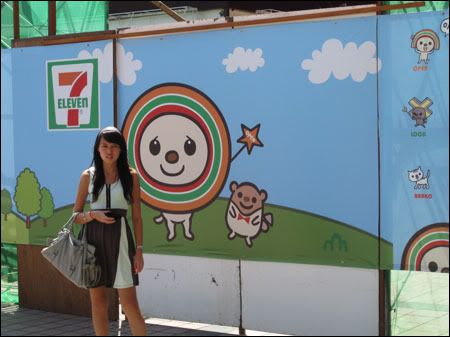 The first thing I saw was that my favourite doughnuts place in Taipei, the Danshui branch of Dunkin' Donuts, had closed down. In its place was to be a 7-11. Fuck, I was quite devastated. A quick comb of the Yonghe area revealed that the branch that was there two years ago had also disappeared. Sigh, I really liked Dunkin' in Taipei. The branch in Ion needs to close though - it's really rubbish.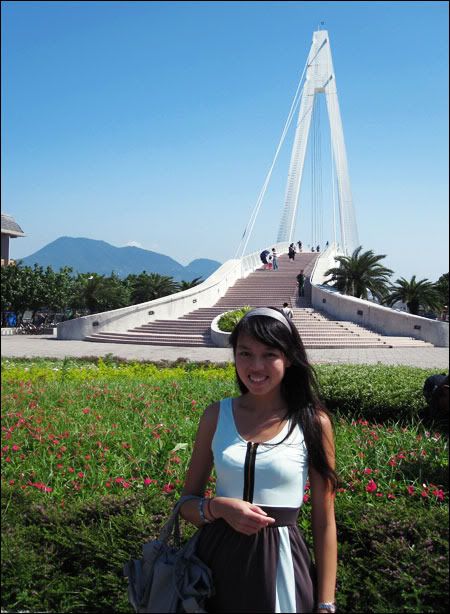 We went to Fisherman's Wharf by bus. It was a REALLY hot day. Or rather, it was really sunny, but I barely perspired as the weather in Taiwan is dry as opposed to humid. But it was still hot.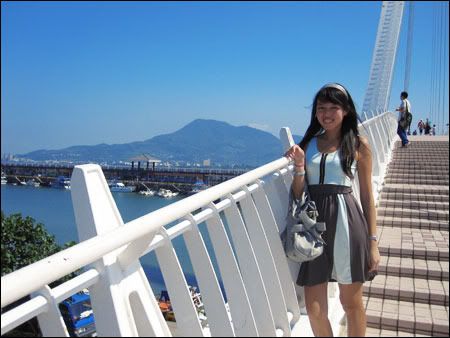 On the bridge.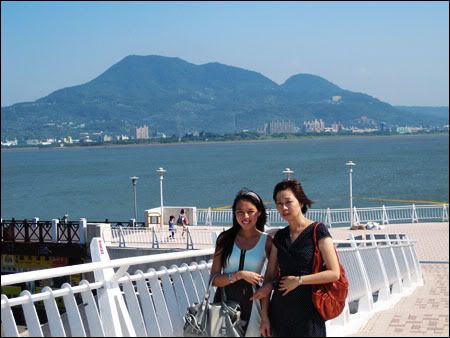 Danshui is gorgeous. Have I mentioned I love Danshui?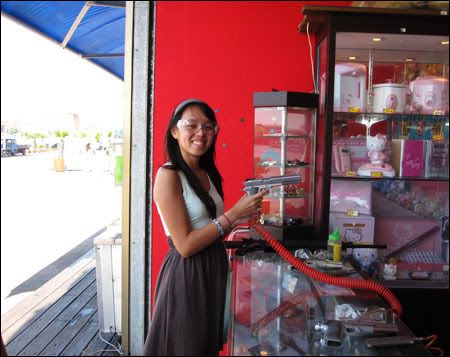 Dad and Bro stopped to play some shooting game and I joined in. Guess who won?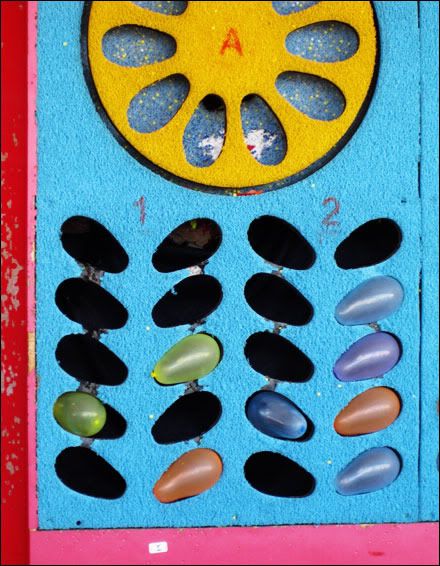 The row of balloons in the first column were mine. I FREAKING WON HA. Bro even went twice but still couldn't beat me - I had 8 out of 10. Bwahahaha. Maybe I have a hidden talent for targets shooting. Or whatever. Too bad I'm principlely (is this a word?) opposed to firearms.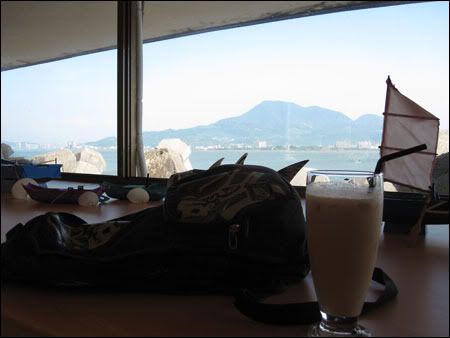 Went to the cafe that we went to like 4 years ago. I was quite surprised that it was still there.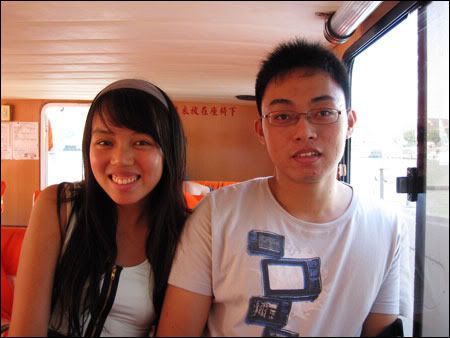 Me and my brother on the ferry back to the mainland.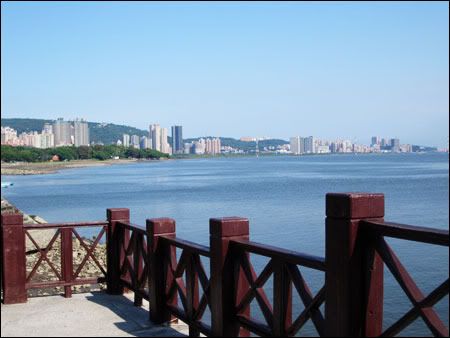 View of Danshui.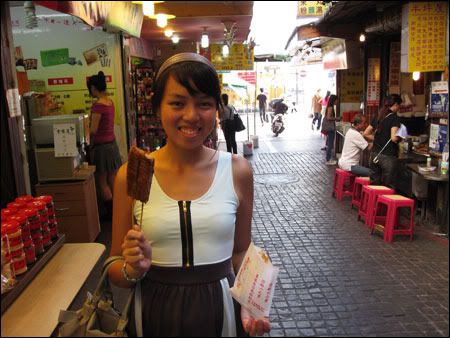 Me and my grilled stinky tofu. Yummy!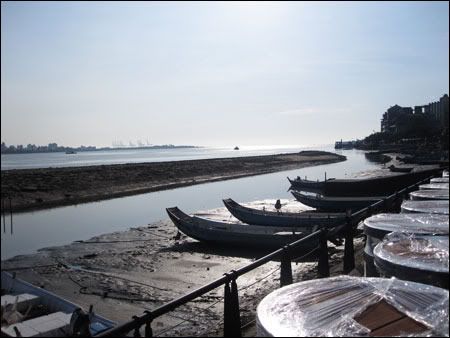 View of Danshui, again. Rather similar to my blog picture, yes? It was almost the same spot, similar fishing boats.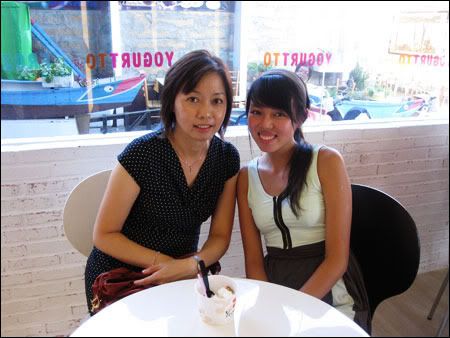 My mom and I ate frozen yogurt after dad and bro went off first. It was REALLY good, much better than the stuff I've eaten in Singapore. (Seriously. SERIOUSLY. I'm not even biased in saying this.)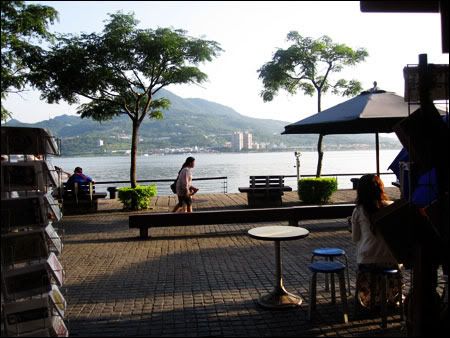 View, again, of Danshui.
And that's about it. Danshui is lovely. If you're ever in Taipei, do spend the $2.50 MRT fare to get there. It's worth it. It's relaxing and beautiful and there's awesome street snacks and also a great shop selling yummy Taiwanese biscuits. It's awesome.