I spent my whole day shopping today and it was more terrible than anything else. I was specifically shopping for black and white stuff to wear when pupillage starts, 'cause the ones that I have...are damn gross. And oh my god, it was such a harrowing experience, I have vowed to tailor some nice shirts and whatever when PLC starts/when I have the time (which is presumably when PLC starts?). My mom and I went to Tangs where there was some private sale, and not only was it super crowded, I was continuously pissed off by anal sales people who refused to let me bring in my 9 pieces of clothing because the maximum was 4. Okay, I get it, but...how long would it take for me to try on boring work stuff, right? I was so annoyed that I just wanted to get it done and over with, like, as soon as possible. To make things worse, the stuff I picked out from Allure - a few pairs of pants, one elastic waistband skirt, and one white shirt - were mostly too big. All the pants were too big. The shirt was okay but the wide collar...not so much. My mom also picked out a random white shirt from some random brand and it was the smallest size and guess freaking what? It was too freaking big.</p>

Freaking hate buying these things. Hate. And I freaking forgot to buy nude bras. I really don't understand why these damn white shirts can't come in better quality? Why the hell are they so damn translucent?

So I was bitching to Tong about it via SMS and he gave me the brilliant suggestion of tailoring stuff at...Raffles Hotel. OMG. But seriously, if the quality is as good as he made it out to be, I'd actually consider it...if we get clothing allowance. I can't remember if I was dreaming about it or if it's, you know, real. But then, I told myself to save 40% of whatever money I'll be getting (anything more and I won't have a life) so even without a clothing allowance I should have enough to fork out $190 for a shirt.

Okay, that's just fucking expensive. I need a rich boyfriend. Stat.

So yeah, the entire shopping experience was just annoying. To the max. I was ranting to myself while trying clothes on (okay I just said "wah lau" a lot) and I probably sounded like some spoiled brat complaining loudly about the clothes and working and whatever, which is too damn bad, really. And to be honest, I do kind of resent being made to, compelled to, feel like I should appreciate what I have - because it only makes me feel like I don't feel like appreciating what I have. I don't think that made sense. Whatever.

Also, I came to the conclusion that my life would be made much easier if the courts just issued a standard go-to-court uniform for everyone. Seriously. Buying black and white IS like buying a uniform anyway, and it's not terribly exciting, so I'd much rather get a standard set of clothes to wear to court than to have to trouble myself fretting over what to buy, getting annoyed when NOTHING fits, and not knowing (because I cannot remember) if I can have silver stripes on my shirt or not. I'd keep a few sets of the uniform in the office, wear pretty stuff to work, and change into the uniform when I have to go to court. Isn't that so much easier than buying the black and whites ourselves? I think it is. I really do. And it's not like subtle variations on the B&W are that noticeable anyway, so even without an official uniform I feel like I'm buying a uniform so it really doesn't make much of a difference.

Bleah. At least I'm satisfied with the clothes I bought (from Theme, which fits much better than Allure, and I suspect probably fits better than most European brands. Though I haven't the slightest clue where Theme is from) I supposed. I tried to buy pants but yeah. They were just...no. I don't even know what to say. Too big, too baggy, made me look like a clown, made me look fat (something is wrong when clothes make me look fat), just wholly unpleasant.

On a more pleasant note though, I totally bought a new pair of tennis shoes today after I've had enough of the old Nike ones that hurt my toes like mad whenever I run too fast and stop too suddenly, which gave me a nasty blood clot on my left toe which still hasn't completely gone away, from like, early this year or last year. I had a $20 voucher at Royal Sporting House which I had to use by the end of the month, so I went to check out shoes at RSH Great World City when my mom and I adjourned there. I wanted Nike at first (duh) but the range there was shit, so the very super nice and helpful sales woman introduced me to this super pro Adidas one. I was ambivalent at first - not only is it like, $190, it's also super thick and cushioned which I'm not used to. In the end I was sold. I do play quite often, my old shoes are damn shit, and what the hell, my mom's UOB card had a 25% discount. I couldn't use the voucher so I bought tennis socks (I've been wearing cheap ones I bought from Taiwan; the thick Nike ones I have make my Nike shoes really tight), and yeah, I'm super happy with my new shoes.

Especially when I came home, checked out Dinara Safina's equipment, and found out that she wears the same model. She's wearing the black one for Roland Garros though, but I think Ana Ivanovic is wearing the silver one (which I bought).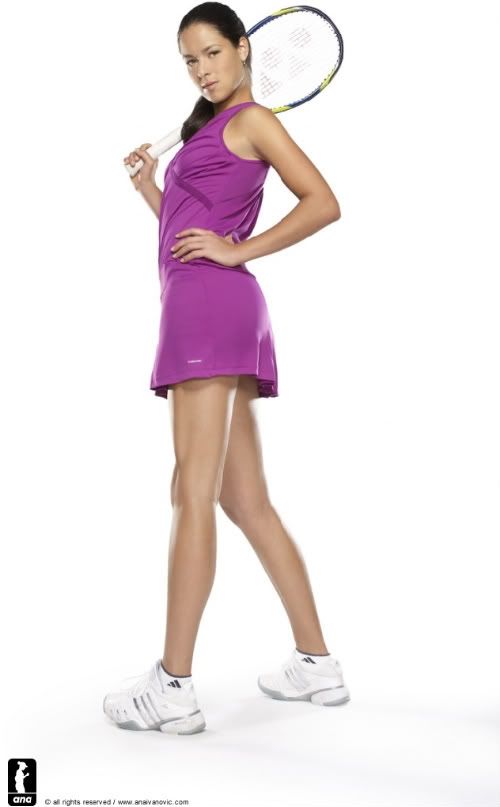 Pretty shoesss.
I'm not a fan of Ivanovic's though. Like, at all. She annoys me. First, I don't think she's the hottest female tennis player to have ever played (Sharapova is hot, Hantuchova is hot, even Safina is hotter though Safina's hot in a manly way). Second, totally LOL at her winning last year's RG and then losing early in the subsequent Grand Slams. I predict that she's not gonna defend her RG title this year; I predict that it's gonna go to Safina. And rightfully so - Safina is a way better player, and she's been raking up these clay court titles, and she lost in last year's RG final which gives her more motivation to win it this year. And I hope she does.
The Williamses will not win RG or get anywhere close to the finals. I saw Serena "play" yesterday and she was fucking lucky to squeak by with a W. If she'd played someone more experience, she would've lost. Her movement was pathetic, she looked like an elephant lumbering around on the clay, and I'd never noticed her huge figure much before but yesterday she looked utterly tragic trying to move on the surface, as if her figure impeded her movement. Actually, it's not the figure; it's just the fact that she sucks on clay. She was off-balance so many times, it was a miracle she even won. And she would've lost if she'd played someone more experienced. Too bad that Czech girl made those errors when serving to stay in the match at 4-5. Serena totally didn't deserve to go through.
Haven't seen Venus play but she dropped a set in the first round. And Americans can't play on clay anyway, so I don't expect much from her, too. It's Safina's title to lose, if you want my honest opinion. Sharapova is back, yes, (and gosh she's hot) but...she's been out for 9 months. I don't think she'd make a miraculous comeback to win. Just my opinion.
***
In other news, yesterday's tennis session totally sucked to high heavens. I had no idea what I was doing with my forehand. It started off well, but as it went on it just got worse and worse. The forehand just disappeared which was damn annoying, and the guy I played with kept changing directions as if I was some pro that could keep up or something (laughable). He also kept volleying and giving me short balls and making me run to the net which freaking tired me out after a while. I also kept missing easy shots and making stupid errors, and the forehand was just in a mess.
Thankfully I still have the backhand to fall back on when everything else fails. Not that it's perfect or anything; I got really annoyed when two consecutive backhand shots found nothing but net. But relative to the crap forehand, I'd say my backhand is totally awesome.
I think I randomly hit some forehand winner that was cool but it was random so it didn't mean a thing. Yep. Next step? Start thinking when I'm playing, instead of blindly and randomly hitting to see where the ball goes.
Okay, have to go wash my clothes then shower.