I woke up to the happiest and most jaw-dropping news of the week: Del Potro def. Nadal 6-4 3-6 7-6(3).</p>

HA HA HA HA HA HA HA HA HA HA HA HA HA. I thought Nadal was a shoo-in for the final, or at least the semi-final, for sure, considering it's Del Potro. The same Delpy that lost 3-6, 0-6, 0-6 to Roger in Australia. The same Delpy whom I thought was vastly overrated because he played like shit at the Davis Cup last year, displayed horrible defeatist attitude against Roger in Australia, received a double bagel from Roger, and who doesn't seem to move well and seems hindered by his massive height. He also lost to Nadal in Indian Wells the previous tournament so my only hope when I checked the Sony Ericsson Open website this afternoon was that Verdasco had taken out Murray.

Well, Murray won easily against an injured Verdasco, but NADAL FREAKING LOST. If that is invincibility and domination, Roger sure did a piss-poor job of it from 2004 to 2007!

I don't think this win heralds anything huge for Del Potro. Nadal is known for avenging his losses and turning around losing, or potentially losing, head-to-head records against players, like Murray and Gael Monfils. Apparently Del Potro rises to #5 next week (unseating my darling ARod - boo!), but it's still way too soon to tell what kind of career he's going to have from now on. He still has to play Murray first. I hope to high heavens that he channels whatever he channeled to beat Nadal and beats Murray tomorrow, because a Federer/Del Potro final can only have one result: Roger winning his first Masters series title since Cincinnati 2007. Roger can once again kill Del Potro's game with his backhand slices that troubled Del Potro to two bagels at the Australian Open, so I really hope Del Potro wins.

I think it's quite the forgone conclusion that Roger will beat Novak tomorrow. They're playing at 1 p.m. and it's apparently quite hot in Miami so Novak might end up retiring from heat stroke or another sore throat or a migraine caused by the heat, or if he shockingly doesn't retire, he'd still lose in the end. Roger is two matches away from the title and I soooo hope he gets there.

Lastly, because I'm one minute away from the International Criminal Law take-home exam, this picture is totally omg kill me now in its utter criminality: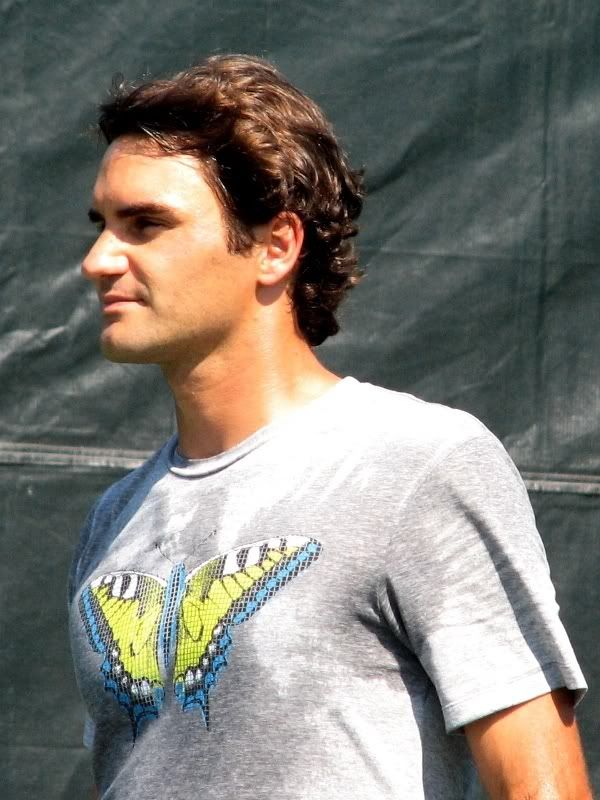 Can such a thoroughly beautiful man actually exist? Sigh.