1. Reply to Mystery Kit-Kat consumer
Wow, brilliant poem! I love it! I TOTALLY know who you are now. No one else is lame enough to write comments like that on my blog. Nice to see how some things never change. HAHAHA!
2. Tennis
Wawrinka lost, Djokovic lost, Nadal won.
Bo-ring.
The bright side is, Nole managed to take a set off Nadal in the final of Monte-Carlo, which was the first time Nadal lost a set there since losing one set to my darling Roger in the 2006 final (Nadal eventually prevailed two sets later. Finals used to be best-of-five. I wish they'd bring that back). ANY chip in Nadal's armour on clay is a good chip, so I guess I'll take what I can get.
Having said that, guess who I was rooting FERVENTLY for in the other semi-final between Nadal and Andy Murray? I was 100% VAMOS RAFA!!!!!!!!!! the whole way and was even hoping for a double bagel, but alas, Nadal disappointed me. 6-2, 7-6(4) - and Nadal served for the matchg at 5-3. WHAT A MUG.
Okay, I kid about the mug, but seriously, Murray gets on my nerves so much that I'd root for anyone but him, including Nadal. Murray's match with Davydenko was quite awesome, no thanks to Murray and all thanks to Davy's brilliant attacking and varied tennis. Too bad his high-risk play contributed to way too many unforced errors which cost him the match. A shame, really. I can't begin to bitch about how absolutely SHIT and BORING I find Murray's stupid push-ball-around-court, get-ball-back-into-play, wait-passively-for-opponent's-error style of stupid counter-punching, defensive tennis is. IT'S ABSOLUTELY AWFUL. Of course he won the match; he left the attacking to his opponent, and the downside of an attacking style is that the player risks missing his shots - and that was exactly what happened that match.
Ugh, I hate Andy Murray. I can't believe he reached the semi-final of a clay court tournament. Something is seriously wrong with this world, especially in light of the fact that Nadal let him back into the match! Thankfully it wasn't Murray who ended Nadal's don't-know-how-many consecutive sets win at Monte-Carlo; if it had been him, I would've...I don't even know. It would've been awful. Murray is SO overhyped, he gets on my nerves, and at times like these I'm super glad I don't live in Britain. Some idiot British journalist said Murray could become #1 by the end of the year, to which I say, Excuse me while I laugh my ass off. Dear Rafa, hold on tight to your #1 please! You spent so long trying to wrestle it from Roger; it'd be a shame for you to lose it so quickly, to some overhyped boring guy that I absolutely cannot stand.
Clearly I'm not holding out any hope for Roger to regain his #1 spot anytime soon, not even by the end of the year. Until I see some real Roger Federer tennis from him, I'll just hope that he doesn't slide too far down the rankings. But then, it doesn't matter where he's ranked; the instant he starts winning again, the ranking will take care of itself. I'm pretty confident he'll play better in Rome and go deeper into the draw; he's already starting preparations for the tournament, and the whole Monte-Carlo thing was just a warm-up practice run anyway. I mean, he got married the weekend before the tournament, for goodness sake, and he did little to no conditioning for European clay.
So yeah, I remain hopeful. Djoke isn't going to defend his Rome title (he hasn't defended a single title so far) so MAYBE Roger can reach the final and attempt to beat Nadal on clay for the second time in his career. HAHA! Should be interesting to see where his game is at in a tournament of more importance and significance.
I looked up Roger's head-to-head with Nadal last night to confirm that the last time Nadal dropped a set in Monte-Carlo, it was to Roger, and I was actually quite surprised and simultaneously saddened and heartened by how close some of his clay losses to Nadal were. One of them - Rome or Hamburg, I can't remember - was like, a five-setter, with the final set ending in a tie-break. Out of all the losses Roger registered to Nadal on clay, only 3 were straight-sets losses, and only last year's French Open final was a humiliating straight-sets loss with a bagel thrown in somewhere - and Roger had mono last year. All this talk about Nadal's dominance on clay - it's definitely true, but the fact that Roger's matches with him seem to have gone the distance more often than not says a lot about where Roger's game is at on a surface that is widely believed to be his worst.
Sigh. He's too amazing. I wish he'd win the French Open sometime between now and the day he retires, but I'm not holding out hopes for this year's Roland Garros, at least not judging by the level of his game right now. Rome will definitely be more telling but until then, I shall continue to sit back, relax, and enjoy the clay court season without 1) worrying too much about Roger; and 2) falling asleep at how predictable it is. Nadal should get some flak for turning the clay season into an utter snoozefest, the way Roger received flak for turning the entire sport of tennis into a snoozefest with his four years of dominance.
Oh well, whatever.
Actually, on second thought, good god, I can't wait for the clay season to end. The slowness of the surface is capable of putting me to sleep, not to mention the incredibly long rallies - especially when Nadal's the guy playing. It's so tiring to watch long rallies after long rallies; I feel tired for the players. The final yesterday had games that went to 10 minutes, both Djoke's and Nadal's service games. It's just stupid and ridiculous.
I need the grass court season to start ASAP. And I need the US Open to start like now. The US Open has one of the fastest hard court surfaces and I want my tennis to be fast please, thanks. Not necessarily short; just FAST. I actually way prefer best-of-five matches because they're so much more fulfilling and absorbing; but not if it's played on slow-ass clay, or pseudo-clay (like, you know, the insanely slow hard courts of the Australian Open). Apparently Wimbledon's grass has slowed down which just SUCKS. Who wants to watch two guys moonball each other to death? I want to see intelligent playing and attacking tennis, not braindead ball-bashing.
Yet another reason why Roger needs to get back his form sooner than later and right the tennis world. Nalbandian can also help by losing some weight and play consistently. Tsonga, too, and even Djokovic.
But of course, to me, no one does it like Roger Federer does, so...COME BACK, ROGER! Tennis needs you now more than ever!
3. Blood test results
I'm too lazy to link to the entry/entries where I was freaking out over the possibility of me getting mono or leukemia or whatever. In any case, I got back my blood test results today, and I'm actually quite happy to be proven right even though I don't think I should be gloating about it.
In short, there is nothing wrong with me except 1) low cholestrol level; 2) no hepatitis A immunisation (but I'm Hep B immune, which means I did the right thing in secondary school when I ran away from the Hep B blood test); and 3) lack of iron in my blood which contributes, or not, to low red blood cells, which means I might be, or am a little, anaemic.
I just KNEW that there had to be a larger reason beyond "flu" when I got all tired and fatigued out of nowhere two weeks ago. I also knew that there was nothing seriously wrong with me a few days after I took the blood test because I felt okay again, so I wasn't too worried when I went to get my results. But still, it's a good feeling to be vindicated, even if the source of the vindication isn't really a good thing.
Along a similar vein, it's neither disastrous nor life-threatening, so it's all good. I just need to like, buy some iron tablets and eat a lot of eggs (I hate egg yolk though) and maybe get the Hep A jab. I don't even know what the hell Hep A is, but if it's a disease I suppose it's bad, so...yeah.
Oh, and apparently the blood pallete (? I can't spell bio words, hence I failed Bio in secondary school) in my pee is out of shape or something. I forgot what the doctor said about this haha. Whatever it is, I'm mostly fine, and can still play tennis (I was worried that I wouldn't be able to play anymore which would've seriously depressed me), so life is good.
4. Kris Allen and American Idol
I wasn't planning on getting attached to any of the contestants this year, and WASN'T attached to any of them despite liking Anoop and then Kris because no one comes close to David Cook's level of Amazing...but ugh, the past few days I've woken up with Kris singing Ain't No Sunshine and Falling Slowly and even How Sweet It Is (To Be Loved By You) and that slow Garth Brooks ballad in my head, and over the past few days I've grown attached to him.
Therefore, I have decided to wake up at 9 this Wednesday to vote for him, just in case he gets eliminated in this week's double elimination.
I really, REALLY want him in the final 2 and I hope he manages to help Danny put the Go in "Gokey" and send him packing. Danny is Kris' only real competition for the final 2 spot at this point; the two of them, and Adam, have never been in the bottom 3, and Lil and Anoop will be gone soon. Allison, well, could round up the top 4, but I don't see her edging out Danny, and not even Kris, I think. Matt was booted last week and is still in the competition only because of the judges' Save, and he's the only contestant to have been voted off by the public twice, so yeah, don't see him going far either.
But Kris! He's gaining popularity every week and building a nice momentum for himself, and he just keeps getting better and better. He's nowhere near my David Cook level of Crazy, but I just like him so damn much! He's all smooth and pure and earnest, but he's also creative and interesting, and he knows himself as an artist, and I like the kind of artist that he portrays himself to be. Like David, I would buy his album - which is why he's my favourite, not Anoop, not Adam even though I totally respect Adam's talent (but I'd never buy an Adam Lambert CD).
I checked out his original songs a couple of days ago when I found myself suffering Kris Allen Withdrawal. He apparently recorded three songs on an EP before Idol. While I didn't love all of them, I liked all of them, and LOVED one of them:
It's not perfect, and it seems to lack a climax, but I love the simple, earnest melody, and his pure, melodic voice on the song. While David was all rock and edge, Kris is all acoustic and smooth. But like David, he can do things with music that I can definitely appreciate, and like David, I just love his voice. He's not earth-shatteringly original, or even original, period, but there's something so appealing about his straight-forward, down-to-earth talent that I just can't resist. He has a bit of a country vibe which normally I don't like (country music bores me to tears) but on him, it's still appealing!
And of course, because I'm superficial, it also helps that he's sooooo pretty.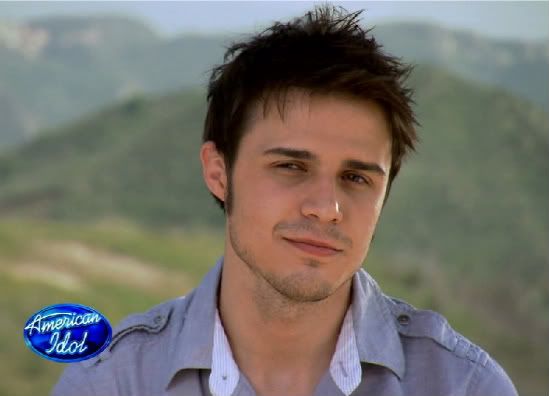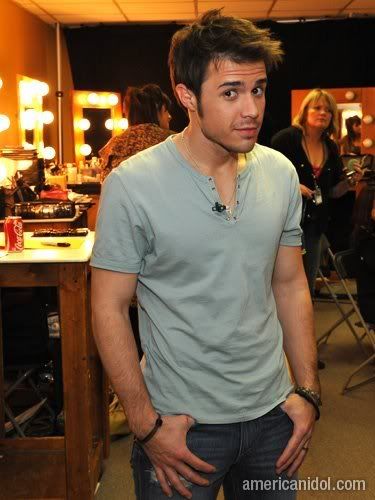 With his cute wife, wearing glasses: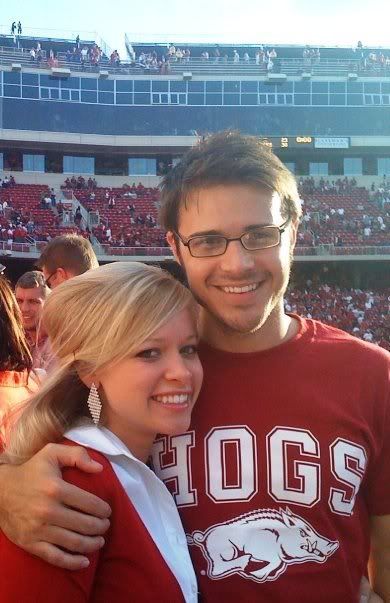 (One of the few guys I've seen that manage to still look good wearing glasses. I'm not much of a fan of glasses myself, as can be seen from my obsession with contacts.)
And lastly, ADORABLE BED HEAD!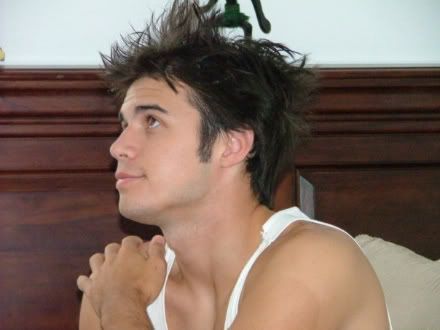 Oh, and Kris' Sexy Face:
ADORABLE TO THE MAX!
Okay, this is a really long way of saying 1) I can't wait for Idol on Wednesday; and 2) I LOVE KRIS!
I think I should scoot off to do something sensible now but I have vowed to do nothing today so I'll go drool over Kris somemore.
And I am tempted to buy a Swiss magazine that has exclusive rights to pictures of Roger's wedding, but 1) It's in German and I won't understand shit; and 2) apparently they are not pictures from the wedding itself, but photoshoots of them looking all couple-ly and married. I saw a couple of pictures and they are just GORGEOUS and happy, and I want to see the rest, dammit. Roger should just post them on his website!
4. Lastly
Oh, and lastly for real now, before I forget, in retrospect it probably wasn't a good idea to dawdle my Saturday and Sunday away and get into the meat of writing that minority rights/indigenous peoples essay at like, 12 midnight Monday. Because that essay? I have ran out of superlatives and hyperboles to describe my shit essays, so let's just say this one absolutely, undoubtedly TAKES THE FUCKING CAKE.
Of course, you can argue I say that all the time. But I realised today, a few hours before I submitted it, how many times am I going to keep getting lucky? The law of averages demands that one day, my last-minute, half-hearted work is going to catch up with me and kick me in the ass. I have a feeling that today is that day. That essay is shit. This is just...so, so sad. I can't believe I choked this badly. It's like blowing a 5-2 lead, getting broken while serving for the set, and ending up losing the set and the match. It really is.
SIGH. I'm just glad it's over.