I'm archiving my 2006 entries and I am struck by two things: how devastated I was when Cambridge rejected my application to read English at its historic, hallowed grounds; and how much I hated law school when I first entered it.

I'd never wanted to be a lawyer. I'd never wanted to study law. The law happened to me, and it hit me fast and hard and I had no idea what I signed up for when I accepted NUS' law offer. I hated it so much in my first year that I applied to a bunch of universities in England in an attempt to get out of law school and study what I'd always wanted and loved: Literature. One of those universities was Cambridge, which remains my dream school for reasons that are entirely unexamined and therefore possibly completely ludicrous and senseless.

I have felt the tension between what I do and what I want to do (or what I think I want to do) in varying degrees for the past 8 years. The only time when that tension was at its lowest was when I was doing my LL.M. degree. Nevertheless, the tension remains; and this enduring tension is to be blamed for my lack of conviction in what I thought I had decided to do just a few weeks ago and which I wrote about in this livejournal. I'd never wanted to be a lawyer, and this fact was proven incontrovertibly when I worked as one; and I'd never wanted to study law, and so it's quite ironic that I have a Master of Laws degree (with distinction) from one of the best universities in the world. It's also quite ironic that, by virtue of my degree, I may have a real shot at the school that dreams - my dreams - are made of.

The truth is, my dream isn't in the law, and it isn't in human rights, and it isn't in academia, and it can't be fulfilled by a PhD from Cambridge or Oxford or Harvard or Yale or one of the ultra prestigious schools that I have wanted my whole life to attend. It is striking how far astray from my true ambition I have been led by what was essentially a thoughtless decision that I made when I was 19, even more so when I read my own writing and realise just how much better I am at this writing business than I am at everything else - but more importantly, how much more alive it makes me feel than anything else that I have done in my life.

What do I do about that? I feel like I'm at a crossroads of sorts; I feel like I have to finally re-examine the choices that I have made so far. There is a reason why I hated law school and regretted it, why I struggled with it for two years, why I keep feeling this incompleteness and this sense that there's something missing. Yet, I can't help but be quite convinced that I have strayed too far off the Right path to go back.

I don't know. I am past wishing that I had chosen differently when I was 19 because I honestly wouldn't trade my LL.M. for a BA from Cambridge or some random English degree from a random English university. Perhaps, then, I wish that I hadn't wasted the past few years on not writing; I wish that I hadn't given up so easily and thoughtlessly on the thing that I purport to love. Above all else, I wish that I can find my way (back?) to the space that my favourite writers inhabit and, against all odds, start to write again.

***

On another note, I miraculously won the Law Department Human Rights prize. Um, LOL? It used to be sponsored by a barristers' chambers but for some reason, the prize is sponsored by the Law Department this year. It was quite a bummer when I found out who the sponsor is; I was hoping I could make some connections with whoever sponsored the prize. Oh well.

I am now 200 quid richer. Yay.

***

I love London. It is an amazing city. I want to earn money in pounds. You know it's serious when Taipei has been displaced by another city as my favourite city in the world.

I cannot live in a city that is not cosmopolitan (needless to say, I cannot live in places other than cities). London has spoiled me to bits and so the only other city that I can conceivably live in is maybe New York City. The diversity of cultures in this amazing city makes you feel right at home - you fit right in because the majority of the people here have an accent that is as weird as yours; they are not English, like you; and they all speak English, like you. And because they come from everywhere, you can find virtually everything here. Perhaps the quality of your own cuisine pales in comparison to what you can get back home and it is certainly way more expensive, but it's much better than what you can get in other European cities and more importantly, you can get it, period. How can anyone ever say that the best thing about London is Paris? The best thing about London is that it exists. It is real. I love this city. I don't ever want to leave.

***

I miss Mag. I was slightly apprehensive about having to share my flat with someone else for two weeks since I am freakish about my space, but I shouldn't have been because she's pretty much the only non-family person that I can live with and see continuously for two weeks, in the same space, and not go crazy. I didn't even know how much I missed her before she came and how much fun we had until she boarded the National Express at Victoria Coach Station and I left with an enlarging sense of emptiness and sadness that eventually erupted in an outpouring of tears when I got home.

After losing friends over the past couple of years, spending these two weeks with Mag has shown that she really is a constant in my life. No matter how much the distance adds up, how divergent our paths are, she is someone with whom I will always feel at home. The strength of our friendship has weathered storms, battled time zones, and stood the test of time. I am ever so thankful to have someone like her in my life - a true friend.

I will always remember:

- Laughing our way through the Tate at each other's derisive comments on the pretentious "art" on display (a mirror on canvas; a grey canvas that was supposed to examine the neutrality of the colour grey or some pretentious shit along those lines; some stupid neon lights and some classroom white lights; etc);

- Laughing our asses off until it hurt at two Korean girls who hogged a scenic photograph space at Cabo da Roca, Portugal, with their silly, never-ending poses, and THEN having to ask them to help us take a picture at the Cabo da Roca plaque and laughing again when they asked us for 'another pose!';

- Her super hilarious jump shots and my awful attempts at trying to capture them at strategic sites in Lisbon;

- Pigging out like the true blue Singaporeans that we are at Borough Market and getting excited at the food, and taking free samples of the said food like true blue Singaporeans;

- Her bullying my poor cow :(;

- Freezing our asses off at the Moorish Castle and Pena Palace, and then freezing even more at Cabo da Roca in Portugal;

- Exploring Harrods (her idea, not mine) and gawking at this ridiculous 5-digit (I forgot how much it was) price tag serving plate in the shape of a lobster which the salesman said was for caviar, then making stupid jokes about her using it to store her bunnies' poop and then about how it was too cheap for my super swank flat;

- Her being completely understanding when my stomach felt queasy and I felt nauseous after our terrible first meal in Lisbon which resulted in us heading back to the hotel at 4 in the afternoon;

- Her enjoyment of the Breakfast Club, one of my favourite eating places in London (not very original but good food is good food, innit?);

- Our first dinner together at an Italian restaurant across the road - food was horrible but conversation was great; and

- These, just to name a few: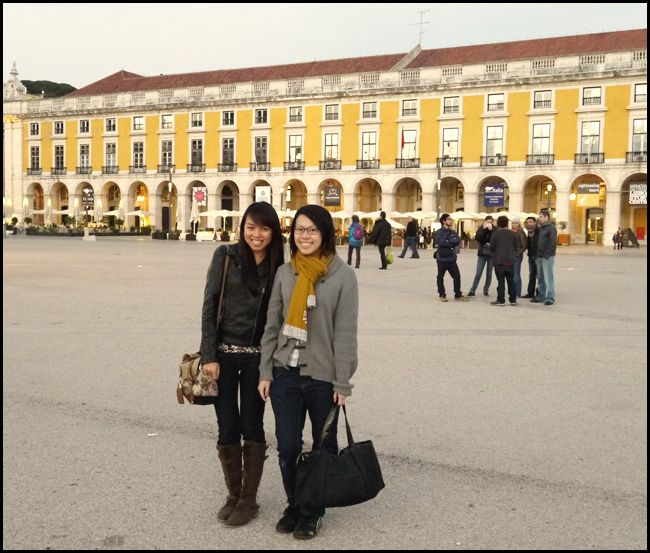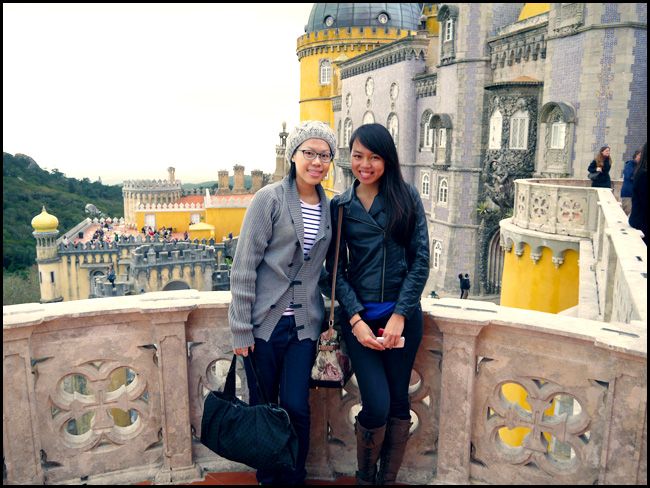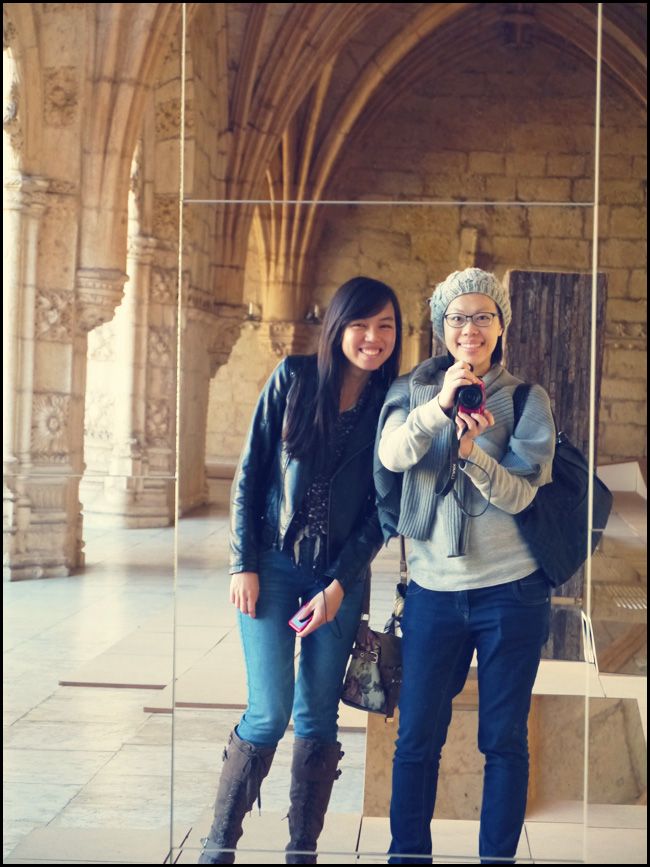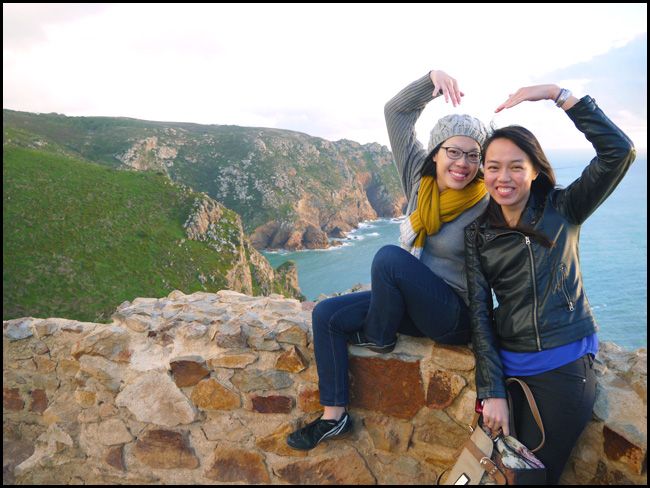 Till our next trip!