Day Two:
It was my cousin's wedding reception today. My mom, brother and I went to the nearby hair salon, which also happens to be awesome AND cheaper than the awesome hair salons in Singapore (even cheaper than the crap expensive place I went to in Pacific Plaza), AND I go there practically every time I go back to Taipei. My stylist was this fat dude who was very meticulous in cutting - well, trimming - my hair. And as always, the hair-washing was fun: the chair was massaging my ass and the head massage was good.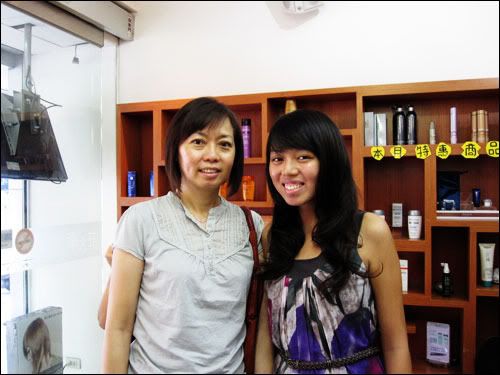 My cousin's wedding reception was in a hall that exclusively does weddings. My youngest uncle drove us there - to Banqiao - and the place looked a lot better than what I was expecting. It wasn't a lavish 4-star hotel, but it also wasn't some shabby, cheap-looking building that I had in mind.
It was my second wedding reception in Taiwan. I actually barely remember the first, or whose it was even; it was the year I went back alone with my dad and he dragged me along 'cause my grandparents didn't want me wandering around the dangerous streets of Taipei by myself. For my cousin's wedding, there was a pretty female emcee and she and her husband made two entrances. The first, of course, was in the traditional white dress. The parents were invited on stage and um, I don't really remember why they were there. People clapped, food was served, I got my own vegetarian dishes and ate the first salad I'd ever eaten in my life. When I saw that my first dish was a salad I was tempted to give it to my mom, but I put my game face on and tried it. I then proceeded to finish it. The sauce was some kind of wasabi sauce and it was surprisingly yummy.
Yesterday at Tony Roma's I ate some of the caesar salad that came with my brother's steak so maybe I've cured my aversion to salads and raw vegetables.
Anyway, more food was served, and the bride and groom made a second entrance: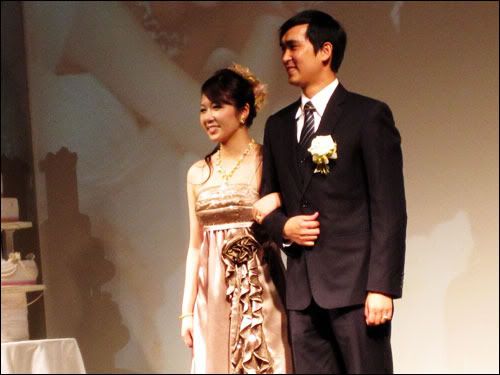 This time they invited the girl who introduced the girl and guy to each other up on stage. She hugged my cousin and everyone clapped. It was quite cute. And while the bride and groom were walking in, packets of what I guessed were candy were dropped from the ceiling which made the kids all excited. I was quite excited too but they neglected the tables at the side of the hall, so no goodie surprises for me.
The food was not too bad, but not memorable. If I hadn't been taking pictures of all the food (for Wei Chuen's benefit - took pictures of everything after he asked me if I took a picture of the cute as hell beagle at the airport that was sniffing luggages for fruits and meat-products. I didn't think of doing so, sadly) I wouldn't remember what I ate. But it wasn't disastrous. And I don't think wedding food tastes all that great anyway so it was serviceable.
My cousin looked pretty though, and her husband is quite good-looking. The obligatory picture that I demanded as guests were leaving: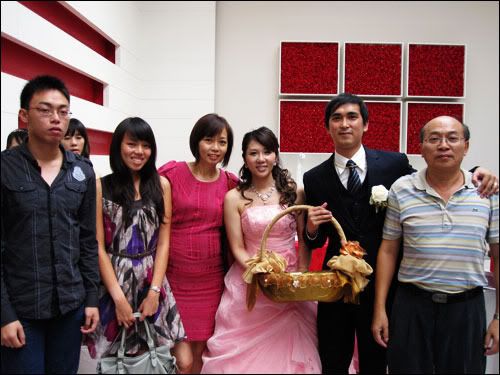 When that was over, we trooped to Ximending so that I could buy myself a few pairs of cheap shoes. Actually, I was looking for a pair of cheap oxford boots. I still hadn't gotten over the ones that I saw in Gongguan (night market-ish stretch of shops opposite the National Taiwan University. Prefer Gongguan to Ximending actually as the crowd isn't as young and high school-ish) and one of the things that I had to get in Taipei were definitely a cheap pair of oxfords. It was hell easy getting cheap shoes there - at least for me it was. Not so much for my mom - the shoes there, the cheap, made-in-Taiwan ones, don't really come in her size.
But they do in mine, most of the time. I bought two pairs from the shop where I bought my boots from, a pair of black heels for court (I wore it to mass call and it was fucking comfortable in spite of the unavoidable new-shoes blisters) and a pair of grey heels for work. The guy who attended to me knew that I was Singaporean which saddened me but oh well. And I randomly bargained at the shop, then found myself randomly bargaining throughout Ximending. It usually worked and I got 20 to 30 Taiwanese dollars off the selling price.
Anyway the shoes were damn cheap. I think I bought those two pairs for S$50, possibly less. I walked past another shop and saw another super cute flats which was about NT$270, which approximates to...whatever that divded by 20 is. So I bought 3 pairs of shoes in Ximending within the span of an hour. I was very happy indeed.
Also bought a pair of shorts for about S$10-ish. I totally love them.
We wanted to go to the cafe that we went to two years ago but couldn't find it so we went to a random one. My brother ordered his usual pudding milk tea and asked for large. When it came, I had a good time laughing my ass off at him because it was HUGE: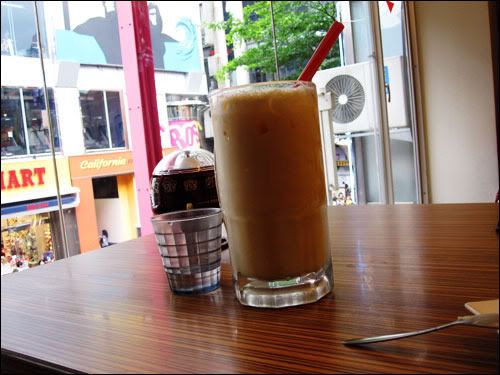 The picture doesn't really capture how big it was. But trust me when I saw it was massive. It was even bigger than like a pint of beer.
And I was very much amused when I saw that bloody Ah Zong Mian Xian was still as crowded as ever: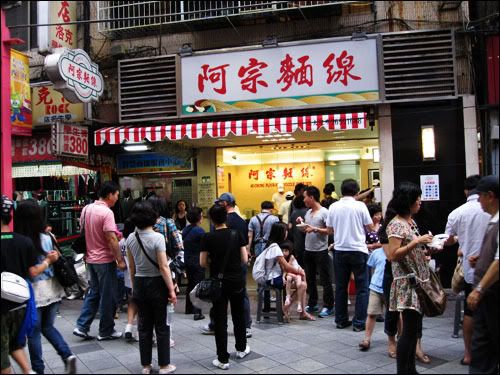 Seriously, talk about Taipei never changing. I see this sight every year and take a picture of it every year. If I'm bothered to I might just place them all side by side one day just to have a laugh.
Shopping at Ximending is great because the stuff is cheap and they're usually bargainable. There are also expensive boutiques, like some German brand that my mom recognised from architecture. I saw a t-shirt with a gorgeous design that cost 3,000-ish NT dollars which is like S$150?!!?! That was just not even possible. That one t-shirt alone cost more than all the money that my mom gave me to spend.
But apart from that, the Taiwan shops are really cheap, and being able to fit into free-sized clothes would help greatly. Having small feet would help too as shoes don't come larger than size 8 in general. Thank goodness I'm a size 8.
I didn't find my oxfords though. I saw a hell lot of gladiator sandals which I weren't interested in, so I went back sans oxfords.
I had stinky tofu at the night market for dinner. But before that, I had this: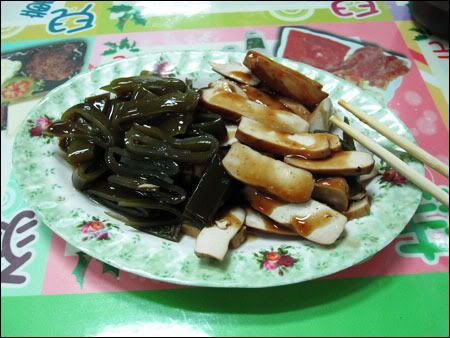 I. FUCKING. LOVE. THIS.
That is all.