My relationship with Wei Chuen is officially my longest one ever. The preceding ones didn't exactly set the bar very high, so perhaps it's nothing much to crow about that we've been together for 11 months; but for someone whose longest relationship was 10 months which was also her first and during the said relationship she barely saw the guy or really cared so it doesn't really count, 11 months is quite something.

That, and considering the fact that we had a conversation when we were deciding whether to get together about relationships leading to marriage and we laughed, awkwardly, at the idea of getting married to each other; the fact that I couldn't see him as anything more than this face I laughed at in JC and thus couldn't take him seriously; and the fact that I come with restrictions and a tainted history that he's not used to, that he comes with his own tainted history that made me extremely insecure in the beginning - yeah, I'd say 11 months is pretty amazing.

Expect, therefore, some long, soppy entry in which I wax lyrical ad nauseum about our Eternal! Undying! Love! for each other when we reach the one-year mark.

Anyway, all that is by way of preamble to announcing that we went to the Night Safari on our 11 months. The original plan was to go to the zoo, in part because I was feeling disoriented and listless from coming back to Singapore and wanted to do something touristy so that I could pretend I was still overseas; and in part because he wanted to avoid town where it would have been crowded as hell for sure. Unfortunately, the initial plan failed. We took our own sweet time with lunch and by the time I went over to his house to give him the food I bought for his family, it was two-something. I thought 3 hours at the zoo was enough, but when I told him the zoo closed at 6, he was all, "OMG THE ZOO CLOSES?" Then he was all, "OMG WHAT ARE WE GOING TO DO IN 3 HOURS. WE WALK IN WALK ONE ROUND CAN GO HOME ALREADY."

Then he mooted the idea of the Night Safari but I wanted to watch Roger that night so I wasn't too keen. But the idiocy of my crap prioritising hit me seconds later so I said, "OMG OKAY LET'S GO!!!!!"

It was like my second or third time there. All I remembered of it was that there was a tram; it was fucking dark; and there were cute deers ambling along the tram tracks, close enough for you to touch. The Night Safari was also sufficiently touristy so that I could get over my back-to-Singapore angst for a bit.

We went at 6-something, reached at 7.05. We decided to have buffet at the hilariously and WTFly-named Ulu Ulu Safari restaurant or whatever. It was an Asian buffet which meant free flow (well, for 41 bucks) of naan, papadum, yummy Indian rice whose name I still cannot remember, yummy palak paneer (cottage cheese with spinach gravy), and surprisingly good Chinese-styled sweet and sour fish. I say surprisingly because the Chinese food fades into non-existence when there's Indian food around (the Japanese food barely exists to me - all the time) and I only took the fish for fun, to add variety to my plate, and so that Wei Chuen wouldn't laugh at me for taking the same food three times. But it was actually good.

In fact, the Ulu Ulu Safari Restaurant had surprisingly good food. Too damn bad about all the fucking insects though. I went to the dessert table and saw some ant crawling on the jelly (which Wei Chuen insisted was agar agar but I can't be bothered about the difference, sorry). On hindsight, I was quite brave to take the jelly on the other side where the ant, as far as I knew, hadn't left its footprints on, but yeah, it didn't bother me at all.

What REALLY bothered me, though, was 1) the lack of air-conditioning; and 2) the fucking insects that made a feast of my arms and legs. I understood that the whole concept of a safari restaurant meant it had to be not air-conditioned and kind of outdoorsy, but oh my god, the insects were just...all I can say is, I'm never going to the Night Safari in a tank top and shorts again.

Actually, I think it's gonna be another 10 years before I go back to the Night Safari. There's something SERIOUSLY WRONG when the entrance fee is 32 whopping dollars. That's including the tram ride, but you can't see shit without the tram. There are so many places that are not accessible on foot, so it's pretty much a given that you'd choose the admission + tram option. That was 32 dollars. I think we split, just like we split the dinner.

I mean, it's a nice novel concept, but come on - truth is, you can't see fucking shit. The only two things I liked about it were: 1) the tapirs and deers that roamed the side of the road and were so close that you could stretch out your hand to touch them; and 2) the flying squirrels open-aired enclosure, in which the squirrel was right in front of me. And there were three of them. And when they leapt from tree to tree, it was really quite a sight to behold. Not to mention - THEY WERE ADORABLE AS HELL. I saw them pretty close up in the nocturnal animals section of the Taipei zoo (which I will talk about in detail when I blog about my trip) but they were behind a panel of glass. In the Night Safari, they were JUST THERE. It was rather surreal.

What I totally didn't enjoy, though, was the same concept for the bats mangrove whatever shit. I didn't want to go in, but Wei Chuen did, and I agreed to go in when other people walked in. We followed behind a Korean couple. When Wei Chuen pointed out a bat to me I practically freaked out, clutched his arm tightly for dear life, and stared at my feet, all the while whining, "OMG I WANT TO GET OUT OF HERE NOW."

Ironic, right, that I love Batman? Yeah, I know.

I was quite tired throughout the whole thing. I was falling asleep after walking around the section of the park that the tram stopped at. But it was still fun. I felt like a tourist, almost, and Wei Chuen was with me. We were both very aghast at this father who turned on the flash light on his camera to take a picture of a snow deer behind a glass enclosure, WHEN THE PARK SPECIFICIALLY SAID NO FLASH PHOTOGRAPHY. I mean, seriously. And some idiot girl brought a fucking torch light to shine on the animals. WHAT? What?!!?!?!? Yeah, I'd like to see the animal too, but I'm not gonna fucking blind them or scare the daylights out of the them in the process. People like that ought to be banned. In fact, they should do a security check like at the Supreme Court or airport, except at the Safari they screen for torchlights and similar devices, AND CAMERAS. I think cameras shouldn't be allowed in if people aren't going to follow the simple, basic rule.

So I have no pictures of any of the animals, but that's okay because I have these awesome pictures: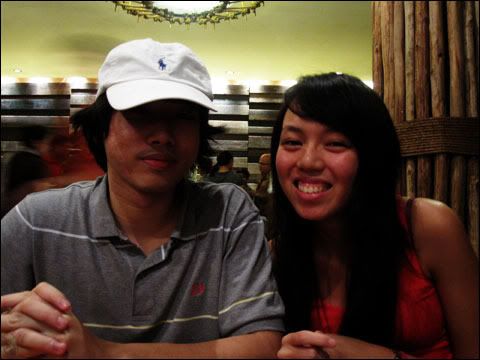 This was at the restaurant. I placed my camera on top of a candle holder, set the self-timer to ten seconds, and in the midst of running back to the seat I knocked the camera off-balance. Still managed to take this though. BOOYAH!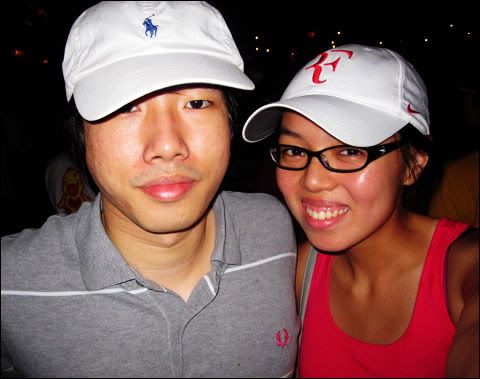 I actually did not wear my contacts that night. Wei Chuen made me wear glasses because I woke up that day with my left eye as red as scarlet. I went over to his place a couple of hours later and wore contacts as the redness had cleared somewhat, but it still felt uncomfortable. Ergo, he made me wear glasses. I hate wearing glasses boo.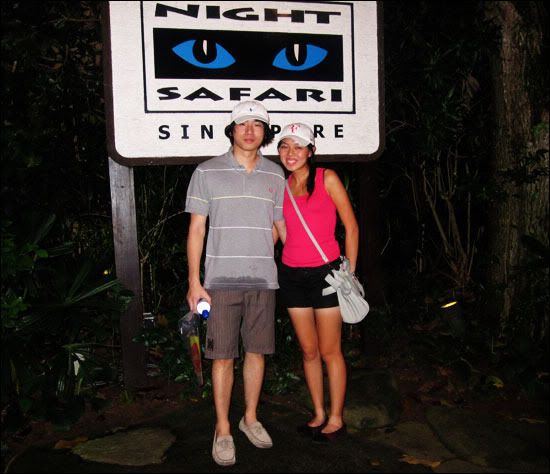 No way in hell I was gonna wear glasses in this picture. He thought the idea was cheesy. I thought so too, but also thought it was essential. I love him for doing cheesy things just because I want to do them.
Literally falling asleep here so will end this segment by saying the safari was great only because of the company, whom I adore and love very, very much.
*
In French Open news, I have two things to say:
1. Justine Henin def. Maria Sharapova 6-2, 3-6, 6-3 omgggg noooo. I was totally rooting for Masha. I even stayed up last night to watch the match. I don't know what it is about her, and maybe it's her shrieking, but she's fierce. She plays with so much firepower, it's really inspiring and compelling to watch. Some hate her shrieking, like my cutie boyfriend, but I just really enjoy watching a player who believes so much in herself. When Henin was serving for the match at 5-3, 40-15 or something like that, Masha still had her fist clenched, her game face on, her body language signalling, clearly, that she was going to fight for the match with everything she's got.
God, she was good. She was so good for most of the third set. It was too bad she wasn't consistently good, and that Henin was better just enough to win. It was an expected outcome - Henin rules clay like Nadal does, and clay's Masha's worst surface. But it was still so inspiring watching her play - watching them play, fighting for EVERY point as if it were their last. It was so good watching two players who are more or less on form, who can challenge each other, take their games to each other. I really enjoyed watching this match. I haven't enjoyed a women's match in a really long time.
Actually, the Maria Kirilenko/Dunno first name Schiavone match was good too. Kirilenko played really good attacking tennis, and there I was, thinking she was just a pretty face. I was rooting for her to win but she lost 4 and 4 in the end. But she really, REALLY surprised me though.
2. Federer def. Wawrinka 6-3. 7-6(5), 6-2.
ROGER WASTED TIME IN THE SECOND SET BY DRIFTING OFF INTO MIRKALAND AND LETTING WAWRINKA INTO THE MATCH. Poor Stan - he played out of his mind, even outplayed Roger, but a stupid, stupid error at the net during the tie-break gave Roger set point. And of course, Roger wasn't going to let it slip; he hit an unreturnable serve and that was it. Stan was so pissed that he smashed his racquet to the ground three times, breaking it decisively.
In the third set, Stan was mentally gone. He tried towards the end but it was all Roger from the get-go. It was another masterclass performance from Roger - unforced errors reduced, drop shots working, inside-out forehand finding its mark. To be honest I wasn't really paying attention 'cause the only part of the match that didn't bore me was the tie-break. Roger had the win even before both player stepped onto the court - there was absolutely no question about it. I wasn't even worried when Roger got broken in his opening service game in the second set; I was just irritated that he was in danger of dropping the second set which means wasting more time to get to a destination that he could get to within a much shorter time frame. Thankfully he won the tie-break or I wouldn't have had time to write this.
But anyway, it really sucks to still lose when you've outplayed your opponent. I understand this, but comparing Stan's reaction in the third set to Masha's when Henin was serving for the match illustrates one important thing: self-belief. I've seen Stan mentally check out against Roger twice in a row already. I've even seen Roger mentally check out against Nadal. I haven't seen Masha play much, but that girl believes so fiercely in herself that she still thinks she can win even when she's staring defeat in the face. THAT'S the kind of player I like to watch. Roger has that fire in his belly too; otherwise he wouldn't have won 16 Grand Slams. But he doesn't have the opportunity to display it as much because he rarely loses. I do enjoy watching him trying to level a set, though, when he's down a break when it's getting late into a set. He goes for his shots, suddenly becomes more aggressive, stepping into the court more, forcing errors from his opponent. It's fun to watch. Masha goes crazy with her shots and goes for broke, which is why she can be unbearable to watch when she's not on form (she'd be spraying errors all over the place which is just terrible for the eyes). But when she is like against Henin, it's just - wow.
Okay, I'm really sleepy. Venus Williams lost already, as did Andy Roddick which sucks but I'm pleased with the former. Not that she's as irritating as Serena but what the fuck was she thinking when she designed that dress? She looks like a hooker. And I want to say I can't believe Andy lost to some qualifier, but Roland Garros was his first clay court tourney, so...serves him right.
Rooting for Djokovic to take out Nadal in the semi. Rooting for Roger to defend his title. And I'm hoping Henin wins on the women's side. Her backhand is really...WOW. It's comparable to the men's single-handed backhand.
SLEEP TIME!