When I told friends and acquaintances who have either been to Langkawi or are from there that I would be vacationing there with Wouter for five days, the general consensus was that five days were too long; I would run out of things to do within two or three days, and then I would be bored. A holiday, though, much like life, is what you make of it: you decide what you want out of it. After spending the end of 2014 in cold, wintry Amsterdam, I returned to Singapore sun-starved, which subsequently gave way to an incessant longing for the beach and the clear, open waters of an unobstructed sea. I would eventually discover that five days in Langkawi were barely enough; an extra day would have been nice.

People who say that there is nothing to do in Langkawi must not like the sea very much (in which case, I question the sanity of the decision to holiday there). For me, I have always felt relatively comfortable in water. Swimming relaxes me even whilst I have to overcome my laziness and make myself chalk up the laps, and the sea thrills and terrifies me at the same time. There is something almost hypnotic about swimming in the open sea without safety barriers, lured forward by the gentle undulation of the surface of the water. The water glistens under the afternoon sun. Its warmth envelops my body, and there is no one and nothing in my line of sight except a few islands scattered across the sea. I could disappear like this – swimming on and on towards the hazy hue of the horizon and into the endlessness of the ocean until my limbs gave out.

I always stop, though. I suppose I have to. When I wondered out loud what it would be like to just keep swimming, Wouter said, 'You want me to call your mom and tell her that you died while on holiday?' He had a point. In any case, it is always the fear of the vast unknown that stops me. There is a limit to peace after all.

We spent the trip lounging on the beach, going to islands, and snorkelling and swimming with baby sharks. Resorts World Langkawi was a surprisingly decent hotel, defying the negative reviews I read on TripAdvisor prior to the trip which set off alarm bells in my head. We upgraded to a bigger room and we walked into a lovely suite with a balcony that looks out to the sea and a couple of the 99 islands of Langkawi. The hotel is a bit old and the furniture looked dated, but who really cared when the point of a holiday was not really to be in the hotel room all the time? It was clean and comfortable enough, and the spectacular sea view more than made up for the uninspired furnishings.





Our balcony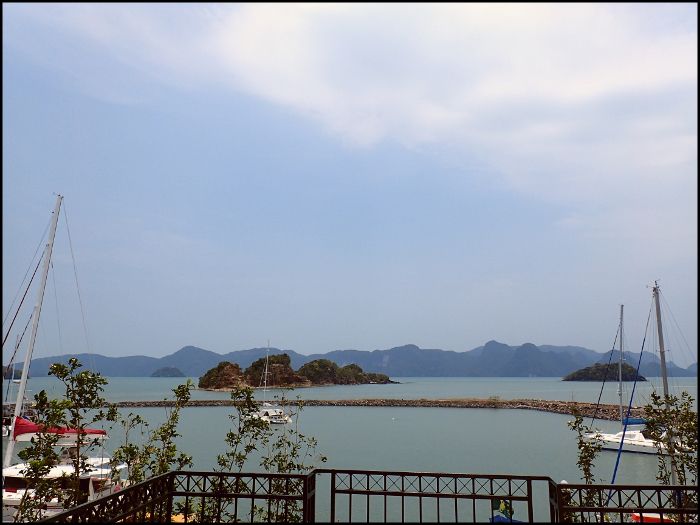 The view



Although the hotel was a bit out of the way (walking to the nearest part of Pantai Cenang, the main beach, was about 25 minutes), it was quiet thanks to the low season. Like a typical Asian four-star hotel, it also came with free breakfast in typical Asian four-star hotel style: a buffet of Western and Asian cuisine, some fruits, some bakery products, yogurt, fruits, cheese, an egg station and coffee machines. I was very pleased that we didn't have to go hunting for breakfast which would have been a major hassle, given that there was nothing around the hotel and that Cenang wasn't exactly within walking distance. The buffet food was decent, though I skipped past the Western part (all meat) and ate spicy noodles and curries for breakfast four days in a row.

On our first day, we had lunch in the hotel during which we fed an injured stray cat and basked in the midday Langkawi heat. Thankfully for me, it wasn't that hot. Wouter was extremely keen to get a tan, so I agreed to walk to Pantai Cenang. It was about 3 in the afternoon; thankfully for me, it wasn't that hot. We got to what was either the end or beginning of Pantai Cenang, on which some hotels and resorts were situated, and sat down on a couple of deck chairs for absolutely free; nobody came over to ask for payment. The beach was not at all crowded and most of the people there were elderly Europeans (Wouter detected some Germans) with a few Asian couples and families.

Wouter went into the water first while I frantically slapped on sunscreen. When I was ready to join him, he told me, 'It's the nicest water you'll ever feel. It's like a bath.' Indeed, the sea was like a bath: it was warm and comfortable, such that I could practically fall asleep while floating on my back. The water was a soothing turquoise, the sand was white, and there was minimal rubbish and pollution. It was exactly what I wanted.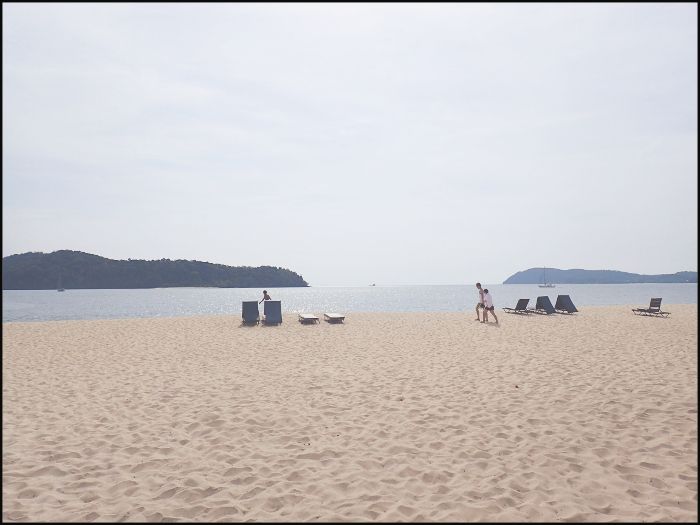 We saw the sunset on the beach later that day and had dinner in a relatively posh beachside restaurant. Unfortunately, I was very put off and annoyed by a French couple with their kids in front of us who was chain-smoking throughout the 1.5 hours that we were there. The woman had three cigarettes in the span of 45 minutes or something ridiculous like that. I genuinely don't understand people that smoke around their kids, and I have given up on trying to understand the inherently selfish habit of smoking, period.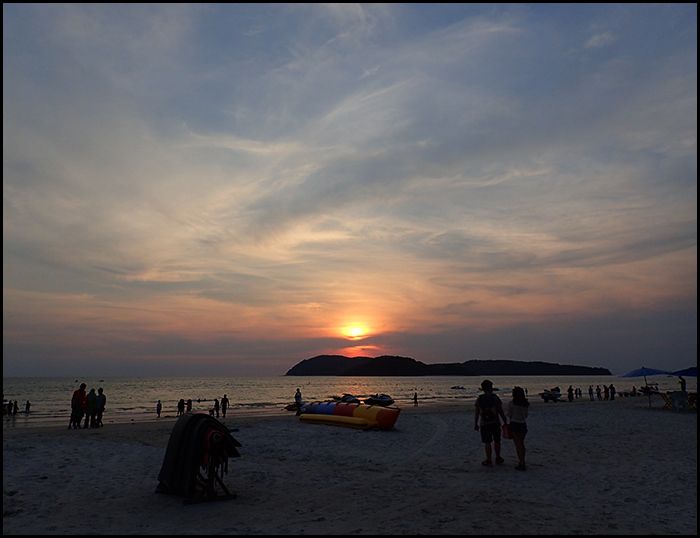 The next day, after taking an aimless, pointless and expensive taxi ride to and back from Kuah Town in the early afternoon, we embarked on the island hopping tour organised by the hotel (not for free, of course, but they provided towels and bottled water) at 2.30pm. It was a standard-issue touristy tour, simultaneously offered by a multitude of other providers all over the island. The first stop was Pulau Dayang Bunting, or Island of the Pregnant Maiden, so-called because the outline of its hilltops forms the outline of the pregnant woman. The island contains a large freshwater lake surrounded by hills and forests that visitors could swim in. This was my first time ever swimming in a body of water that was neither a swimming pool nor a sea, so it was very exciting.






The Pregnant Maiden



The downside to this attraction was that the authorities erected these clunky plastic-ish platforms that led into the lake, with maybe a grand total of three umbrellas. It was the middle of the day, and most of the umbrellas were taken by other groups. We followed the four girls who were on the same tour as us further down the platform and settled on a spot. It was the middle of the day. The platform was made of plastic of some sort. I removed my shoes to walk to the edge of the platform so that I could get into the water – and my foot was immediately burned by the unbelievably intense heat from the platform. I would say that it was like walking on coals, except that I can't say that in good faith because, like a normally sane person, I'd never walked on coals before so I wouldn't know what that felt like. Still, if I were to imagine what walking on coals would feel like, my experience of walking – or rather, trying to walk – a maximum of ten steps to the edge of the platform would probably be pretty accurate.

In the end, Wouter laid a spare towel on the ground for us to step on and I sat on it while contemplating whether it would be wise to go into the lake. The second problem with the place was that there were no ladders that a swimmer could use to get himself out of the water. The platform had some hand grips which a reasonably strong person – and by 'person' I really mean 'man' – could hold on to to hoist himself out of the water, but they did not look promising. The platform did not connect to the bottom of the lake (I had no idea how deep it was) so there was no flat surface to help you out either. There was a couple next to us who were swimming in the water, and I looked on in horror as the female half of the couple went to great lengths to get out of the water.

Still, my curiosity got the better of me, and I took the plunge into the water where Wouter already was. Once again, it felt like a bath. It felt so amazing. If there were less people, it would have been a surreally serene experience: floating on your back on still water, looking up at a pale blue sky, surrounded by lush forestry hills. The water also tasted way better than sea water.

I swam around the platform to see if there was a ladder anywhere, but alas, the answer was a 'no'. After Wouter got out of the water, he stretched out a hand to help me up. I held onto the hand grip and tried to pull myself out but, of course, I wasn't strong enough. In the end he pulled me up as far as possible and I mustered all the energy I could to get a leg over and onto the platform – and I made it out without much of a hitch. I think I did better than the woman next to us.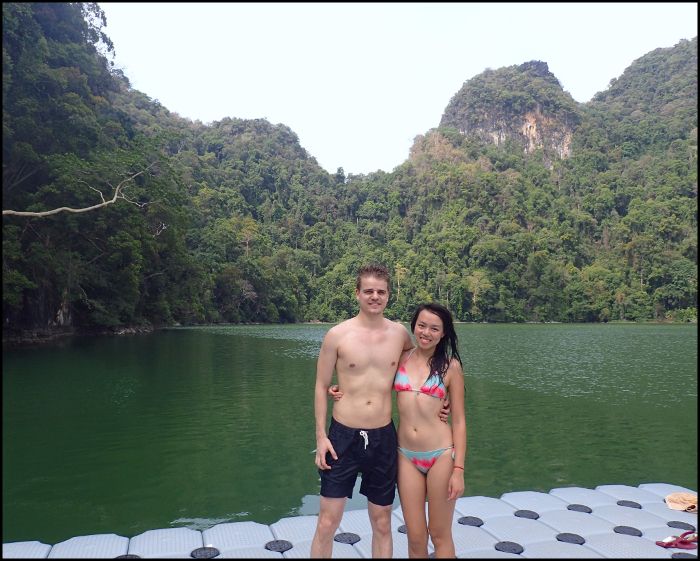 At the lake



I actually used the public toilet because I really had to pee. Needless to say, it was disgusting. Thank goodness I got paranoid about the questionable hygiene standards in a less developed Malaysian destination and stocked up on wet wipes before we left, because boy, they really came in handy then.

We left the island after an hour and went on to Pulau Singa Besar which contains a large population of eagles. The driver stopped the engine near the island and threw some chicken pieces into the water. Eagles soon came swooping down to scoop up their food. It wasn't as spectacular as I was expecting and didn't last for very long; I think we were there for about 10 to 15 minutes. Still, it was a novel experience seeing the eagles relatively up close and in their natural environment.

The last stop of the tour was Pulau Beras Basah, a relatively secluded beach with amazing white sand. It's billed as a private beach but I guess it can't be private if it's a destination on the same itinerary offered by a million tour operators. Still, it was pretty and relaxing. We laid our towels under some palm trees, had a swim, and saw some monkeys on the way back to the boat. It was a nice conclusion to an enjoyable trip overall.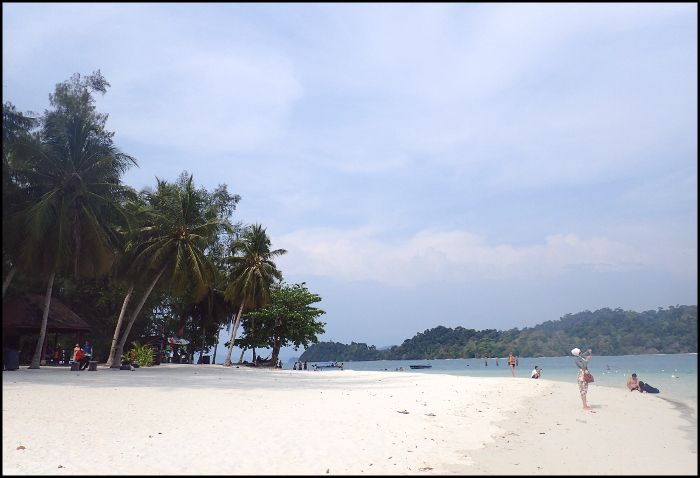 Palm trees and the White Rice Beach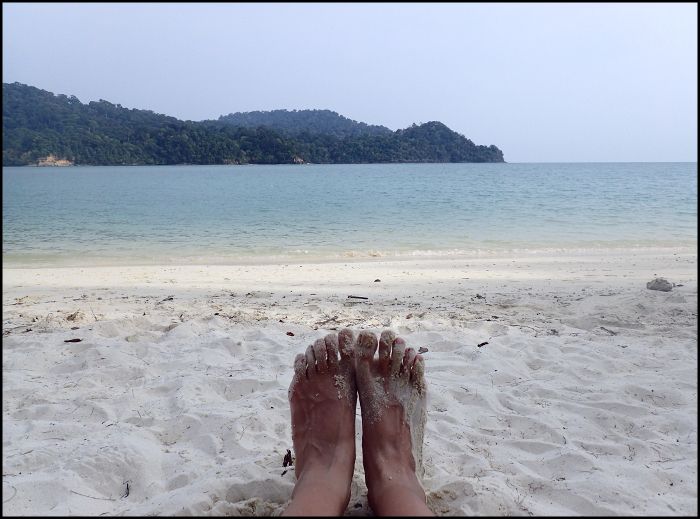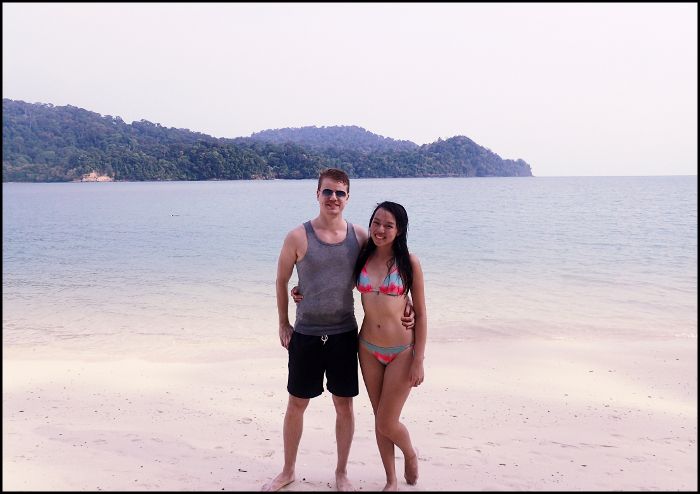 We were ferried on a speedboat for the whole trip and it was fun. I don't remember ever being on a speedboat. It was very bumpy at parts but on the whole, it felt great having the wind toss my hair into a manic mess and hearing nothing but the engine of the boat and feeling the wind rush against my skin.

For dinner that night, we ate at a humble roadside local family restaurant. I was very, very happy with my delicious RM7 char kway teow.

The third day of our trip brought us to the Pulau Payar Marine Park for snorkelling! I was especially excited about this because I read that I could swim with baby sharks on the beach, which I thought was the most adorable thing ever. I bought an underwater camera just for this. This trip was the most expensive part of our holiday and it probably single-handedly depleted our funds. It cost RM295 each. The trip was represented to last from 7.45am to 5pm but the actual time spent on site was from 10.45am to 3pm; the rest of the time was spent on travelling and getting different groups from different hotels organised.

We woke up at an ungodly hour of 6.30am to have breakfast at 7am to be in time for the 7.45am meeting at the hotel lobby. It turned out that the chartered bus was only scheduled to arrive at 8am. Thanks for robbing us of precious sleep, Hotel! The bus made its trip to various hotels, picked up other guests, and took everyone to Kuah where the jetty was. We waited around some more, and then we were herded onto an air-conditioned ferry. It took about 45 minutes to an hour to get to the Marine Park.

We were dropped off at a huge and self-contained reef platform, from which we could snorkel and even do some basic diving. As Wouter and I didn't opt for the diving option, all we did was snorkelling – and it was definitely more than enough of a novel experience to last the entire duration of the time spent there. What can I say about my first real attempt snorkelling (Croatia didn't count because I didn't have a breathing tube and I only saw one fish)? It was mind-blowingly fun, it was amazing, and I am more convinced than ever that I want to go diving. Oh, it was incredible. The corals were probably not the most beautiful ever, but I'd never really seen any so up close. Save for a few colourful fish, the fishes weren't really that special, but I'd never swum with that many fishes before. They were all around me, in various shapes and sizes and colours, some swimming in large groups, some smaller ones. It was exhilarating.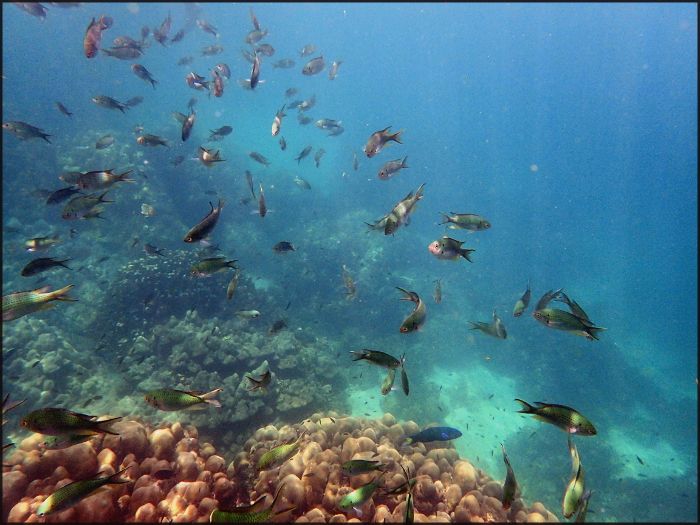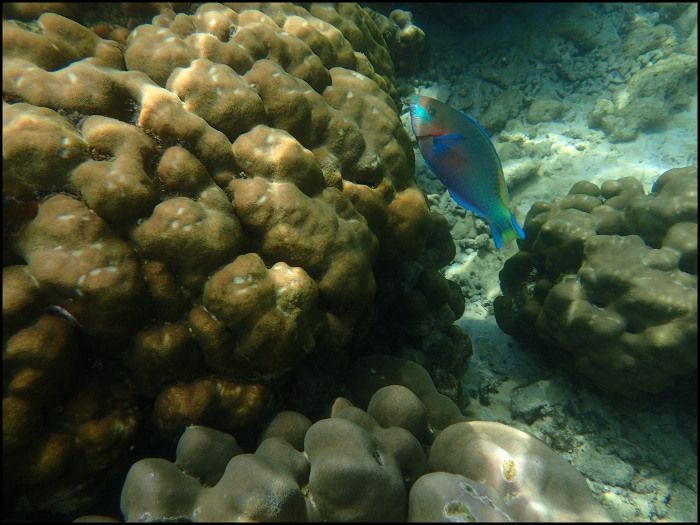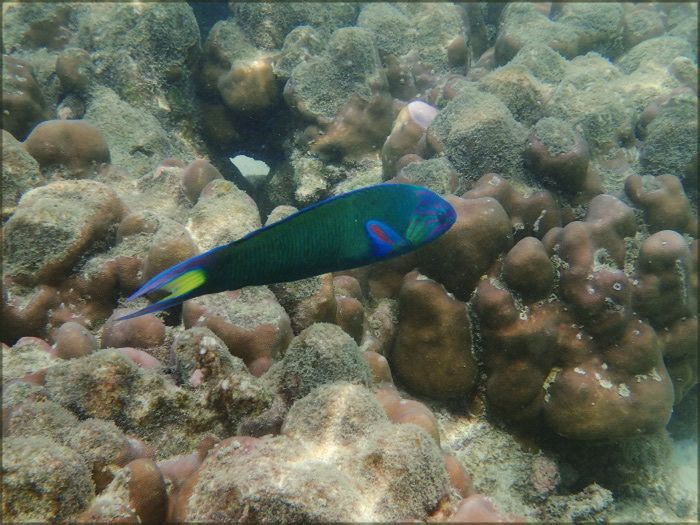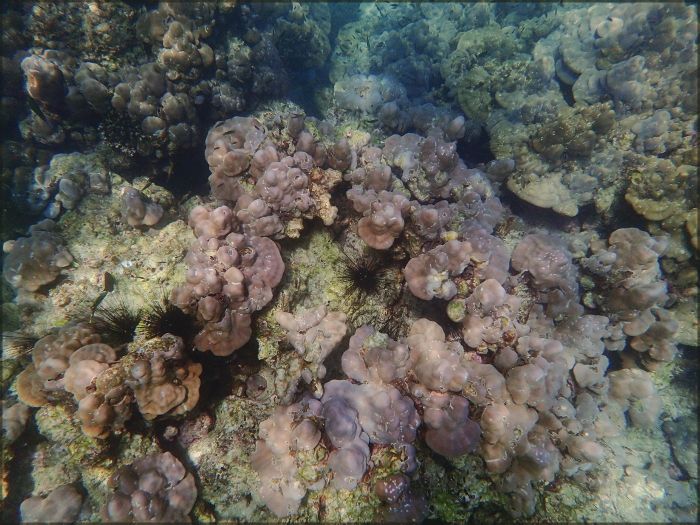 Sea urchins!



The fact that I enjoyed it so much despite having massive problems with the equipment really says quite a lot about how much I loved it. I have a photo in which my face is practically swallowed by the mask – that was how ill-fitting it was. I wore a life vest and it was so big that it kept floating up around my upper arms which caused a terrible abrasion on my inner left arm, from which I am still recovering. I had no idea how to use the breathing tube properly, so I kept breathing in water. Thankfully, I got the hang of it – kind of, sort of, somewhat – after a while; I could snorkel longer for the last hour of the trip. The beginning, though, was really a nightmare, especially with the problem of water in my mouth. I had to come up for air every ten seconds or something.

I found it easier without the life vest. I was so unused to swimming with a life vest that I felt utterly clumsy trying to navigate the surface of the water with it. It was also quite frustrating that I couldn't go deeper into the water because the vest kept pulling me back up. I discovered later, though, that I couldn't go deep either without the vest because the mask was quite resistant to it. Still, I felt freer without it.

At 1pm, we got into a small boat to the beach to see some baby sharks. We watched the big blacktip reef sharks feed on fried chicken (yes, seriously) from the jetty, then walked really fast to the beach. We stupidly left everything back on the platform, including our shoes – which proved to be a really poor decision because the jetty was so bloody hot. Once again, it was like walking on coals, and I honestly felt the skin of my feet burning as I tried not to injure myself walking barefoot on the wooden planks of the jetty. The operators should have warned us of this problem, but oh well.

The shallow waters of the beach were pretty murky due to the sand. I was really excited to see the baby sharks and I was therefore really bummed when ten minutes had passed and I'd seen zero baby shark. We flopped around, me rather desperately and ineffectually (I was wearing the life vest), looking for the baby sharks while trying to console myself by thinking that, hey, the fishes are quite cool too, until Wouter fortuitously got out of the water to get his vest and chanced upon one when he waded back in. It glided past us as quickly as it had appeared; a few seconds later, it was gone.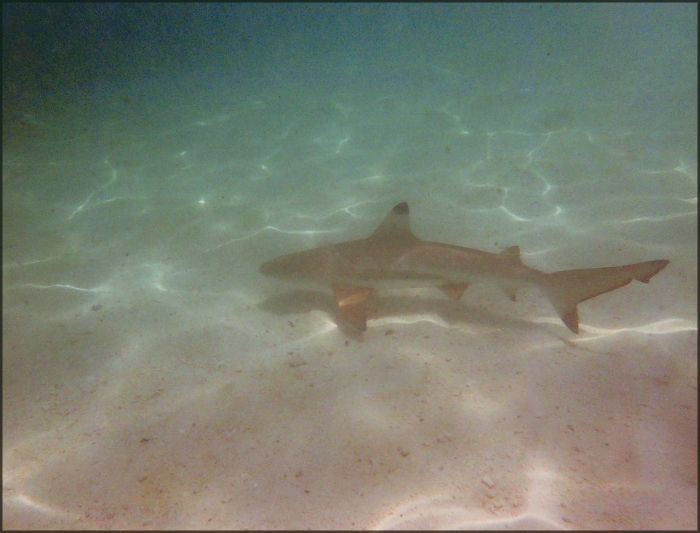 There was a group of people towards the shore and we thought, let's avoid the crowd. That turned out to be a very bad idea. After spotting that one baby shark, we didn't see any others, and so we once again embarked on a search for the other baby sharks (we were told that there were a lot of the). We swam away from the group of people and searched in futility, until we finally decided to go to where the crowd was.

We should have done that way earlier. There were so many baby sharks in that area. The baby sharks were fast and elusive and were impossible to chase; they swam away from humans, and were way quicker than us, and disappeared into the murky sandy water. We managed to get some pictures but no videos; and of course, taking a picture with the sharks was impossible because of how elusive they were. Nevertheless, I was completely excited like a child; they were so cute. I am really glad that we found them in the end.

Spending those few hours under the sun with minimal breaks into the shade invariably led to massive sunburns. When we'd gone back to the hotel, I discovered to my horror that the sun had turned my ass completely white. It is currently still a very, very stark white against the darkness of its surrounding skin. It looks ridiculous. My only consolation is that nobody can see it; all the same, I can't wait for this horrible sunburn to fade. There were red patches around the outline of my bikini bottom for a few days and they itched quite a bit, particularly at night, but thankfully, the redness has more or less faded. I guess it was a price worth paying for the baby sharks and all those other fishes.

Our last full day was a relaxed one. We woke up late (but still in time for breakfast), then took a long taxi ride to a beach in the north of the island with a view of Thailand. It was supposed to be romantic...but it wasn't. For one, there were too many people for it to be romantic; and for another, most of these people were local families with young children. In my humble opinion, the presence of children immediately kills the romance potential of any place or situation.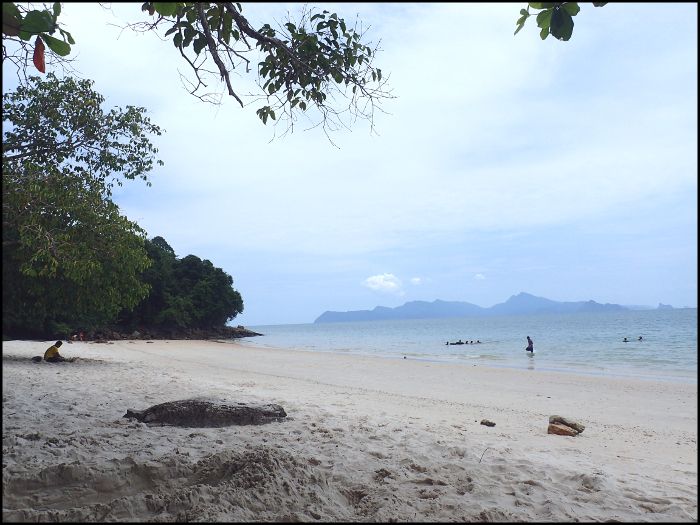 Thailand in the distance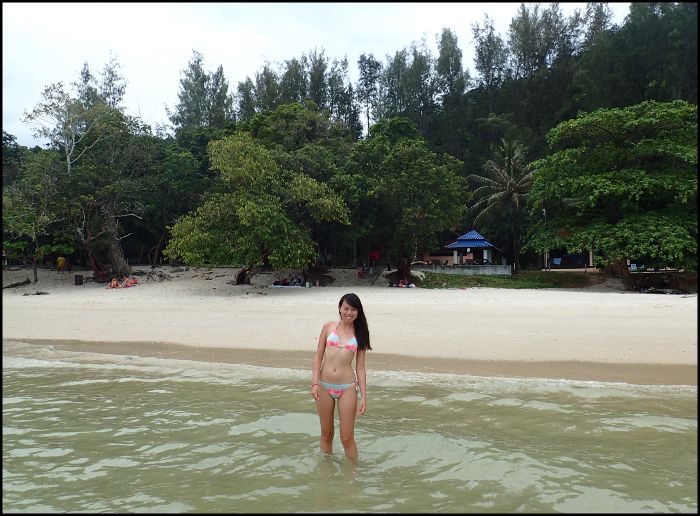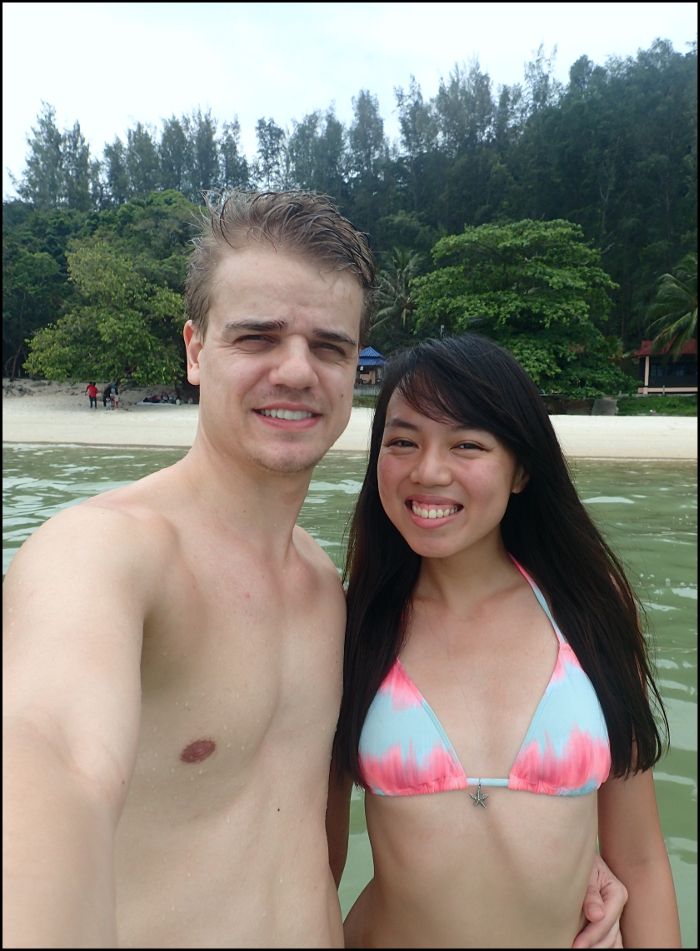 This was also a rather expensive trip, costing us RM120, because the place was remote and not a typical tourist destination and so we had to keep the taxi driver waiting and pay him extra. Ah well. It was a nice change of pace anyway.

The afternoon was spent on Pantai Cenang. We had a late lunch at a random local eatery by the beach; I had a yummy plate of Malay fried beehoon (very salty and spicy but so good). It was a windy afternoon and the waves were stronger and choppier than usual. I attempted to swim; I was too afraid, and when I finally got the hang of it, I decided to leave because I didn't want to keep Wouter waiting. I used the hotel pool when we got back but there were two guys splashing water at each other and monkeying around, so that was annoying. In any case, I find it more tiring to swim without putting my head under water, and therefore, more boring.

We had dinner at the Brasserie again, and then drinks at the hotel bar. The hotel bar was actually a really nice place for drinks because it faced the sea and was a lot quieter than places in Cenang. On one night we sat by the boardwalk and listened to the subpar cover band; on our last night the uncovered tables were wet from an earlier rain. It was a cool, breezy night – a fitting end to a fun, adventurous trip.

(PS. I said at the beginning that an extra day would have been nice because we missed out on the Kilim Geoforest Park, which is a UNESCO site. Ah well.)