Despite sleeping at 2 a.m. this morning, I still found myself opening my eyes at like, 7-plus, and wondering what time it was. When I heard my brother's voice I knew that it was SEVEN SOMETHING IN THE MORNING. Thankfully I went back to sleep long enough to have the weirdest dream ever about David Archuleta (of all people. He's probably the most sexless contestant on American Idol - ever) before waking up again at 9 a.m.
I tried to describe my ArchuBot dream but it's too weird to be put into words, and anyway, who cares about small David?
Anyway, I also had a dream about my David, and it was a complete reversal of last week's dream. So I woke up feeling confident that David did well this week, but 15 minutes later I decided that I had to find out for sure or I'd suffer a cardiac arrest.
I'm going to do myself a favour now and stop resisting the need to know how David Cook did, because ever since Top 12 week, or the week he sang Eleanor Rigby, I've proved that I will inevitably succumb to reading spoilers in one way or the other. From next week onwards, I'm not even going to bother to pretend to put up a fight. My love for David Cook has overwhelmed my fear of spoilers; I cannot function normally on Wednesdays without knowing how he did. I personally don't understand why they can't broadcast the show live, which I'd definitely wake up in time to watch since Bell's Palsy has screwed my biological clock back to the way it's supposed to be. I wake up at 8, 9 in the morning even when I have no classes the entire day, even when I sleep at 1, 2 a.m. IT'S CRAZY. So yeah, they should broadcast Idol live and spare me the torture.
Oh, and since I was up in time to try Gizmo Internet phone voting, I tried, and it worked. I hit redial from 9.30 to 10.30 until I decided that I absolutely couldn't take the utter boredom anymore, so I stopped and started writing this entry. Besides, I'm pretty sure Cookie's gonna be safe this week.
I don't know how people power vote without wanting to tear their hairs out. Imagine doing the same thing for TWO WHOLE HOURS. The West Coast voting block is at 12 later but aiya I'm too lazy.
I'm quite sad that I won't be able to harness the power of the Internet in Cookie's favour for the finale since I'll be interning. I also won't be able to watch the results live - again. The same thing happened last year and Blake was a finalist, and even then I was quite bummed that I couldn't watch the results live. Imagine how devastated I'd be in a month's time when (because it's totally gonna happen) Cookie makes the finals and I can't watch his coronation live! (He's gonna make the finals, AND he's gonna win.) Sighness.
Anyway, back to my dream. But before that, a warning for the three people who read my blog that watch American Idol:
THE NEXT FEW PARTS CONTAIN A BUNCH OF AMERICAN IDOL SPOILERS!
So the dream I had last week about David doing shittily came true.
I must be prophetic or something, because I read a bunch of spoilers and my dream about him kicking ass this CAME TRUE AS WELL.
He sang Always Be My Baby, of all songs. I'm only a bit bummed that he didn't sing My All but I don't really care as long as he did well. (It's Mariah Carey week this week, by the way. BELCH.)
And I might as well just say this since it's all over the news, including MSNBC.com, and the show might have brought it up too: David's older brother went to watch the show. His older brother is battling cancer. I read a couple of articles about how his community funded his Idol trip and made it possible for him to have in-flight medical care, etc. Very moving stuff, and since I can't possibly imagine what it must be like to be in David's shoes, I feel more comfortable not talking about it. Besides, not taking this week's show into consideration, David has never talked about his brother publicly; the only reason his fans/etc know about his brother is because it's, well, predictably, all over the Internet. It's, in fact, the story behind the AC on his guitar - it stands for Adam Cook. (His brother's name, obviously.)
So yeah, the point of saying all this is that some people were freaking out over the part where Ryan Seacrest reads out David's number, and I'm willing to bet it's got something to do with the fact that his brother was in attendance this week. I'm also willing to bet that it was also what Andrew alluded to in his Facebook status update.
OH MY GOD I CAN'T STAND IT ANYMORE I WANT TO WATCH THE SHOW NOW.
On a non-Cookie related note, why is it that I'm utterly unsurprised that David Archuleta sang "When You Believe"? SEE WHAT I MEAN ABOUT HIS DISNEY-NESS?
Now that Michael Johns has been eliminated, sob sob, I will die if David and Carly are the final 2. I actually like Carly now when I used to hate the living shit out of her. But David and Carly's solos on the Shout to the Lord song during Idol Gives Back were amazing.
In fact, Carly should divorce her husband and hook up with David. I seriously think that Carly would be a muuuuch better match for him than Lacey Schwimmer. At least Carly appears to have brains and I'm sure she doesn't listen to Paramore.
***
Okay I'm going to swim now. For some reason my skin seems to be falling off. It's coming off in flakes and powdery form on my arms, my stomach, my hip area, everywhere. Maybe I've contracted some skin disease, or maybe it's always been this way, just that I never noticed it (100% possible - trust me). I'm tempted to freak out and see a doctor but I've already wasted enough of my parents' money on the stupid Bell's Palsy and my Europe trip (not a waste of money at all though, this one) so I will resist the urge to da jing xiao guai/freak out.
And what else was I gonna say? Oh yeah, Don't Stop the Music was stuck in my head the WHOLE DAMN DAY yesterday, and it wasn't even the David part. It was the stupid insipid chorus. I HATE THAT SONG.
Lastly, please read the previous entry for why I totally win at life!


***


Edit at 12.15 p.m.: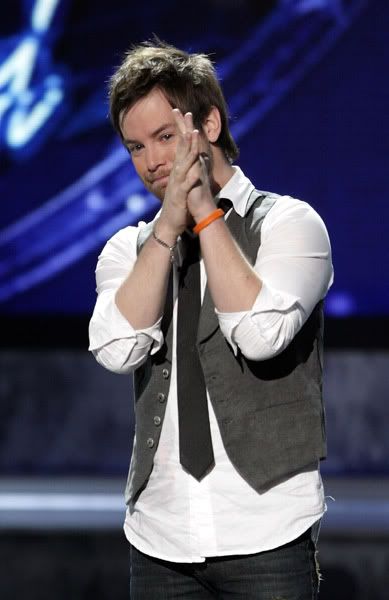 FGHSJGHASGJGAGAE13EWTW.R.GAGA GA.


Just looking at this picture made me want to cry.


DAVID COOK YOU BETTER NOT MAKE ME CRY TONIGHT OR MY MOM AND BROTHER AND FATHER WILL THINK I'M NUTS!


Which I am, BUT THEY DON'T HAVE TO KNOW THAT!


Can he please stop being so awesome? He's making it impossible for me to develop an interest in guys that are not named David Roland Cook (must add in the middle name 'cause David Cook is damn common name) now.

OH MY GOD WHY IS IT NOT TEN FREAKING PM YET.