After almost 29 years of existence on this planet, most of which have been spent in Singapore, I have finally gone to Penang. I went with my parents from 4 to 6 July. It is almost shameful that I waited so long to make a trip there, considering its proximity to Singapore, its interesting history and heritage, and above all else, its fucking amazing food.

Since I find myself quite obsessed with food these days (more so now that I'm going back to the UK, land of boring food, in a few months), let me start with the food.

Char Kway Teow

What can I say? Penang char kway teow is famous for a reason, and that reason is simple: it is delicious. The black equivalent in Singapore cannot even compare. We ate at both stalls at Lorong Selamat, the Uncle one on the first day and the Auntie (and more famous) one on the last day: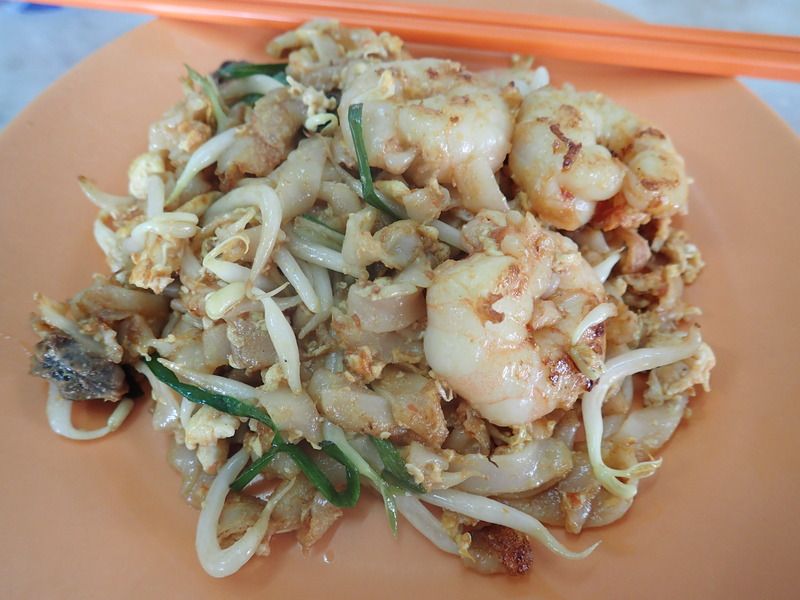 Uncle char kway teow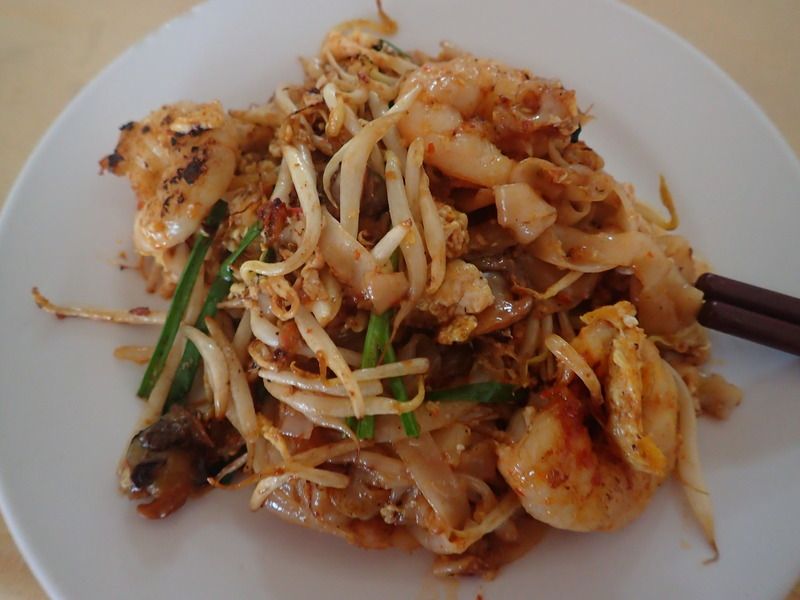 Auntie char kway teow




The top one looks rather bland, but never have looks been so blatantly deceiving. It delivered a flavourful punch like no char kway teow I'd ever had before, and I'm not even exaggerating. There was a very distinct taste of cockles, which I normally don't like but it blended well with the rest of the dish, and the noodles itself were moist and chewy. And of course, who can forget those three gigantic prawns? So delicious.

The one on the bottom is probably the most famous char kway teow in the whole of Penang; and the auntie who owns the stall is famous for her bad temper. Luckily, we were there at about 11.30am and there was no crowd, so we didn't have to wait or talk too much to the auntie and her equally unfriendly helpers. This one didn't have such a strong taste of cockles; and in fact, I think I preferred the Uncle one. Still - I loved the slightly burnt taste and how juicy the whole dish was. It was just fantastic.

Even a random char kway teow I had for dinner at a coffee shop along Gurney Drive was good: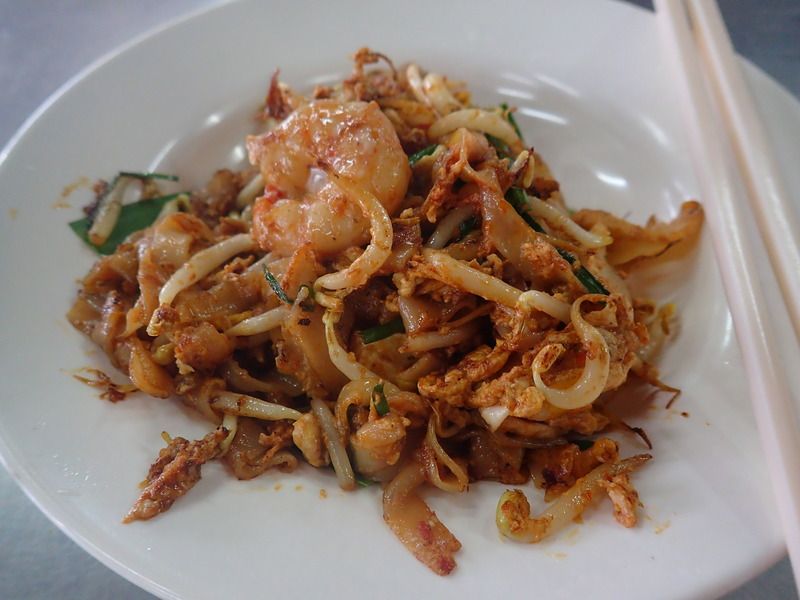 This one cost RM5; the Uncle one cost RM9.50; and the Auntie one was RM10. The price difference definitely translates to difference in taste. The random one was also good, but nothing really special, and you can easily have the same thing in Singapore (e.g. Penang eatery at King's Centre or whatever along Bukit Timah). Still, it was good.

Penang Laksa

I am not a fan of Singapore laksa; it is way too heavy in coconut milk and it doesn't appeal to me. Penang laksa, on the other hand, definitely appeals to me.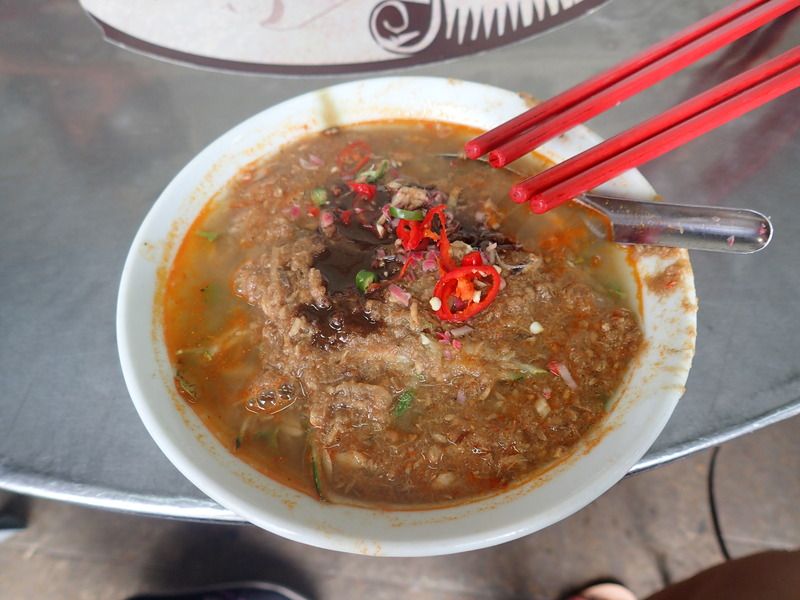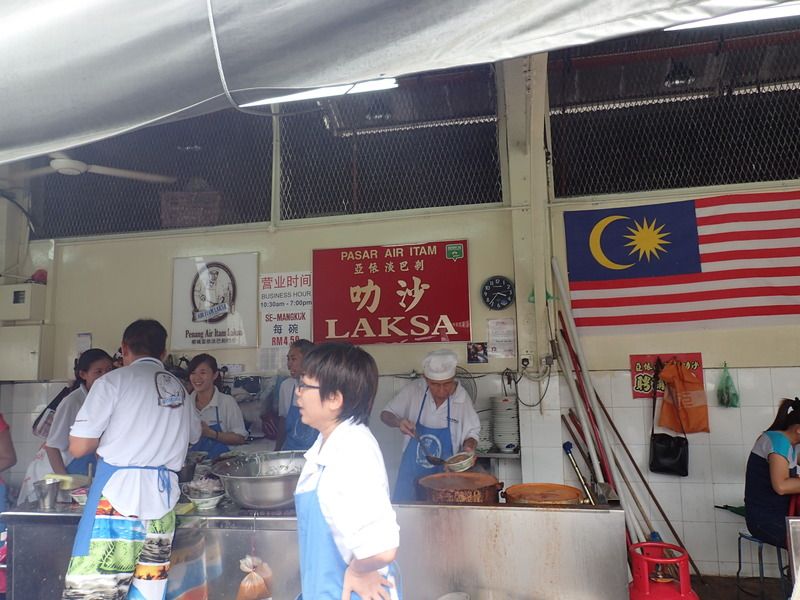 The fish soup mixed with mint, onion and cucumber, the chunks of fish in the soup, the slight taste of chilli...oh my god! The best laksa ever!

Barbecued stingray

I'm a huge fan of barbecued stingray marinated in sambal. There are a few food centres near my house that do good ones; my mom also does pretty decent ones.

They have nothing on the barbecued stingray I had at the Gurney Food Centre (or whatever it's called), which was my second main course after my RM5 char kway teow. I don't have a picture because my camera died and I left my phone in the hotel. I don't even know how to describe it; the sambal was so fragrant and aromatic and tasty, and not too spicy. The fish was grilled to perfection. I ate everything, which prompted my mom to say that she'd never seen me eat a fish so cleanly before. Well, it was that good!

Apom

What the hell is this amazing dessert and why didn't I know about it? Can I find it in Singapore?

I bought six at Gurney Food Centre. I ate four of them. Before heading back to the hotel, we bought six more for my dad. I ate two of them. After a dinner of char kway teow and stingray with a bland Thai coconut on the side, I polished off 6 apoms. So delicious. It wasn't super crispy on the outside, but the inside was moist and sweet. The sweet corn was pretty average but the banana ones - I'm hungry just thinking about them.

The driver we hired for a day and a half took us to this roadside van on the second day after lunch: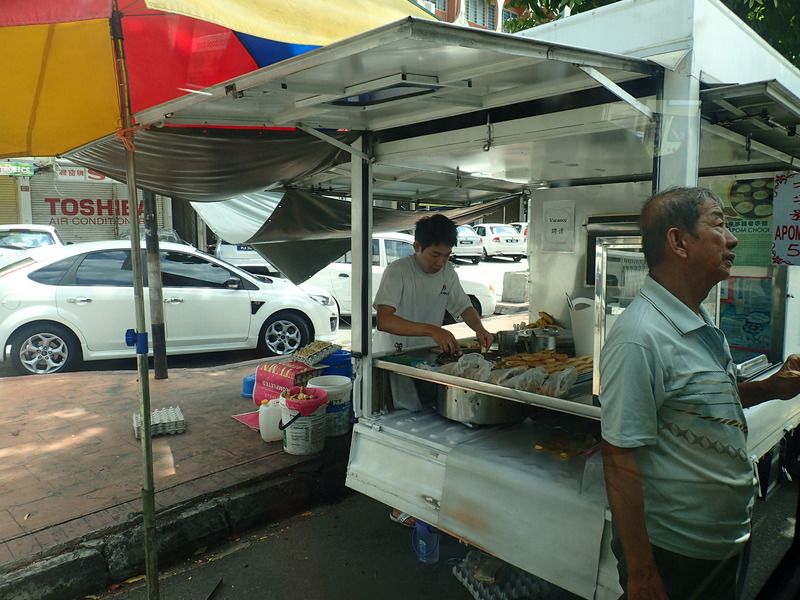 So yummy.

Chendol

Yes, it's famous. Yeah. It was just okay for me. I'm not a huge fan of chendol anyway. We went to the one at Penang Road (I think), the one with the queue. I ate from my mom's bowl and didn't bother ordering one for myself. I prefer the apoms!

Beancurd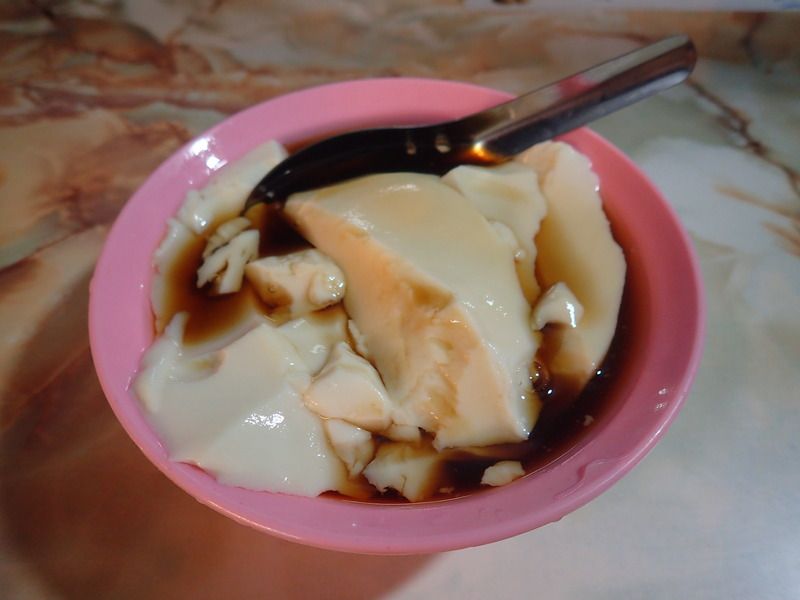 This was from another street full of eateries; this vendor operated from the back of a van, like that apom van in the picture above. The driver took us there on the second night, after the firefly tour. I was bit hungry so I liked it. The dark sweet sauce was pretty special.

Waiting An Hour for Dinner

The guide took us to this seafood eatery at the ground floor of a building on the second day before the firefly tour. It's a zichar place, basically. We waited a whole hour for the food, because they don't cook in batches, but on a serve come first served basis, serving one table at a time. I had steamed stingray with tom yum sauce, some teppanyaki tofu and some stir-fry sweet potato leaves or something. They had some pork knuckles thing which was apparently really good.

I really liked the tom yum sauce, but the stingray was overcooked. The meat was tough and a bit hard to chew. That was a let down. The other dishes were normal, nothing to shout home about. I guess the main selling point of that eating house is the pork knuckles. Oh well.

Old Town White Coffee

I even have to mentioned this because that French toast with peanut butter I ordered on the last day while waiting for my parents to finish their massage was so good. The two slices of bread were submerged in egg and fried to perfection, and the peanut butter was actually good. I don't even like peanut butter. That was how good it was.

Iced coffee

Man, I love iced coffee in Malaysia. That is all.

*

Okay, now to the sights.

Day One

The first day was straightforward. After lunch, we went to Penang Hill: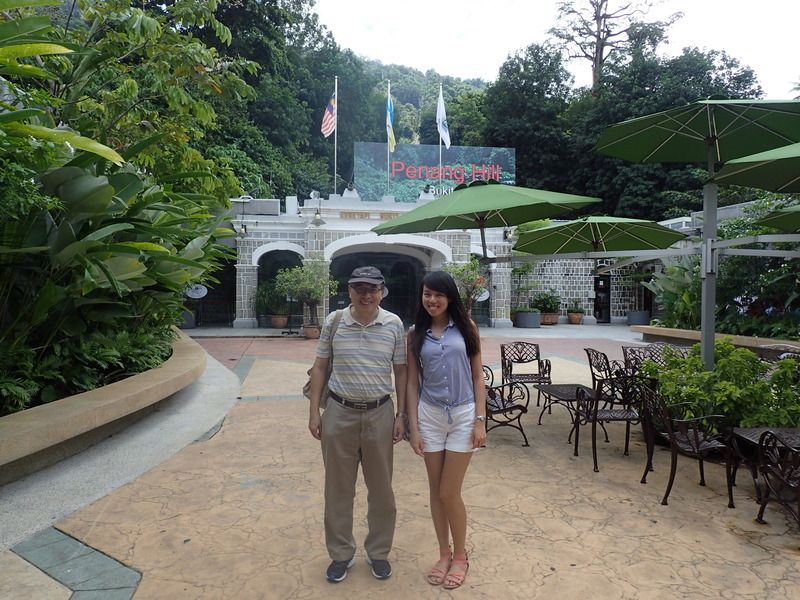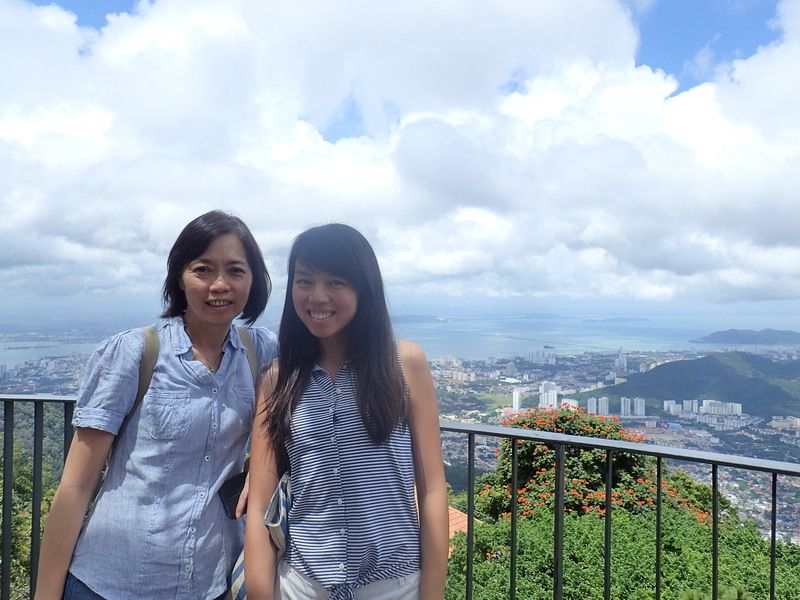 The train was crowded and therefore very uncomfortable. I just don't understand why people don't wash their hair? The view was pretty arresting, and I really liked how cool it was up there. Too bad it was crowded and a real pain to get to.

This was followed by that massive Chinese temple (Kek Lok Si?):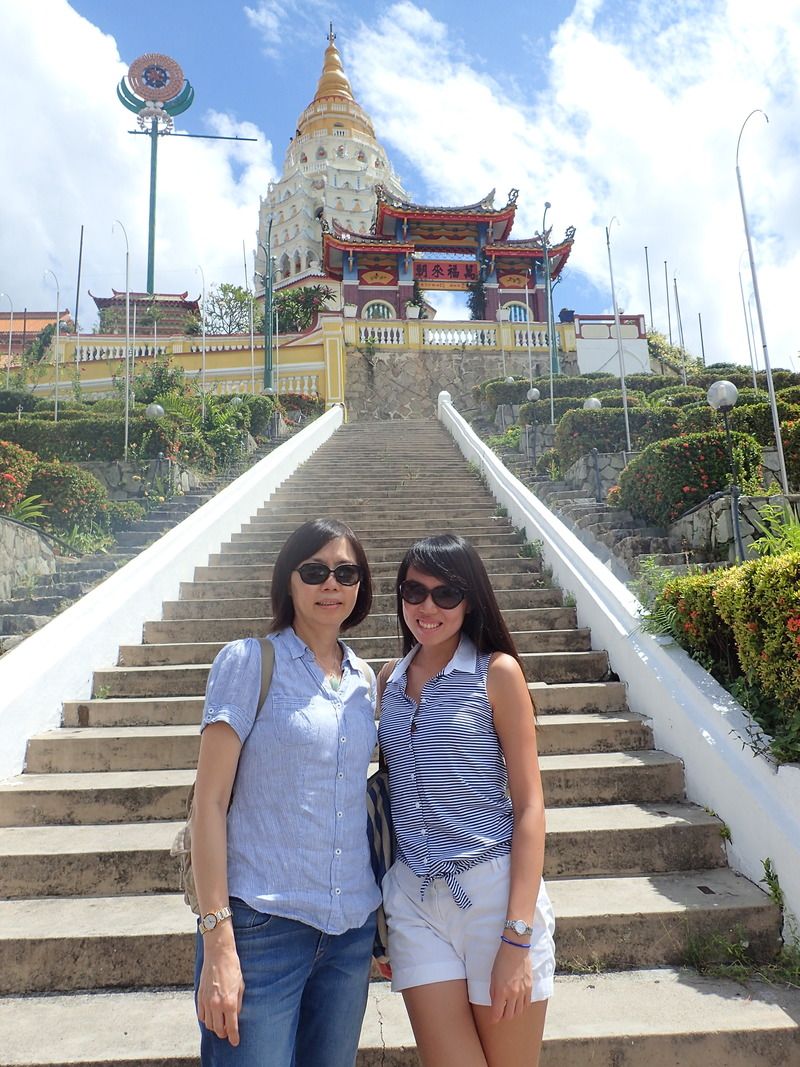 I thought it was really gaudy. I left my parents alone to do the praying and whatever. I still don't understand why they bothered because they're not even religious. As much as I understand the importance of upholding cultural traditions, unfortunately, I draw the line at "worshipping" imaginary figures.

Accordingly, I simply don't understand the logic of investing tons of money into constructing that massive statue of Buddha when there are so many starving old people in Penang. I cannot take the sheer frivolity of religious excesses. I find it so mind-bogglingly...well, stupid, if I'm being fully honest. (I am an equal opportunity religion critic. In other words, I dislike all religions equally.)

Also, I hate incense smoke. I seriously think that I'm allergic to it.

It wasn't until the next day when we were at the Penang time tunnel place that we found out that the temple has some interesting history. Apparently, the Chinese empress (Dowager, I believe) donated some tile to the temple. If only I had known! (Then again, I would've been too lazy to remove my shoes to step into the temple. And I would've had to deal with all that bloody incense smoke.)

We stopped by the beach after the temple: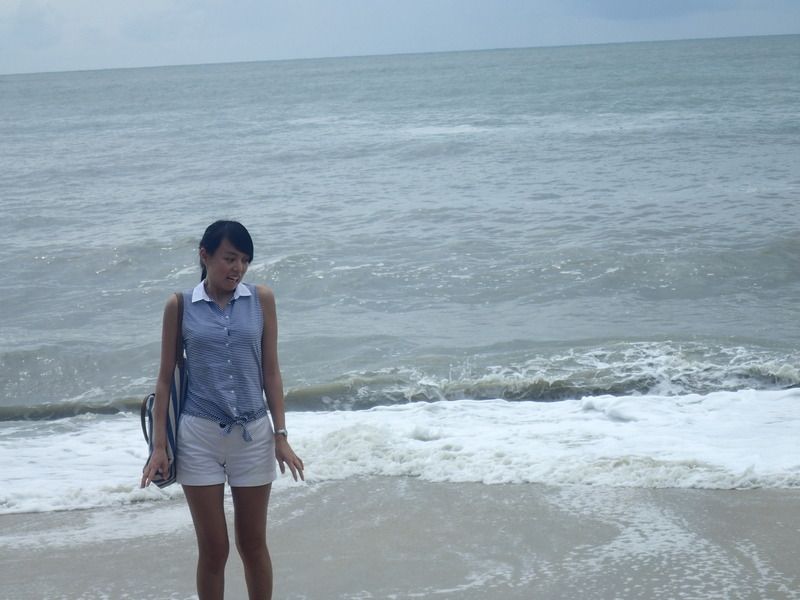 The waves were very strong, hence my expression. I toyed with the idea of going to the beach for a swim on the last morning, but after seeing how uninspiringly grey the water was and how empty the beach was, I decided that I couldn't be bothered going through a long and winding taxi ride to a crappy beach; I can go to crappy beaches here in Singapore anyway. Croatia has really spoiled me.

We saw the sunset along Gurney Drive while walking to the food centre: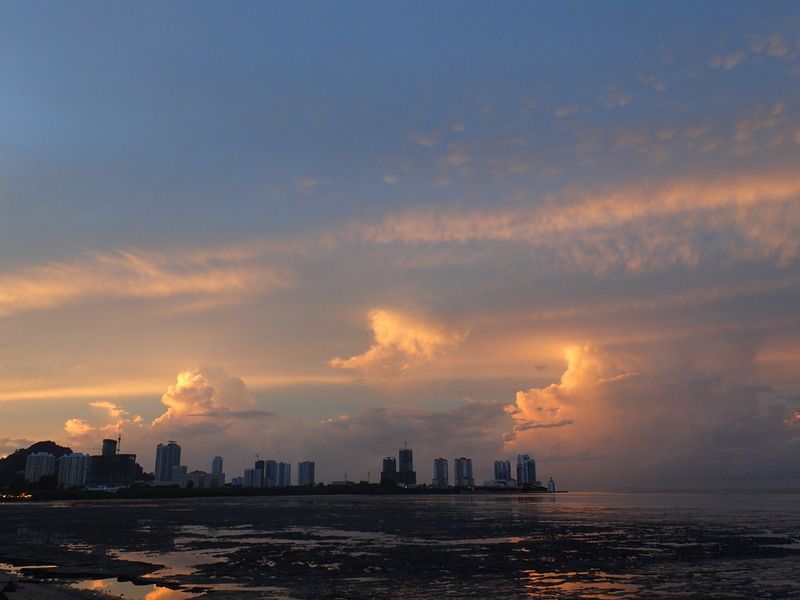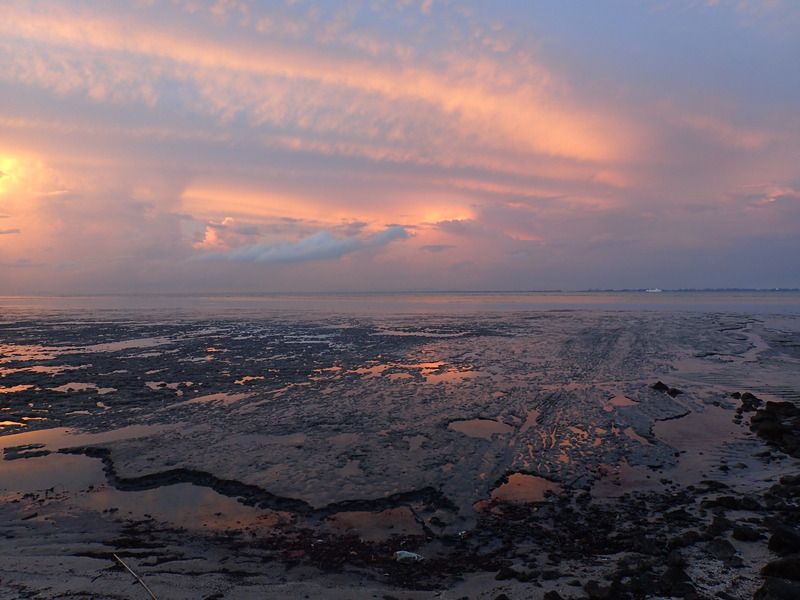 It was quite gorgeous.

Day two

We stopped by some Burmese and Thai temples. They weren't very interesting. The Thai one was really ugly.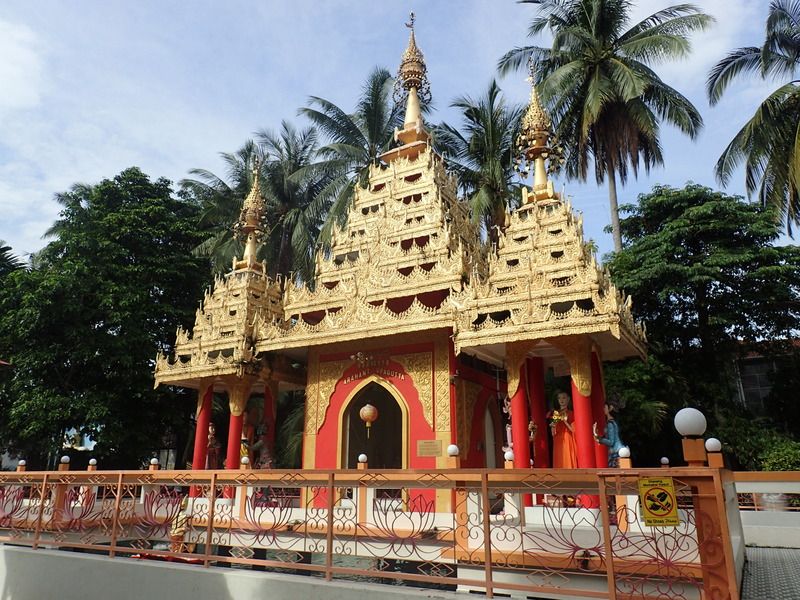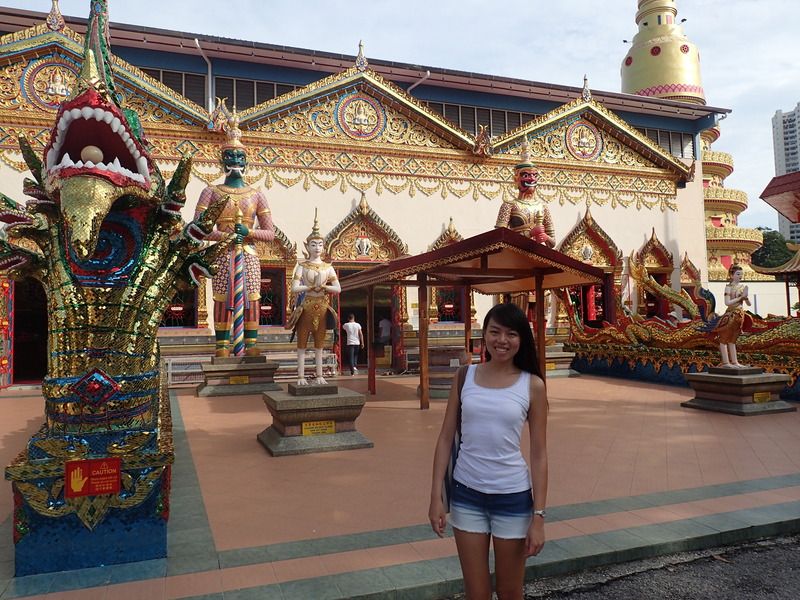 The driver took us around George Town (one or two words?) in the morning. It was both good and bad that we had the van: good because it was blazing hot, and bad because it meant that I didn't get to walk around. Being driven around just isn't the same. (The driver was my mom's idea. She was afraid that we'd get stuck without a taxi in George Town. She really worries too much.)

We saw the usual street art. Some of them are creative and it was unusual how the artists incorporated real objects into the art pieces, but I found it a bit overrated. I guess after seeing those sprawling and massive art pieces in Shoreditch in London, the ones in Penang paled in comparison.

I found it extremely idiotic how there was a queue of Asian tourists waiting to take photos with the famous one of a girl and a boy on a bike. How more Asian could you possibly be? I am terrible, that's for sure, but I will judge you for your vapid behaviour.

I really liked the Penang time tunnel thing. I like historical things and it was nice to read a bit about the history of the city. There was an easy quiz of six easy questions, which answers could be easily found in the information panels of the museum. I was extremely dismayed when I found out that I got the last answer wrong. I couldn't believe it. It was really my mom's fault for rushing us so that we could make the 11am tour of the Blue Mansion.

Some photos from the gimmicky 3D thing: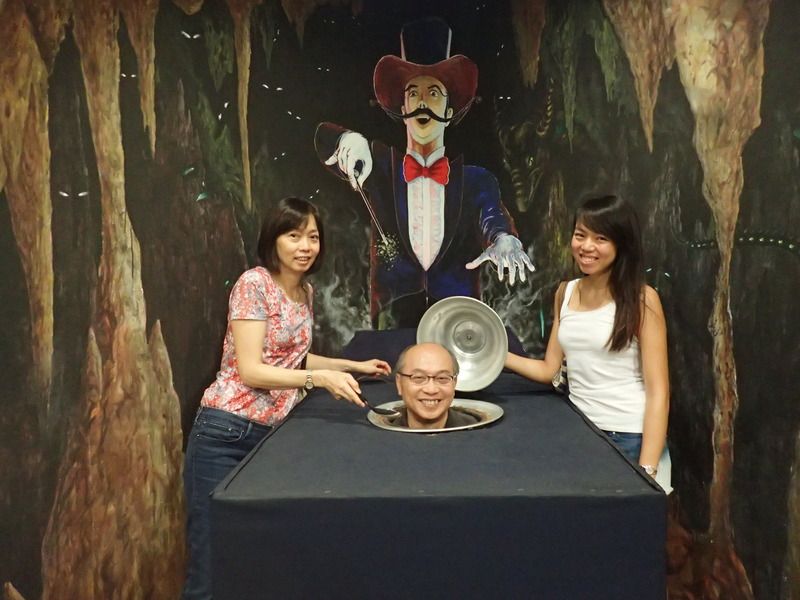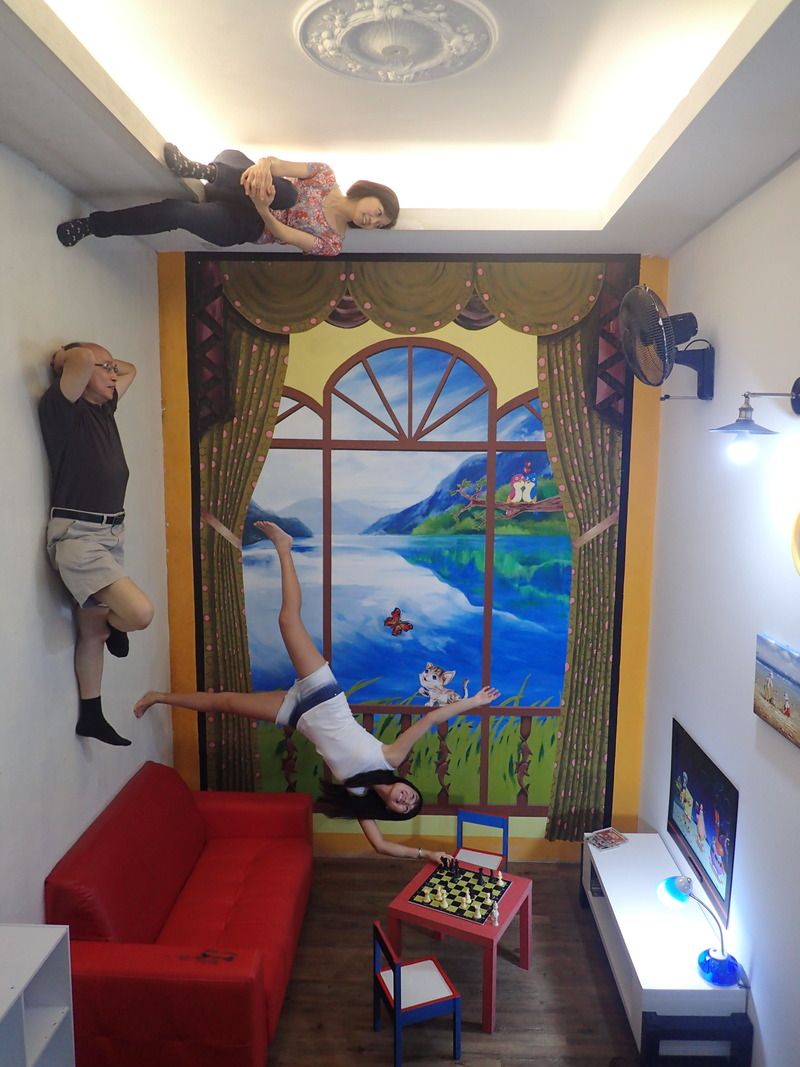 My mom was so into it. It was hilarious. I love how she ordered my dad to crawl under the table for the photo on top and he happily complied. My parents are such interesting creatures.

The Blue Mansion was gorgeous from the outside, but the tour was waste of time after a while. The woman talked way too much. It's interesting if you're a foreigner or unfamiliar with Chinese culture, but for me, the feng shui thing was the same old superstitious crap. My dad didn't understand anything because it was in English and he got impatient after 30 minutes, and we left before it ended.

I was more interested in the dilapidated building opposite the Blue Mansion, apparently the old kitchen when the millionaire (I forgot his name; the man who owned the house) was alive. It seemed to be illegally inhabitated by a few people. There used to be a Japanese restaurant which was closed, but the sign was still there. I wonder why this building has not been restored.

We stopped by the Camera Museum. It wasn't interesting. The cat cafe had no cats unless you ordered something and went upstairs. It was time for lunch so we didn't do that.

we also went to the houses on the river. It was fucking hot. The only thing interesting about it was that people really lived in those wooden houses on the river. Other than that, it was forgettable.

We had lunch at a Peranakan restaurant. They didn't have two appetisers that we wanted. The second we sat down, the old auntie came to take our orders. What the hell? She also claimed to speak Hokkien but couldn't understand my mom's Hokkien, and ended up cancelling my curry fish when that wasn't what we said. I waited ages for it. I was really annoyed. We should've just spoken English to her.

That said, wow, that curry sauce (actually, it was assam) was amazing. I even drank it straight when I ran out of rice.

The last stop for the day was the Khoo Kongsi.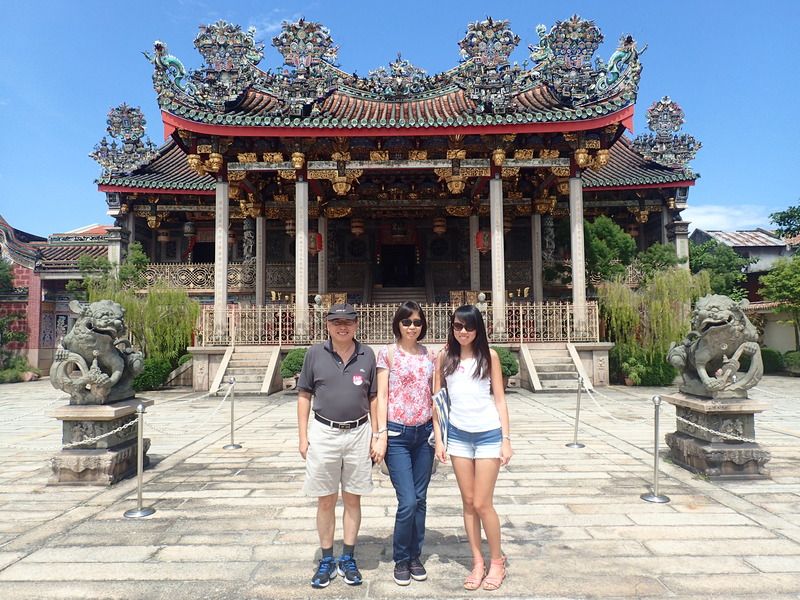 What a gorgeous building. I can't believe how rich those people are!

I'm tired of writing, so I'll make this short: the firefly tour was really pleasant and unpleasant at the same time. It was pleasant because the night-time boat ride was relaxing and I love the feeling of cool wind against my face. The fireflies were scattered about some trees, and they lit up those trees like Christmas lights. It was so pretty.

But it was unpleasant because the driver of the boat would ram the boat into the trees so that we, the passengers, could take a closer look at the poor fireflies and catch them. Why the hell is this even allowed? The driver doesn't know better, but the Penang tourism board, the Malaysian government, should know better. I was just so distressed and disturbed. I don't even know how many fireflies were killed. Why can't people appreciate nature without destroying it? I have to write to the relevant authorities about this. This is just so wrong.

We shared the boat with a group of people, who were apparently from Singapore, but I couldn't tell because their mish-mash of Mandarin, English and Hokkien was unlike any mish-mash of languages I'd ever heard in Singapore. While I definitely recognise that I am privileged and I don't normally mix with the "average" person, I think that I have had sufficient interaction with "normal" Singaporeans through going to a neighbourhood JC and playing tennis with all kinds of people. How have I never heard anyone speak like those people did? I thought they were Malaysian. It was really shocking.

That said, I was really glad when they were also perturbed by the relentless ramming of the boat into the trees. One woman tried to tell the driver to stop but he didn't listen and just kept doing it. It was really awful.

Day Three

I wanted to walk around George Town before the 6pm flight, but decided to hide in a mall because it was just too hot. My parents went for a massage. I had amazing toast at White Town and read Peter Carey's Oscar and Lucinda. It was really boring otherwise.

(On average, though, I still prefer Thai food.)