I've been thinking about G the whole day like a completely brainless teenager, and smiling to myself like some lovesick Juliet. Argh! I need my rational self to take charge here and step in before my eyes turn heart-shaped and I seriously contemplate doing some preposterous doomed-to-fail LDR crap again, and remind my prepubescent self that 1) I don't really know him that well so there's absolutely no basis for this silly behaviour; 2) he's going to the US at some point in August which means that whatever happens with him will be very short-lived, so there's really no point in getting too invested; and 3) 1 + 2 = 3, and there's this: he doesn't really have any basis to say that he likes me a lot either, considering he doesn't know me that well too.

So yeah. Just stop being so silly.

All that said, I couldn't help but think how cute it was when I texted him a couple of hours ago asking how his revolution was going (his work, basically) and he was in the middle of work in a cafe, and he said, 'Can I text you in an hour?' How cute was it that he even said that as opposed to just disappearing for a couple of hours? If he'd done the latter I wouldn't have minded at all; I do it all the time anyway.

Oh my god, I am so excited to see him. I am so ridiculous.

*

ANYWAY, moving on now - Myanmar Part Two.

After the pagoda, we walked around the downtown area where I applied some thanaka for fun from a nice lady who didn't charge me.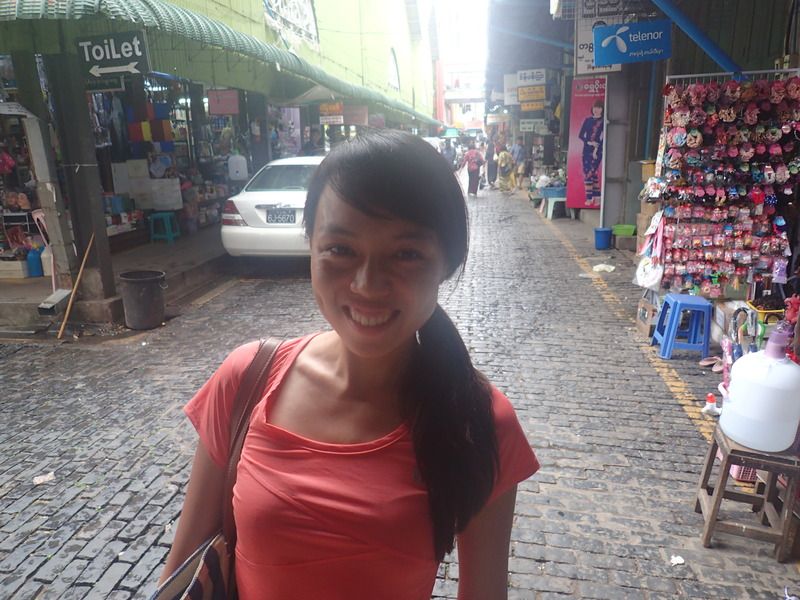 You can't really see it but it's definitely there.



We stopped by a fruit juice stall where Julian peer-pressured Pieter into tasting some durian in this durian smoothie thing. It smelled disgusting. Pieter took three small tastes and eventually gave up and spent the next 5 minutes complaining about the taste in his mouth. HAHA! Julian offered me some of the durian but obviously, I refused profusely.

They took me to see the old government building that the British build and in which Aung San was assassinated.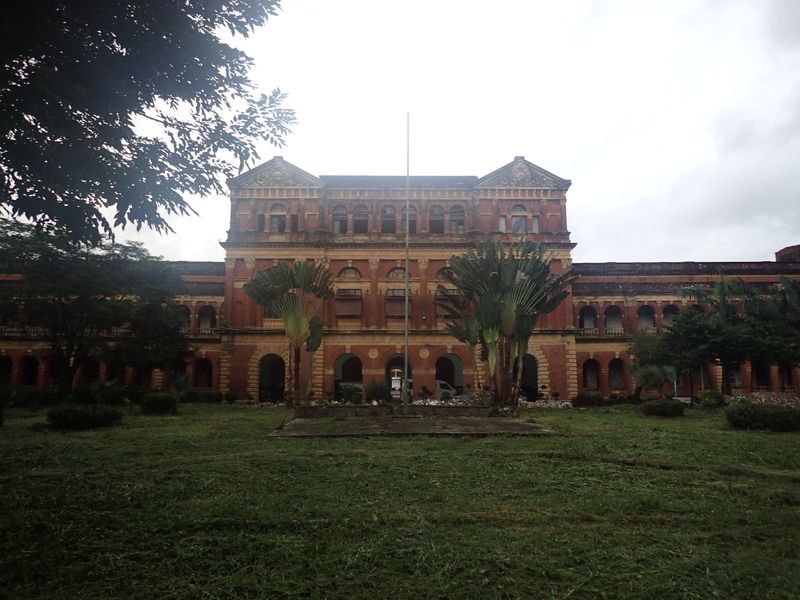 This sprawling colonial government complex has been completely abandoned. Save for a couple of vans and some guards and some stray dogs and insects, there were no signs of life that I could discern in the complex. It was massive; walking all around it took about 15 minutes. Like Julian said, it was interesting to walk around it completely because I saw different parts of the building in different states of ruin at different points. I don't know if the decision to leave it to rot was due to anti-colonial sentiment, incompetence on the part of the previous junta regime, or it has something to do with Aung San's assassination; but it's a waste. It can easily become a museum or even a hotel, because it really is a gorgeous building.

We had dinner at a random Indian restaurant. The food wasn't as good as the typical Indian restaurant food in Singapore, but it was way cheaper and it was pretty decent. I ordered bhindi masala which I really enjoyed.

After dinner, we walked in the pouring rain to The Strand Hotel. It's Yangon's most famous hotel and it was built by the same dudes behind the Raffles Hotel and the Eastern & Oriental Hotel in Penang, which is one of the most expensive and luxurious hotels in Penang. (Raffles Hotel, of course, is one of the most famous and expensive hotels in Singapore.) Unfortunately I didn't get a look at the exterior because we entered from the side and it was too rainy to look at it from the front. The interior, though, was a lot smaller than I'd imagined. It was very cosy. It's also really expensive; it's probably 200ish dollars per night, which was obviously beyond my paltry budget.

Anyway, the bar was cosy and comfortable save for the unfortunate indoor smoking which the hotel allows for "traditional" reasons. I'm not even making this up; this was really what was written on a sign outside the bar. I didn't even know what it meant. Still, I enjoyed it - after all, with happy hour from 6pm to 11pm slashing prices by half, I was drinking a USD$3.50 cocktail that was absolutely delicious. On top of that, they served complimentary canapes that were also delicious and Y@l@n-friendly. Who could beat this combination? The average price of a cocktail in a random crappy bar is SGD18ish. I paid a third of the price for a quality cocktail and free food in a luxury hotel. This was definitely one of the reasons Yangon was awesome.

Julian's ex-colleague joined us later. I left early, after just one drink, because I was smashed and barely keeping my eyes open. The rest of the night is obviously not interesting because I went to bed and all, so I'll move on.

Day Two

With the help of a Burmese colleague from the embassy, Julian got us a day trip to Thanlyin, a port town just outside of Yangon. I was shocked when we were in the taxi and I realised that Julian was conversing with the Burmese girl - Lei - in German. Sometimes, though, I am so slow on the uptake that it's stupid - of course she could speak German; she worked in the German embassy!

Effectively, then, without counting the driver, I was the only person in the car who was only bilingual. Everyone else was multilingual - Pieter speaks Flemish/Dutch, French, German and English; Julian speaks German, French and English; and Lei speaks Burmese, German and English. Me? English and Chinese! I felt so inadequate. (In fact, Lei was even learning Chinese. Seriously!?)

The car ride was pretty long, and Pieter slept through the entire ride. His excuse was that he took an anti-motion sickness pill which had the side effect of causing drowsiness. Still, we thought it was really hilarious.

We drove about two hours to see this: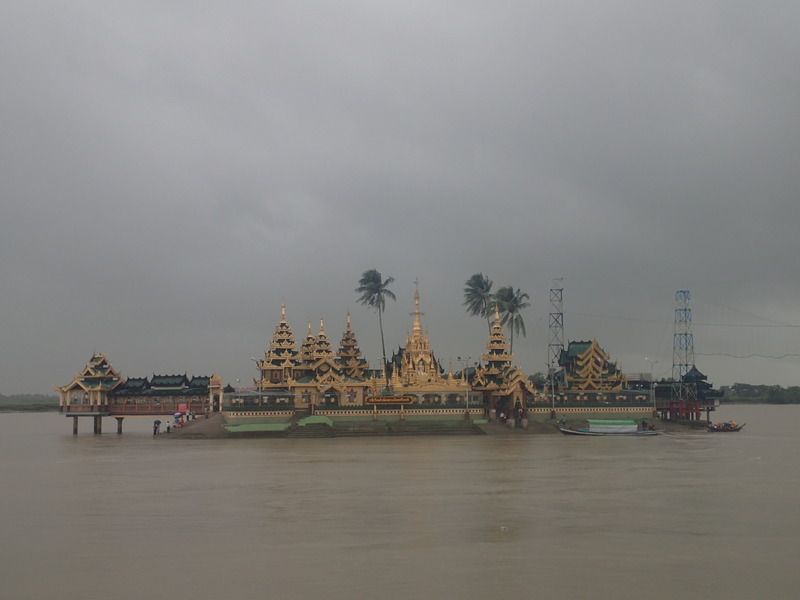 The temple was built on the river, which was interesting, but the weather, oh the weather. The monsoon rain was relentless!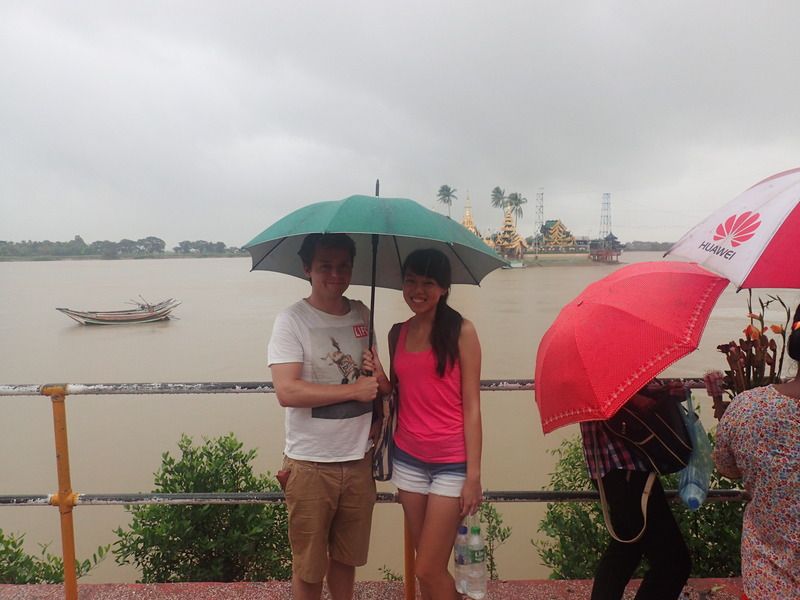 Pieter forgot his umbrella and I had to borrow one from my hotel. The umbrella had a hole on one side, which I discovered when I felt raindrops on me despite having the umbrella over me. Later on, Pieter turned the umbrella so that he stood under the side with the hole. What a sweet boy.

It was apparently customary to feed the big fish in the river. I enjoyed this part; the rain thinned out and stopped for maybe three minutes, and it was really nice and cooling, and I could practise my right arm throw. The water was too murky to see the fish, so I only caught glimpses of them when they briefly and partially surfaced to grab the food (it was some popcorn-looking thing in this big ball). They looked like catfish but I wasn't sure.

Last picture at the temple: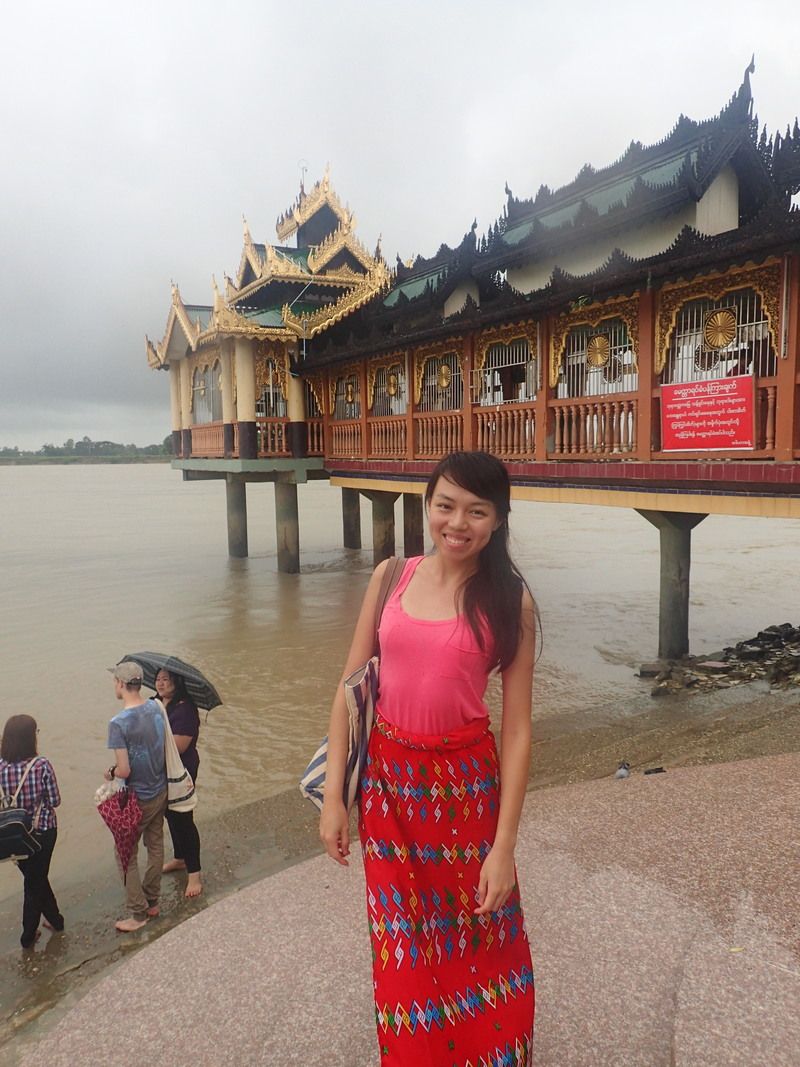 (I quite like this picture, excpet I'm not looking at the camera for some reason. Boo.)



We had to take a small boat across the river to get to the temple. When we took it back, the second we stepped off the boat, we were swamped by shirtless, skinny kids querulously asking for money. I was holding a packet of Julian's seaweed in my hand. One of the boys pointed to it and mimicked an eating motion. I felt so bad; I asked Julian what to do and he said no, don't give it, and so I didn't.

I was traumatised. It didn't feel right to brush them off or yell at them, but I couldn't possibly give them something either (anyway, I was running low on cash). It was just awful; I didn't know where to look so I stared at the ground and whimpered about how awful it was, and Pieter sweetly put his arm around me and led me away from the boys.

We had a coconut each at one of the eateries, and there were poor people there asking us to buy things too. That was really unpleasant. The entire area was obviously quite poor; there were only dirt roads, rudimentary houses, and kids running around shirtless and skinny. It wasn't quite an eye-opener, but a reminder to appreciate the good things in life that I take for granted, such as financial security, a high standard of living, air-conditioning, nutritious food, an education, and parents who love me enough to give me all of that. It was also a reminder of the innate inequalities in this world, and of the human condition. It's a platitude to say that it's not fair that those people have to live like that; what can anyone do about it? The world is teeming with such poor people. Yet, it was heartbreaking all the same.

We had a late lunch/early dinner at a Burmese eating house. It was about 5pm and thankfully we bought supplies at a supermarket before embarking on the day trip; I kept the hunger away by munching on my Cadbury milk chocolate and this vanilla bun that I bought from a Breadtalk-type place for about 50 cents.

The food was actually quite food. I had vegetables fried rice which was okay, but what I really liked was this deep fried fish, which was like ikan bilis but 100 times the size of ikan bilis.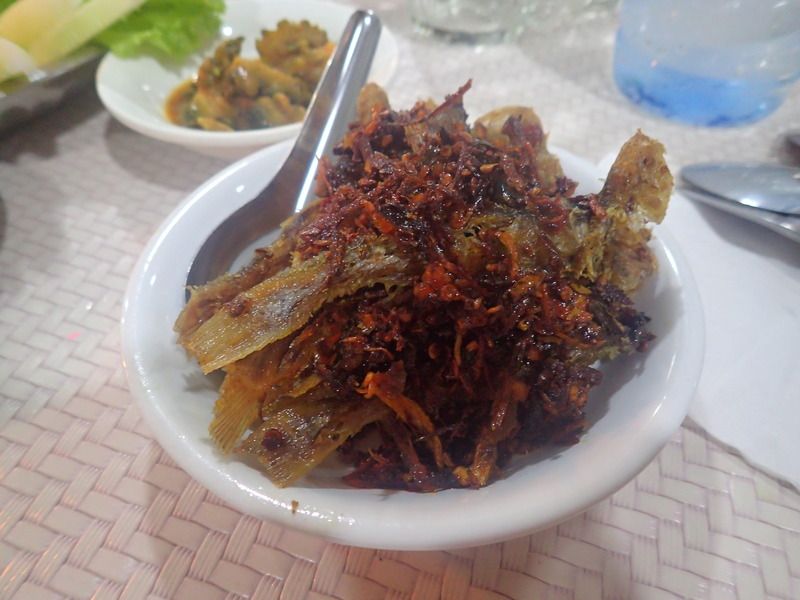 It came with some fried chilli with what tasted like shallots. When I was surveying the food, I saw that dish and I thought, Ummm looks kind of questionable. Then I thought, Oh fuck this, I'm in a foreign country; let's try some of this.

I got over my slight fear of eating an entire fish like that, and when I did, I discovered that it was actually very tasty. Lei and her friend ordered another type of deep fried fish, and I tried one but it was too bony and spiky. (Pieter took a look at it and said, 'No Julian, I'm not eating it. I can see the teeth of the animal.') I was very happy with mine though.

Lei wanted to take us to a national village but it was closed. I wasn't too bummed; it was already 6pm and it was still raining like crazy, and I was quite happy to stay in the car. We ended up going to a Korean restaurant at Julian's behest. I didn't even know what I was getting myself into, completely missing obvious signs and Julian's attempt at hinting to me what was going on, until he told me explicitly what had just happened after we'd left.

I was at a fucking North Korean restaurant, one funded by the fucking North Korean government.

No wonder the waitress sounded like she said she was from North Korea when she tried speaking to me in Mandarin (her Mandarin was terrible so I didn't understand). No wonder there was a 'no photo' sign on the wall. No wonder the waitresses all dressed alike in some traditional outfit. I don't know how it happened, but I completely did not see the North Korean flag tacked onto the waitresses' uniforms.

I am such a genius. Sometimes I wonder how in the world I even got into a PhD programme, let alone to Cambridge. I have another mega genius story about my super genius behaviour coming up, so brace yourself... Anyway, the restaurant was really expensive for Yangon standards. I ordered a bottle of Myanmar beer, 600+ml, and it was 3,500 kyat. The bar that we went to, some normal Korean place across the road, sold the same thing - the exact same thing - for half the price.

North Korea is fucked up in so many more ways than one.

We took a photo before we left: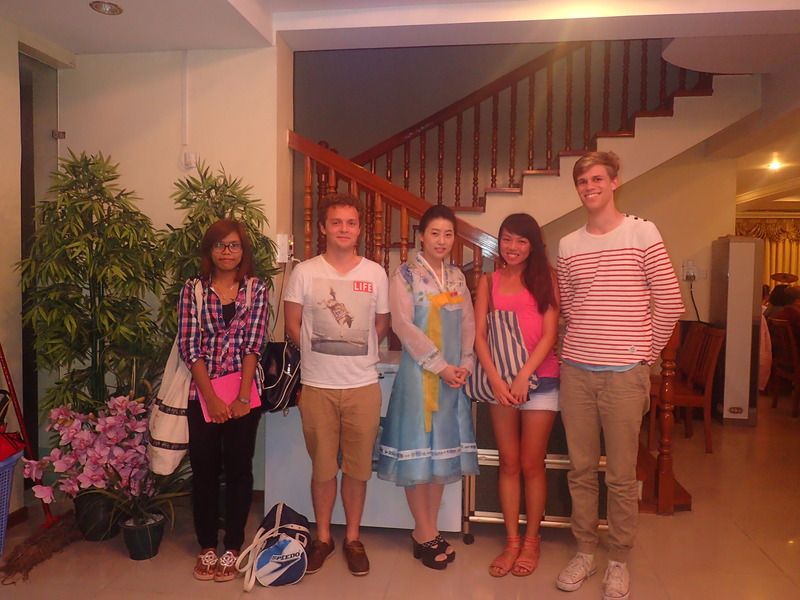 The North Korean flag is visible in this picture. I honestly don't know how I missed it.

We left the restaurant and the plan was to walk along that road to look for a nice bar. It was also still raining, so it wasn't the best idea. I also thoughtlessly stepped into a massive puddle of water, not giving a damn about getting my shoes wet because I wore sandals, and totally forgetting that Pieter, who was my umbrella buddy, wore actual shoes - so he got his shoes all wet.

I've already bitched about the hazards of walking along the road at night, so I'll skip to the part of my utter braindeadness. I was out of cash at that point and then I chanced upon an ATM. I ran to it like an oasis in a desert, and I decided to withdraw 30,000 kyat. I couldn't understand why the machine seemed to be spitting out a ton of money. I was mystified when the machine extended my cash to me and it was a huge stack of notes.

I was so confused. I even checked the receipt, and I continue to be confused. I went back to my friends and I conveyed to them my confusion. Lei offered to count the money. Someone took my receipt and looked at it. It was probably Pieter, because the next thing I knew, he was laughing his ass off. I don't think I'd ever seen him laugh so hard in the whole time that I've known him.

It turned out that when I pressed the button for what I thought was 30,000kyat, it was actually 300,000. OH MY GOD!!!!!!!! The stupid local currency is so big and the machine didn't even bother putting a comma between the zeroes to properly separate them and avoid confusion for idiots like me. I was so upset and so annoyed at myself, and Pieter just kept laughing.

I eventually changed it all back at the airport, but not before losing unnecessary money to the currency exchange rates and overseas withdrawal fees, of course.

*

That concludes my Myanmar story. I left Yangon with a newfound appreciation for Singapore, especially when the elderly man from the hotel, who helped me get a taxi to the airport, said, 'Singapore good country' when I told him that I was from Singapore. Yes, it's a good country. It's an awesome country. And I want to improve it.