I am writing this despite being quite tired because the wonderful dryer in the laundry room at Cripps (Cripps'? Cripp's?) Court did not dry my clothes properly - 'my clothes', crucially, includes the lone towel that I brought from Singapore. It's currently drying on the heater (which is turned on despite it being 31 minutes past 11pm!) and I have to wait for it to dry more or less completely before showering. I was dismayed to find out that my clothes were still wet when I opened the dryer. I guess there's a very good and specific reason why the drying costs only 20p and it takes only 8 minutes. I didn't have another 20p with me so I took it all back to hang on my indoors airer, which was already loaded with clothes that I didn't want to put in the dryer.

Ah, the miseries of living like a student! If only I had my own washing machine! There are a grand total of two wash/dry machine in that laundry room, so there will definitely be times when I want to do my laundry and both machines are occupied. I definitely anticipate exciting days ahead.

Today was uneventful, save for a college library tour in the morning. I was actually really excited when we were shown the law part of the library, not so much because of the books (which were mainly textbooks from what I could see) but because I saw this amazing table facing the window which looks out to the beautiful lawn and green grass of the college. I can't wait to start living there. I'd thought of going there today to work on my paper but this laundry crap took up so much time, as well as my foray into town to collect an order from Marks & Spencer, which led me to explore another part of town, a more low end part, including a mall called Grafton or whatever. I wasn't really into it. Dylan, a fellow PhD candidate from Singapore whom I met on The Student Room, told me that Grafton is better for shopping than the Grand Arcade/Lion Yard because it has Poundland and Primark.

I hate to sound like a snob but the fact that it has Poundland and Primark means that it's not really my kind of place. Even stepping into Poundland made me feel like I'd sunken to another low; the mere act of buying five items from Poundland convinced me that I had definitely sunken to a whole new definition of 'low'. To be fair, though, I was looking for cutlery. More specifically, I wanted to buy ONE spoon, ONE fork and ONE teaspoon. Sainsbury's and M&S only sold sets of 16 pieces. What am I going to do with so many forks and spoons? Poundland sold a bunch of 4 forks and 10 teaspoons for 1 pound each, so I got those. Of course, the quality is absolute shit, but I can live with that...for now.

I also bought a multiplug, a cheese grater thing and some food storage boxes. I used the cheese grater. It's one of those four-sided ones. I'd never used one before and I was thoroughly confused but I managed to grate my parmesan over my pasta, so I guess it served its purpose. There's one in the kitchen, but the kitchen is so disgusting and dirty and messy and I definitely don't trust half the things that are there.

This living like a student business still takes some getting used to, to say the least. I must say, though, I am surprised by how much I enjoy having housemates. I'd ever only had housemates when I lived in The Hague, but even then, it wasn't the same because there was a landlady and just one other tenant; the whole dynamic was different. Here, we are all students, mostly new students, and it's nice to have people to talk to when you're not in your room. It's also convenient when you need help carrying your heavier online purchases from the porter's lodge (Cambridge's fancy way of saying 'reception') back to your room. I went to the library tour with Daniel and Arthur, and we stopped by the porter's lodge where I had my airer, table lamp and a nylon-and-metal chest of drawers waiting for me. I was about to head off for lunch when I got the brilliant idea of going back to the house with them so that they could help me carry my things. HAHA. In my defence, Daniel offered, so I shamelessly took him up on it.

Went to a pub down the road called The Castle, which is on a site where a castle used to be, with Arthur, Sam and Sam's super pretty and nice girlfriend. It was fun. I got a bit tired after a while but it was fun.

*

I need to start working but there are so many social things going on next week that I don't know when I will find the time. I also need to try to get the light in my room changed. I hate this yellow light; it feels so dark and it hurts my eyes. I bought a desk lamp but I can't seem to find a bulb that emits white light.

I forgot which day it was; it could have been yesterday. I was in John Lewis, trying to find some cutlery, when I came across a whole display of products from Charbonnel et Walker, a.k.a. my absolute favourite brand of truffles in the world. I was so happy that I bought a box of sea salt caramel truffles, which are now safely stored in the mini fridge that I have in my room. I'm so pleased that I don't have to go all the way to London to get them, which will be more convenient for me when I buy it home.

*

I spent some time in the afternoon, post-laundry and pre-dinner, talking to G on Skype. It was mostly him talking but I was quite happy to hear about his life. I showed him my student card and my UK residence card. In respect of the former, he said, 'That's real nice!' I told him that I uploaded that picture when I was doing my application and I forgot to change it so I'm stuck with it, and that the picture is informal and therefore weird. He said, 'Would you rather have a picture of you sitting at a desk?'




Then I told him that I was going to show him a really ugly photo of me. He was just beginning to say something along the lines of how he was sure that it wouldn't be ugly when I showed him the shitty ass photo that is now stuck on my UK residence card, which was taken at the visa office and which I did not have the chance to inspect. He was like, 'Oh...'

I remember when he showed me his American visa and laughing really hard at his not-so-nice photo. He had a loose strand of hair falling over his forehand and, in his own words, he looked like a criminal. I laughed so hard. Then he tickled me and I had to stop laughing.

He tried to console me by reminding me of his bad American visa photo, but he's only using that for a few months. I'm stuck with this shitty, horrible photo for four years. It is awful. I would post a picture but I am honestly too tired and lazy to do it. Perhaps another time.

*

I'm going to London! I can't wait.

Lastly, this is the Magdalene College library: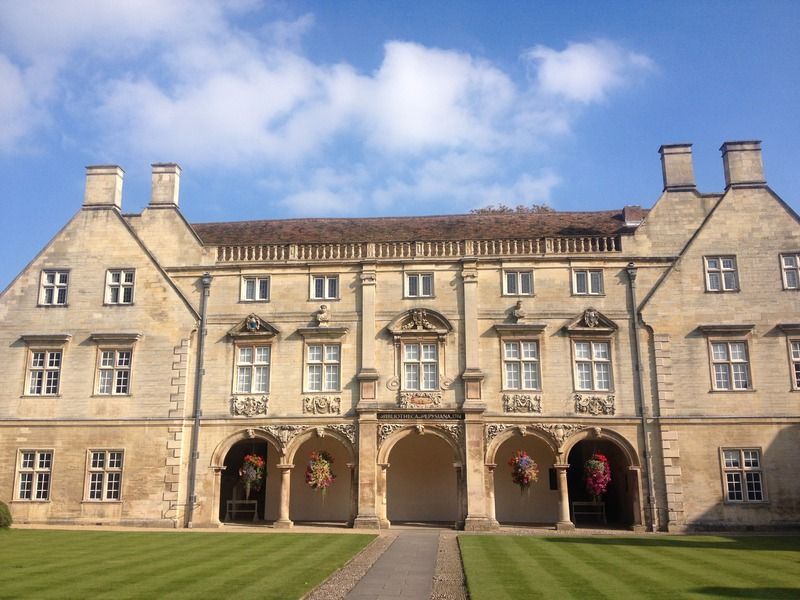 I'm not great at taking photos in a rush and on my phone but I'm sure the idea is there.

Off to bed!