Friday, 11 March

John, Joshua, Raffael and I rented a car and drove 2.5 hours to Oxford for a workshop on Legal Philosophy and Legal Fictions. It was my first time in Oxford, and it was a sunny day, and a part of me wished that I wasn't spending it sitting on a chair in a room in St Hilda's College; but the intellectual part of me was glad to be doing that. I enjoyed the conference for the most part. I generally have trouble following a speaker, especially if the speaker doesn't have visual cues, but I think I did quite well that day. I particularly enjoyed Frederick Schauer's talk. He was very engaging and his argument was very interesting. (I would go into a bit of detail but I am quite tired now and I would like to go to bed.)

Apart from that, I had a blast hanging out with the three of them. I really enjoy having a group of like-minded friends to talk to, even if my knowledge of jurisprudence is the least in-depth of the group. (I realised recently that I know more political philosophy than legal philosophy.) At the same time, we are also able to talk about light-hearted things. It was a long drive to Oxford and back, but it was also really enjoyable; I had good conversations and lots of laughter. It was a great day.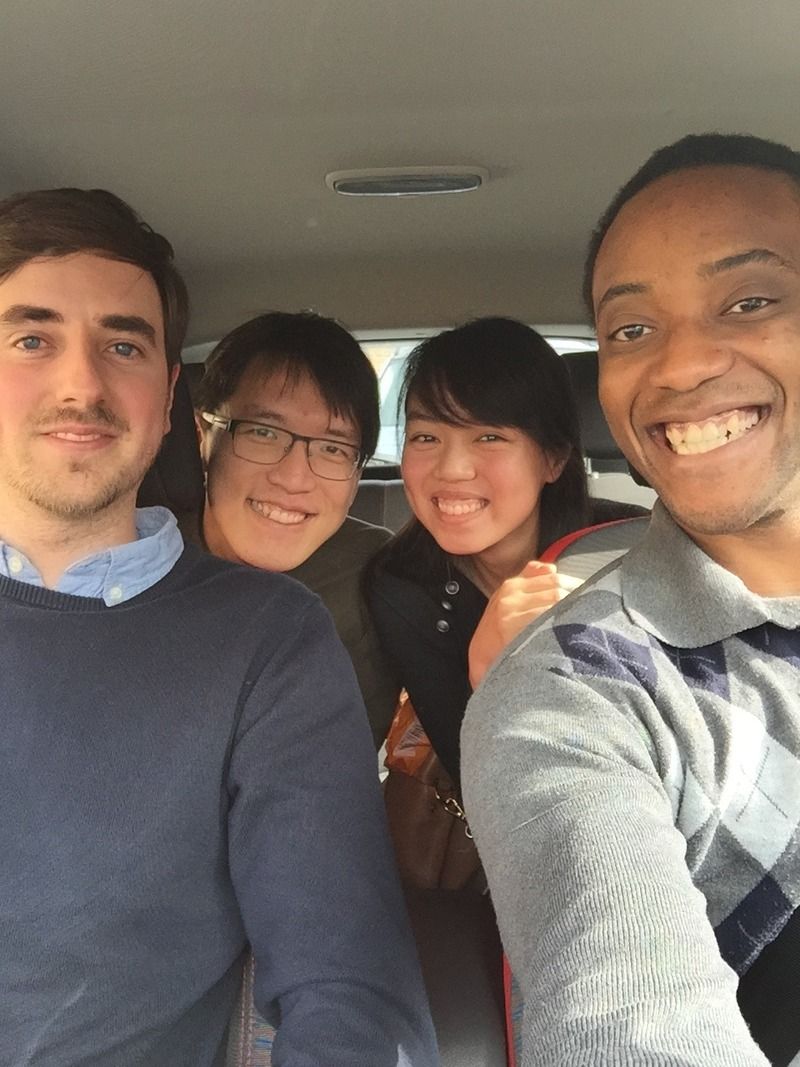 Group selfie in the car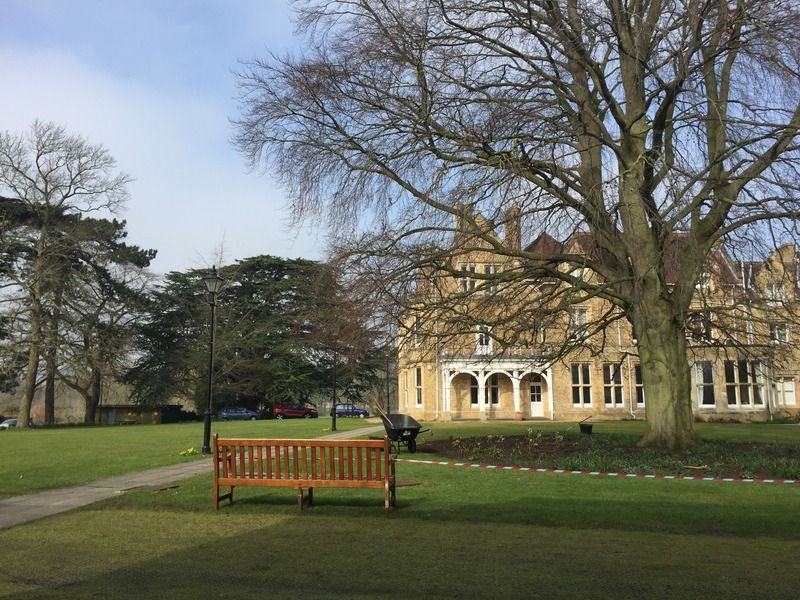 St Hilda's College




I also met up really briefly with Lord Seow from law school. He was so funny! I learned things about him that I never knew...but then, I didn't speak to him much in school because he was part of the House of Lords and they were too intellectual for me. Still, it was really nice to catch up with ex-school mates, especially in a foreign country.

Saturday and Sunday

So. Much. Fucking. Shit. I basically spent both days in the library. I played some tennis on Saturday which was great, and met Dominic for a drink at about 10.30pm, but apart from that, I was killing myself trying to write as much of the first year paper as I could before my Wednesday meeting with my supervisors. I wanted to die. Sunday was the worst. I was in the library from 2.30pm to 10.30pm.

It is rather sad, though, that I consider 10.30pm late. I used to be able to work all night, and when I was studying for my LLM exams, I worked from 12 to 12! My stamina is so bad now; I was so tired on Sunday towards the end of the night that I felt a bit short of breath. It is very sad.

I did not finish everything that I wanted to do, so I sent out an incomplete draft. That really drives me crazy but what can I do?

I cannot bring myself to read the free speech/defamation cases. Dr H would be wondering why I keep procrastinating on this. Three or four weeks ago, I said that I could finish writing up on the case law in two weeks. Ha, ha, ha. Obviously, I find the cases REALLY uninspiring and depressing to read. Worse, the utter lack of reasoning in some of them literally make very angry. The political philosophy stuff is so much more interesting; I'm actually grappling with ideas when I read them, not thinking of the various ways I could slowly kill myself which would be less painful than reading constitutional cases from Singapore.

Anyway. I am meeting my supervisors in 12 hours. As usual, I am full of dread, afraid of what they would say, afraid of hearing that my structure sucks...I mean, it sucks, but it would be nice to stave off the moment of truth for as long as possible, I think.

Monday, 14 March 2016

I did ZERO WORK on my PhD. I went out in the morning to shop a bit for the Easter banquet that was taking place later in the evening. When I say 'shop', I mean 'shop for shoes'. I had a decent dress but no shoes to wear. I didn't feel like wearing the usual heels that I wear to formals because I felt like my dress needed to be elevated; and so I went to New Look and bought this insanely high pair of heels for like, 23 pounds. I've never worn heels that high, and I wasn't sure about it, but I was tired of shopping, I was hungry, and I wanted to go home ASAP and make lunch; and so I bought it.

Then I went into River Island and bought another pair of heels. The thinking was that I would choose one and return the other. My assumption was that I would return the New Look because the River Island is more comfortable.

But I wore the New Look to the banquet. And now I can't decide if I should keep the River Island heels. Where would I wear them to? It's Cambridge; it's boring and there's nowhere to go, and even if there were places to go, the pavements are so bad and ill-maintained that 1) walking will be such a bitch; and 2) my heels will get worn out really quickly.

On the other hand, they are really nice. Life is hard, isn't it?

Anyway, the banquet was pretty meh. The food was a bit of a joke. I had the vegetarian option, obviously, and this was what I was served: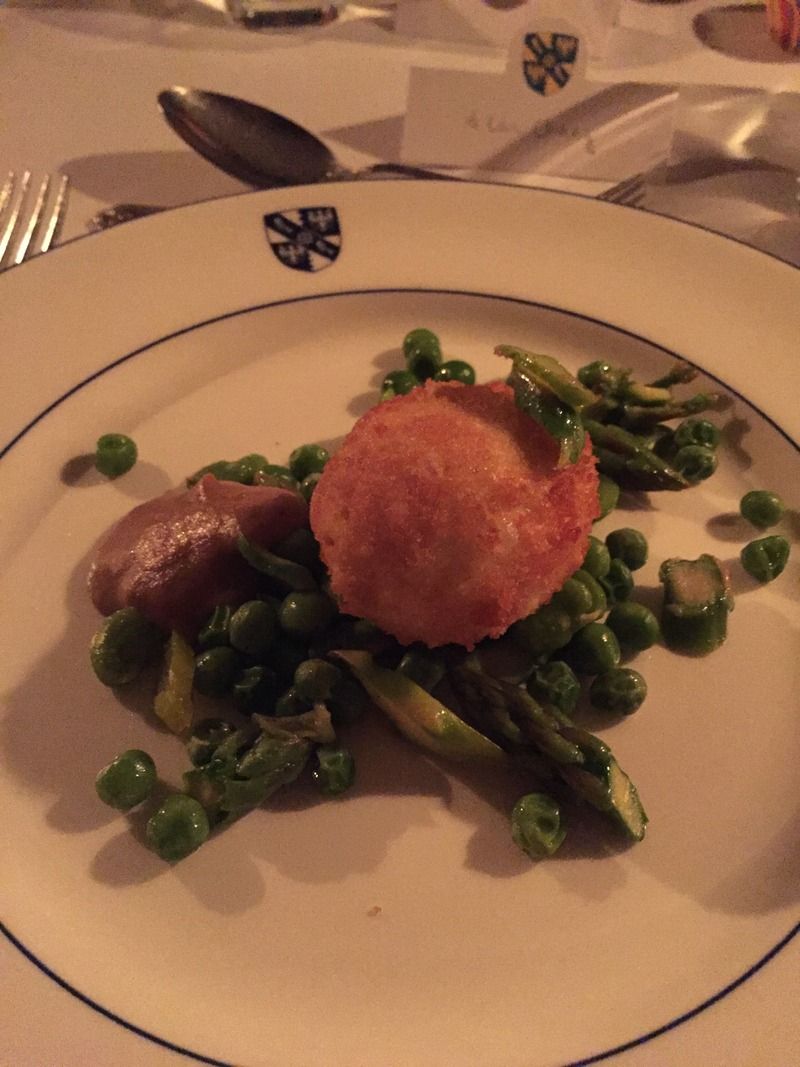 It is an egg. The menu called it a 'hen egg'. It is a deep fried hen egg.

The banquet cost about 27 pounds. I was served ONE egg as the main course. ONE deep fried egg on a bed of frozen peas and some asparagus, a few pieces of beans, some puree, and NO FUCKING TRUFFLE contrary to what the menu promised.

I also justified the 27 pounds on the basis that there will be alcohol during the dinner. There was indeed alcohol - white wine, red wine and port.

The wines were both college label from 2016. The port was really bad for some reason. Dominic said it was usual port that is served at post-dinner drinks on Fridays but it tasted really weird last night. It made me feel so ill that I didn't finish it, and I barely had anything to drink at post-dinner drinks; I simply felt queasy when I thought about alcohol.

The only good part, food-wise, of dinner was the starter. I managed to avoid the vegetarian option and I had the scallops. They were bit under-seasoned, but they were seared really nicely and they went well with the purees. There was also some truffle in there, which was nice.

The dessert was so average though. The menu stated 'white chocolate fondant'. I cut into the "fondant" and nothing oozed out.

Perhaps I am just a bit too...jaded for these college events. I'm not sure if I will attend subsequent banquets anymore; perhaps I will go to the summer one, but I really think that the whole thing is overpriced, with average food, terrible alcohol, and the only redeeming factor is the company. I had a good time talking to Sean, David and Wei-Yun, and obviously Dominic, who sat on my right. The seating plan wasn't the best but I was happy that my preference of sitting next to Dominic and with Sean and Wei-Yun was fulfilled.

Post-drinks at Cripps was all right. There was a jazz band but the music wasn't really made for dancing, I don't think. My heels were also really high and I had trouble walking properly but at least it looked good.

What looked good but was also really painful was this metal hairband (headband) that I bought from Accessorize. It is really pretty; it is two skinny headbands in one with a nice width separating the two, and it has butterflies and flowers. But oh my god, it hurt like fuck. There was so much pressure on the back of my ears from the tightness of the headband that it was almost unbearable. It was due entirely to the power of my vanity that I kept it long for as long as I did; three hours, minus a few minutes when I took it off while in the toilet. I took it off after dinner when I stopped by my room to fix my hair before going to Cripps.

Some pictures, then: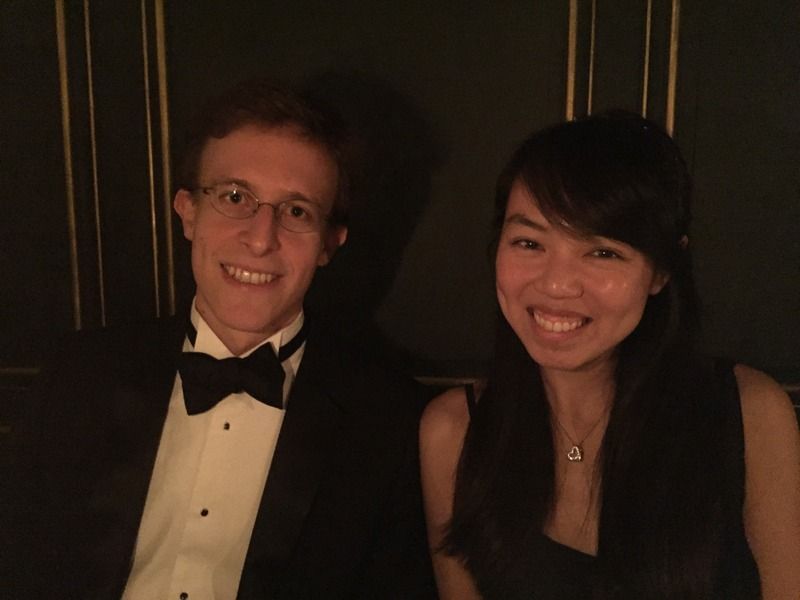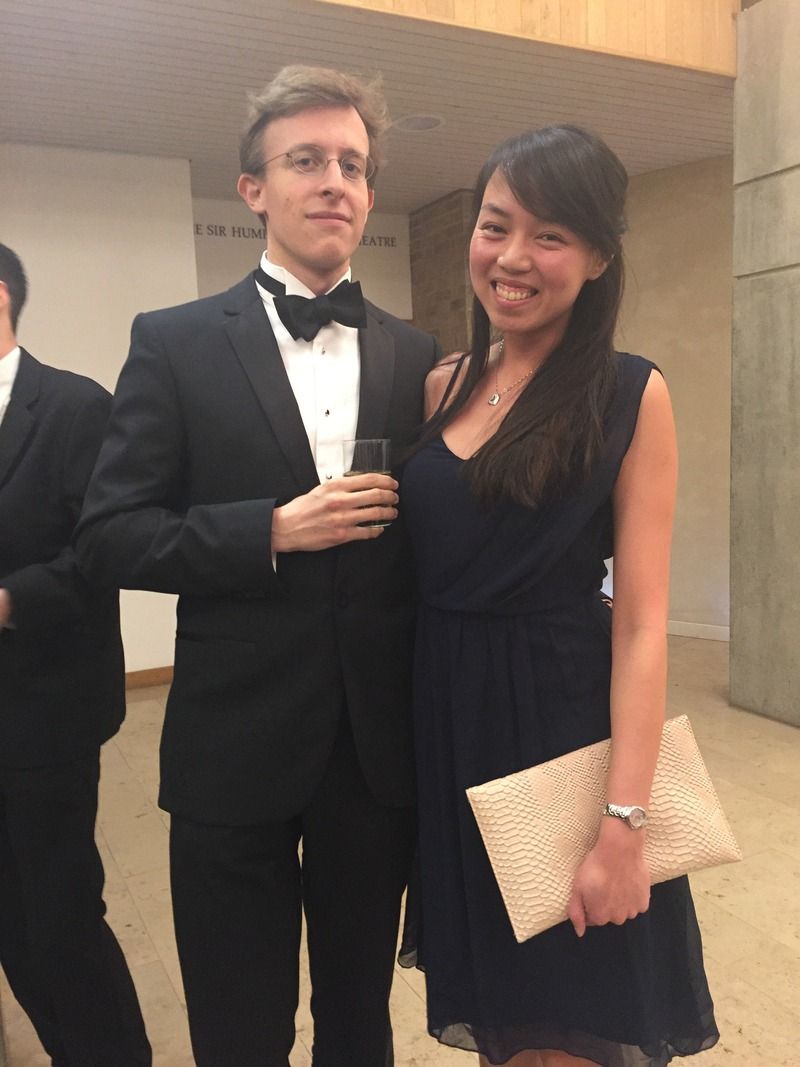 I quite liked my dress. It was 40 pounds, which makes it even sweeter. I even ironed it because it had some ugly wrinkles, and I wish I hadn't because I might have damaged the delicate chiffon. Alas.

Later on in the night, when Dominic and I were alone, he told me, 'You looked really beautiful tonight. It's not a compliment because it's true.'

I also told him that I felt like I don't see him enough. I was getting jealous of his work; still, I didn't make it about that, but about the crux of the issue, i.e. I don't see him enough. He concurred after a spell, and we'll spend a day on the weekend together going somewhere, and he even said that he'd set aside a day in the week for us! Wow, the effort that I put into getting dressed for the banquet - 15 minutes more than usual - must have really worked its magic.

Tuesday, 15 March 2016
I played tennis for two hours in the cold and now I feel a bit ill. I also had dinner with Barry at this amazing Indian restaurant that served me the best food that I've had in Cambridge. The standard was the same as any Indian restaurant in Singapore - and that's some high praise coming from me. It was a good night.

I am tired and cold. I am also going to see Julian Barnes in London. I CANNOT WAIT!