The Julian Barnes dialogue was amazing! He is so cultured and posh in the way he speaks, and his irony and sense of humour is every bit as present in person as in his writings. I got my copy of The Noise of Time autographed afterwards, and took a really awkward picture. I kind of regret the picture because it was all very rushed as there were still quite a lot of people waiting to get their books signed, and I only managed to relay one sentence - 'I've been a huge fan since my A Levels, 12 years ago' - before I attempted a photo. I asked the girl behind me to take it and she obliged. Here it is: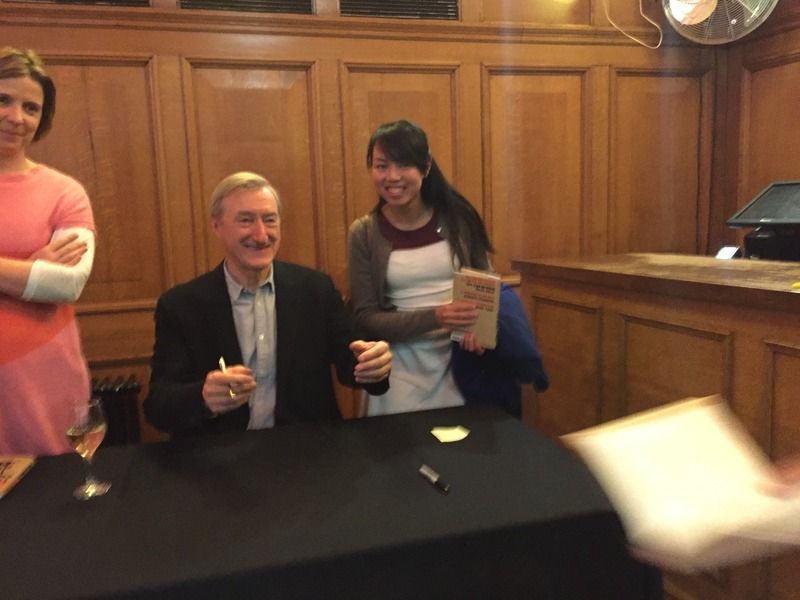 I asked the woman if I could have a picture. She said, 'Okay, but you're going to have to do it while he's signing because I'm worried about the other people still waiting.' He signed, I took my book back, the person behind me walked up with his - hence the super awkward picture. But it's quite funny and I like it anyway.

Also, I didn't really know what to say to him. What do you say to your favourite writer that isn't completely trite and which he hasn't already heard a million times? In this sense, I guess there was no great loss, not being able to convey more than one sentence to him.

Anyway, it was great. My afternoon in London was nice too, even if I didn't manage to buy Heat-Tech tights from Uniqlo (hence going to Oxford Street for nothing). I walked around Angel a bit (the event with JB was at Islington Assembly Hall) and I was green with envy of the people that live in that neighbourhood. There are so many interesting-looking restaurants and bars! That's generally characteristic of London, but Angel is a bit more upscale than Shoreditch, for instance, and not as pretentious as Mayfair, for instance. If I ever lived in London again, which has a 0.01% chance of happenng, I would love to live in Angel.

I need to sleep. I have to exercise in the morning; I've eaten so much for dinner the last two days. The Indian dinner with Barry was so filling and I had the vegetarian breakfast at the Breakfast Club for dinner; the portion is usually quite a lot and I ate everything, as always. I even had a smoothie afterwards (I was disappointed that they changed the recipe. The old one was so much better).

My meeting with my supervisors didn't go that badly either. I need to go back to working on my PhD; I've taken three days off already! Also, I have an interview with NYouAs re. scholarship. I hope that goes well.